Click fraud is one of the biggest threats to advertisers in this digital age. With millions of businesses spending billions on pay per click ads every year, the threat of click fraud is real for everyone.
In the past, advertisers have been relying on ad networks such as Google to provide protection from fraudulent activity. But with advertiser's trust in these networks reaching all-time lows, many third-party click fraud detection services have entered the market.
One of the most prominent services in the industry is PPC Protect, a click fraud detection service based in the UK, which has been operating since 2016. If you've done any research on PPC protection, then you've likely seen their Viking inspired branding and website.
The chances are if you're reading this then you're interested in their service, but want a full review before you sign up. Luckily, you've come to the right place as I'll be exploring the main features of PPC Protect and how their service differs from other solutions on the market.
Having originally used other services before switching to PPC Protect, I feel I have enough experience to give it my full review and explain how it differs from other solutions.
PPC Protect Overview
Unlike other click fraud protection services out there, PPC Protect sells itself as a fully automated solution that requires little input from the user. After the initial setup, the service does everything itself and requires no interaction, leaving the user to get on with managing their PPC campaigns.
In addition to being fully automated, PPC Protect also has a super robust infrastructure as it has plenty of enterprise clients that rely on their service being stable. This means you can ensure that it will never go down and your precious ad budget won't be wasted on 404 pages.
How Does It Work?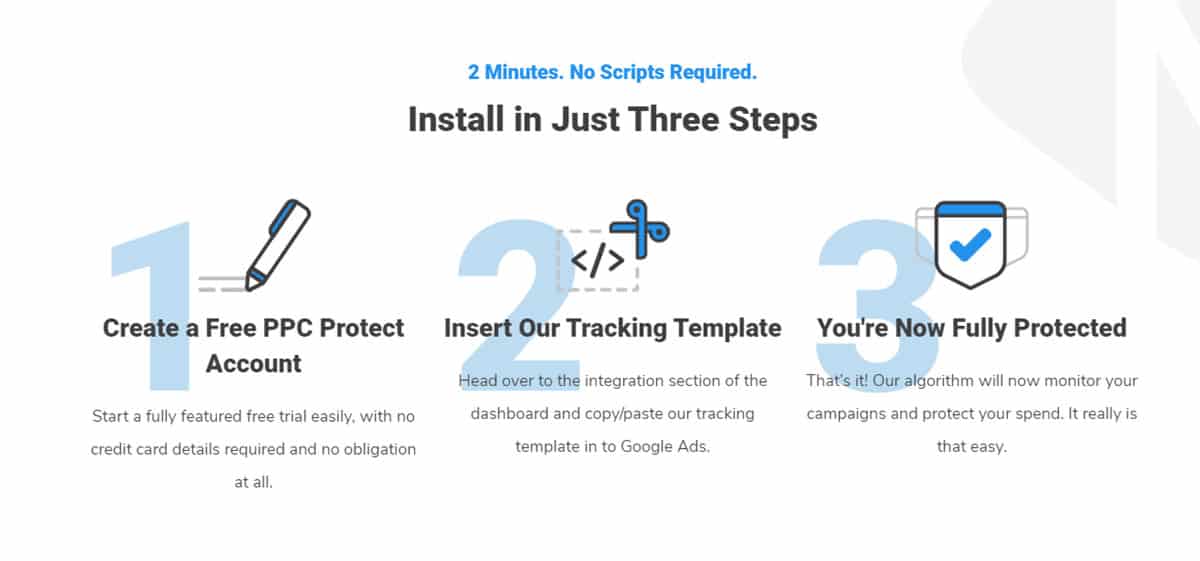 If you've never used a click fraud protection service before, then you're probably wondering how it all works. Well here's a very simple explanation that anyone will be able to understand.
For the service to work, every user has to integrate their Google Ads account, which means giving the service permission to edit their account options. Once the service has permission, it will be able to automatically add and remove IP addresses from the account's blacklist. This is important as is this is what ultimately what stops fraudsters from seeing your ads in the future.
The second step is to ensure that all your campaigns have a special tracking template installed so the software can record the user when they click your ad. This data is then passed to the click fraud protection service, and it decides on a number of factors whether that IP should be excluded or not. If it deeps the IP address fraudulent then it will automatically add it to your Google Ads blacklist.
Most click fraud protection services work the same way, but the most important part is understanding how the software decides what is fraudulent. Some services simply block IP addresses after a few clicks, while others (such as PPC Protect) use machine learning algorithms to decide when to block them.
PPC Protect Features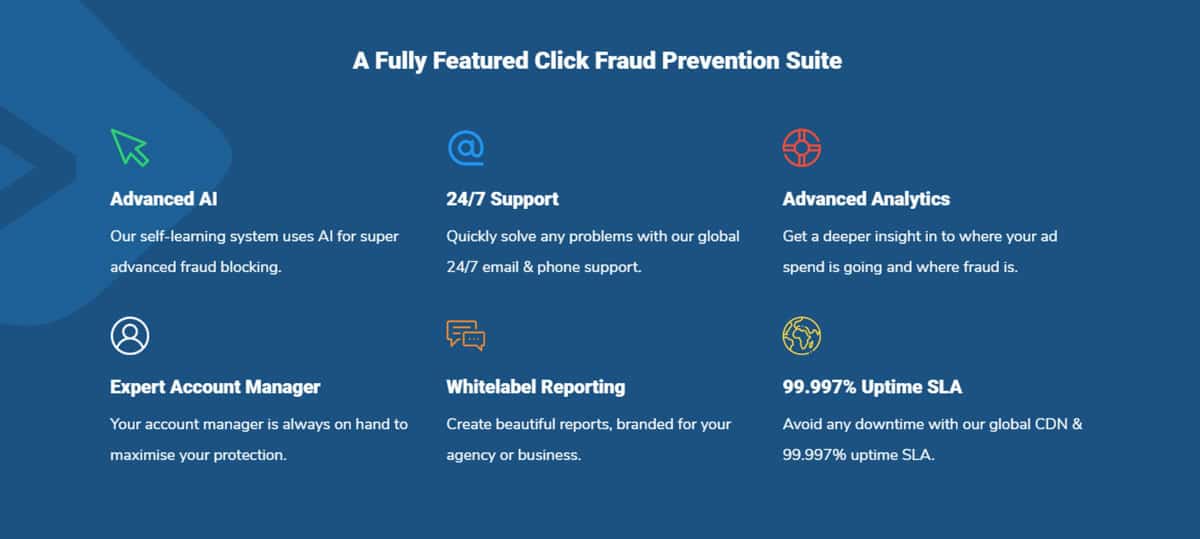 ​PPC Protect has plenty of unique features which differentiate them from their competitor. Without listing every single one of their features, here are my favorites.
AI Detection
One of the main features of PPC Protect is that it uses artificial intelligence and machine learning to distinguish whether a click is fraudulent or not. Other click fraud services I've used in the past simply block IP addresses after two or three clicks, leaving me to see a huge decrease in conversions.
The truth is users can share IP addresses on various networks (think mobile networks), so blocking them after a few clicks doesn't make sense. Instead, PPC Protect actively monitors every click for suspicious activity, and if enough red flags are raised, then the IP is blocked.
API Access
I'm always concerned every time a third party program wants to connect to my Google Ads account as you just never know what it's going to do. One of the main features of PPC Protect when compared to their competitors is that they use Google API access when connecting to your account.
This means that they cant edit any of your campaigns as the API access only allows them to add and remove IP addresses from your blacklist. Some other click fraud services I've tried out wanted full access to my account, which I thought was very intrusive considering they were only meant to be changing my blacklist.
24/7 Support
PPC Protect's support team is fantastic, and I've only ever had a good experience with them. From the initial sign up to integration, they've been with me every step of the way on live chat. Their support team is based in the UK, and they actually work at the company, instead of being outsourced to support staff that read off scripts.
This also gives you a direct contact at the company that you can message if you have any problems or concerns. For most enterprise companies, this is an essential feature that they would expect.
Whitelabel Reporting
Another favorite feature of mine is their whitelabel reporting tool. When working with clients, it's always nice to be able to send them fraud reports with your own logo and branding on them. PPC Protect's reporting tool allows you to add your own logo and colors within the dashboard, making it super easy to produce these reports.
Not only does this save me lots of time with client reporting, but without this feature, it would be incredibly hard to upsell click fraud protection to clients.
PPC Protect Pricing
Now the most important part, the pricing! How does PPC Protect stack up to its competitors?
Business Pricing
PPC Protect currently has two different pricing plans, pro and unlimited. Unlike other click fraud detection services out there, PPC Protect's pricing focuses on monthly ad spend.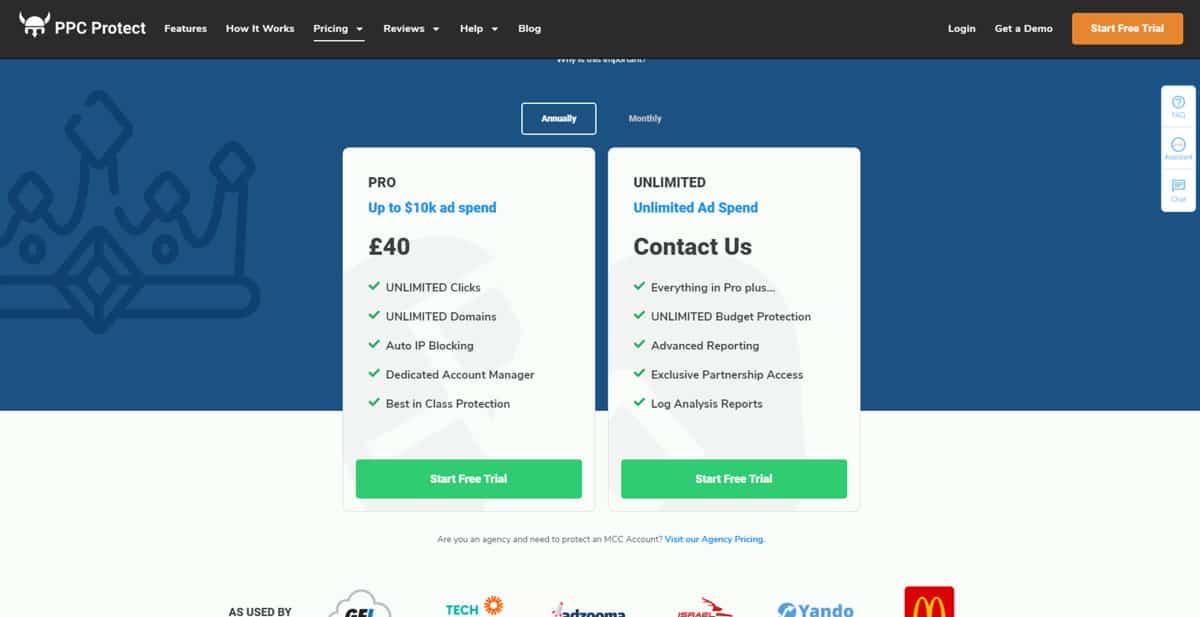 If you're a freelancer or small business owner, then the chances are you'll want the pro plan. Not only does it allow unlimited clicks, but you can also add unlimited domains which makes it great for freelance PPC managers.
Their other plan is primarily aimed at large enterprises who manage over $10,000 of ad spend per month and allows other features such as advanced reporting.
In addition to these two pricing plans, PPC Protect also allows customers to pay either monthly or annually. All annual plans come with a discount of 33%, which means their monthly pro plan at £60 a month gets reduced significantly to £40 a month.
Agency Pricing
If you're an agency, then PPC Protect offers bespoke pricing to suit your needs. As I'm not a large enough agency to get on this plan yet, I've only ever been using the business pricing. However, for the sake of this review, my contact at PPC Protect told me that pricing is based on the agencies ad spend and is calculated as a "very low percentage".
He wouldn't give me any figures, but my guess would be in the low single figures per month.
My Experience of PPC Protect
Having used PPC Protect on my own Google Ads campaigns and clients campaigns for over a year, I have plenty of experience using the software.
Overall it's very straightforward and provides you with all the data you need. Having ran my own personal PPC campaigns on it, it's easy to see how much fraud it's blocking and how much money your saving. The detailed reports give you an idea of where most of the fraud is coming from and if you should even consider stopping ads in certain areas.
The integration process is very simple and can be done within 60 seconds, depending if you currently use a tracking template or not. If you need any help integrating your account, or you're having difficulties, then their helpful support team is always available.
Final Verdict Of PPC Protect
With 1 in 5 clicks now being fraudulent, having the right click fraud protection software has never been more important.
When I originally researched click fraud protection services, there are lots of different options out there. Yet after trying them all, PPC Protect was the one that felt right for me. With unlimited domains and clicks included in their pricing plans, I never had to worry about going over any thresholds that other competitors charge by.
If you're concerned about click fraud and PPC protection, then I highly suggest you give PPC Protect a try. Having tested numerous different click fraud protection services, this is the only one that delivers what it promises.