As an SEO agency, we understand the importance of link building.
Shameless Plug 🔌
While we don't offer guest post services, we do have a niche editing service. Here's our single link pricing tiers, click "order now" below to see our cost-saving packages:
Guaranteed Genuine Outreach

Referring Domains of 100+
RD 500+
Indexsy Best Seller
Guaranteed Genuine Outreach​

Referring Domains of 500+
RD 1000+
Authority Choice
Guaranteed Genuine Outreach​​

Referring Domains of 1000+
With the self promotion out of the way, we'll be covering some outreach services we used before we built our own in-house team. Not all services are built equal, we have came across a ton of trash, and some go as far as sell black hat PBN links as "outreach". We took the hit so you didn't have to, don't let our sacrifice go to waste.
Our List of Top Blogger Outreach Services

OutreachPete provides blogger outreach services, similar to guest posts but without the footprints.
Each link you receive from this service is completely native and posted as the site owner or regular author depending on the size of the publication. Most posts are homepage featured, shared on social media and gain a good amount of pageviews.
The result is great links on fresh pages which are indexed quickly, have zero footprints and benefit from the full site authority compared to a buried niche edit.
What to Expect From OutreachPete's Links
Relevance
Every link is published within a niche-relevant post on a relevant site, ensuring that you get the absolute best placement for your money. OutreachPete has a team who are constantly creating new connections, finding new blogs to work with and so tough niches shouldn't be a problem.
Organic Traffic
Unlike other blogger outreach companies OutreachPete has a guarantee that every single site they work with has organic traffic coming in. Organic traffic is the absolute best metric for moving the needle when it comes to link building. It beats DA, DR, TF or any other metric as it conclusively proves that Google values the site – and that value is passed onto sites they link to including your clients.
Multiple Quality Checks
As well as checking DA, DR and organic traffic OutreachPete goes further. They even look into traffic patterns to make sure there aren't any big drops or unnatural penalties which could pass onto your clients
Some agencies have a guarantee of say '1000 organic visitors a month' at a certain price point, but it doesn't guarantee that 1000 visitors a month hasn't just fallen from 50,000 – a big red flag. OutreachPete helps you avoid this trap!
Link Exclusivity
For every link OutreachPete gains for you they guarantee that you are the only client link placed in that article. There is no cramming in multiple clients, which dilutes your value and can create dangerous footprints.
Account Management
If taking up a monthly subscription you are assigned a dedicated account manager. Someone who works with you each month to learn your preferences, understand your needs and make sure that they are met every single time.
White Label Delivery
Again, as part of OutreachPete's monthly subscription packages you can request that links are delivered in a report with your own branding or your client's branding. This means no heavy lifting; you just take the document and pass it onto your client making an easy margin.
NDA
Finally, all links built with OutreachPete are under their implicit NDA as part of the service level agreement. Your information will never be shared with any unnecessary 3rd parties and never publicised in any way. This gives you full confidence to outsource your link building needs without any worry about client privacy.
Placing an Order on OutreachPete
To place an order simply sign up for their dashboard and you can buy outreach links on a pay as you go basis, or select one of their discounted monthly subscription packages. There are upgrade options for article word count at a reasonable cost should you desire to do so.
After paying for your desired links you are prompted to input your URLs and anchor text to go within the article content, and an order dialogue is opened up should you have any questions or special requests for your order.
You can also open a ticket via the order dashboard which is the quickest way to get a response from their team if you have any questions outside of your order.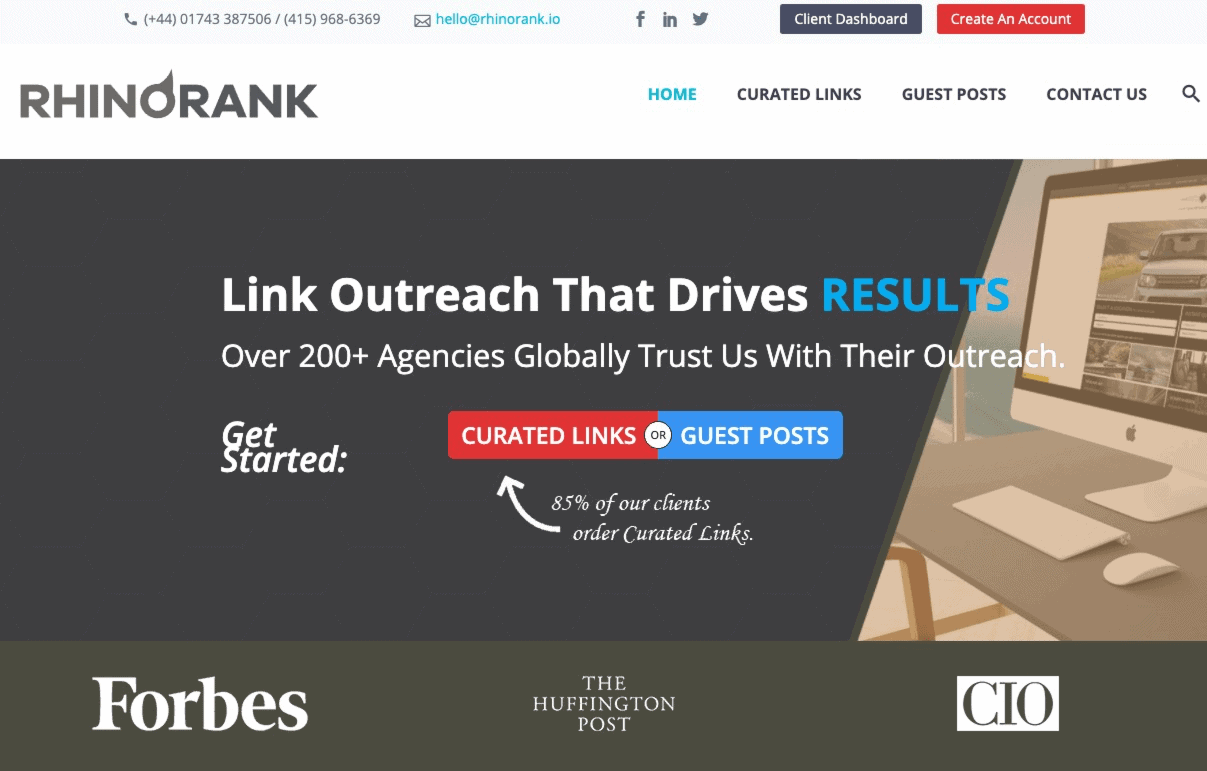 Next, we have a popular company that has branded itself as a 360-degree link outreach agency that promises to help you "bolster your rankings, drive traffic, and improve your revenue." It sounds like the total package, doesn't it? Rhino Rank is an expert in finding content relevant to your website and project at an affordable price.
Have you heard the saying, "People will forget what you said and did but will never forget how you made them feel?" Well, not only does Rhino Rank specialize in SEO results, but it also ensures that its clients have a great experience working with them. Their tactful performance, professional demeanor, and their ability to work within your budget are all factors that make this company one of the best in the market.
Fun to collaborate and communicate with, Rhino Rank always delivers on their work while offering you unquestionably excellent quality.
What Makes Rhino Rank Stand Out?
Affordability and Pricing
If you decide to take on their services, you will join hundreds of great agencies and businesses that came into and have never left the Rhino Rank family. For as low as $95 as your initial investment, you can enjoy the unique and high-quality services that this company has to offer.
You will also have access to their impressive roster of collaborators and professionals that they have acquired since they started kicking ass. It may sound too good to be true, but Rhino Rank delivers better services than similar service agencies of its price range.
Collaboration and Professionalism
Trust is hard to find in the SEO community. This is why when you find a service provider that walks its talk, you hang on for dear life. At least, this is what the hundreds of companies we mentioned above have done. They found Rhino Rank and have never let go.
This blogger outreach company has drawn an attractive crowd of top agencies in their fields, businesses, and many top-notch freelancers. Why? Because of their unique curated links, which lead to the fantastic results the company is known for, no matter how competitive the market is.
Guest Posting
Rhino Rank uses its extensive connections to get your company, or your clients' companies name-dropped on top high-traffic sites across the web. This company's Guest Post system is top-notch. It makes an effort to connect you with influential sites in your niche whose endorsements will be a game-changer for you. Rhino Rank has managed to utilize this new strategy better than anyone else in the market when it comes to curated links. When you purchase a curated link from Rhino Rank, you are assured that you've purchased a legitimate link.
The company has gained a reputation for getting links on high-traffic sites, making them stand out against their competitors. In addition to the fact that their services are the most cost-effective in the market, you can be sure that you're getting the best deal in the market.
Some Facts about Rhino Rank
Works with agencies, businesses, and freelancers
The company's curated links and guest posts are designed to keep you winning when ranking on SERPs. If you're looking for an affordable white-label solution for your SEO needs, Rhino Rank's got you covered.
Curated links are unique to the market
Are you in a demanding market and are worried about winning in your specific niche? Not to worry, as Rhino Rank drives results even in the most demanding markets, including yours. With curated links that are 100% unique, this company reformulates the status quo in all things link outreach.
The Power is in your hands
With Rhino Ranks, you have total control over all your link building campaigns. Do you want to set up an aggressive marketing campaign that will give your competitors a run for your money? Well, this link outreach service allows you to set the rules. From the URLs you want to promote to the anchor texts and niches, you have full discretion over the process.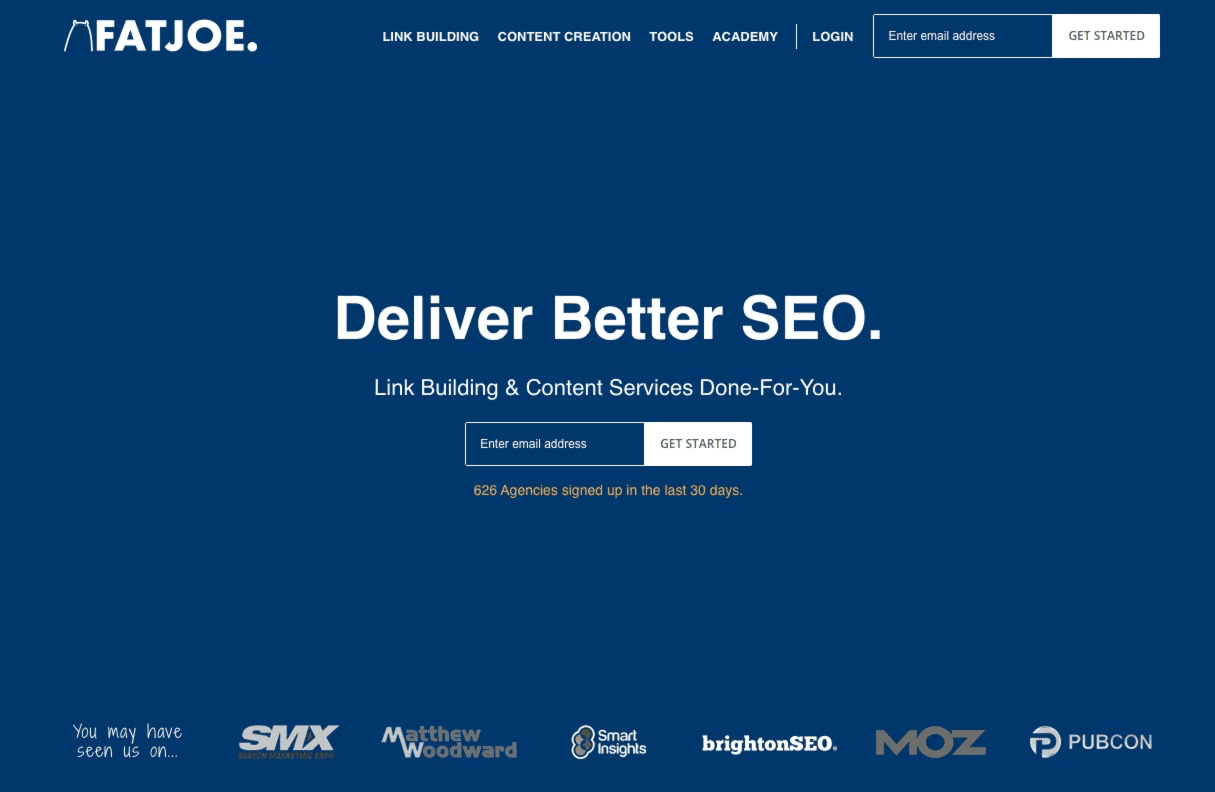 FatJoe offers their clients genuine guest posts at an extremely affordable price.
Check out their current pricing (new tab).
They provide educational and relational content to client links but are not biased to your client's product or service (Google likes that). The bloggers offer an impartial take by writing non-promotional content, allowing for excellent and mid-tier quality blogs to ensure your blog links are naturally introduced to the readers. The content follows a ghost blogging style.
Placing an Order on FatJoe
You can choose the number of domains (i.e., from your clients) when you order, and you can put together your DA (Domain Authority) requirements and word counts; to typing in your anchor text and target URLs for each line.
They cover three stages:
The Outreach Stage
In this stage, you provide anchor text, target URL, and agree on the length of your client's placement. The team then reaches out to bloggers and sees available options for them.
You'll provide the anchor text, the target URLs and decide your client's placements' content length. Our outreach team will reach out to bloggers and evaluate suitable opportunities available to us.
The Content Stage
The copywriting team will develop blog posts that bring together the clients and their audiences. This content is unique and original in its natural editorial style. Your client links are mentioned in a natural in-content manner.
Placement Stage
FatJoe does not offer you the luxury of pre-approving blog post placements. They allow managing live progress and viewing placements secured on your user dashboard. Be sure to expect quality editorial links and experienced services from Fat joe.
With Fat joe, you can expect:
Genuine Outreach
In-Content Links
Magazine Quality
Domain Authority (DA)
No Duplication of placements

OutreachMama provides two link building services namely, guest posting and a pure outreach package.
This is an 8-phase monthly outreach, geared towards the PR more than SEO agency. It involves creating a strategy, pitching, prospecting, outreach, creating content, response handling, link acquisition, and monthly reporting. All these phases are focused on growing your link profile and keeping up with Google's evolving ranking algorithm.
This service allows clients to access Outreach mama's blogger connections.
The process of establishing these blogger relationships is rigorous and seeks to ensure they meet certain minimum thresholds. Some important metrics include DR, DA and organic traffic.
You can also find some link building guides and resources.
Placing an Order on Outreachmama
You can order recurring packages or one-package through the dashboard. You customize your order and provide specific information such as content length, niche parameters and content review.
If you have questions you can fill in the contact form and you'll get a response within minutes.
OutreachMama's Link Building Approach
OutreachMama's blogger outreach service aim at improving diversity on your link profile. For example, resource page links, specific blog outreach and getting placements on articles linking to your competitors.
Outreachmama's DR of 70 and monthly traffic of 1000, according to Ahrefs are great indicators that they've worked on their SEO and they can help you out.
LinkPitch.io is an outreach-oriented link building agency that helps in building link campaigns that are personalized, quality, and have a long-term positive impact. They provide unparalleled and high-quality services that match up with blogger outreach trends and SEO.
LinkPitch.io Link Building Approach and Tactics
Link Pitch uses a multi-faceted approach to get links from credible sites – such links that will stand the test of time and improve your profile.
Below are the steps involved
Email outreach to build a mutual and long lasting relationship with individuals of editorial control on target websites. Link Pitch targets bloggers with high domain authority and ranking.
Content evaluation of the client's site. This is to ensure that the content on your site is worth some linking on the basis of merit. If the proposed content has potential but doesn't merit the thresholds, Link Pitch offers suggestions to improve the content.
Balanced approach to determine content that would work well for email outreach and identify the best link building strategies to use.
Determine link building strategies for each content, with a goal of getting the best search results. Popular strategies that Link Pitch uses include broken link building, unlinked mentions, resource pages, and content promotion.
Link prospecting. With the above strategies in place, Link Pitch can reach out to prospects using Google search operators and pulling up a list of sites linking to a particular page.
Personalization and Emailing. This process involves finding the editorial decision makers in companies and writing personalized emails to them.
Reporting and Evaluation. This involves assessing the performance of blogger outreach, whether they were successful or not. It also includes reporting and sending white labels reports to clients.
Placing an Order on LinkPitch.io
They do not have a dashboard to fill in your request details. As such, you can fill the contact form or email their representative to know how to commence the process.
Once you've filled the contact form, you'll wait for about half an hour before getting a response.
Heroic Search is a blogger outreach service centered around relationship building and manual outreach. They have solid connections with journalists, bloggers, editors and other agencies.
With these connections, Heroic Search ensures clients get high-quality links even for complex niches and assignments. You can get one-off packages or monthly campaign packages.
Heroic Search promises to offer:
In-house link acquisition team
Free content creation from in-house staff
Transparency of tactics and methodology
Relevance-based link building
Dedicated account manager
Contextual, followed links
Detailed reporting on a regular basis
Heroic blog outreach service is 3-phased,, involving:
Research and strategy. It involves evaluating your backlink profile to see what needs improvement and researching on your competitors to know their weakness and opportunities you can exploit.
Prospecting and Outreach. This is the process of generating long lists of potential prospects and filtering to have websites with high domain authority, high organic traffic and relevant niche.
Link placement and rapport. This is the negotiation stage where the prospects agree to link placement and build a strong relationship with Heroic Search.
Placing an Order from Heroic Search:
This is a simple process. You'll fill an online questionnaire with details such as your name, email address, number of links you want and link building tactics you agree to.
Heroic Search SEO
Heroic Search has a domain rating of 62, according to Ahrefs.
Click Intelligence is among the best blogger outreach service that uses data driven marketing to give their customers a significant and competitive edge above their rivals. This brand uses a combination of link building, content creation and technical knowhow for a sustained return on investment.
Whether you are a small business or a global enterprise, Click Intelligence can help you improve your profile and grow your traffic.
Their services cover:
Blogger Outreach
SEO services
content production
technical SEO
Link building
Paid Social and PPC
Free digital marketing and white papers
Forward Linking is among the best blogger outreach service provider that helps its clients to appear on niche-relevant and authoritative sites. The outcome is increased brand exposure, better search engine rankings and high-levels of organic traffic.
As a forward thinking agency, they are always on the lookout on current trends in the digital marketing space and search engines. As such, they vet bloggers and ensure their outreach efforts are targeted on the best websites in your niche.
The promise real links and real traffic and their outreach strategy can be described as transparent, personalized, relevant, ROI focused and long term.
Placing an Order on Forward Linking :
Before placing your order, decide which among the three plans suits you. You may use the contact form to ask the way forward or write to the support through the email provided.
Forward Linking Outreach Tactic
Forward Linking has plenty of link building techniques but their best blogger outreach and link placements include broken links, guest post links and resource links.
This service takes three phases namely the pre-launch, launch, and post launch.
Phase 1
Website Analysis
Selecting Content
Keyword Selection
Link-Building Strategy
Phase 2:
Project management
Prospecting
Outreach
Phase 3:
BibiBuzz is a blogger outreach service run by a solopreneur who has mastered the art of building natural, niche-relevant and diverse link profile.
The link-building process involves:
Brainstorming phase where you discuss with the owner what you want
Competitor analysis
Content Auditing
Content Ideation, where necessary
Prospect list creation
Outreaching for guest posting services
While the main blogger outreach strategy is for guest posting, the owner can adapt to your desired campaign and map out the process for you.
One thing that makes BibiBuzz among the best blogger outreach service providers is the presence of a project tracker that helps clients know the progress of the outreach efforts.
Ordering from BibiBuzz:
The whole process is quite easy. You will use the contact form to discuss the details of your desired project.
LinkBuilder has a domain rating of 34, and over 1000 monthly traffic. It is a brand with blog outreach services that emphasize on competitive analysis to build links that will stand the test of time, enhance your brand awareness, and grow your traffic.
LinkBuilder.io Outreach Tactic
Their major focus is high-quality, impact, results and constant analysis of their clients' ROI to determine if the outreach efforts are bearing fruits or not and what needs to change.
The multi-faceted process includes the following:
Phase 1- Strategic Brainstorming
Some of the things considered in this phase is the strategies and content to use and also development of the outreach persona.
Phase 2 – Prospecting to know who to target
At this stage, the team looks for linking opportunities, contact information and also personalizes contacts.
Phase 3 – Outreach Communication
The process involves creating email templates, launch outreach campaigns and schedule follow-ups.
Phase 4- Relationship Development
At this stage, LinkBuilder.io aims at building trust and nurturing relationships to earn link placements as they don't come easy nowadays.
Phase 5- Deliver results through Tracking and Optimization
Involves tracking links, measuring results and white label reporting to clients. Then future planning starts
Ordering from LinkBuilder.io
Placing an order starts with a custom order, set up based on your requirements. After this, you'll have access to the dashboard where you can manage the account.
Stellar SEO is a digital marketing company that offers content marketing, blogger outreach and guest posting services, social media marketing and also influencer marketing services.
With them, building authority around your niche becomes a lot easier translating more social media shares of your content, increased brand awareness and more sales for your company.
Stellar SEO Outreach Approach
Stellar SEO focuses on quality links, personalized approach and a robust outreach campaign. So if you are a business owner that needs to know good from bad SEO or has been messed up by a link building agency, you can expect impressive results from Stellar SEO.
Stellar SEO has a scalable blogger outreach strategy suited for agencies and or a small business. They carefully select authority sites for guest posting service and build a long-term relationship with bloggers for future links.
How to Place your Order on Stellar SEO
The process is straightforward – just fill the consultation request with details such as your name, phone number, website URL and the kind of help you want.
Outreach Monks is one of the best link building and content marketing agency. It is known for its white label link-building, local SEO, and finding high-authority websites to place your guest post. Whether you are a new business or an agency, Outreach Monk can help you reach the bloggers you would love, increase Google rankings and gain consistent organic traffic.
How To Order from Outreach Monks:
Outreach Monk has easy-to-use dashboard, where you can place your custom orders, check their status and also receive your white label reports.
If you are not sure about something on their website, just fill their contact form.
Outreach Monks Link Building Approach
Outreach Monks has two link building models:
Landing a guest blog post on already established blogging connections
Custom outreach model to new bloggers
Outreach Monk ensures that the website they reach out to have impressive metrics such as RD, DA, DR, CF,TF and monthly organic traffic. When seeking for Outreach Monk's services, you can also provide the websites you would like them to reach out to or let them do the prospecting and pitching for you.
Ninja Outreach is among the best blogger outreach providers that focuses on influencer marketing campaigns. It filters through millions of influencers in social media platforms especially Instagram and YouTube to find the ones that will capture the attention of your audience.
Ninja Outreach helps businesses in various ways:
Finding Influencers, Emails and Business profiles
If you want to find social media influencers in any location or niche or business profiles, just use the search bar on Ninja Outreach's website. You'll find millions of email addresses and profiles on their rich influencer database.
Influencer Marketing and APIs
Use tools to reach the influencers and know the best ways to benefit from their followers.
Manage Outreach Campaigns and Multiple Projects
These tools will help manage your outreach and marketing campaigns through a built-in CRM. With it, you can add team members, organize leads, filter results, track history, email opens, clicks, and replies.
You can also hire their team to provide the influencer marketing service and help in quality link placements for increased search engine visibility of your website.
How to Order from Ninja Outreach
Make sure you've understood the service you want, the pricing policy, and then sign up and follow the simple process.
Frequently Asked Questions (FAQs)
What is Blogger outreach?
It is a type of content marketing where you reach influencers in your niche such as bloggers for link building or guest posts. The long term goal for blog outreach is to increase traffic in your website or even build awareness to increase sales. Since the outreach process is time consuming and overwhelming, marketing professionals might outsource blog outreach services to industry experts.
Who writes the blogs?
During a blogger outreach, the service provider has in-house writers, who are well-trained and experienced to write relevant blogs. However, this can change depending on the policies and agreement you have before hand.
Can I suggest the anchor text to be used in the guest blogs?
Well, most times the blog outreach service provider will have the content writers weave in the relevant anchor text. This is more likely to be natural and impact your site positively by increasing click rates. But you can suggest preferred anchor text (s) and the context.
Is it worthwhile to seek blogger outreach service to secure a guest posting opportunity?
Well, this depends on your content creation strategy and goals. But seeking a company that performs bulk blogger outreach services may be better than trying it yourself. Since influencer marketing is time consuming and requires various tools that you may not have, outsourcing can help you to concentrate on other aspects of your website as experts get real links, steady traffic and real results.
Are paid guest blog posts better than non-paid?
No. As long as the website for guest posting has high domain rating, offers real links and will provide a match anchor text, it doesn't matter whether it's paid or not.
What should you consider before you place your order on a blogger outreach service provider?
Many things but primary ones include domain rating, use of white SEO methods, turnaround time, cost per month and your business goals. You should also consider their portfolio, independent reviews and the nature of their website.
Are white label reports important?
If you are looking to place an order for outreach service, ensure that you can receive a white label report. It reflects your business's uniqueness and its geared towards your goals.
What links are placed on the blogs?
Blogs will have do-follow and no-follow links. Different companies have different policies when it comes to links. During a manual outreach, you should find out what links are allowed and plan accordingly.
If I choose content creation and personal outreach services, should I choose paid or free outreach tools?
This will depend on your goals, resources and turnaround time. If you want a tool that can provide real-time data, track metrics and help with your posting services, you'll need to pay. But that does not mean you can't get free resources if you are just starting out on your business.
How long will the backlinks remain live?
Your guest posts together with the links will remain as long as the website is on existence. The blogs can stay even for a decade or more!