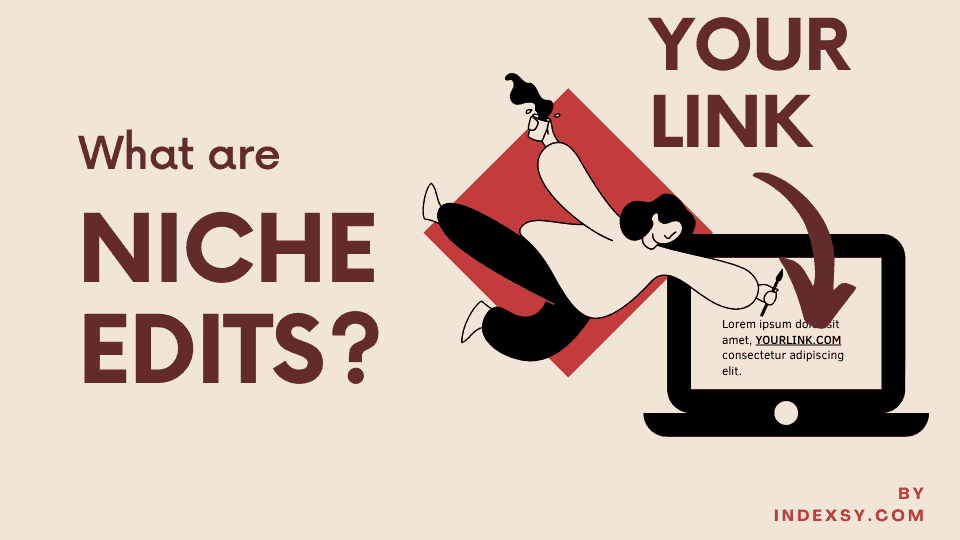 Living in the world of the internet means interlinked connections and endless outreach to a global market. Thanks to the very technologically inclined era that we are living in, the ability to reach millions in a matter of seconds is now a reality. The power of the internet should not be taken lightly. Thanks to this, there have been various ways, producing methods to promote content, such as niche edits. As you read on, you will understand the significance of backlinks and how they can be of great use for plugging sites, posts, and content.
Just kidding, the above was obviously written as SEO content. We gotta rank right?
So, what the heck are niche edits? In short, they're a lazy person's guest post. Instead of pitching guest posts, you pitch site owners to place your link in an existing piece of content.
More About Niche Edits (Curated Links)
With so much automation and innovation in the SEO world, many new terms and linking strategies have emerged. This would include niche edits, which is creating a big buzz in the space. The fact is, niche edits have been around for a while now, but have only been referred to as such for a year or two. To understand niche edits, basically, they are contextual anchor links that are anchored to high-quality aged pages, contents, or posts.
All of this means that niche edits are already listed and acknowledged by Google. Previously referred to as "contextual links," niche edits actually belong to a group of links or site-building techniques and strategies. Manual niche editing can be done, possibly by reaching out and directly asking or trading off to get links anchored to a significant post.
By the way, we sell this as a service. Check it out below. Our rates are so low they are essentially only for resellers.
The Origins
One thing is certain: where this process or term was first used is unknown. Someone, however, was the first to discover the use of niche edits by editing website content just after it was posted...and then anchoring new and significant info/names/links. Yes, this person was the one who invented the wonders of niche edits, and we have him or her to thank.
At Indexsy, we most certainly didn't invent the term "niche edits," but we decided to use such a term to separate our marketing from others and from all the buzz that appears around this practice. People didn't realize the link farms they were creating as they were still paying a good amount to PBN networks, and with about 300,000 back-linked ranked pyramids becoming a standard, we knew the easiest way of making customers grasp the concept of how this type of SEO is distinct from other blogroll links, or some type of footer link, is through the strategy of branding.
What are Curated Links
Curated links are not a new type of link building. It is just another term used for niche edits. However, it adds to what niche edits are all about. Curated links (niche edits) open doors to a new method in the world of editorial, post, content, and links outreach. The term "curated links" was the first common term used to refer to niche edits. Some just prefer to refer to niche edits as such, and still use curated links instead of niche edits because they think it sounds better than the given term. But, again, they are the same thing.
Want to get started with curated links? Here's another call-to-action. Don't shame me, we need that dough.
How Do They Work?
If you have already written or posted an article, blog, or post years/weeks/months or even just days ago, and then did some editing in the content on your website, that can automatically be considered as "niche edits." When an agent advises an author or writer to do minor to major fixes to an already submitted report, book, or script, this is also niche editing. Because they have paid for it, whether the changes were for SEO purposes, all said examples are niche edits.
Niche edits simply work like the regular action of content editing with the author or website owners' full intentions. Niche edits start with back-linking any number of websites altogether in a circular manner. We call this a "link wheel."
Generally, niche edits work as the process of placing or injecting another link into a pre-existing article. Rather than writing your own content or post, you are guest posting in another site, post, content type, or link with the owners' consent.
"Black hats" and "White hats" in Niche Edits
White or black, and even gray hats, which is discussed below, are all types of niche edits. You should definitely know which are credible, which are not, and which should be avoided for niche editing and marketing.
White hat niche edits are the safest outreach of linking curation. White hats work with traditional outreach strategies such as broken link building. Either way, all can work. Go for sites that offer top quality white hat link building to be sure of global outreach that can beat the competition in the market. White hats are the safest and most guaranteed type of niche editing and global marketing. An example of white hat niche editing is emailing someone, and that person has suggested or asked you to link their site or contents to your blog content, post, or links.
Black hat niche editing or marketing is bad and not safe. There are SAPE networks that belong to black hats, and these are examples of bad to worse types of link providers. They are said to provide their clients with previously used hacked websites for anchoring or injecting niche editing links. However, presently, there have been SAPE networks that were developed into white hats that are approved and guaranteed.
These practices have been going on for quite some time now. Black hat SEO services sell hacked or used links still today and refer to them immediately as niche edits, which they are not. Basically, this type of niche editing and marketing is done without the permission and consent of the blog content, post, or link owner, so you should avoid this type of marketing.
Though we generally talk about white and black hat marketing, it's well worth the mention of the existence of the so-called gray hat marketing or niche editing. Gray hats are for those who are playing it safe. The majority of SEO agencies have chosen to use niche edits as a way to gain additional profit, and they have now been selling curated link pages or niche edit marketing. This is how gray niche edit marketing works. Clients pay for the outreach, and the agencies will do the marketing. Though, in doing this, you must be alert and very careful. Some curated links sellers have the capability to access hundreds of websites and be able to edit the website's content without care and most often without the owner or the webmaster's consent and knowledge.
Are Niche Edits Hacked Links?
No. Niche edits were built and are not at all hacked nor inserted in their nature. It simply means the practice of editing old content to new with owners' consent, knowledge, and intentions. Mentioning the white, black, and gray hats, you must be very careful about choosing the one that offers niche editing and marketing. Hacked link marketing happens because of black hat niche editing and marketing. Fortunately, there have been SAPE networks that were developed into white hats, assuring clients that they are doing marketing with webmaster consent.
About Indexsy
Indexsy assures clients of a 100% in-house process. Our in-house team is trusted and hands-on with our offered services. Our actual build team is composed of mostly 30+ employees who are in check with every service they do. With great employees, Indexsy, for guaranteed link building and content curation, comes along with exclusive multiple international and global connections for every clients' needs.
With much critical thinking and analysis, we've combined the concepts of networking VA teams, which pushes the entire link building process along, while keeping an in-house team to provide high-quality niche editing and backlinks. We provide link building that truly works.
Indexsy offers no outsourcing and absolutely no involvement of virtual assistance on our behalf. You can check out our website to see what our workspace or office looks like. Our team is 100% honorable, definitely globally competitive, and always in-house. With these practices, we can make sure that we will offer you, our clients, with the best services at a very negotiable cost. We also, of course, ensure that we always give an all-out effort and quality to the type of service that you will require. With our outstanding product and service, quality comes with our client-friendly customer service assistance.
The project manager that is assigned to you will treat you with the utmost respect, always answer your questions, and never miss a beat in the process. At any time, and at any moment, you can track and know how your project is going. We have service providers, or Slack pros, which allow you to clarify things with your project manager or see whether backlinks have already been acquired. This comes with real and all-time reporting that you can monitor, track, and view whenever you like.
Our sites are spam-free. We provide the links to every niche edit that people, specifically our clients, have created websites for. Rankings from the links we have been providing speak loud and don't lie. Our team of specialists is definitely what you are looking for in whatever type of service you want.
The Services We Offer
In Indexsy, we have one aim, and that is to be able to serve every aspect and all types of long-term SEO models. Higher ranks, improved revenue, and more traffic with quality links that will surely deliver and satisfy our clients is our vision. We offer many types of SEO models from niche edits to PBN rentals and setups, social signals, GMB verifications and local citations, guest posts, and also specialized verticals like CBD and marijuana and casino and gambling. No matter what you are looking for, Indexsy has got you covered.
With our niche edits, expect results to show within the next 24 to 96 hours. Indexsy has over a thousand, and continuously growing, properties belonging to our network, and we have been in the business of SEO for more than half a decade. We assure our clients of niche edits that are white hat outreach based. Each link that we provide has different personas with individual A-B class IPs, and every website that we have in our network has no sign of footprints. We have provided and will continue providing indexed and trusted content to webmasters, web owners, and real hobby bloggers.
Indexsy has been in the business for decades and continues to provide networks, do services and commissions that will surely be satisfying to every client.
Published by: Jacky Chou in SEO