It can be a time-consuming and challenging process to do SEO without access to the best tools. As an SEO professional, you want to finish more tasks in less time.
The internet has evolved, and major search engines such as Google are now looking at a different kind of information when determining their search results. Some of these things include correct keywords, links, content structure, among many other features, that will make your site rank higher on Google.
This is not only important for organic Google search results but also for PPC (Pay Per Click) and other marketing campaigns. To ensure you adhere to the ranking rules, you need to be using the best SEO tools.
Whether you want to best terms to use or identify the issues with your website, there are SEO tools to match your every need. SEO tools also help you to complete tasks as fast as possible and to perfection.
Therefore, to help you step up your SEO, we have a list of the best SEO tools you should consider, both paid and free SEO tools. We also have a list of factors you should consider before choosing an SEO tool.
1. Ahrefs Keyword Tool
Ahrefs is our top pick when it comes to the best SEO tools. It is a compact tool, five in one, where you can analyze your target customer's searches, conduct a site audit, analyze your competitors, determine the top-performing content, and track your progress.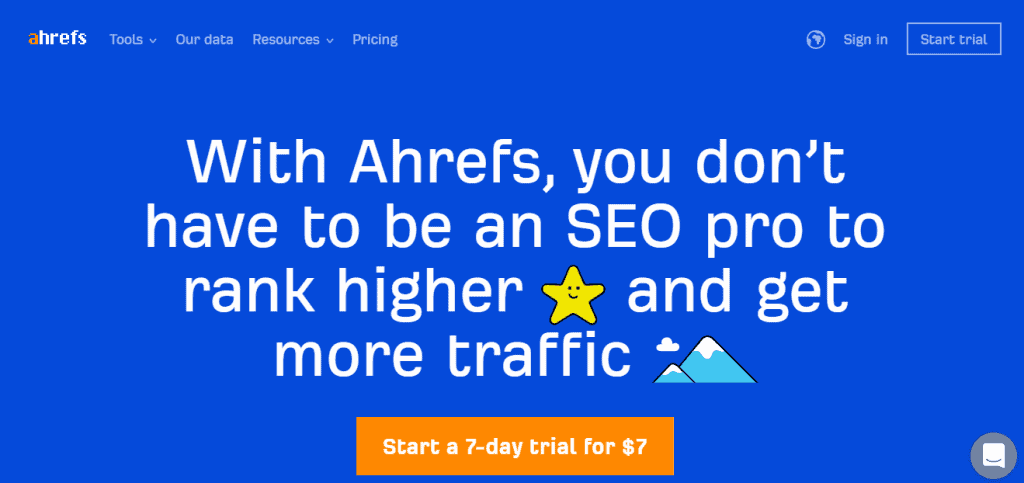 Ahrefs has a competitive analysis feature to analyze your competitor's backlinks and use them as a motivation for your company. The site audit also shows you the sections in your website that need improvement, for example, checking and fixing broken links in order to rank better in search engines.
You can also find out what information your visitors are interested in by checking the best-performing pages and contents within your website.
Suppose you are starting a new blog but have no clue what content that will perform, you can use Ahrefs content explorer to determine the best content ideas. It conducts content research for you, to help you know that the best content that exists in your industry. This way, you can ensure that your blog content will outperform your competitors' content.
All you need is an idea, which you will type on the tool's search bar, and it will show you pages that have content around your general idea, low competition topics, and link building prospects.
2. Google Search Console
Google Search Console is one of the best free SEO tools that helps you know your website's rank in Google SERP. Formerly known as Webmaster Tools, Google Search Console will provide you with data same as Analytics but in a more simpler and straightforward way.
It focuses on two main areas; search and optimization. It helps you understand how Google users see your website and suggest ways to optimize your content for better ranking in Google search results.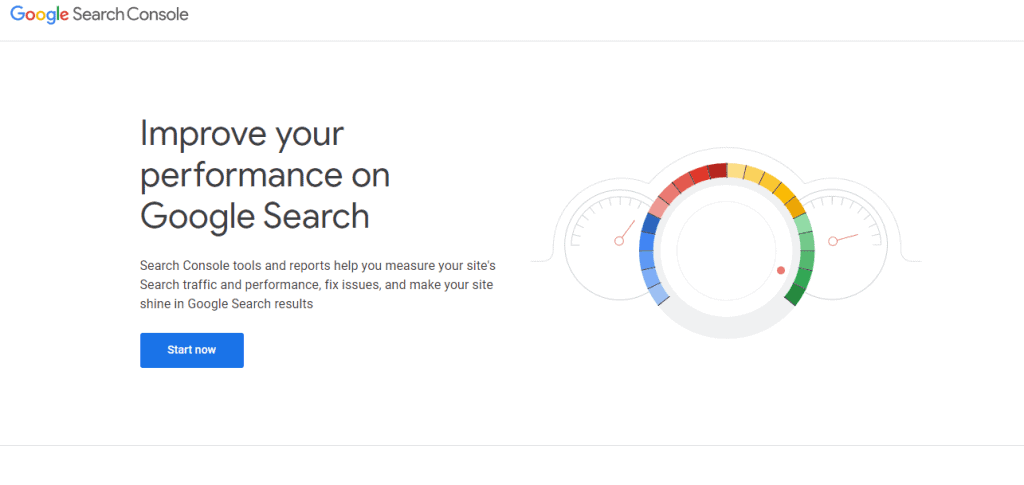 Google Search Console is one of the best places you can be assured of reliable keyword data and data on how Google crawls and ranks your site. You get some of the best insights just from checking the dashboard.
All you need is a Google Search console account, which after registering, you will be given a code to add to your website. With this account, you can control how your website is seen and what gets indexed.
It's a very useful tool, especially for new websites, and it can be hard to imagine doing SEO without access to the Google Search Console. This is because it allows the website owners to submit web pages for search indexing.
3. SEMRush
SEMRush can assess your rankings and identify changes you need to make to rank higher. It conducts an SEO audit of any website and shows the number of backlinks and search traffic the website has.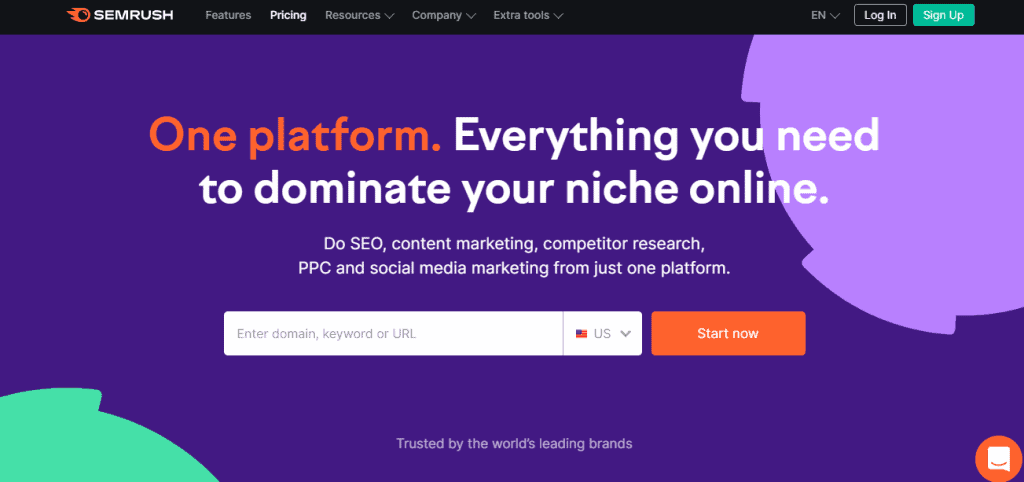 It boasts the Domain Vs. Domain feature, where you can compare your website to your competitors. With this tool, you can do topic research, keyword research, a competitive analysis among many other things.
SEMRush is an On-Page SEO tool that will suggest you ways on how to improve your site's performance. It provides you with your website's search data, traffic, and that of your competitors.
Simply create an account with SEMrush, type in your domain, and it will quickly determine the number of backlinks, the traffic, the keywords you're ranking for, and the competitors. It also provides an overview of the link type and anchor text.
This kind of information will help you analyze better the backlinks to any domain and find you the best keywords for your campaign. It is known for accurately measuring the quality of your content and the major issues that are making your content rank poorly.
With the free version, you can conduct up to 10 searches per day. However, there is an option to upgrade if you need to do more searches.
4. Moz Pro
Moz Pro is an all-in-one SEO tool that will track keywords on different search engines, give you full access to the SEO for chrome extension and SEO insights, provide you with a one on one help and also 24-hour support.
In short, Moz Pro features backlink analysis, site audits, keyword research, site crawls, among many other benefits. It provides you with SEO solutions that will help your website rank at the top. It enables you to find the SEO issues and show you how you can fix them.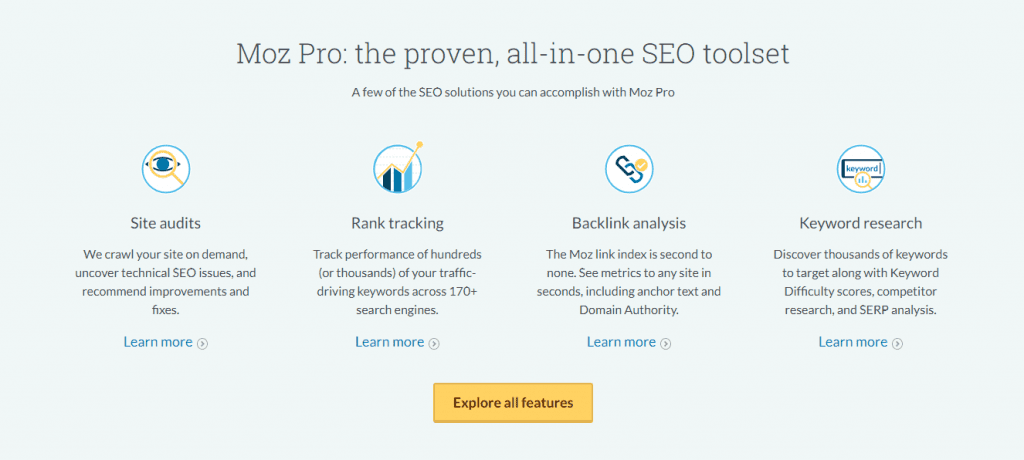 MOZ Pro will determine broken redirects, missing title tags, and also ensure they help those who need their assistance. You also get a MozBar tool that you can download for free to see the SEO metrics while browsing any page on your website.
There is also MozCon, which is an annual conference they have, which you should attend if you're looking to learn more about search engines.
Some SEO experts have praised Moz, with the fact that it is always up to date despite the constant Google algorithm changes. If you're looking for keyword recommendations or a site crawl, Moz Pro is a tool you should definitely consider.
With this tool, you're assured of excellent insights into how your website is performing and how to improve it.
5. SE Ranking
SE Ranking is ideal for those who need a comprehensive yet easy-to-understand SEO tool. It has everything you need for an in-depth analysis of your website's health and optimization of each page, organic and paid keywords, competitors and their strategies, and backlink profiles of your site and those of others.
The list is actually longer and more diverse, depending on your plan.
SE Ranking offers a detailed keyword research tool that helps you enhance or clean your keyword list and then analyze the queries your competitors rank for. It also allows checking keyword metrics in bulk.
The Keyword Rank Tracker tool shows you the rankings of any term in any location. You can check your keywords and track your competitors as well. And if you don't know who your competitors are, the tool has the Visibility rating feature and competitor suggestions to find this out.
Its competitor research tool provides consistent insight into other websites' quality metrics, traffic dynamics, focus search queries, top pages, and more.
And if you use PPC, Competitive Research covers your research on the other websites that have paid ad campaigns for the search terms you want to use.
In case you don't know where to start, use the Website Audit tool. It analyzes the technical aspect of your site and looks for every little thing that may be off. All the issues have suggestions for improvement, and you can compare reports in the future to see what fixes were successful.
The friendly people over at SERanking gave me an exclusive link to offer a 14 day trial for my readers.
6. UberSuggest Keyword Planner
Ubersuggest, an SEO tool developed by Neil Patel, is a keyword tracking tool that determines the best keywords and also the search volume. With hundreds of keyword suggestions, you can easily find the right terms or phrases to use on your website.
It is an excellent tool for both paid PPC and organic SEO. Their data includes the performing keywords and keyword volume, the seasonal trends, CPC, and competition.
The biggest questions of SEO is knowing how you're performing, what your competitors are doing, and finding ways to improve your strategy to appear at the top of search results.
This tool will help you achieve all the above three things by finding you a keyword worth targeting and the competitiveness of the keywords.
Getting started with Ubersugest is simple. You need to simply type in a domain or a keyword into the search bar.
Once you type the phrase and search, you get the best keyword ideas, and you can filter the results to get the ones that match your needs. You need to select the keywords that will help you create good content that will rank highly.
You can do a lot more with Ubersuggest, and you also get a free Ubersuggest Chrome extension to use right from the SERPs.
7. Google Keyword Planner
The Google Keyword Planner tool is an excellent resource for generating keyword ideas based on up to ten seed keywords or from a website or URL. It shows you a keyword list that will help in your PPC campaign.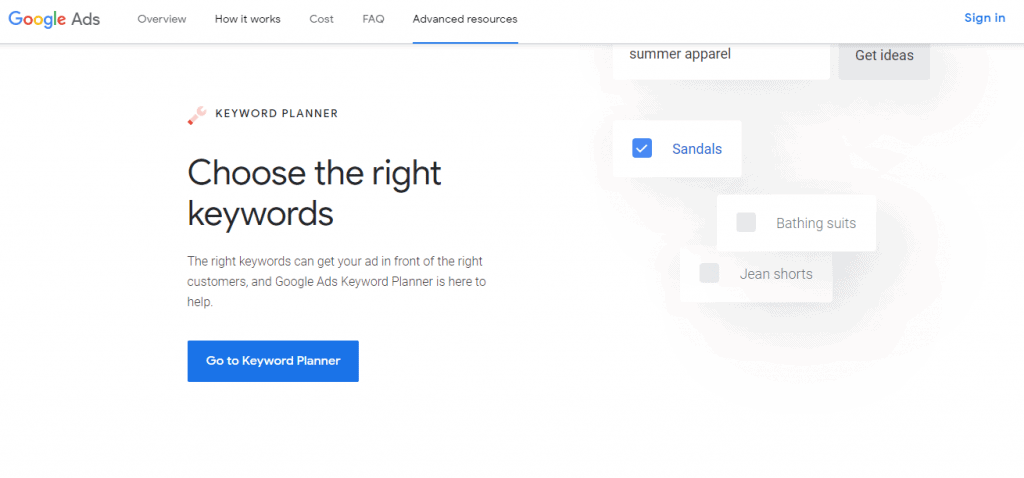 By using this tool, you get a variety of keyword and ad group ideas, you can see how different keywords are currently performing, and you can even combine different keywords in the list to create new phrases.
The Google keyword planner has four options that include;
Searching for keywords ideas by either typing a phrase, website URL, or a category.
Combining two separate keywords to create new keyword ideas.
You can see the trends and search volume of keywords ideas.
Gives you a performance forecast for your keywords based on average bids and your budget.
There are different parameters that you can use to filter the keywords to match your needs. Furthermore, you can add a phrase or a term that you think is a potential keyword, and this tool will give you the data for the term or phrase.
However, this Keyword Planner may have some limitations, such as a lack of absolute search volumes, but it's still great for finding keyword ideas and better than using a traditional keyword research tool.
8. Answer The Public- SEO Topic Researcher
Answer the Public is a free SEO tool that allows you to find suggestions of topics to write about on your blog. It gets the questions from Google's to autocomplete search results.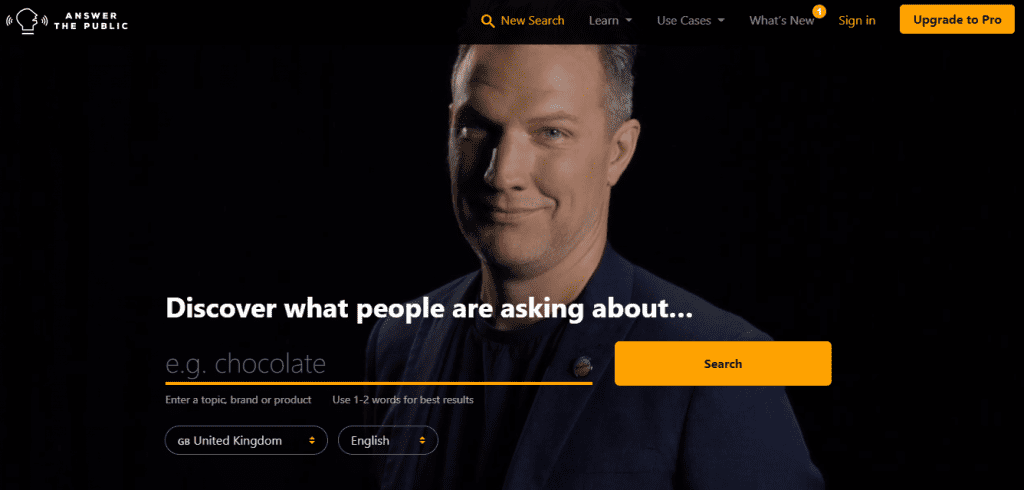 You can use this too to the specific keywords and topics to create content. For example, if your site focuses on the fashion world, this tool can help generate topic ideas around keywords like shoes, bags, trousers, jeans, etc.
If you're looking to hire freelancers to create content for you, you can easily find the featured topic ideas around the industry you're into. It gives an extensive list of featured long-tail keywords and the common questions asked around the topic.
To get started with Answer The Public, all you need to do is search for the industry and download the list of topics ideas that are currently trending. It only takes five minutes to do this, making it the most effective and efficient way to come up with topics that are SEO optimized.
9. SpyFu SEO Tool
With Spyfu, you can search any domain and be able to find out any keyword the site has bought from Adwords in the past 14 years. You will also be able to find ways to connect with these domains using methods such as social media, email, etc.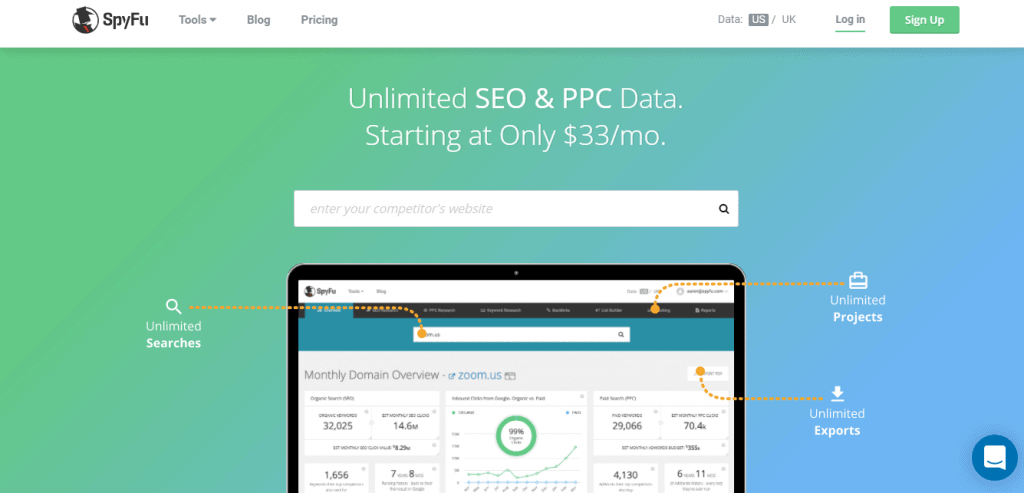 It offers five main functions; keyword research, SEO research, domain overviews, PPC research, and SERP checker. An admirable feature of this tool is the Spyfu Kombat, which is easy to start and understand. It comes in handy, especially while doing keyword research.
If you're doing digital marketing and would like to know the keywords that competitors are ranking for in order to generate keyword ideas from them, then this is the tool you should be using. You can also use this tool to see if there is room for improvement for an already running PPC campaign.
All you will be required to is input your site and compare it with the competitor's site. You will be able to find out the keywords that your competitors are not ranking for, both in paid and organic searches. Next, you can come up with content that will target the keywords that are performing.
Spyfu can also help you determine the non-performing keywords, which you may need to update with new ones, especially if you're looking for optimization. Spyfu is one of the best marketing tools that will ease the work for marketers.
10. WooRank
Woorank is an SEO tool that shows you ways to improve both your on-page and off-page SEO. It offers free and paid versions to track and report your site's data.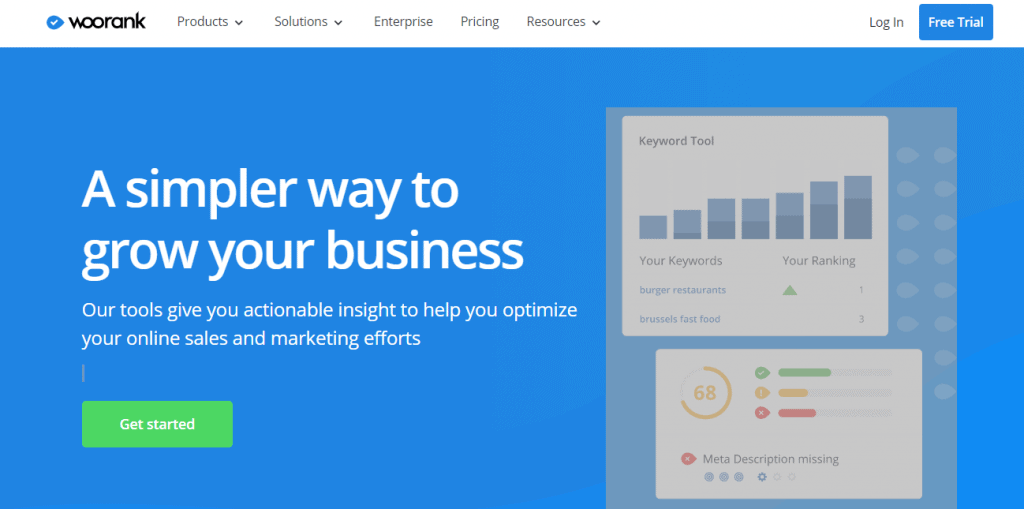 Most SEO tools tend to show you the problems with your site and do not show you how you can solve them. However, with Woorank, you get to see the issues with your site as well as ways you use to fix them.
You can add your competitors to determine which keywords they are using targeting so that you can do better. These tools can also help you find security issues, duplicate content, etc., and recommend ways on how you can fix such issues.
With this tool, you're also provided with data that shows you how different keywords have performed over time in search engines. From both the content and technical SEO perspective, you're able to get a better understanding of what your site is lacking.
11. Google Analytics
Google Analytics is a free SEO tool that should always be included to complement other tools. It shows you how much traffic is your site is having and the kind of people visiting your site.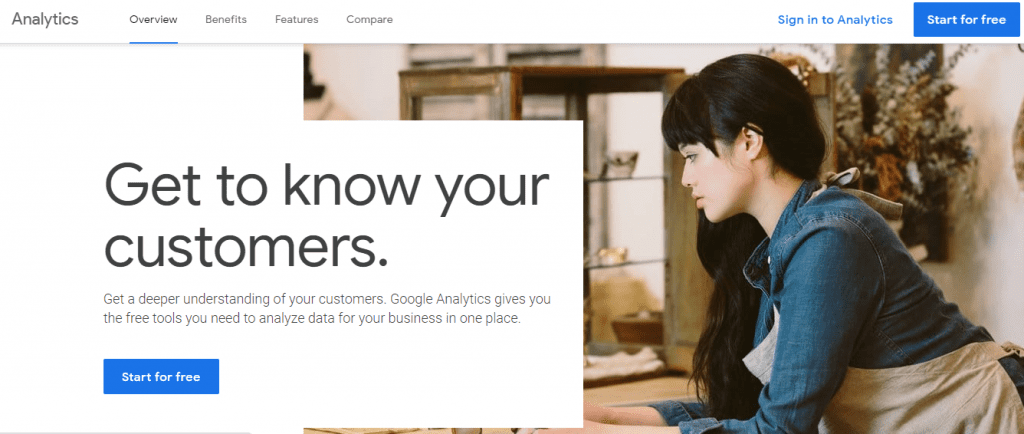 A lot of their data comes directly from Google, so it one of the tools that can be trusted to give you insights concerning the necessary actions to be taken.
It has the following main features;
Campaign Parameter Tracking- You can use this to find the campaign that is generating the most traffic and conversions.
Goal tracking and Funnel Conversion Path- Use this to determine how many customers are converting and study the path used in converting.
Audience Reports- To help you understand your audience, their gender, age, and the devices they are using to access your site.
All you need is to create a Google Analytics account for first-time users, then add your website domain. You will be given a code, which you copy and paste on every page of your site.
By doing this, you will get data such as the number of visitors on your site, the time spent on the site, the bounce rate, things that are sending more traffic, among many other important features related to your site.
12. KW finder
KWFinder is a keyword research tool that helps you find the best long-tail keywords that are not very competitive.
Apart from using this tool to find the best keywords, SEO professionals also use this tool to run an analysis on backlinks and SERP (Search Engine Results Page).
You get a good number of new keyword ideas to use on your site in order to rank higher. Furthermore, this tool features a rank tracker that helps you know your ranking and tracks your improvement based on one key metric.
The process of finding the keywords is similar to most tools. You need to type a word or a phrase, select the target country and the language, then click on find keywords.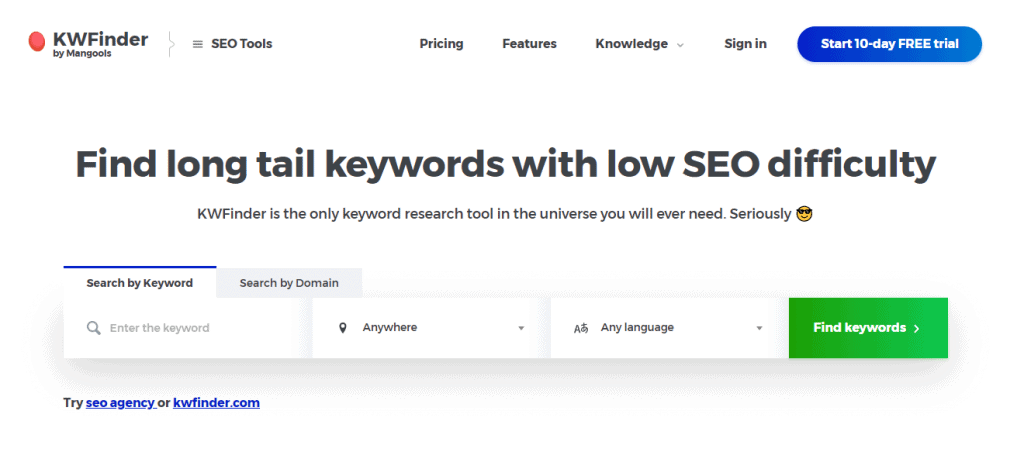 There is also an option to find the keywords by searching the domain and entering the target country. It is an easy way to find the seasonal keywords and hot topics that will boost the search engine traffic and help your website rank higher.
13. Keyword Tool
If you're looking for a keyword planner that is similar to Google Keyword Planner, then you should consider the Keyword Tool. It's also similar to conducting an incognito Google search, although with more added value.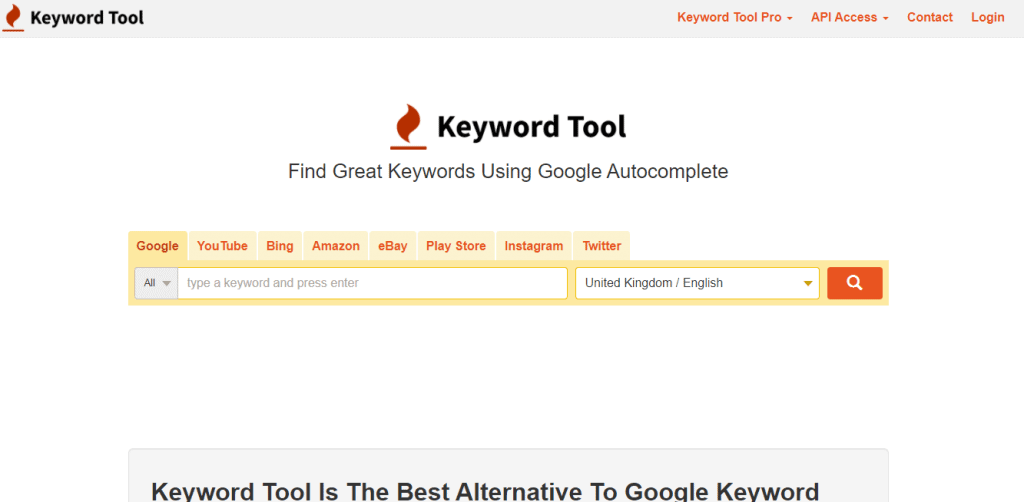 Keyword research is one of the most important things that need to be done if you're hoping to improve your search engine optimization.
Keyword Tool offers lots of relevant keyword suggestions for your industry. All you need is to enter is a word in the search box, choose the desired search engine, and target country.
The tool will then give you the best keywords ideas. You can get over 750 search terms for every keyword research. It also includes long-tail words, and you can filter the results based on the country, platforms like Google, YouTube, Amazon, etc., and the language.
You can also filter out negative keywords. If you're looking for specific phrases your target audience is using, then you should do keyword research using this tool. You can generate up to double the number of keywords with the Premium version.
14. All in One SEO (AIOSEO) For WordPress
All in One SEO for WordPress (AIOSEO) is one of the best SEO tools. It is a WordPress plugin that is used by over 2+ million people and a comprehensive toolkit to help you achieve higher rankings in search results.
It is easy to set up, and you can select the best SEO settings for your business. This plugin will show you an on-page analysis with a checklist to help you optimize your posts and pages.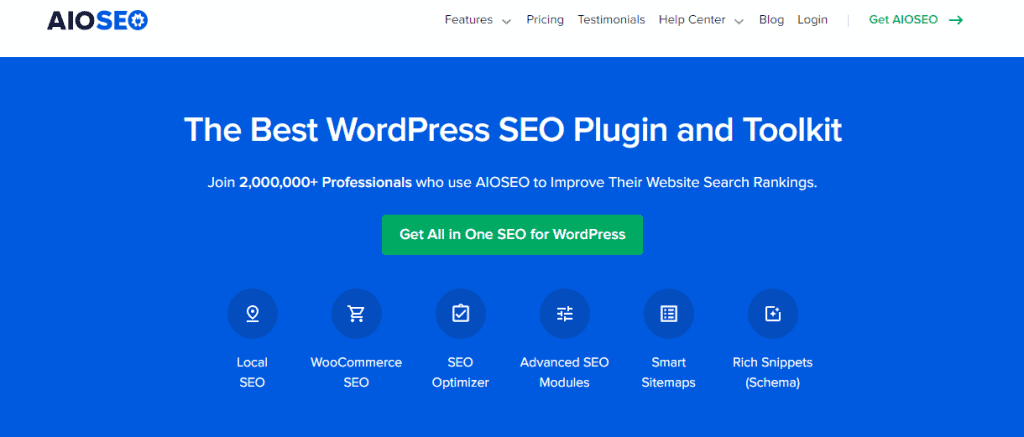 This AIOSEO tool includes;
A smart meta tag generator where you can use different values like the date, in your SEO title and descriptions. This means you won't have to update a post just to change the titles.
A rich snippet schema markup
Smart XML sitemaps
SEO health check
A built-in social media integration to add Open Graph metadata.
A built-in WooCommerce SEO tools for eCommerce sites.
Full control of RSS feeds
Other useful features such as Robots.txt editor, local SEO, video SEO, etc.
It also comes with different SEO user roles, so you can get help with managing crucial SEO features without handing over control of your website.
If you're in search of a beginner-friendly SEO WordPress plugin, then you should consider installing this one. It is perfect for all websites, including e-commerce, businesses, blogs, news, etc., and you don't need to install multiple plugins since it is an all in one.
15. Majestic SEO Tools
Majestic SEO tool is one of the oldest SEO tools, and since their launch in 2011, they have consistently proven to be a reliable SEO tool.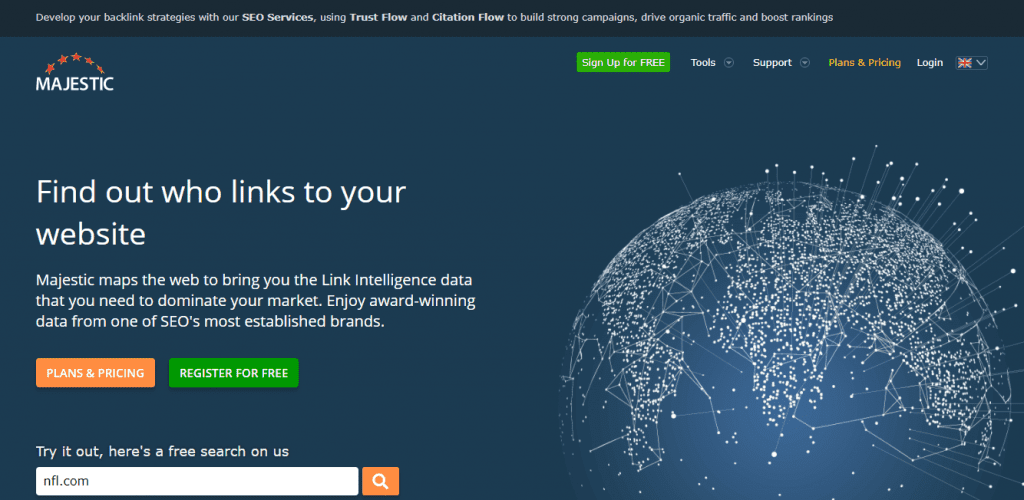 It mainly focuses on backlinks, which is an important factor when it comes to SEO performance. They have a number of useful features, which include;
The Majestic Million- This feature lets you see the ranking of the top one million websites.
The Site Explorer – It gives you a general overview of your site and the number of backlinks that are there on your site.
SEO keyword tool-To help you find the best keywords to use in order to rank higher.
Site comparisons
Tracking your rank.
In addition to the historical index, which has received a lot of praise online because of its speed, users can also search for Fresh Index that is crawled and updated every day.
The upgraded version features more useful features such as a record of referring domains, IPs and subnets, bulk backlink checker as well as an open site explorer.
The Majestic integrated site explorer feature has received some negative comments because it looks outdated. The majestic tool does not also have the Google Analytics integration.
16. SEOQuake
SEOquake is one of the best free SEO tools that come in handy when you have little time but need to analyze a lot of URLs. It's an extension that acts as a link analysis tool and displays an SEO overview of any given page.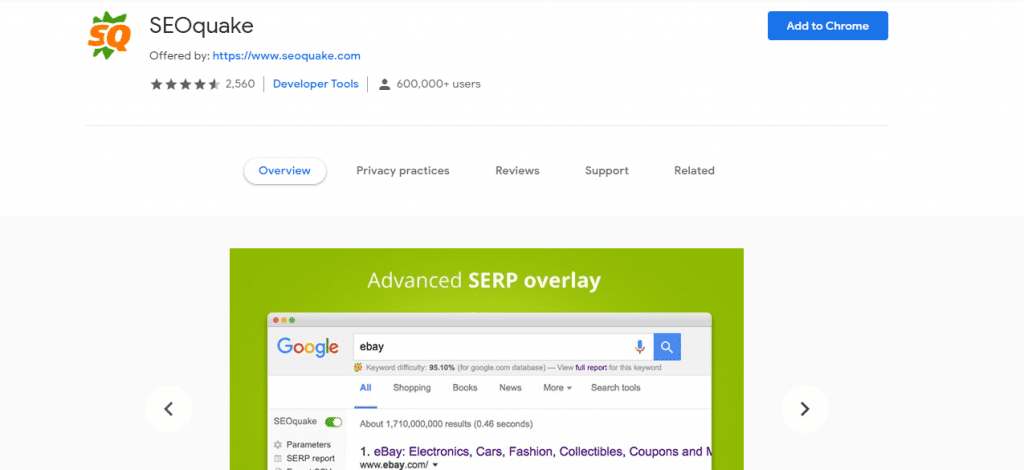 For each URL, this tool conducts the following things;
An on-page site audit
Assessing both your internal and external links
Website comparisons to compare your performance against your competitors.
Keyword analysis such as keyword density
SEOQuake boasts an easy to read SEO dashboard and an export feature that allows downloads and sending data to different people.
This SEO tool supports different browsers, including Chrome, Safari, Opera, and Mozilla. Once you have installed the extension, a toolbar will appear in your browser. You can now conduct an SEO audit of any website.
The SEO toolbar displays the domain's age, the total number of indexed pages, social shares, and external links. Instead of individually checking the sites using a standalone tool, with the SEOQuake tool, you can view the real-time data as you browse.
This tool determines if you have any errors on your site and suggests ways on how you can fix them.
17. Google Trends
Google Trends is one of the most underutilized SEO and research tools. Most people tend to ignore this tool, not knowing it can do wonders for their SEO. Google Trends gives you more information regarding a keyword and also offers great insights into the trends of a topic.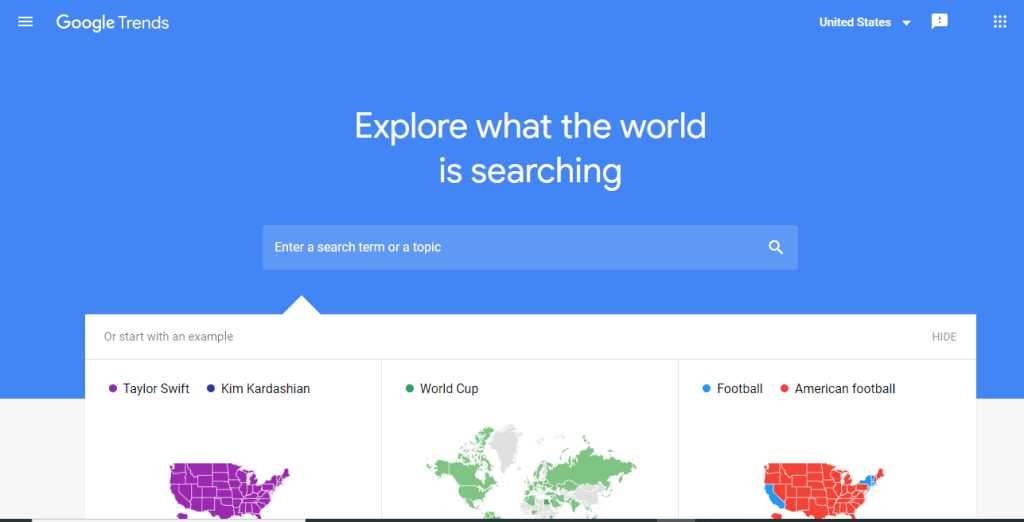 It shows you how a specific topic has performed over time, which can be valuable information at any stage of a business's growth.
The use of Google Trends in your SEO journey is recommended to find out and capitalize on the trending topics and avoid creating those topics that people seem uninterested with.
To get the trending topics, search for keywords in any country, and you will be provided with all information regarding its performance.
Some of the information you're likely to see are the rising queries on the topic, top queries, interest depending on the geographical location, and interest in the topic over time.
If you're looking for trends in your industry or country, then this is one of the best SEO tools to use.
18. XML Sitemaps Generator
A sitemap is another way to have a high ranking website. It is defined as a file that has information about the pages, videos, and other files on your site and how they are related.
Most search engines like Google read this file to crawl your website effectively. A sitemap will inform the search engine which files are important on your site and also give important information about these files.
The XML sitemaps generator will allow you to easily create a sitemap for your website with both XML and HTML variants.
To use this tool, you just need to enter the URL of your website, and it will start generating the sitemap. The results of this sitemap will include the number of pages, broken links, XML file content, and a link to the sitemap file.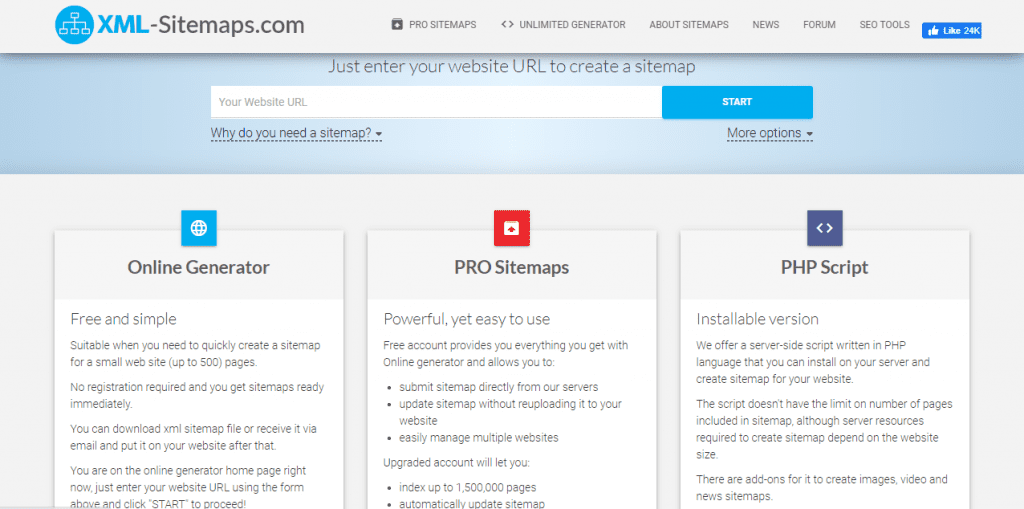 You can easily get your sitemap without any registration. The tool sends you an email of the generated sitemap, and you can put it on your site.
With XML Sitemaps, you can create both HTML and XML sitemaps to improve the crawlability of your website. Both of the versions are beneficial to the user and the search engines.
With the free version, you can create a sitemap of up to 500 pages, but if you have a more prominent website, then you may need to upgrade to the premium version, so as to create an unlimited number of pages.
19. Yoast SEO
Yoast SEO is another SEO WordPress plugin that is very popular. This plugin allows you to optimize your web pages to rank higher on search engines.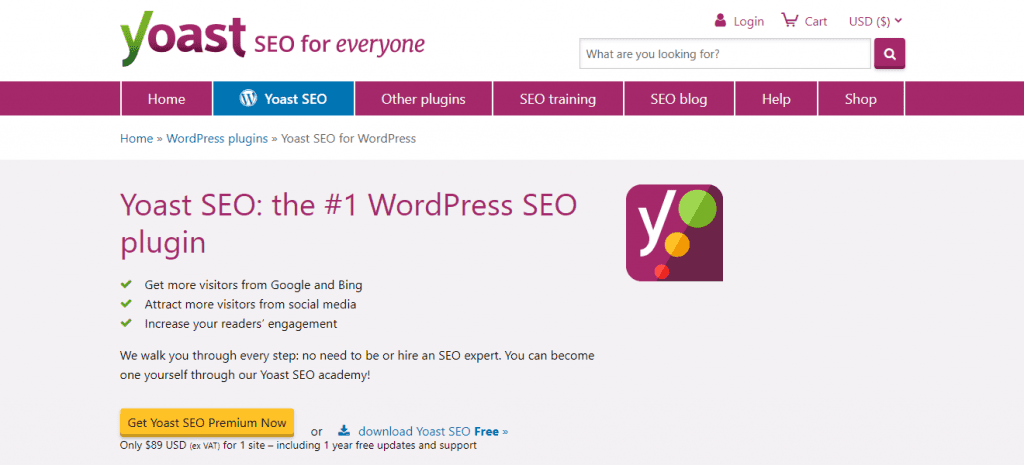 You can easily add SEO titles and descriptions to the posts and pages, you can also add Open Graph metadata and social media images to your posts.
It comes with a lot of features to ensure your content is optimized. Some of those features include built-in content analysis, duplicate content management, meta keywords and description, XML sitemaps, social features, rich snippets, etc.
The XML sitemap is automatically generated for all your content, making it easy for search engines to crawl your site. With this tool, you can import your SEO if, in the past, you have been using a different SEO plugin.
The built-in readability score shows an analysis of the readability of your content, making it easy to edit your content to make it easier for your users to read and understand.
20. Siteliner
One of the main ways of ensuring your content performs well is checking if there is any duplicate content. Duplicate content will hold you back in your search engine, and this is where Siteliner comes in; to help you check if there are any duplicate pages.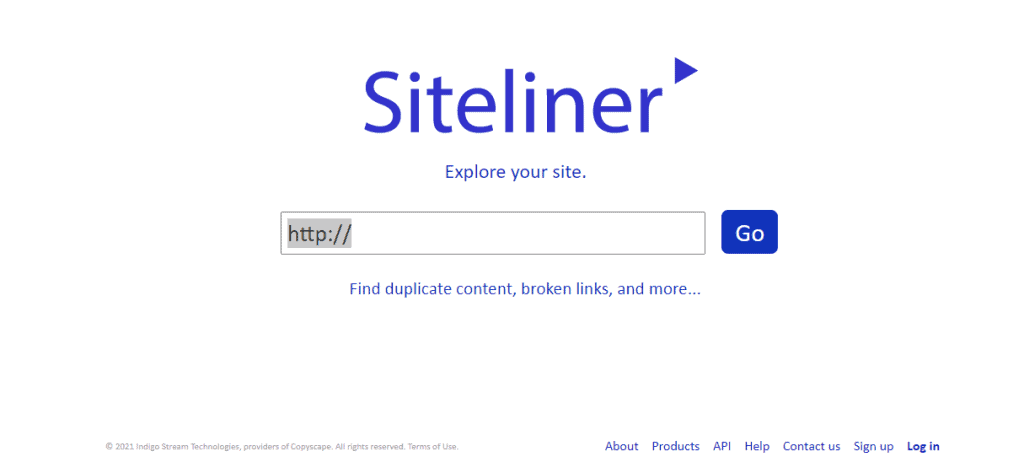 To use this tool, input your URL on the search box, then press Go. The site will scan all the pages on your site and will give you the following information;
The percentage of duplicate pages, common content, and unique content on your site
The number of broken links found.
Skipped pages
Comparison with other sites in terms of average page size, page load time, number of words per page, text to HTML ratio, duplicate content, common content, internal and external links per page, total links, and inbound links per page.
From there, you can now analyze each category one by one and ensure you make the corrections to improve your SEO performance. You can also download the report as a PDF and save it for later.
This is a free tool and is has unlimited monthly checks of up to 25, 000 pages. If you exceed this limit, you will be required to pay 0.01 for every page.
21. Screaming frog
Screaming Frog conducts comprehensive technical audits of any site. It is a desktop program that works as a log analyzer and a website crawler and can be installed on any PC.
It helps in improving the onsite SEO by fetching data & auditing for common SEO issues. To get started with the screaming frog SEO software, you need to download the program on their site.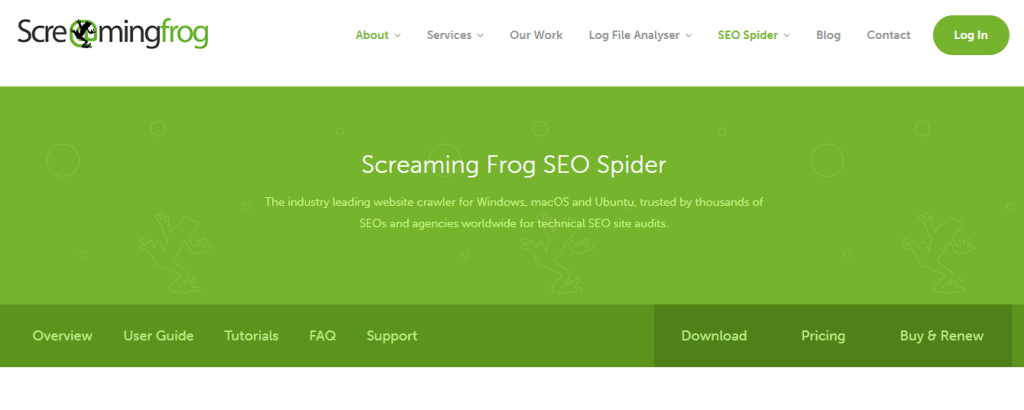 Once you have installed the SEO software, open the tool and enter the URL you wish to crawl, then click on start. The tool will then collect all data related to the URLs entered for further review.
This tool will help determine the following onsite SEO factors;
Server errors
Broken links
Duplicate pages
Analyze title and meta descriptions, their length, and relevance.
Outlines if there are any missing elements.
Furthermore, this tool integrates with Google Analytics, where the users of Screaming frog are able to error reports. It extracts a set of URLs and analyzes the crucial things like the meta tags and the broken links.
This tool will save you a lot of time and with the free version, you can crawl up to 500 URLs. If you wish to crawl more URLs, then you need to upgrade to the premium version.
22. Google PageSpeed Insights
One of the most important features to consider during SEO analysis is the page loading speed. This is because the better the loading speed, the increased user experience, and also the higher the rankings.
Google PageSpeed Insights is a free tool that allows you to know the speed of your site and also recommends ways to improve it.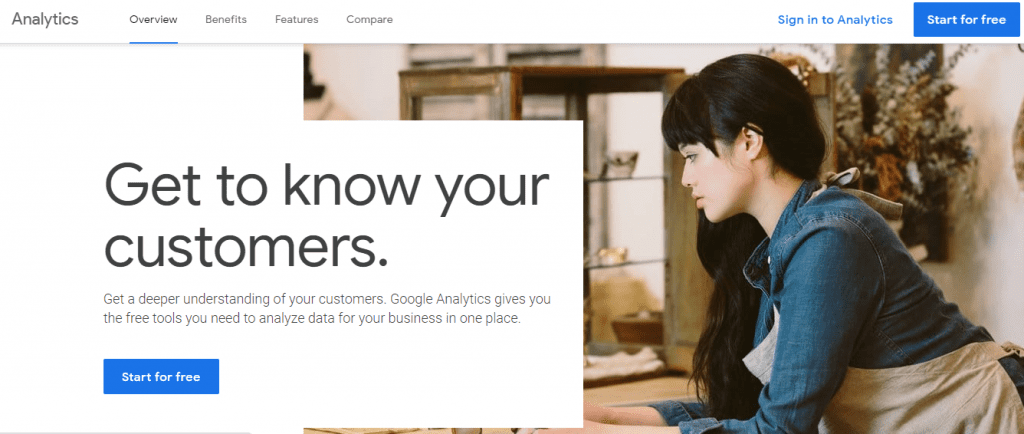 To use this tool, enter the URL on the search box, then click analyze. This tool will do a scan to determine the speed and the user experience of pages on your website and will provide you with a score.
This can be done on both desktop and mobile versions. The different ranking scores include;
FAST (90+) – It means that your website a great loading speed, better than most other sites.
AVERAGE (50-90) – This means your website has an average loading speed.
SLOW (Below 50) – This means that your website's loading speed is SLOW.
To increase the chances of appearing at the top of Google's search results, you need to have a score above 90. If your page is below 90, be sure to check the suggestions this tool provides on how you can improve the performance of your pages.
Over the years, the page loading speed has become one of the top-ranking factors for mobile searches. So, the Google PageSpeed Insights SEO tool is essential to help optimize your website and also for a great overall user experience, which in turn increases the search traffic.
23. Incognito Google Search
An Incognito Goole search is a Chrome browse option that allows you to browse in private mode. It is a great way to find the most popular terms within your niche.
All you need to do is open the Chrome browser, then on your right, you will find three dots, click on it, and from the list, choose New Incognito Window.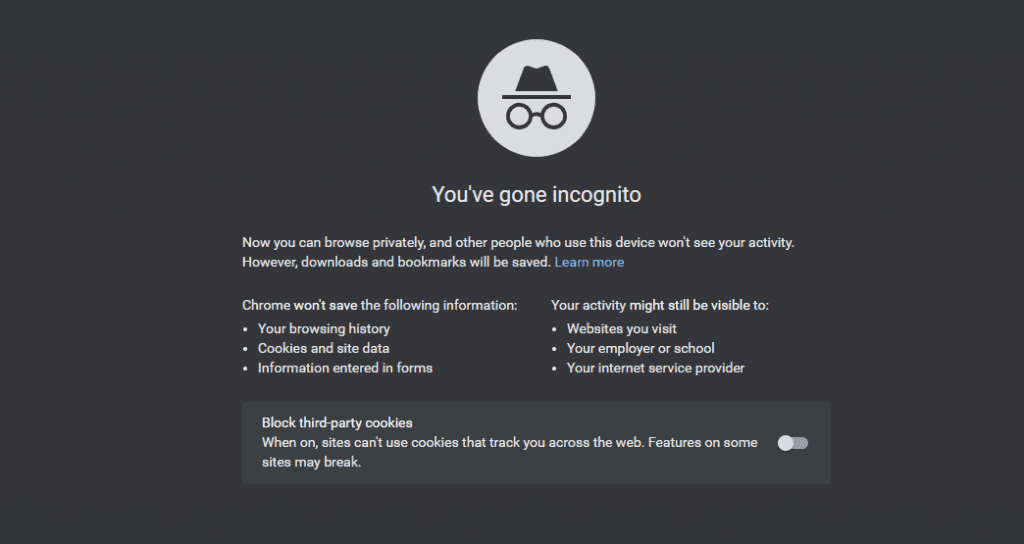 You can now browse under the Incognito mode without the need to track cookies and saving browsing history. Because the autofill options are not influenced by your previous searches and browser history, the auto-fill keywords and the search results are in the exact order that Google would rank them.
This is an excellent research tool if you're looking to rank higher or find popular keywords. However, it would be best if you combined it another SEO analysis tool on our list, for in-depth analysis.
24. Rank Math
Rank Math is an alternative WordPress Seo plugin to AIOSEO and Yoast SEO. It is a fast-growing plugin with a user-friendly interface that allows you to optimize your website to rank higher in search engines.
Similar to Yoast SEO, this tool also comes with a setup wizard that allows you to import data if you've been using a different SEO plugin before.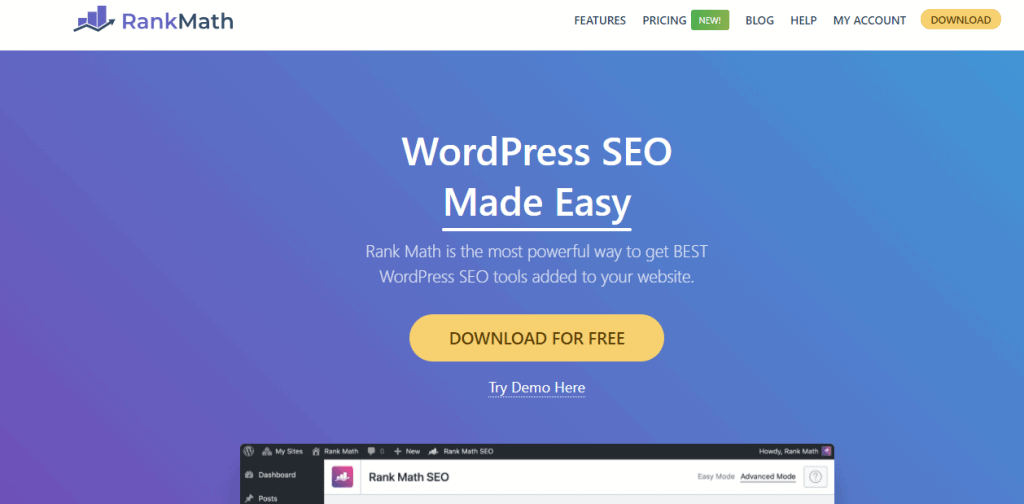 There are many features of Rank Math which you can add meta title, description, and Open Graph metadata to posts, generate an XML sitemap, local SEO, connect to Google Search Console, and control management to access plugin features based on user roles.
Rank Math will allow you to give a post or a page a maximum of five keywords for optimization. Its setup is exactly like for Yoast SEO. It uses a content score that runs from 0 to 100 to show how well you have optimized your content.
If your content score is 80 or more, it will turn green. So, while using this SEO analysis tool, you need to ensure that your content is well optimized until the score turns green.
Rank Math has a good scoring system for keyword optimization, and it starts listing suggestions for keywords as soon as you start typing the focus keyword as well as longtail keywords, which is a useful feature for SEO.
25. SERPs Rank Checker
The SERPs Rank checker helps you how every page or post is performing based on the keywords. You can easily search for the keyword and domain or the keyword alone on both Google and Yahoo search engines.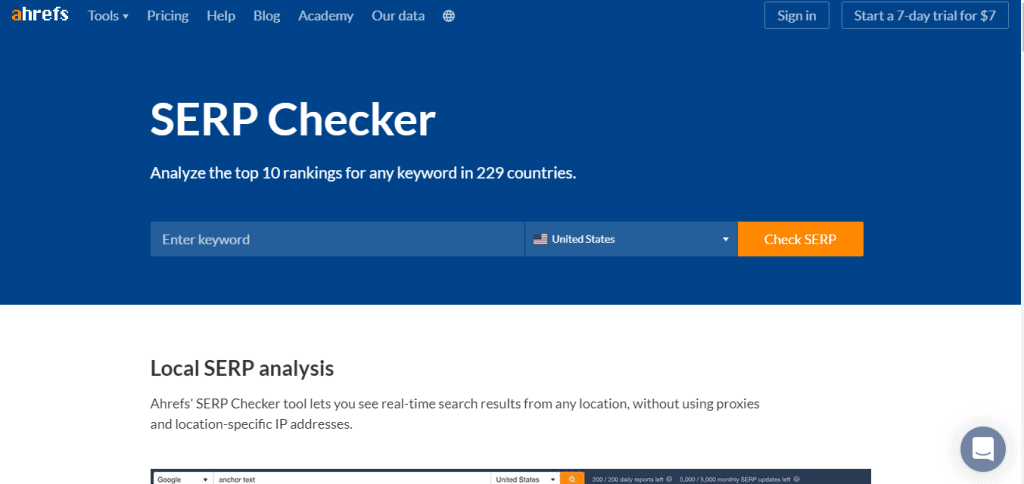 To get started with SERPs Rank Checker, simply fill in the keyword you want to track and the domain. This tool will check the rankings of the domain entered for the particular keyword selected.
By doing this, you can easily track the rankings of your site on selected locations without manually having to check them on Google and no need to use a VPN. You will also be able to see the current ranking of your website depending on the device used.
SERPs also offers other free SEO tools like Keyword Research Database and Google Location Changer. With the use of the Location Changer, you will be able to track the ranking of your keywords on different locations.
You can easily track the rankings of keywords without having to check them on Google manually. While using the free version, you can only check one keyword at a time. However, if you need to track up to 1,000 words, you will be required to update to the Premium version.
26. SEO Site Checkup
SEO Site Checkup is among the best free SEO tools that allow you to analyze your site's SEO issues, generate data and suggestions you should act upon. It also helps you understand your competitor's SEO profile and create reports that you can act upon.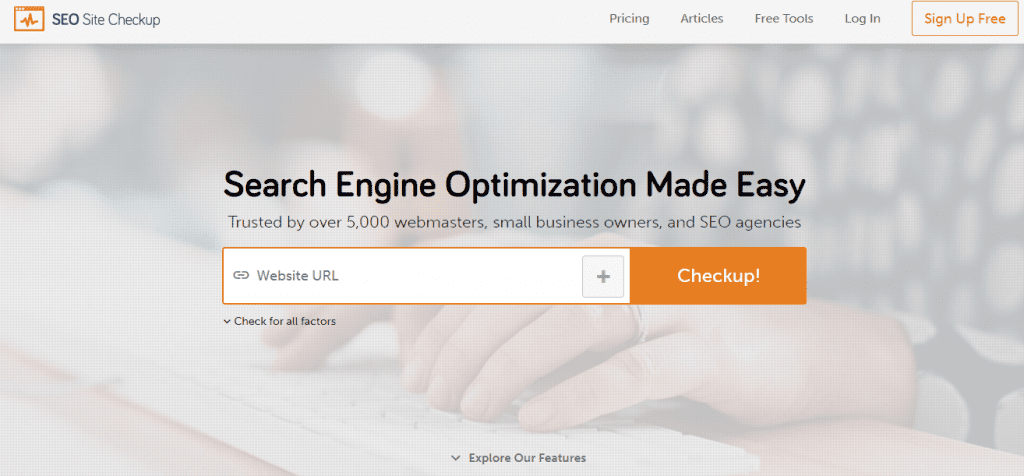 To get started with this tool, you need to enter the URL of your website in the search box, then press on Checkup!. The tool will conduct an analysis of the URL and provide you a content score out of 100. The higher the score, the better your website's SEO is.
The tool will analyze the on-page features, like meta tags and keyword usage. It will also check the speed and security of the site and conducts a 404-page test, canonical tag test, and a data test. Furthermore, it also analyzes the mobile design to ensure that the site is mobile-friendly or not.
This tool also gives you suggestions on how you can fix the issues such as security, speed, page metrics, etc., for a better ranking in search engines. With the free version, you're limited to up to five check-ups per day, although you have to create a free account to check more than once a day. If you need more checkups, you need to purchase the premium version.
Factors to Consider When Choosing an SEO tool
Choosing the right tool for SEO is going to make your work easier. If you're looking for an SEO tool to use, we have put together a list of some essential features you should consider.
1. Keyword ranking
The most important part of SEO is the keywords. If this is what you're looking to find, then your tool should have a rank tracking feature for keywords to be able to find the best terms or phrases to use.
A useful SEO keyword ranking tool should include the following;
Ranking- To show how the different keywords are ranked and where your site appears in SERPs.
Search volume: An SEO tool that includes search volume for a keyword is a plus.
Competitor rank tracking- Great SEO tools have the ability to add and track competitors.
Changes- The SEO tool should show the historical changes in your keywords rankings as well as your website ranking.
2. Technical SEO crawler
Technical SEO is an important feature that allows Google to find, crawl and index all the content on your website. Most SEO tools will only find a robots.txt file or a sitemap, but a useful tool should be able to crawl your site the way Google does.
It should be able to find issues that Google checks, such as;
Broken links and pages- A good technical crawler should find links to pages that show error codes.
Duplicate content:-A good SEO tool should be able to identify duplicate content and also the technical issues that are causing duplicate content.
HTTP and HTTPS conflicts: These two indicate how secure or not your site is. However, secure pages with insecure items can pull you down. Your SEO tool should find images, videos, CSS, etc., that are hosted on insecure URLs.
3. User-friendly interface
An SEO tool should be easy to use and not have a complicated or intimidating interface. It should only take a click or two to figure out how it works. If the tool is giving you trouble, then you should probably find another one.
There are several things that make SEO tools easy to use, they include;
A straightforward layout and easy navigation
An accessible help center or knowledge center, where you can know how to work around the tool.
Clear and concise reading and data about the current status of your website's SEO.
Helpful customer support.
Easy to read and understand English or your preferred language.
Your tool should help you learn more about SEO and not make things hard for you, especially if you're a beginner. If you feel like a particular tool is making things complicated for you, it's probably not the right tool for you.
4. Mobile Optimization
A mobile-friendly site is a way to go because traffic from mobile devices tends to be the biggest when it comes to organic visitors, so much that Google has been going the mobile way first when indexing pages.
SEO tools should determine how mobile-friendly a website is and what needs to improve it. The tool should check on;
Speed- How fast a web page loads on a mobile device.
Mobile compatibility-Does any of your web pages use web technologies that are not compatible with all mobile versions and browsers?
Touchscreen-How easily and fast can a user click on something without accidentally clicking on another one or missing the button?
Mobile view- Do the web page ratios fit different devices' mobile screen width?
Mobile-friendliness is a top-ranking feature for Google and should be ignored.
5. Budget
The SEO tool you choose should be according to your budget. If your budget is small or rather you have no budget for it, you should consider using the free SEO tools. On the other hand, if you have a budget for it, then the premium versions tend to better with more features.
Fortunate enough, most SEO and content tools will give a free trial period or have a free version, so you can try using them before committing. However, big websites might require the premium versions because
Conclusion
The SEO tools on this list are simply the best currently. They provide you with insights about your website that would otherwise require a lot of time to generate.
Some tools may have different functions such as keyword research tools, rank checkers, link building tools, page speed checkers with others have all features in one tool. It's up to you to choose one or several that perfectly matches your needs.
Discover what are the issues with your site and things you need to improve to rank higher in SERPs. The success of your site depends on you.
Take time to try out several tools before making a decision to ensure that your chosen SEO tool will not only make your marketing easier but will also lead you to growth.