To build a successful business, you must use a strong digital marketing strategy and create a positive relationship with search engines. When organic SEO is done correctly, it can help your business rank higher in search engines, get more traffic, boost your sales and revenue, and reduce marketing costs.
Organic Search Engine Optimization (SEO) has existed since the first search engines were created. It is among the most effective forms of digital marketing today, and businesses of all sizes use it to reach new audiences and cultivate relationships with existing ones.
In this article, we will examine organic SEO in further detail, including what it is, how it operates, why it is beneficial, and how your company can use it as a marketing tool.
What Is Organic SEO?
Organic Search Engine Optimization, mostly known as organic SEO, is the process of optimizing your blog or website to rank higher than other websites in search engines like Google, Yahoo, and Bing. They are marketing techniques that help websites improve their ranking in organic search results.
It is among the most important marketing and SEO tools a business can use to boost its customer base and increase revenue. Organic SEO is a natural way of getting high visibility on your website without paying anything or using any manipulation to achieve it.
How Does Organic SEO Work?
Image Credit: gizmoconcept.com
Organic SEO results come from two things:
a) How Well Optimized Is Your Blog or Website?
Web optimization starts with ensuring the website's technical information is accurate and improving its overall performance. After you set up the framework of your website, you will need to optimize it for mobile and desktop. This helps eliminate issues brought about by poor user experience and errors on particular devices.
You will also need to check how easy it will be for website visitors to navigate their way around your site. Ensure the navigation to your site makes sense, the links lead your visitors in the right direction, and your website page speed gets them there within 2-3 seconds.
All these factors are necessary and should be considered if you want your visitors to revisit and, most importantly, to help you achieve a higher ranking on the search engine results pages (SERPs). Notably, Google Search Console provides various features and resources to help you improve your website quality even when you lack a web admin or SEO specialist in your team.
b) Search Volume of the Keywords in Which you Rank
The search volume is the number of times a keyword has been searched on average every month. This metric helps determine how high keywords rank in the search results. For example, if you use a keyword with a high search volume of 1,000, Google will show the keyword in the search results about 1,000 times every month.
The higher the keyword search volume, the more times it will be shown, proving how well your SEO works. To boost your search volume, you must make your content as relevant as possible to the target audience you are trying to appeal to with your product or website.
Image Source: recurpost.com
To get a higher ranking and more potential clients to find you when looking for services related to you, ensure you optimize the content on your blog posts and web pages using the right keywords.
The Ubersuggest tool is handy and will help you discover what in your existing content can be improved by putting more keywords into it. On the other hand, Google Trends shows you the search volume of the keywords you plan to rank for. So remember the higher your search volume, the better the organic SEO results.
Why Does Organic SEO Work?
Organic Search Engine Optimization works because it is a natural process and doesn't need any type of coding or any special programming that is not familiar to the average person. Consequently, people will want to revisit the sites they trust and can relate to, and Google's goal is to satisfy the user's intent to ensure they return for more searches.
Why Do You Need Organic Traffic?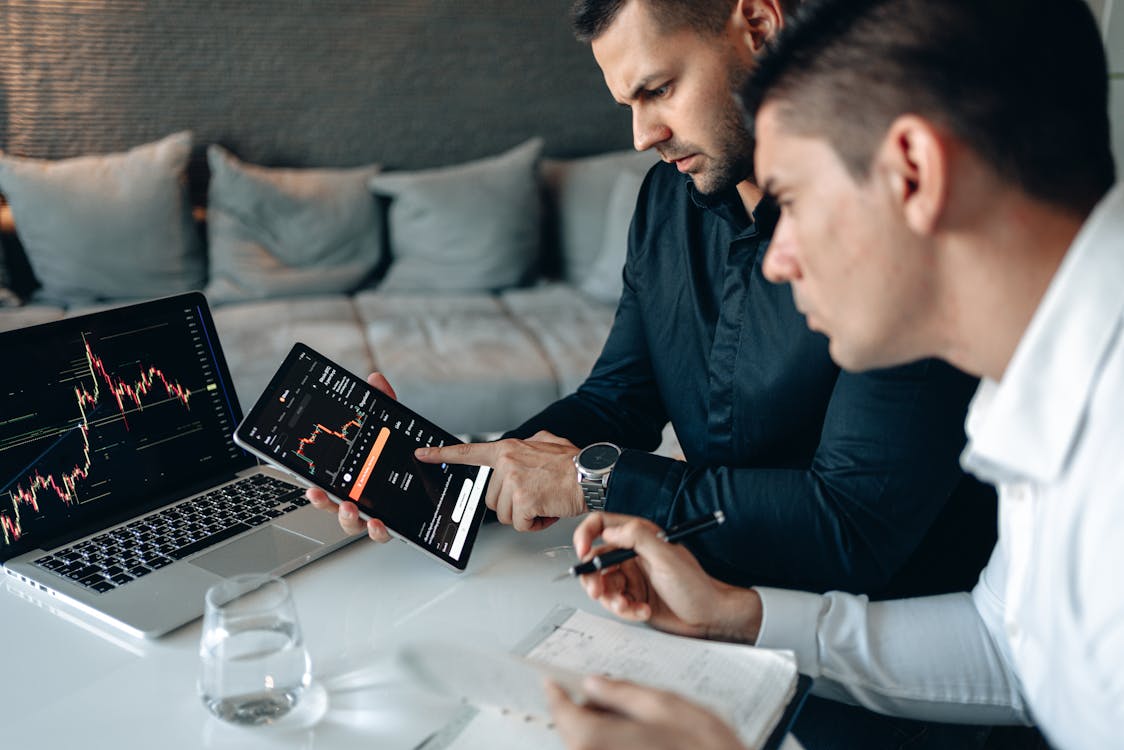 Organic traffic is necessary for your website, and it's more important than paid traffic or other traffic you can get from social media networks because it is targeted. For example, the users landing on your website from a search engine query have a specific goal, and if you can address their question or offer a relevant solution, they will probably convert.
In addition, organic traffic improves your website's relevance as users who use Google trust it fully, and they trust the ranking algorithm and mostly visit the top-ranking websites. This shows that organic visitors will easily convert more than the ones coming from Facebook or any other source.
When Should You Use Organic SEO?
Organic Search Engine Optimization is rarely a quick fix, but if you rank well, it can yield long-term economic results. Thus, getting a head start on organic search engine optimization is crucial. However, if you expect instant SEO success, you will be disappointed.
What Are the Categories of Organic SEO Techniques?
Methods and techniques for organic SEO can be divided into three categories. It's necessary to be able to differentiate between these techniques as some of them come with negative repercussions:
a). White Hat SEO
The category "white hat SEO" refers to the methods and techniques that are widely accepted and match the terms and conditions specified by Google and other major search engines. White hat SEO strategies are the safest and most compliant methods of boosting a website's organic search engine rankings and are rarely adjusted. However, here are some guidelines to ensure your site is updated according to white hat SEO standards.
Fast website loading with an easy user navigation
Original and information-rich content
Meta descriptions and alt text without keyword stuffing
b). Grey Hat SEO
Image Credit: loganix.com
As their name implies, grey hat SEO techniques and methods exist between black and white zones. Therefore, using grey hat SEO strategies is riskier than white hat ones, but it's not fair to call it a black hat.
This is because they strike a good middle ground between breaking and adhering to the rules of Google and other major search engines. Unfortunately, these methods are dangerous because they frequently border the line between legal and illegal.
If you use SEO strategies that fall into the "grey hat" category, you should regularly check to see if Google still considers them to be good practices. Some of the most widespread examples of grey hat SEO techniques include:
Buying and acquiring old domains
Duplicating content using the content spinning tools
Buying links
Automating the social media
c). Black Hat SEO
The risks of black hat SEO should be obvious after reading about white hat and grey hat strategies. All major search engines, including Google, prohibit these methods.
Using unethical SEO practices can permanently remove your site from search engine results pages. Try to avoid using any of the following black hat SEO strategies in your organic SEO strategy:
Keyword stuffing in your content
Automating the content
Spinning your content
Giving a false report of competitors
Creating subdomains and domains with duplicate content
Buying links
Link farms
What Are the Benefits of Organic Search Engine Optimization?
With an organic SEO campaign, you are guaranteed to get some benefits, and some include:
1. Increased Brand Awareness
Brand awareness increases your chances of being discovered by customers actively seeking your goods or services. The more individuals seek it out online; your company becomes more popular. The more your brand appears on the search engine results pages (SERPs), the more likely you will gain that user's business.
A website's search engine visibility is the percentage of its visitors who found it through organic search results. Therefore, boosting your website's visibility online requires an effective organic search engine optimization strategy.
Boosting your website's visibility will bring in more targeted visitors and, ultimately, more qualified leads. By doing so, you can level the playing field with competitors who already have popular websites while gaining an edge over those who don't.
3. Better User Connection
The options for improving a company's search engine rankings using "black hat" techniques are practically endless. However, these methods are not following the rules and regulations. Most methods involve spamming users with useless links and attachments, a serious offense in internet search engines.
They shut down the company and block their IP address and links that point back to their site if they discover it was constructed through unethical SEO practices. Organic SEO results provide relevant information in response to a user's search and do not try to spam them. The content is high-quality, featuring a suitable keyword density and clear visuals.
4. Cost-Efficient
Organic search engine optimization (SEO) is typically a cost-free opportunity. However, Google advertisements and other paid advertising might have a cost-per-click (CPC) of $35 or above, depending on the competitiveness of your industry.
Also, paid ads are temporary and will be removed once you stop making payments. However, if you use organic SEO, the keywords you rank for will stay, and you can even improve on them with regular strategic SEO maintenance.
What Are the Organic SEO Strategies?
Image Credit: evergreengrowthmarketing.com
A successful organic SEO strategy will have three basic components, and they include:
1. Keyword Research
The keyword research is meant to help you find the most suitable topic. This is when you find the terms related to your service or product people are looking for and then create content around these terms.
There are already well-known websites and businesses ranking for many phrases. Therefore, unless you have a website that matches the authority of these sites, these keywords are often difficult to rank for.
You will often find long-tail terms, and these keywords are the ones that are more specific than the general ones. However, they normally have a low search volume. Luckily, they can be targeted, and if not more, they are easy to rank for.
2. Optimization
This organic SEO strategy gives your article the best chance to rank. The next step in organic SEO is to write and optimize articles using your list of keywords.
Article optimization consists of two parts:
a) Matching Searcher's Intent
The first part involves creating an article that matches the searcher's intent, which means you should develop a piece like the ones currently in the search rankings. The concept is that since search engines use algorithms to determine what kind of content to rank, you should create content that matches the algorithm's preferences.
Google search is the quickest way to accomplish this. You will be shown all of the pages that are currently ranked. Check what all the pages have in common and develop a similar one.
The page types you will see in the search results include product pages, sales pages, blog posts, and tools. If you decide on a specific blog post, ensure it matches the topic ranking on Google to have the best chance of ranking high.
b) Optimizing the Article on the Web Page
Once you come up with a web page or a blog post, you should optimize it for length and keywords to ensure it has the best chance of ranking high.
c) Keywords
To optimize for keywords, the easiest way is to add your main terms to your introduction, headings, URL, and title. However, do not overdo it to avoid search engines thinking you are keyword stuffing which is when you add more keywords to a web page than necessary.
Alternatively, you could use a tool such as Surfer SEO to analyze your article but compare it to the already ranking factors. The tool shows you the keywords and phrases to include in your article and the number of times you should use them.
d) Length
Ensure that your article is the ideal length for Google ranking. Look at the sites with the highest rankings and try to match their word counts. Also, the Surfer SEO tool will calculate the best article length for you.
3. Link Building
The last part of an organic SEO strategy is link building, which is when you encourage other websites to link to yours. It's important because the Google algorithm uses the quality and quantity of links to a page to rank. After all, most people will mostly link to pages with valuable content.
There are plenty of ways of actively getting backlinks, and there are some link-building strategies you can use, including:
Link exchanges
Linkable assets
What's the Difference Between Local SEO and Organic SEO?
There are many ways than ever for potential clients to find your business, thanks to the tremendous technological advancements.
Almost everyone thinks of organic SEO when we mention "SEO." This is because your rankings are improved through organic SEO, ensuring your website is displayed at the top of search results.
However, local SEO also improves your rankings in search results. Again, localization makes the biggest difference. Local SEO seeks to increase your company's visibility in your neighborhood or region by including Google's local business listings.
The true objective of organic SEO is to improve your position in search results based on the material on your website.
Small businesses are starting to realize the benefits of using both types of SEO across the United States. You should consider joining to give your brand the push it requires.
What Are the Differences and Similarities Between Paid and Organic SEO?
Various terms for paid search advertising exist, including paid search, SEM, and PPC. The largest SEM player, Google, captures 92% of all global web traffic.
Paid search advertising is promoted to the top of search engine results pages to attract potential buyers. When using a mobile device, users can either click the link or click to call.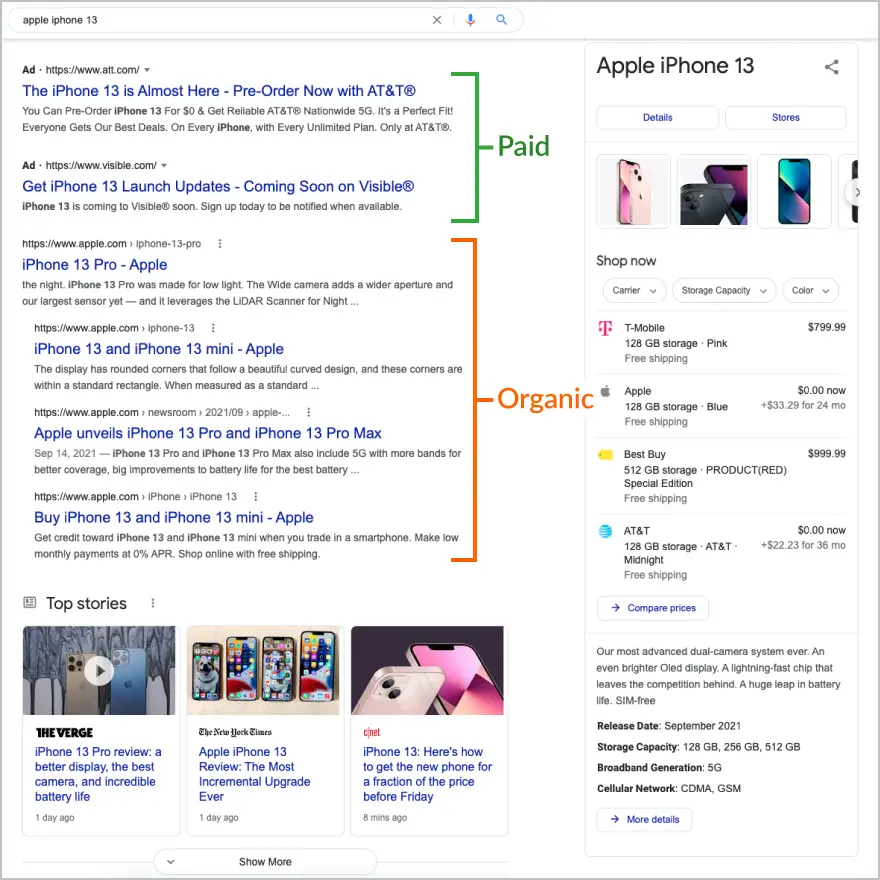 Image Credit: moz.com
Cost per click (CPC) and cost per thousand (CPM) are two common pricing models for online advertising.
Contrary to popular belief, running a Google Ads campaign will not improve your website's organic search engine rankings. Paid search ads, however, can be quite useful for reaching a wider audience and drawing in qualified leads online.
Image Credit: triadwebservice.com
Let's learn the similarities and differences in depth below:
a) Similarities
There are two ways to reach potential customers actively looking for your product or service online: paid search and organic SEO.
i) Both Drive Traffic to Your Website
The goal of paid search and organic search engine optimization strategies is traffic generation. Therefore, they encompass the most efficient methods for making your business visible online.
ii) Both Target Search Engine Rank
In the SEO industry, both paid SEO and organic Search Engine Optimization are geared towards improving your website's visibility in Google search results for a given keyword phrase.
iii) Both Use Keywords
Both strategies work with target keywords, where some keywords have more competition between marketers. SEO experts recommend seeking out keyword phrases that receive a high volume of searches but have less competition from advertisers.
iv) Both Improve with Customer Insights
To attract and maintain customers, you will need a title and meta description that speaks directly to their requirements. If clients were seeking something other than the keywords a business ranks for, the company might still lose conversions despite its high keyword ranking.
Knowing your target demographic and their needs will help you succeed with any approach. After all, how people feel and think while looking for a product or service should be reflected in digital marketing.
Image Credit: searchenginejournal.com
b) Differences
Paid search and organic SEO may drive website traffic, but they operate differently.
i) Position on the Search Page
Paid search ads are at the top of search engine results and are labeled with a small "ad" icon to alert potential customers that they are, in fact, advertisements. However, 70-80% of users skip paid search ads and instead click on organic results, although they appear below the ads.
ii) Cost per Click
When using SEM, you'll be charged whenever a user interacts with your ad in any way. However, while the time and effort put into search engine optimization will cost money, each click from a buyer is completely free.
iii) Audience Targeting
With paid search, you can zero in on a particular audience. For example, the search engine can be directed to display your ad exclusively to users within a specific geographic region who share a specific set of interests, who have a specific income level, or who fall within a specific age range.
However, you can't target a specific group of people with organic SEO.
iv) Time to Results
Results and feedback from SEM are quick to come in. After releasing your ad, you can follow its performance through Google analytics. In contrast, keyword rankings using organic SEO typically take a few months.
v) Longevity
Simply put, paid search results only appear while you are paying for them and stop as soon as you stop. With consistent maintenance of high-quality, pertinent content, SEO grows exponentially. Blog posts you made months or even years ago can still generate leads.
Which Are the Best Scenarios for Each Type?
Organic SEO is perfect for building brand awareness, establishing your site as an authority, and driving targeted traffic. It takes time to work and needs a lot of expertise and effort, but it works best if you want long-lasting results that will not cost a lot in the end.
On the other hand, paid SEO can work well for specific campaigns like if you are trying to come up with an email list, get people to enjoy a flash sale, and increase sales for a specific service or product. Also, it is best if you want quick results and are willing to spend on them.
What Are the Ways to Increase Organic Traffic?
Image Credit: pnclogos.com
The Google algorithm constantly changing with new information to build your SEO strategy can easily get overwhelming. To assist you, there are effective SEO techniques that can help you increase organic traffic:
1. Develop Content Based on Target Keyword Research
Finding your target keywords is a crucial step in developing a content strategy. The keywords can be a signpost to Google web crawlers which indicates topics and offers hints on the content's nature on the website.
When you conduct keyword research, you can easily find who is searching for the topic you want to write about. Therefore, each content piece you develop should strive to match the search intent as closely as possible.
All keyword research tools usually suggest short-tail, mid-tail, and long-tail keywords and have an intensive search intent. It makes them suitable for the content, which pushes target customers down the funnel.
Ensure you identify the long tail keywords related to the topics with low competition and a high search volume. Then, write content that answers the search intent behind the chosen keyword.
2. Use Effective Titles and Headings
Another way you can increase organic traffic is by using catchy headlines and titles. A web's title is defined by the <title> HTML tag and is meant to describe the page's content concisely.

Image Credit: havoc.digital
The title is the first line in a hyperlinked text that Google shows in its organic search results, and it can be considered an element of on-page SEO.
To write compelling titles, you must observe the following:
Keep your title less than 70 characters, as any text past that will be trimmed when it's displayed on Google's search results
Use catchy phrases or words that compel a reader to read further
Include the primary keyword you want to rank for in the search engine results page
If possible, you should include your company name in the title's end to boost brand awareness. However, when search engines index your business and you rank but don't receive clicks, Google replaces it with content that gets clicked on.
Another aspect of on-page SEO is the headings, which structure content and help Google understand what your page is about. Lastly, ensure you add secondary keywords in your subheadings since this tells a search engine that your content covers the primary topic and hits the topic from different angles.
3. Create Meta Descriptions that Drive Clicks
A meta description is a brief statement of the web page's content, and it is located under a page's title in the search engine results pages (SERPs).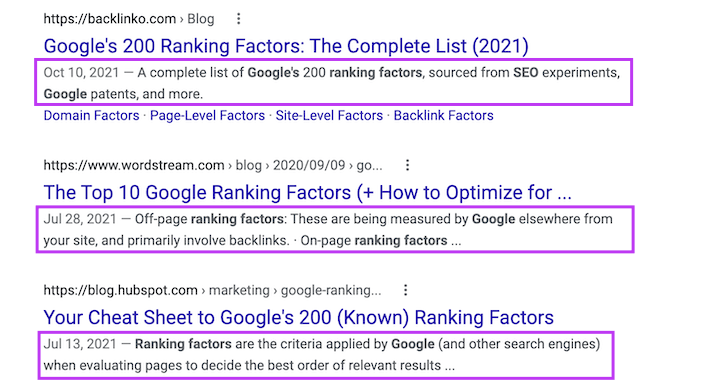 Image Credit: wordstream.com
Although meta descriptions are not that significant to Google's ranking algorithm, like page titles, they help to drive clicks from users. Many site visitors use meta descriptions to learn more about the content of a given page. After all, users can see what the website looks like before deciding whether or not to click on it.
Some tips to include in a meta description to ensure you get website traffic include:
Stick to your brand voice but keep it conversational
Include the primary keyword to get more volume
Include a call-to-action (CTA) by adding words such as "dive in" or "read to find out,"
Use the first characters to communicate the most important message since the rest are mostly cut off
Ensure every web page of your site has a different meta description
You need a well-written meta description to rank higher in search engine results pages (SERPs) and get more clicks. If your page doesn't have this description, a search engine will probably make one up for you, and it may or may not be as compelling or accurate.
4. Create a Diverse Backlink Profile
Creating a diverse backlink profile is another important tip you need to use to improve organic traffic. The term "backlinks" refers to your website links found on other websites, such as reviews. They might be either external or inbound links.
Google takes backlinks seriously, and they are considered among the top-ranking factors meaning they are very beneficial if you intend to increase traffic to your website. The more votes you get, the higher your website will rank on search engines like Google or others.
A diverse backlink profile should have backlinks from different sources to different pages and use various anchor texts. So different links from credible sites such as news sites, reference pages, blogs, or directories go a long way in ensuring your backlink profile is diverse.
When coming up with your link-building strategy, there are some tips you can use, including:
Link with an intention and be keen on the anchor text and use one that uses the primary keyword that the blog is based on, which will help a search engine understand where the link is headed
The number of external and internal links in your content depends on the length of your article
Link your article to only relevant content pieces to avoid distracting the reader
5. Improve your Site Speed
Increasing the speed of your site is a tried-and-true method for increasing organic traffic. No one, including Google, likes websites that take too long to load.
Google and other search engines focus on offering their consumers the best browsing experience. To improve the user experience, they lower the rankings for sluggish websites. Therefore, optimizing your site's performance will improve your search rankings and increase organic visitors.
It can be observed that a low-quality host is one of the main causes of a slow connection speed. Therefore, your site's performance is directly related to the quality of your hosting platform.
Many online tools can help you analyze your site's speed but ensure the tool you use shows more than 500ms. Also, try to minimize the size of your images without lowering the quality, as it will also help to boost your website's speed.
How Much Does Organic SEO Cost?
The price for organic SEO usually depends on different factors starting from the aggressiveness of an organic SEO strategy to an SEO agency's pricing model. Also, it depends on whether you will be doing the organic SEO yourself or outsourcing your work. Either way, you choose, organic SEO services are cheaper than paid advertising.
Image Credit: camberlion.com
a). Outsourcing an SEO Agency
The cost of monthly organic SEO services from a reputable SEO company might range from several hundred to several thousand dollars. However, the cost will depend on your niche, the size of your site, the amount of content creation you want, and your traffic target goals.
Also, instead of employing an SEO expert, you may decide to outsource content creation only. Freelance writers often get paid per article or word, so site owners should anticipate spending anywhere from $10 to $150 per article, depending on the writer's experience and the length of the piece.
b). Doing the Organic SEO yourself
Although organic SEO is an entry-level digital marketing job, the costs of outsourcing the SEO services can become expensive because of the agency overhead. Therefore, doing organic SEO on your own is far less expensive.
Only a domain name and hosting will be required of you, and these costs might range from $2 to $10 per month, depending on your hosting company. To conduct keyword research, you might want a paid SEO tool like Ahrefs.
Its most basic package is $99 per month, although there are keyword tools that are less expensive and just cost a few dollars each month.
However, you'll have to spend a lot of time on your own on backlink outreach, content creation, and keyword research.
Conclusion on Organic SEO
Image Credit: statuslabs.com
Organic SEO can be a long-term strategy that needs patience since it can take longer to see the results, but it can be effective in the long run. In addition, organic traffic is appealing to most website owners because it is unpaid.
Therefore, think about investing in organic SEO if you want your company to build a long-term, ever-bettering online presence. Also, since you cannot use all these tips at once, you should take your time and follow your own pace when using the best SEO techniques.
Featured Image Credit: seochatter.com