Currently, the US has over 200,419 active dentists in 2019 according to ADA. The number is expected to grow this 2020 and in the coming years.
For that reason, the competition will be tough and difficult. Good news! There's an excellent way to stay competitive, stand apart from other dentists, and become the go-to option for many valuable clients.
Search engine optimization is one of the most effective marketing strategies for dentists and other professionals out there. If you have already established a website, it's perfect to try dentist SEO this 2020.
But what is search engine optimization? What are the challenges and mistakes that most dentists commit? Why should you invest in SEO? This comprehensive guide got you covered. Without further ado, let's get started!
A Brief Overview – What is SEO and How Does it Work?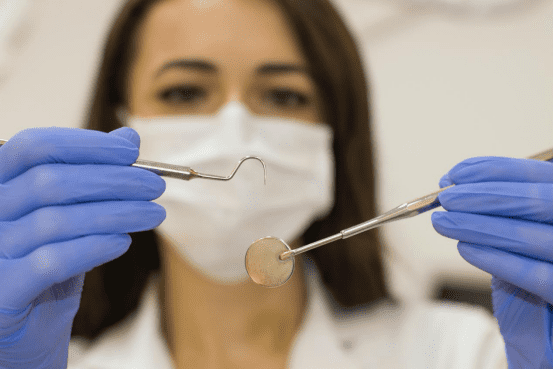 Search Engine Optimization (SEO) is a digital marketing strategy tailored to optimize the dentist's website to increase search listings or rank higher on Google and other platforms.
In simple words, SEO has been developed to boost web traffic and help your target patients find your site on Bing, Google, Yahoo, and other popular social networking sites over the internet. Any of these search engines have indexed listings of sites from all corners of the web. Google, for instance, is packed with a smart and innovative search algorithm that attempts to place the most relevant, interesting, and credible information at the top of the listing.
Why Would You Need Dental SEO Services?
As a dentist, you might be wondering why you need SEO marketing; without it, nearly no one will be able to find your website if it isn't optimized for search engines. A survey result shows that the top five search results usually account for 68% of all clicks. So, if your practice's website achieves this rating level, it will receive more web traffic, increased reputation and authority, more qualified leads, and, eventually, more patients.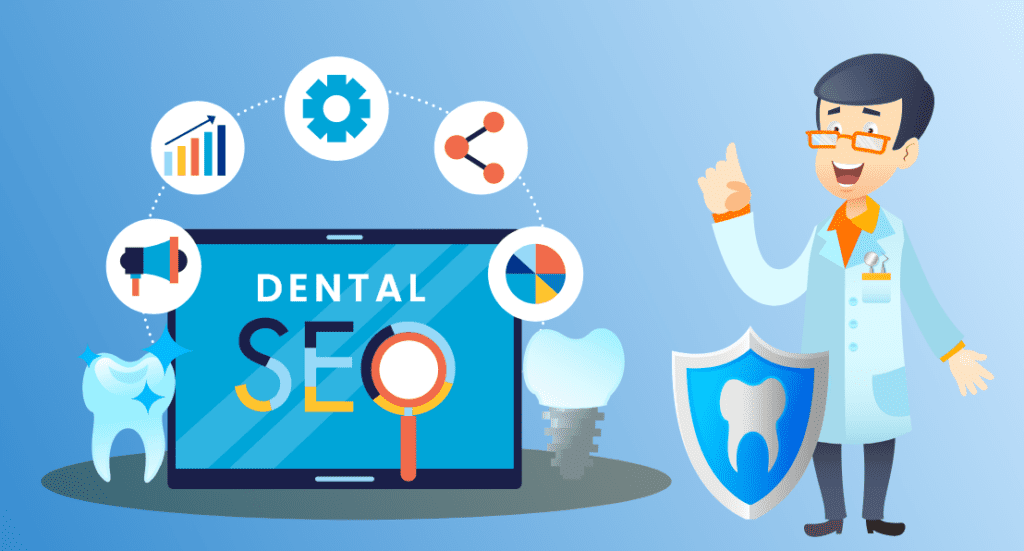 Image Source: redesign.co
Besides, your competitors are already investing in SEO for dentists. This implies they're already benefiting from the exposure offered by SEO and drawing local patients before these patients ever know you exist. SEO is one of the best tactics to reach patients who use the internet to find dentists in their region.
Conversely, this is a great chance for you to go ahead and attract more patients to your practice before your competitors do if they are not already investing in dentistry search engine optimization. You can prove your best practices with a good-looking site and excellent SEO.
Best Dental SEO Services
1. Indexsy
Indexsy is a digital marketing agency specializing in search engine optimization (SEO) services. We help improve the visibility and ranking of websites in search engine results pages (SERPs). Some of the services we offer include: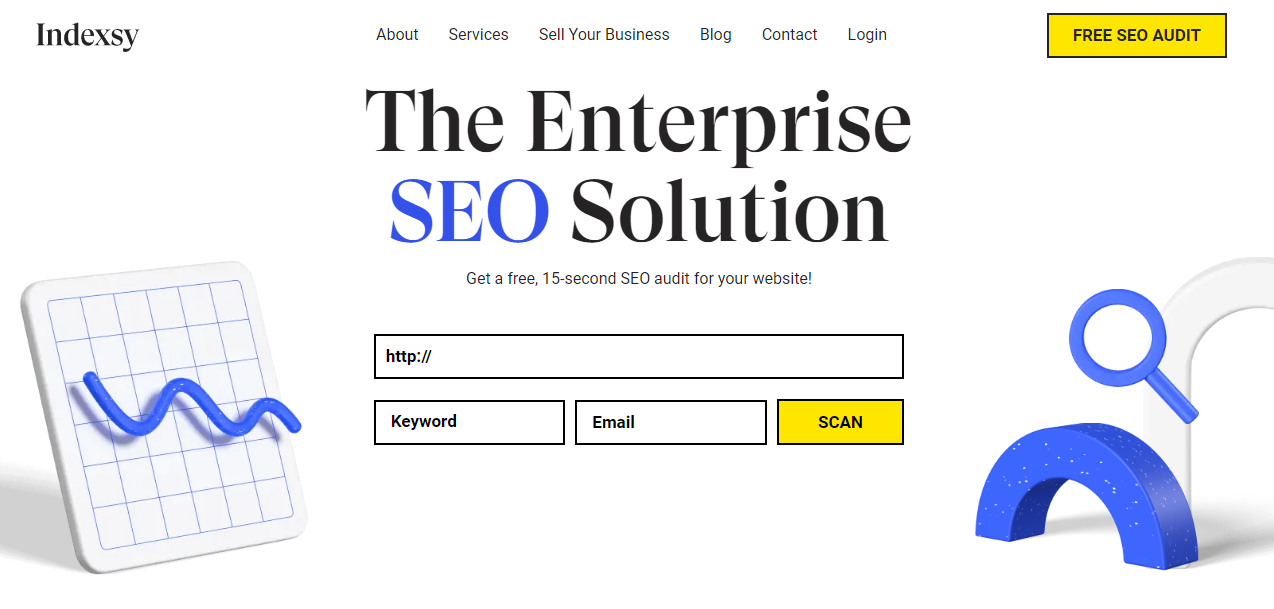 Image Source: indexsy.com
Link Building: We use various link-building techniques to increase the number of high-quality backlinks to your dental practice website, which can help improve its search engine rankings.
On-Page Optimization: We will optimize your dental website's content and meta tags to ensure they're fully optimized for search engines.
Keyword Research: We will conduct extensive research to identify the most relevant keywords for your dental website and its industry and then integrate them into its content and meta tags. So connecting with local patients will be easier.
Analytics Tracking: We will track website analytics data to monitor traffic and conversions and use that data to make informed decisions about future SEO strategies.
Another thing is that we work with clients of all sizes, from small dental offices to large corporations, to help them achieve their online dental marketing goals.
2. Harris & Ward SEO Agency
Another SEO agency to check out when looking for SEO marketing for dentists is Harris &Ward. The agency has more than ten years of experience in the industry, working with dental practices of all sizes by helping them connect to prospective patients and increase their revenue.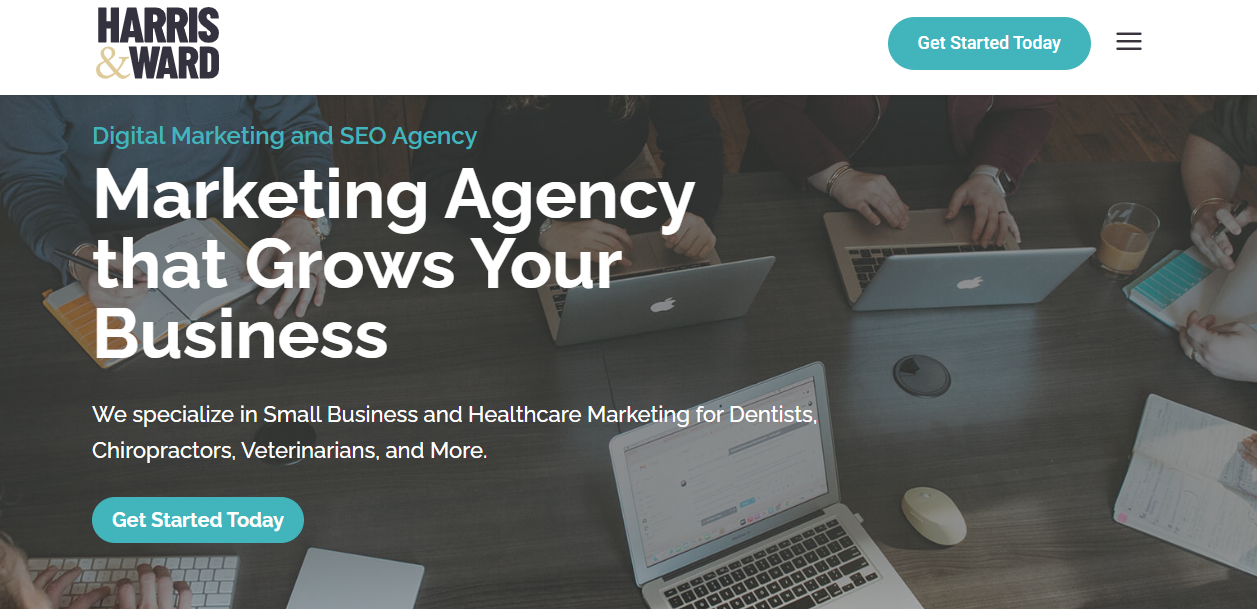 Image Source: harrisandward.com
The agency's dental SEO professionals know how to make your dental office stand out in a competitive local dentistry market. Besides, the company can audit your website and give dental SEO services that will boost the visibility of your dental websites for keywords such as "dentist SEO" or "SEO for dentists." Also, you can expect a boost in website traffic and qualified dental leads.
3. Adit
Adit assures you new patients booked from SEO or get your money back. They allow you to get patients first before paying for SEO services. Besides, the dental SEO marketing service is designed with no upfront fees. They only charge you when your ROI is positive.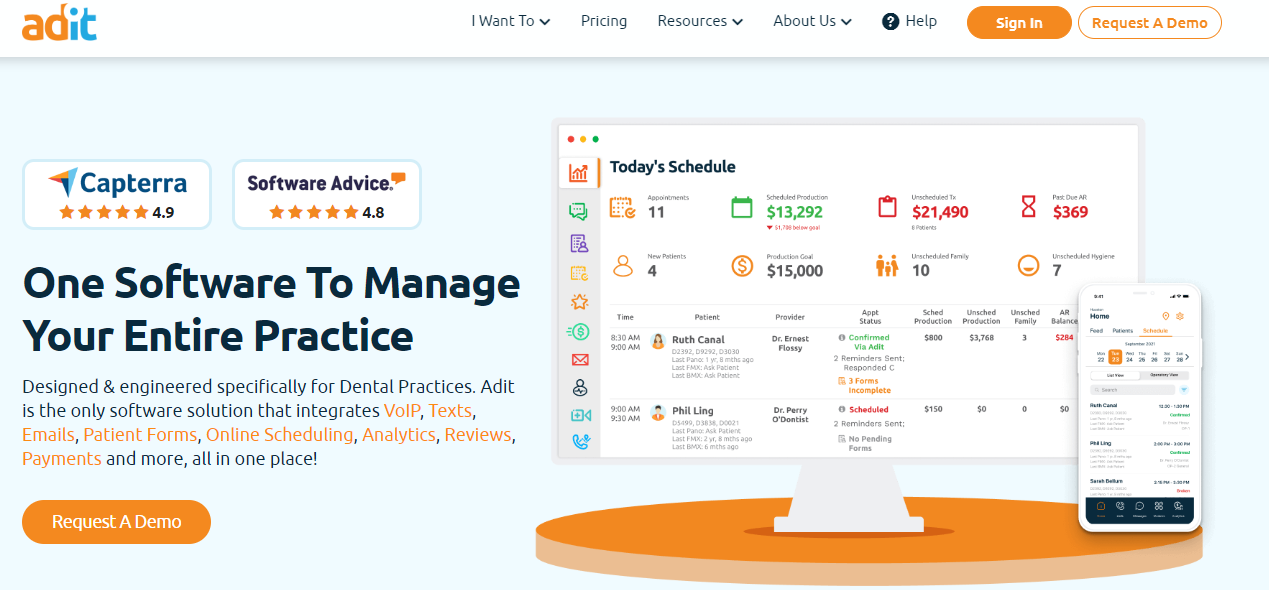 Image Source: adit.com
With Adit, dental SEO marketing takes little time. You can expect results after just one month, unlike other companies that claim dental search engine optimization takes six months or more to get results.
Additionally, each patient is quantified. Since the company guarantees results, it tracks them like no other dental SEO company in the industry.
4. Dentalfone
Dentalfone specializes in website design and Search Engine Optimization for dentists. The company creates SEO-friendly websites and offers ongoing SEO services to help you attract new prospective patients month after month.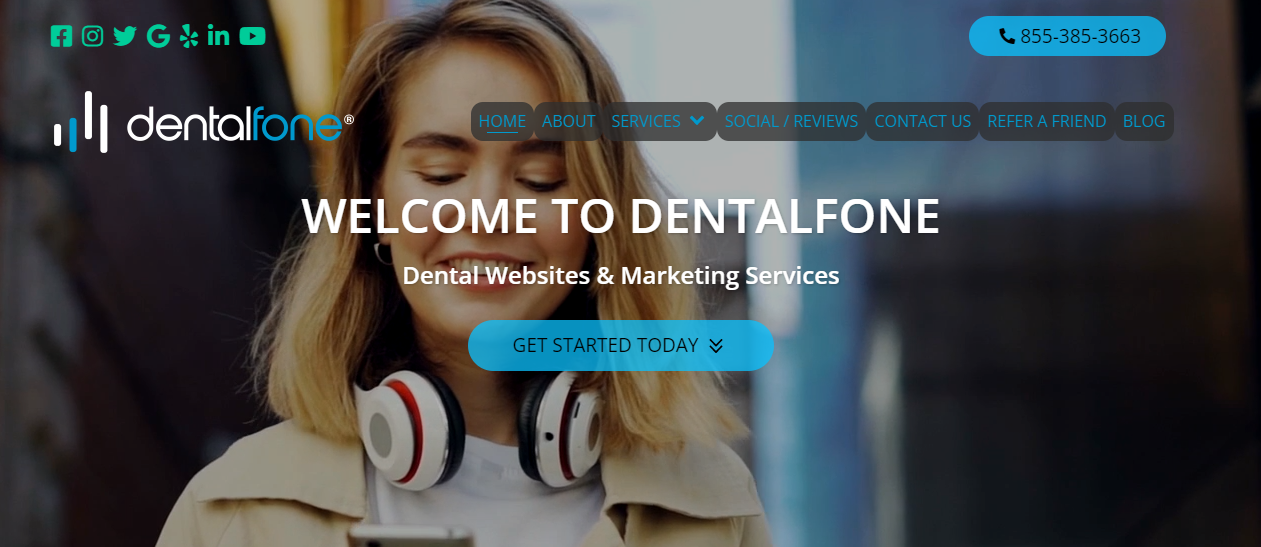 Image Source: dentalfone.com
The SEO company understands what works in the dental business in terms of enhancing search engine exposure because of our years of experience designing websites for dentists. Besides, the Hybrid-ResponsiveTM website design technology ensures a consistent user experience across all devices.
With Google favoring mobile-responsive websites in search results, creating a responsive interface for your patients is now more crucial than ever. Dentalfone got you covered.
Here are some of the dental SEO services offered by Dentalfone:
SEO-friendly website design with separate pages for your most important services
Keyword optimization with keywords added in title tags and website copy
Local search engine optimization to enhance your "map" rankings
Monthly reporting on trends and significant statistics, among other services.
5. Coalition Technologies
The coalition is a full-service digital agency that provides a wide range of services, including website design and development, online marketing, and e-commerce solutions. Some services they offer include search engine optimization (SEO), pay-per-click (PPC) advertising, social media marketing, and email marketing.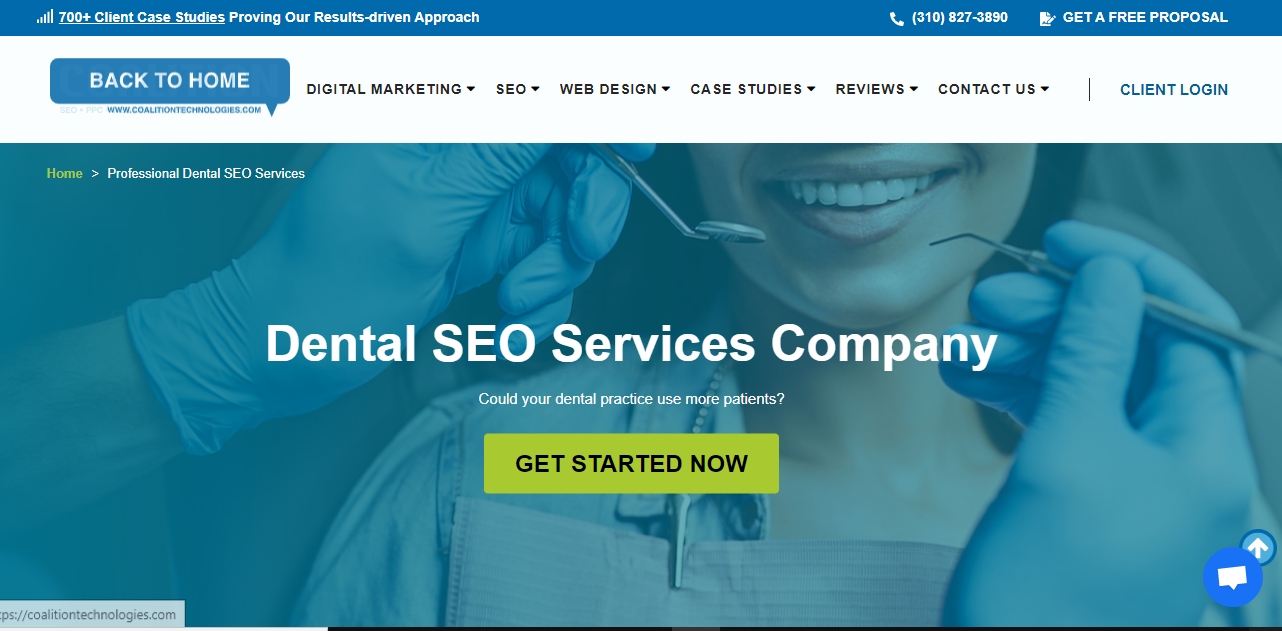 Image Source: coalitiontechnologies.com
Coalition Technologies has a well-equipped team specializing in digital marketing for medical, especially dental SEO campaigns. The team is committed to understanding how your specialized service, product, or practice fits into the larger dentistry community to connect you with the local patients critical to your success.
Furthermore, the SEO company works with clients of all sizes, from small dental offices to large corporations, to help them achieve their online dental marketing goals.
SEO Challenges Dentists Experience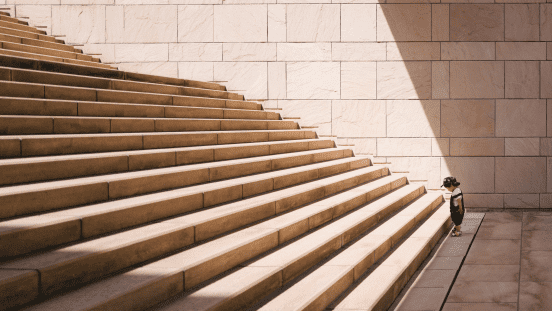 Since the popularity of search engines, the importance of dental SEO has increased. Dentists and other professionals have tried to optimize their web pages and other content. But only a few businesses reap the benefits.
New marketers, however, commit costly mistakes when using this digital marketing. Some of them are discussed below:
1. Keyword Stuffing
Before, keyword stuffing really worked. Businesses could manipulate their page's ranking on search engines like Google as easily as possible. But things have changed today. Most search engines have developed their technology to filter out any keyword-stuffed pages, giving opportunities for useful, reliable, and quality content.
Despite the dangers, many dentists still stuff their blog posts, web pages, and other types of content. If you are also tempted, pause, and think before, you reach your target market. Today, your website can disappear from the search engine.
Your content will be boring, so your visitors will leave your page right away without any hesitation.
More than that, your article may increase its bounce rate or be penalized. Instead of keyword stuffing, develop something creative, interesting, useful, informative, and of good quality, too.
2. Individual Web Pages for Specific Keywords
Aside from keyword stuffing, marketers usually dedicate a single page to target an individual keyword. Is it good or bad? Well, it is not worth-it. The trick here is to use enough keywords in your page without compromising its quality. You can be creative in incorporating them into your page title, headline, or meta description. You can do some research online. But don't copy. Make it as your inspiration. Be unique at all times. Remember that you are wanting to build a unique brand identity.
3. The Absence of Social Media Marketing
Yes, it's true that Twitter followers or Facebook likes do not affect your search rankings. But your social profiles are an exception. If your post starts to create noise online, it can lead to web traffic. People will start to browse your site, increase conversion, and promote a good return on investment.
Unfortunately, growing your follower's base will not be as easy as 1-2-3. It requires a lot of time, effort, and patience. Also, it is crucial to provide something timely, fun, and thought-provoking.
For those who don't have social media accounts yet, set one up on Facebook, Twitter, Instagram, and other networking platforms. Don't be left behind. Always go with the flow so that you won't miss any good opportunities along the way.
4. Unable to Maximize the Power of Mobile
In the past decades, the popularity of mobile phones has skyrocketed. This means people shop online, browse the internet, watch videos, and stream songs using their smartphones.
If your web page or blog post is not mobile-friendly, you will be losing a number of high-paying customers to your competitors.
When done right, mobile-friendly content can improve user experience, increase average time on your website, promote a faster website load speed, take mobile SEO to a different level, and have a competitive advantage over the other businesses.
To make a mobile version of your content, all you have to do is to use media queries, utilize a responsive theme on CMS, incorporate percentages, focus on simple design, never block JavaScript, optimize image size, and utilize standard fonts.
5. Failure to Consider Local
Four out of five consumers perform local searches on their mobile search engines according to Google.
Google also said that 18% of individuals make a purchase. So, local SEO can play a critical role in your digital marketing.
However, optimizing for local search can be a complicated process. But everything will be easy when you know how to get it done.
To level up local SEO for dentist, there are three factors to weigh in mind. These include prominence, relevance, and distance.
6. Unable to Try Other Dental Marketing Strategies
Search engine optimization offers many benefits for dentists and professionals. But don't overlook other strategies to generate leads and create a buzz in different parts of the web. You can integrate other dental marketing techniques into your business for constant success.
What Sets Search Engine Optimization Apart from other Dental Marketing Techniques?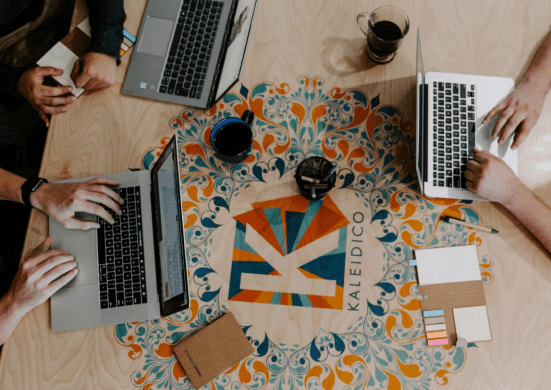 You have promoted your dental practice on Facebook, Instagram, and other social media platforms. You have used email marketing. Now, what next? It's time to try search engine optimization.
Why would you optimize your web page, blog post, or other types of content? Here are some benefits you can expect at the end of the day:
1. Rank Higher on Search Engines
Have you ever tried searching for a service online? What page do you usually click? Studies show that people usually open the website that's on top of the search engine. This leads to great client conversion, a high customer base, and a good return on investment.
Imagine if your platform has a good search engine result. You can expect web traffic and profits within a short period of time.
But don't be satisfied with your ranking. You might lose that spot if you stay relaxed. Always be updated with the SEO trends. Also, avoid keyword stuffing. Strive to provide something interesting and of good quality.
2. Improve your Internet Visibility
Dental businesses thrived long even before the development of the internet.
In this 21st century, everything is different. The online world has given those with dental services a new way to market and operate.
However, there are dentists that are stuck in traditional marketing strategies. Some are stubborn while others are scared of change.
Since everyone has been switching to the world of the internet, you cannot afford to lose a variety of patients from this platform.
If you are in a transitioning period, it would be hard to increase your internet visibility. Don't worry! On-page optimization got you covered. Aside from dentist SEO, don't forget to publish blog content, get active on popular social media networks, run targeted FB ads, guest blog on related websites, and encourage customers to leave online reviews.
3. Help Potential Patients Find You Online
Everyone is online nowadays. From kids, teens to adults, people of all ages are internet-geeks. Whether you're a dentist or are searching for patients, search engine optimization is essential.
You can find new customers and patients will know your dental service, too. However, strive to incorporate professionalism, innovation, excellence, and commitment into all your offerings.
4. Exposure to The Right Market
Email marketing has segmentation. This means marketers send emails to a bunch of people according to employment, gender, and online behavior.
Dentistry SEO is the same thing. How is it possible? When specific keywords are used, your web page will be exposed to the right patients with peace of mind and convenience.
5. Gain Insight on Your Audience's Needs
As a dentist, you probably have a hectic schedule. You meet different clients or supervise team members every day. Of course, you may not have time to know your target customer. Regardless of your schedule, it is important to study and be aware of your clients. While there are techniques to grab, dentist SEO will be one of your best bet.
Once used properly, you will be able to gain insight into your audience's needs, pain points, and requirements.
6. Deliver Information about your Dental Practice 
Before building brand awareness was complicated. Today, it is easy and seamless. Thanks to dental SEO and other modern marketing approaches.
When creating a web page, make sure it is of good quality. Never focus on quantity. Interesting, fun, easy to read and reliable information is what matters the most.
If content development is not your area of expertise, there are experienced and certified professionals whom you can count on and trust.
Although the services require additional costs, all of your efforts will pay off at the end of the day.
7. Increase Web Traffic
Search engine optimization boosts your internet visibility. This means your target market can find your website online. As the number of patients who browse your web page increases, its traffic doubles.
If you encounter some troubles increasing the traffic of your website, dentist SEO can be of great help. Once your blog posts are keyword optimized, fun to read and reliable, your page will be on top of any leading search engines.
8. Generate Quality Leads
Dentist SEO enables you to increase the rank of your site in search engine results. This means you can expect more exposure for your brand. This leads to more traffic, clicks, and sales over time.
Apart from that, dentist SEO generates leads. As long as you ensure that you are visible in reputable search engines, acquiring qualified leads and client conversion will be as effortless as possible.
But how to turn these leads into sales? Simply, provide any informative content and build authoritative links. Seek assistance from qualified and certified experts to make this goal happen.
9. Loyal and Repeat Patients
Acquiring new patients is hard. But obtaining repeat and loyal customers is more difficult than ever. Dentist SEO can make the process easy and convenient. Apart from that, your service can make a big difference.
If you provide something that addresses the pain points of your patients, it would be easy to increase the number of repeat clients. Your customer support is another important factor. Make sure to answer their queries and other concerns as quickly as possible. Be approachable, accommodating, friendly, and professional at all times.
Also, treat them as a family. Plus, provide them discounts and other interesting packages.
Best SEO Dental Practices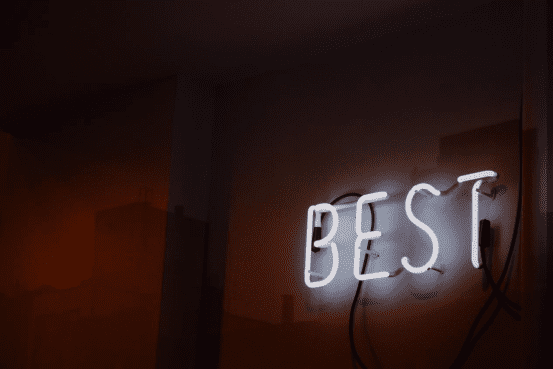 Now that you're already aware of why dentists have been turning to search engine optimization, let's find out some of the best SEO practices. Keep reading for more details.
Easy to Navigate and User-Friendly Website
Creating a website has been a trend for the past decades because it allows professionals to improve their digital advertising efforts, save money on distribution/printing expenses, offer easy access to new clients, improve employee productivity, educate/expand your market, extend the local search, promote products/services, build your reputation, and level up customer service.
Despite the advantages of websites, it is important to make them user-friendly and easy to navigate. How to do that? If you haven't tried building a mobile-friendly or responsive navigation, now is the best time.
After that, keep the navigation simple and ideal for those who are less tech-savvy. You don't need a stunning website if it is hard to browse. A simple site with a great level of usability is more imperative.
How about your logo? Make sure it is easy to find. It should be in the top left corner of your dental website. Then, it should be clickable.
What else? Don't overlook the speed of your site, include CTAs, provide easy-to-digest content, and make it shareable. This is where a dentist SEO specialist can come into play. With the right expert, you can focus on other important business aspects while your internet presence increases.
Create Unique Content
Content is king. It ensures higher visibility in Google and other search engines. It leads to more referral traffic, social traffic, conversion potential, brand reputation, tighter customer relationship, and more.
But creating and developing content for your website is not as easy as marketers think. The secret here is to establish a solid story angle, shoot picturesque photographs, leverage your expertise, and guarantee that your content is trendy.
Also, there are web content writers that you can depend on. However, be careful when selecting the right expert. Although you have a busy schedule, don't be in a hurry. Take your time. That way you can find the company that suits your unique needs and expectations.
Utilize Keywords
Keywords are essential to your blog posts and web pages. If your content is optimized, your website would be on top of the search engines. As a result, you can enjoy great web traffic, client conversion, and continuous success.
Now, how to use keywords properly? You can incorporate it into page titles, meta descriptions, subheadings, content, images, URLs, anchor text, social media, external listings, and directories.
To find keywords for your content, brainstorm possible terms that your target patients are searching for in search engines. Then, find related terms on Google and other popular platforms.
Once you found proper keywords and began writing your content, avoid stuffing the terms. Google might penalize your website and make it invisible to your possible audience.
Also, don't be quantity-focused. Always strive to offer quality content to enjoy long-term results.
Develop Meta Descriptions and Title Tags
Both meta descriptions and title tags draw readers to your website from the SERP. These are visible to your patients and can play a good role in your digital marketing efforts.
For that reason, crafting a compelling and readable meta description/title tags should not be underestimated. To improve its click-through rate, using the best keywords are worthwhile and meaningful.
But never duplicate your meta description tags and double quotation marks. If you found the process tricky, there are professionals that can get the job done with quality results. You can ask your friends for some referrals to save your time and avoid unnecessary efforts.
Share Content on Social Media Networks
Aside from publishing it to your websites, don't forget your social media accounts. Start making your blog posts and other types of content available to your Facebook friends, Instagram/Twitter followers, and YouTube subscribers.
Remember to provide links to your website. As soon as they realized the quality of your services, they would definitely go to your site and take action. So, maximize the number of your friends/followers list.
Implement Google Search Console and Google Analytics
Let's say you have published content on your websites. What are you going to do next? It is crucial to track your progress and getting the procedure done manually is not possible. This is where Google Search Console, Google Analytics, and other tools can come into play.
Avoid Technical Errors in Your Site
You have devoted your time to creating your website or hired an expert to handle the project. But it might not be free of errors. Perhaps, it has long metadata, expiring domain name, duplicate page content, and long forms. As much as possible, fix any of these errors before things get worse. Of course, it might not be your expertise. Worry no more! There are experts you can hire.
Frequently Asked Questions on the Best Dental SEO Services
1. How Do You Calculate the Dental SEO's ROI?
To calculate the return on investment of a dental SEO company, follow the below formula:
(Gain from Investment – Investment Cost) / Investment Cost
You can include the search engine rankings and organic site traffic in your "Gain from Investment" value by using conversions — such as a phone call or contact form completion. These are more commonly used because they contribute to your practice's main goals. The good thing is that you can set up and track these actions using free website analytics tools such as Google Analytics.
2. How Does Dental SEO Usually Work?
Dental SEO is optimizing your website for search engines and users, enhancing visibility in relevant and organic search results. Optimization includes off-page, on-page, and technical strategies such as attracting backlinks, updating title tags, and improving page speed.
3. How Long Does Dental SEO Take?
Dental SEO often takes at least six months to provide results. In some circumstances, practices will start to see results in four months, such as increased traffic, appointments, and phone calls. This timeline is typical since SEO is a long-term strategy, unlike a short-term plan such as pay-per-click (PPC).
Bottom Line
Is the traffic of your website, client base, conversion, and ROI poor? Dentist SEO is one of the most effective solutions you should invest in today. Once your content or website is well-optimized, many business opportunities will be possible in the future. As your search engine result improves, double your effort to protect that spot from your competitors. Also, develop your services or products to make your patients happy and satisfied throughout the decades.