Digital marketing is quite dynamic, and for you to be on the first page of Google and other search engines, you need to embrace a number of strategies such as link building and guest blogging. This allows you to increase your brand awareness, generate more organic traffic, and get in touch with other bloggers in your niche.
Shameless Plug 🔌
While we don't offer guest post services, we do have a niche editing service. If you're interested in learning more, simply follow the link below (opens a new tab):
1. Outreach Pete 

OutreachPete is the strongest service out there for guest posts. Their price is competitive against the rest of the market and because they are a new/growing agency they offer a lot of extra value on top.
About the Service
When trialling OutreachPete's service we found that the links had the following qualities:
All guest posts were published as native content, there were no labels showing 'contributed', 'guest post', 'collaborative' or 'sponsored'.
The posts were featured on the blog's homepage, relevant sub-category and tag pages as well. Nothing was buried or ghost-posted where you would only be able to find it if you had the URL.
They managed to use our exact anchor text as specified while working it naturally into the content.
Every blog had a decent volume of Google organic traffic when checked with both ahrefs and SEMrush.
Some blogs even shared the content on their social media feeds as well for additional exposure.
Expected Results
From the campaigns we have run with OutreachPete we have always seen results in ranking improvements. The timescale varied between a matter of days/weeks to months depending on the site we were working with and the level of competition in the niche.
What is for sure though is that these links are solid and move the needle without doubt!
Additional Benefits
As mentioned, OutreachPete comes with a range of additional benefits without extra charge. These are:
Account managers available to help as a dedicated point of contact
They were able to deal with custom requests at no additional charge
As we are an agency, they offered to send us the links in an Indexsy branded report so we could effortlessly white label their service.
How to Place an Order
All orders are handled through their client dashboard which can be found on their website. You are required to sign up, and once you have done so you can place your guest post orders easily on a pay-per-link basis or take one of their discounted package deals.
On the client dashboard you can track your order progress, make custom requests, speak to an account manager and also see your delivered links coming in as and when they are built.
2. Rhino Rank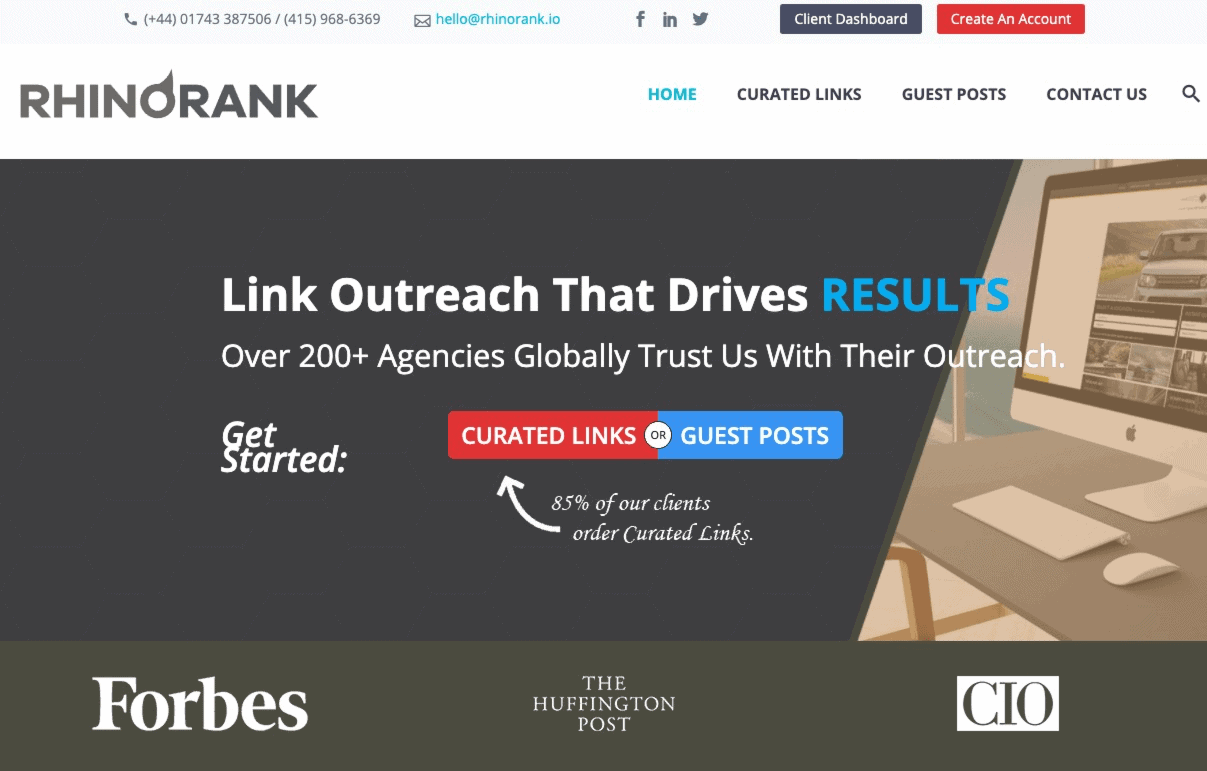 Rhino Rank is synonymous with great value at an affordable price. If you are on a budget and wondering where you'll get a guest blog outreach service that delivers quality results, you've hit the jackpot.
Rhino Rank understands that guest posting is highly effective when your business is mentioned in high quality and highly relevant content. This company specializes in finding content relevant to your niche and projects at an incredibly affordable price.
This company has drawn an attractive crowd of businesses, top agencies in their fields, and many top-notch freelancers because of its affordability and otherworldly professionalism. Their tactful performance, ability to work within their clients' budgets, and their effective communication set them apart from the competition.
How to Place An Order
You need to create an account where you can use the client dashboard to place, manage, and track all your orders from start to finish. This is very convenient because you can view your progress at any time without having to ask for help from customer support.
The company adopts a three-stage process for their guest posts clients. This process goes like this:
First, you place your order by filling out the form provided on their page then the dynamic team at Rhino Rank will study your website and niche. They do this to put together a custom-tailored outreach process to get you a guest post placement that's highly relevant to your industry.
The team then reaches out to website owners, bloggers, journalists, and business owners in your market space. They convince them to promote your website by pitching them great content ideas.
Lastly, they write a high-quality, highly relevant article perfect for your industry to secure the placement once they get the green light from a webmaster.
The best part about getting a guest blog outreach service is that you and your business are exposed to other great bloggers and businesses in your niche. With Rhino Rank, this advantage is taken to a whole new level with their impressive roster of professionals and firms who are top leaders in their niche.
3. Fat Joe
If you are looking to deliver better SEO results through content writing and link building services, then Fat Joe should be on top of your list.
Fat Joe is designed for marketing teams and agencies to help in:
Niche edits
Blogger outreach
Content and blog writing
Press release distribution
Local business citations
How to Place an Order
Fat Joe lacks a client's dashboard. As such, you will need to create a free account, and from there, you can place your order.
This brand prides itself in offering guest blogging services with fast turnaround times, exceptional quality, and customized content to suit your niche.
4. Outreach Mama
This is a link building service where quality means strong metrics, high relevance, and high effectiveness.
Outreach Mama offers two major services – link building and guest posting services. Their guest postings services entail accessing the already existing blogger connections.
The good thing is, these bloggers o through various checks and balances to make sure they strong metrics such as high DA, DR, and certain monthly traffic.
How to Place an Order
Outreach Mama allows you to order a one-off or a recurring package on the dashboard. Here, you can customize your guest posting order to specify the target URL, desired turnaround time, niche, and content length.
You will get white-label reports once you use their blogger outreach services.
5. Heroic Search
This is a link building service that focuses on manual outreach and relationship building with bloggers, SEO agencies, journalists, and editors. Their guest posting services are mostly through these already established relationships.
This means that your SEO guest posting will take a considerably short time for any piece of content.
Heroic Search prides itself on offering guest post outreach services that result in high-quality links even in the most difficult assignment or niches.
How to Place an Order
Heroic search has a straightforward ordering process that involves filling in a questionnaire requiring details such as email address, name, link building tactics, and the number of links you want.
And with that, you are good to go.
6.Forward Linking
As the name suggests, Forward Linking is an outreach service that centers around helping its clients be featured on high authority websites resulting in increased brand exposure, increased rankings on Google, and more organic traffic.
It's guest posting services will increase your backlink profile through highly personalized, transparent, relevant, and ROI-focused content creation.
They use contextual links with an informative anchor text that direct visitors back to your site.
With their white hat SEO strategy and a rigorous testing process of bloggers, you can be sure of link placement in only high authority sites.
How to Place an Order
Forward Linking has three basic plans, and you can order by filling the 'contact us' form and support email. You can discuss with them what you want, and if you are stuck, they can show the way to get links back to your website.
7. BibiBuzz
If you prefer working with a solopreneur instead of an SEO agency with BibiBuzz would do for you.
BibiBuzz is a transparent guest post services provider that allows you to know who the founder reached out to, and you can also state the SEO strategy and campaign you would like.
This flexibility and ability to adapt to your particular guest post needs is something that clients love. Also, BibiBuzz has a project tracker that allows you to know what stage they are in and what they are doing.
How to Place an Order
BibiBuzz has a simple contact form that you fill. Once that's done, you can discuss your project details with the founder. You may share the desired URL and anchor text, content length, and also guest post links.
8. Globex Outreach
Looking for the fastest-growing guest post services provider? Globex Outreach could be a great option.
Their guest posting service centers around manual outreach to quality sites with high website traffic or contacting one of the bloggers in their database. They suggest having over 13,000 blogs in different niches, assuring website owners a quality guest post link within a short turnaround time.
Globex, a content marketing agency, assures its clients of increased and quality backlink profile, more referral traffic, and position on any search engine such as Google.
How to Place an Order
To place your order, you'll need to select blogs or websites that you want a link placement on and send them to the team members via email.
As a business owner, choose websites that offer quality links and allows a piece of content of 500 words or more. Otherwise, short-form content of fewer than 500 words may not achieve much for brand exposure or organic traffic for blogs.
9. Page One Power
This is a guest post service provider that focuses on high-quality and SEO optimized content for search engine and target audience.
This SEO agency focuses on building relationships with bloggers to help you get to page one of Google and improve your search results. It promises to secure a guest blog post position that translates to evergreen links that drive real, sustainable, and meaningful traffic.
Page One Power builds guest posting relationships with high-authority sites that provide real and high-quality links.
How to Place an Order
You'll need to get in touch with one of their sales managers by filling the contact form. From there, you can discuss with them your target anchor text, target URL, content length, the domain authority of guest posting sites, and your niche.
10. Higher Visibility
HV is a premium guest post service provider that centers around helping you grow your website traffic, increase online leads, and sales. It has a DR of 74 and attracts monthly traffic of about 3000 visitors.
It's high domain authority, and high-quality content means it has what it takes to catapult your business and increase visibility.
Higher Visibility's guest posting service focuses on high domain authority sites that ensure SEO optimized content and quality links that are results-oriented.
The best thing about HV is its commitment to helping sites through creating a personalized SEO strategy and guest posts that resonate with your audience and reflect your brand. This quality is something worth paying for.
How to Place an Order
For new clients, HV requires you to book a consultation session to brainstorm and get a customized blog post. You'll need to fill the contact form and declare your intentions.
From there, the team can help you get the right website for your posts based on a number of factors.
11.OutReach Frog
This is a guest posts service provider that aims at helping business sites increase more SEO traffic by generating quality links from high authority sites and bloggers in relevant niches.
For over 2 decades, OutReach Frog has been securing long-lasting links that provide white hat value. Through these posts, your traffic grows steadily.
The team uses a manual process to land guest posting placement, so you can sit and relax while they reach niche-relevant sites.
How to Place an Order
There are various packages that you can order through the client's dashboard or directly from the website. Alternatively, you can contact the team and discuss the project details.
Frequently Asked Questions
What is Guest Posting Service
This is a white hat SEO strategy of building high-quality, contextual links back to your site. Your guest post allows you to access a larger audience, increase your backlink profile, and expose your website.
Is it Safe to Consider Guest Post Service?
As a white hat SEO approach, it is safe, and within Google's terms of service. With high quality and customized guest posts, you can be sure to rank better when the readers find your content helpful and engaging.
Can I Create my own Content?
Well, it depends on the guest post service. Most of the sites will not have a problem, as long as the quality is high and meets the quality standards of the blogger partners. You can even put the anchor text, and format it as you desire. To avoid frustration, make sure you contact the provider beforehand to know any special requirements.
Where Do You Send Guest Posts?
There are two approaches – you can manually reach out to a website where you want to guest blog and send the blog posts. This process may be demanding and take a toll on you. And here, the second approach can salvage you.
Outsource the outreach to a link building and placement site. The agency will have relationships with bloggers in various niches, where they send the guest posts on your behalf at a fee. Usually takes a shorter time, and you can see results sooner.
Does Guest Posting Still Work?
The answer the a resounding yes. But it must be done strategically and in a personalized manner. You need to know your target audience, what kind of content they are looking for, and how you can satisfy that through your guest blog.
Also, the type of site you choose to guest blog matters. For example, if you select a site with low DA, DR, and organic traffic, it will take such a long while to get the desired results.
That said, guest blogging pretty well when done by an expert with clear goals.
How Does DA Affect my Purchase?
DA is a comparative metric that measures the domain authority of a site. A high DA contributes to higher search engine ranking and traffic. When choosing a website for guest posting, make sure the DA is high.
It is also important to work on your website to increase the metrics such as PA, DA, DR, UR as better metrics increases the chances of getting guest posting opportunities sooner.
Though it will be pricy, it's worth it.
How Much Should I Charge for a Guest Post?
There is no one answer to this question. It depends on content length, outreach effort, niche-relevance, market price, DA, and brand policy.
You need to do your research to know how to price your guest posting services.