It can be frustrating when your previously successful website suddenly stops doing well. If your organic traffic flows in differently than it used to, it's most likely due to changes in how Google views content, which can significantly impact rankings. Fortunately, we have compiled tips on how to craft an effective search engine optimization strategy for your website to help you improve your organic search visibility. Read on!
What Is an SEO Strategy?
An SEO strategy, also known as an SEO approach, is the process of planning and executing steps designed to enhance organic search engine rankings. In addition, an SEO strategy aims to provide your audience with an exceptional search experience.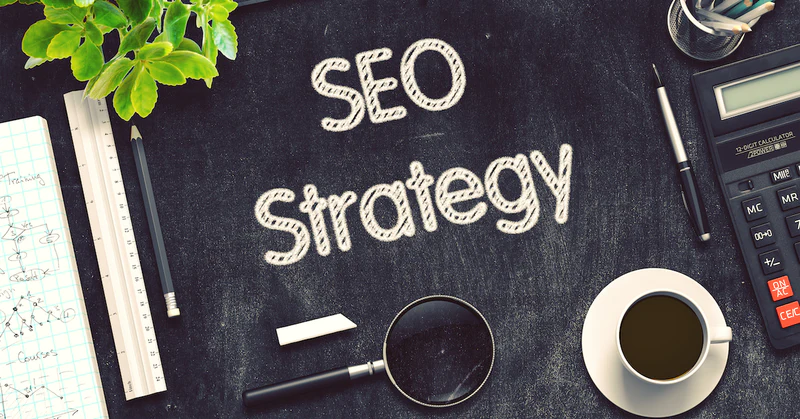 Image Source: hellomyseo.com
One of the key advantages of an effective SEO marketing strategy is that it exposes your business to searchers at every stage of the customer journey. And so your business becomes a trusted, familiar resource for customers as they go from figuring out what they want to buying a product or service.
Though creating an SEO strategy sounds easy enough, there is a big catch: Google search algorithms are always changing. After all, they are usually updated multiple times a year to improve the quality of its searches to give users better solutions to their queries. That means you can't set an approach and forget about making tweaks to the strategy since iterations are required for every search engine optimization.
Therefore, you need to analyze regularly and course-correct to ensure that you are using the best SEO practices and strategies to improve your rankings.
Why Would You Need SEO?
According to a recent CMO Survey, 59% of businesses list SEO marketing technology among their top digital marketing investments in 2022. Besides, organic searches account for more than half of all website traffic. Therefore, it should be a key aspect of every organization's digital marketing strategy, whether a mega-corporation or a small family business.
This is especially crucial for direct-to-consumer websites. You build trust and match your website with client intent by delivering useful content, resulting in higher-quality leads. However, keep in mind that even if you have the best pay-per-click (PPC) and affiliate content marketing campaigns in the world delivering motivated buyers to your website, ignoring organic search means you are only fighting half the battle.
In short, putting in the effort to create a good search engine optimization strategy can transform your organic traffic and your entire business. With that said, how do you create an SEO strategy that's up to date?
What Do You Need to Craft an Effective SEO Strategy?
1. Keyword Targeting
Keywords are phrases often searched for on Google, Bing, and other search engines, and they are an important factor in determining your website's rankings. We recommend using the right keywords in the right places, and your web pages will gradually climb up the SERPs.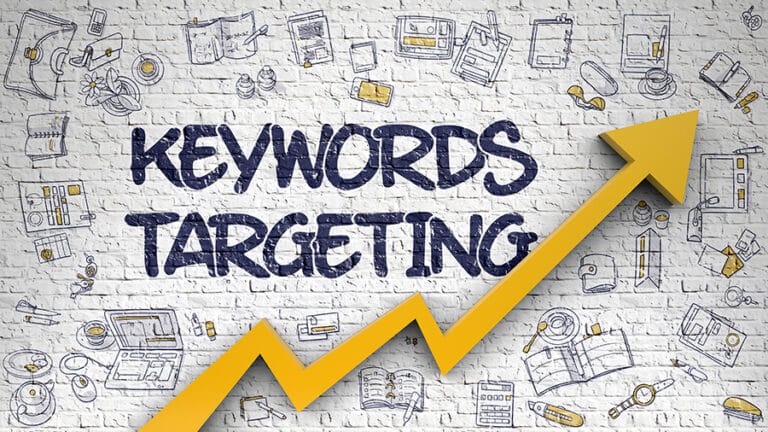 Image Source: infront.com
Keyword strategy has changed significantly over the years; it used to be as easy as stuffing as many as possible into the content. However, this became spammy, and websites were eventually penalized by Google's algorithms. Nowadays, you must conduct keyword research, use a wide range of keywords, and incorporate them naturally.
2. Backlinks
Another essential factor in SEO effectiveness is obtaining backlinks. This happens when another site includes a link to yours in an article or blog post. This usually helps you establish domain authority and enhances the chances of visitors clicking through to your site if it appears on other reliable websites.
Creating engaging content can earn you organic links: the better your content and the more closely you match a potential customer's search intent, the more likely people in your field will mention your site. This overall process is known as link-building, and though you may contact other sites to trade links (quid pro quo), a wide range of other activities can help speed up the process.
3. Technical SEO
There are several other technical issues in the back end of your own site that, once addressed, can significantly impact your overall SEO performance. However, if your website's UX is not smooth and accessible, it will be difficult for any visitor to achieve anything essential on your website. For context, more than half of all online traffic is mobile, so when it comes to things such as UX, the technical stuff matters.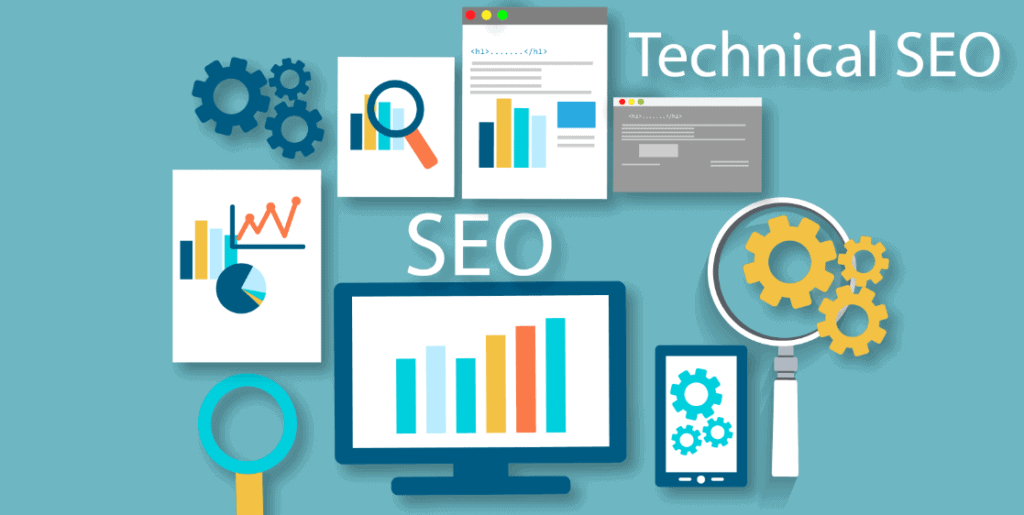 Image Source: thatware.co
Therefore, ensure website speeds are quick, build a clear XML sitemap with a clean URL structure, or remove 'toxic' backlinks (links to sites considered irrelevant or untrustworthy, for example). All of these technical SEO strategies will help secure those higher rankings. After all, you want SEO to perform its job, allowing visitors to find your site naturally.
4. Metadata
Metadata serves as your "shop window." The first thing a user usually sees in the SERP is your meta title and meta description, which determines whether or not they click. Besides, Google uses "crawlers" to scan through sites and collect information that matches search requests. So, by adding keywords in your metadata (including heading tags and image tags), Google can determine the relevancy of your web page more quickly.
5. SEO Metrics
To create an effective SEO strategy, you need a thorough understanding of SEO metrics. This way, you can monitor, analyze and optimize your SEO strategy.
13 Essential Techniques in Creating an Effective SEO Strategy
1. Set SEO Goals
Before starting a major search engine optimization initiative, you must define your goals. After all, without specific goals, your SEO efforts will not provide meaningful results. Besides, linking SEO results to top-level KPIs like revenue is crucial. So, begin by identifying your target marketing results and describe your process goals.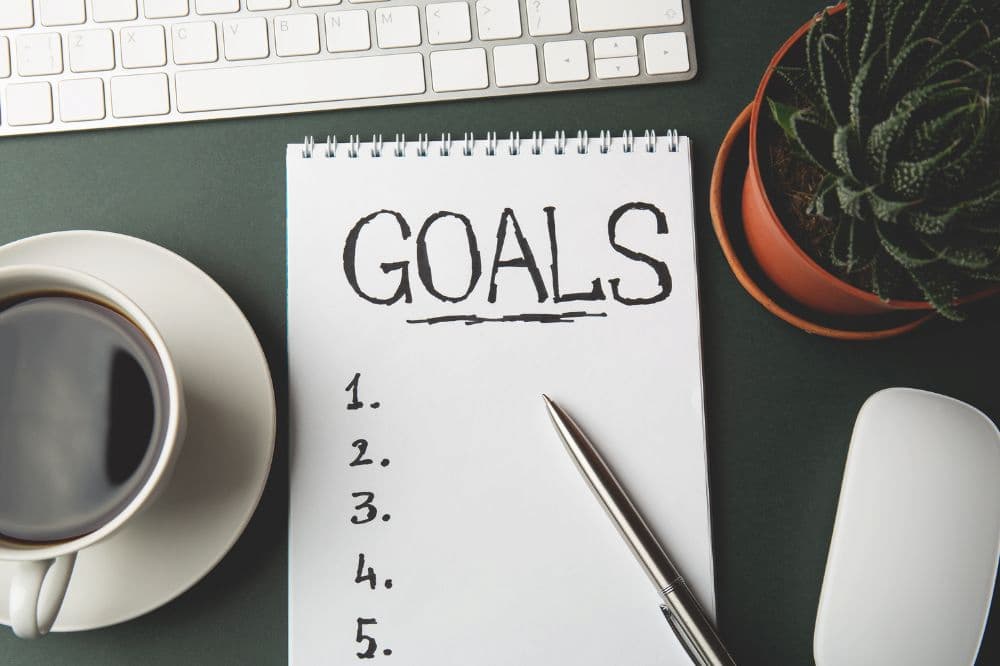 Image Source: quirkydigital.com
Are you trying to grow your market share within certain audience categories? Which categories will you target, and how will you measure your success?
Do you want to boost your ecommerce sales? Which business divisions, products, and services are you looking for?
Do you want to increase the number of visitors to your website? How much traffic? How do you intend to value inbound traffic to one page vs. others?
Do you want to increase conversions with demand generation marketing or lead generation?
What metrics will you use to monitor conversions and micro-conversions? And when do you need to see them?
2. Align SEO with Your Business Goals and Identify the KPIs
You need to understand where you are now, where you want to go, and how you will assess success along the way. That said, you should therefore start by performing an SEO audit. This road map will guide you through the optimization process and allow you to compare your current website to it.
You need to evaluate several factors, including:
Page factors like keyword & topical targeting, headlines, and user engagement.
Duplicate content.
The domain name, history, age, etc.
Content quality, image quality, and content organization.
Past site updates.
Aspects of a website's architecture, markup, structure, and click-through rate (CTR).
The quality of inbound links.
During this step of the SEO campaign, you will also want to identify your key performance indicators (KPIs). This is how you will assess the performance of your new implementations and determine what's working and where you need to make changes.
Some of the KPIs to monitor include;
Leads and conversions.
Pages per session.
Page load time.
Top exit pages.
Organic sessions.
Keyword ranking increases.
Average session duration.
Crawl errors.
3. Perform Keyword Research
As mentioned earlier, the Google algorithm determines search engine rankings by evaluating various parameters to assess how effectively a website answers a certain search query. Keywords have a significant role in this. These important terms, which may range from single words to complex phrases, tell search engines what your content is about.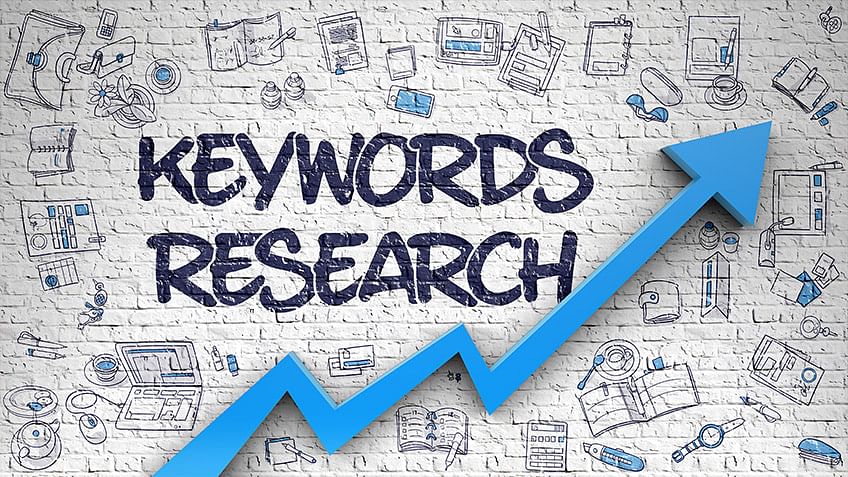 Image Source: simplilearn.com
i) Search Intent
Since phrases often have multiple meanings, it's important to evaluate search intent so that you do not attract an audience looking for something different.
ii). Relevant Keywords
Once you have determined your targets, you need to figure out which keywords are significant to them. Keep in mind that targeting too many keywords can make it harder for the search engine to identify the purpose of your pages.
iii). Keyword Phrases
These are two or more word phrases that people type into search engines to find specific content. For instance, someone looking for a place to dine can type "restaurants near me."
iV). Keyword Research Tools
Use a keyword research tool to ensure you are attracting the right audience and establishing your worth to search engines. Most SEO experts use Google's Keyword Planner for this. Besides, there are other keyword research tools for determining the best keywords to use.
v). Long-Tail Keywords
People usually use these specific search phrases to find an exact match for their search queries. They are often longer and more likely to be used by customers close to making a purchase. A good example of this would be "vegan restaurants in New York," which would most likely be used by a person looking for a plant-based meal.
vi). Search Volume
This will show you the number of searches for a specific keyword over a set period, giving you an idea of the term's value and competitiveness. For instance, "Christmas decorative lights" will get a lot more search volume in December than in February.
vii). Funnel Keywords
These are keywords that target customers at different stages of the sales funnel. For example, users at the funnel top are more likely to be attracted by general terms such as "Maldives vacation," but those closer to purchase are comparing prices and brands and will be drawn in by things such as discounts or restaurant names.
4. Execute a Competitive Analysis
Competitive analysis is the process of assessing your competition to improve your SEO strategy. First, analyze your competition's organic search ranks, blog strategies, online reviews, and backlink profiles. Then, check out their user experience, target audience segments, social media, unique selling points (USPs), and differentiators.
Image Source: vietnambiz.vn
You can go ahead and do a technical SEO audit. Evaluate the health of their website, technical SEO implementation, mobile compatibility, and page speed. Of course, you should include your top competitors in your competitive analysis. You should, however, include your online competitors in the SERPs. Look for websites that rank on the first page of Google for your goal SEO keywords, even if they are not your direct competitors.
For instance, a publication firm may be a threat to your search engine results pages (SERP) ranks. Therefore, you need to have a dual focus on competitors to outrank your online competitors and your business competitors and attract more organic traffic.
For instance, if you're a cosmetics company, you might not consider the online publisher Byrdie as a competitor. Although, when you look at the search landscape, Byrdie usually smashes the competition and siphons crucial traffic across the funnel.
5. Branded Vs. Non-Branded SEO Strategy
Customers might not have specific companies in mind at the start of their journey. As a result, they're more likely to search for generic, non-branded keywords at first to learn more about the topic or product area.
When customers start considering specific companies, they often undertake multiple branded searches. For example, they might search for the product name, the company name, or product reviews. Besides, they might look for comparison articles between competing options. These branded searches should provide the necessary information to answer the searcher's query. However, they must also establish trust with the individual.
For instance, assume one of your customers is about to make a purchase, but they come across multiple 2-star ratings. Then, a deluge of negative reviews on TrustPilot or ComplaintsBoard will very likely prompt them to reconsider and return to reviewing other options. Besides, negative word of mouth would most likely spread (both online and offline), affecting future sales.
Therefore, consider both branded and non-branded search queries in your SEO strategy to increase your market share.
6. Improve and Update Your Existing Content
Keep in mind that there's no definitive endpoint for your SEO strategy. And the constant updates and competition imply that there is always work to be done and that you can always improve your existing content. If you have yet to use SEO effectively, going back and updating content with keywords, backlinks, and improved readability is a good place to start. Also, ensure that pages that have been doing well maintain or improve traffic growth by regularly updating them.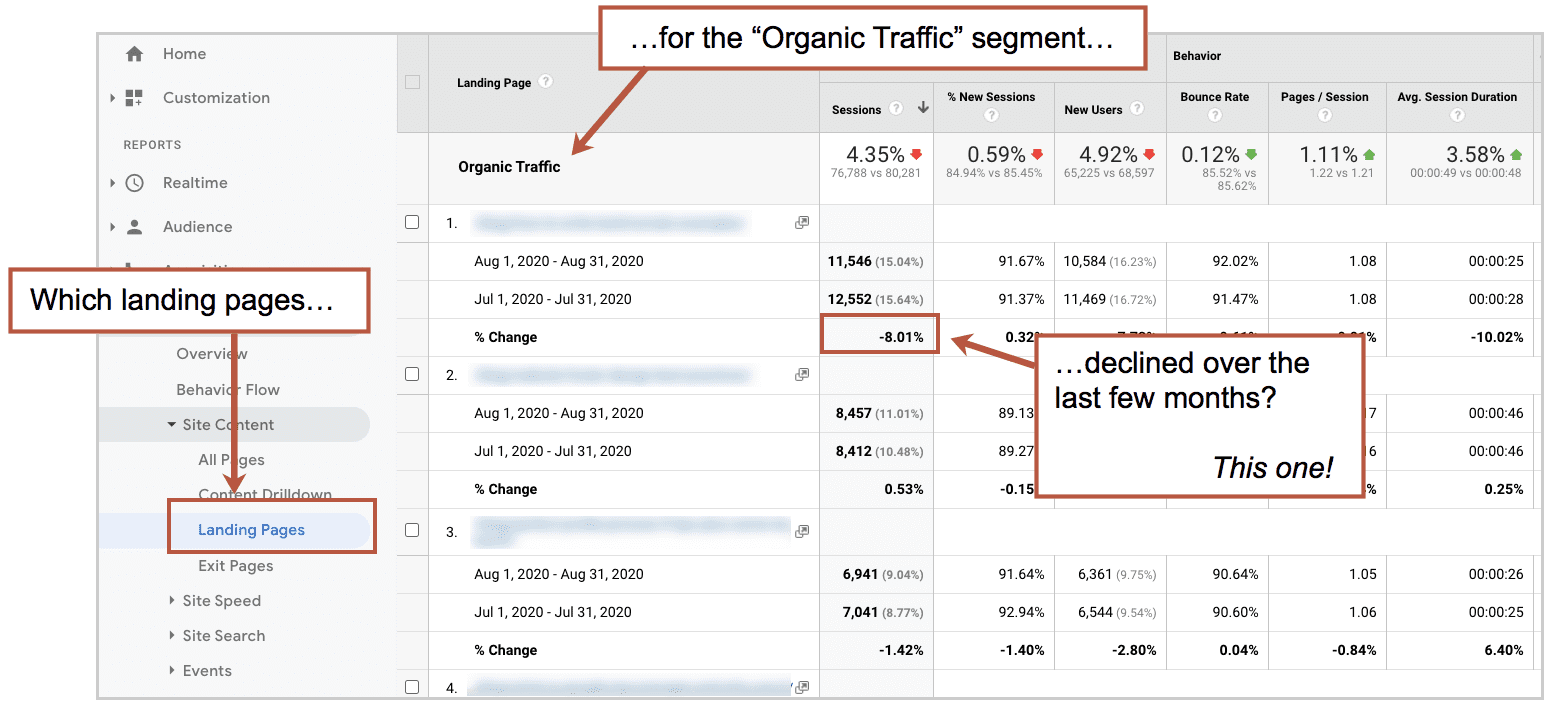 Image Source: orbitmedia.com
Referring to your keyword research, this is an excellent time to use these keywords and competitor analysis as the basis for a long-term content strategy. In addition, each keyword should lead to a slew of others and will generate even more content ideas.
Instead of creating a single piece on a specific topic, we recommend making it a "cornerstone" article from which several more specific ones sprout. The good thing is you can do a comprehensive content audit using Yoast and SEMrush. Besides, adding and updating old content can boost your traffic.
7. Plan for User Experience and SEO
The best content and keyword strategy will not result in a single sale if your website is continually malfunctioning or so difficult to use that visitors close your page in disgust. Nothing is more frustrating than browsing a website you can hardly use. After all, error pages, dead links, and disorganized site structures will all impact what users take away from your site.
Users usually value a good experience and easy navigation. Besides, this helps Google's crawlers scan your content and determine your SERP rankings. Therefore, we recommend using short, easy-to-read paragraphs and headings, cleaning up your subfolders, and optimizing for mobile. These factors will help reduce your bounce rate, enhance your rankings, and increase total conversion.
8. Consider SEO Scalability
Scalability is one of the challenges businesses face when building an SEO website strategy. Though in-house SEO experts are extremely intelligent and efficient and understand how to get things done, they rarely have the resources to handle large-scale SEO content creation or high-quality link development.
Image Source: wagento.com
A scalable SEO strategy goes far beyond plugins and third-party software subscriptions. Besides, scaling your SEO strategy requires integration and standardization. It's vital in a large corporation to keep executives and other divisions informed of progress toward stated goals.
Dashboards usually allow you to scale your SEO reporting to the number of people that need to be kept informed. Besides, it's easy to import data from programs like Google Search Console, Google Analytics, SEMRush, or Ahrefs.
9. Work on Your Site's Off-Page SEO
Off-page SEO is the action taken outside your site that affects your rankings. Common off-page SEO actions include building backlinks, promoting branded searches, and increasing social media engagement and sharing.
After all, building backlinks is important to off-page SEO since search engines use backlinks to determine the quality of the linked-to content. Therefore, a website with multiple high-value backlinks will often rank higher than a similar website with fewer.
Here are three strategies to get more backlinks:
Create backlinks by manually adding links from other sites to your website.
Earn backlinks by generating helpful material that others want to connect to.
Build backlinks by contacting other website owners, editors, or web administrators and requesting them to link to your site.
Though creating and earning backlinks is easy, building backlinks requires a lot of effort and patience.
10. Audit Your Site's Existing Content
Before creating and publishing new content, you should evaluate your existing content to determine pieces that need to be enhanced to fit into your categories. Consider using an online content auditing tool. A content audit allows you to determine the content that should be maintained, updated, or deleted.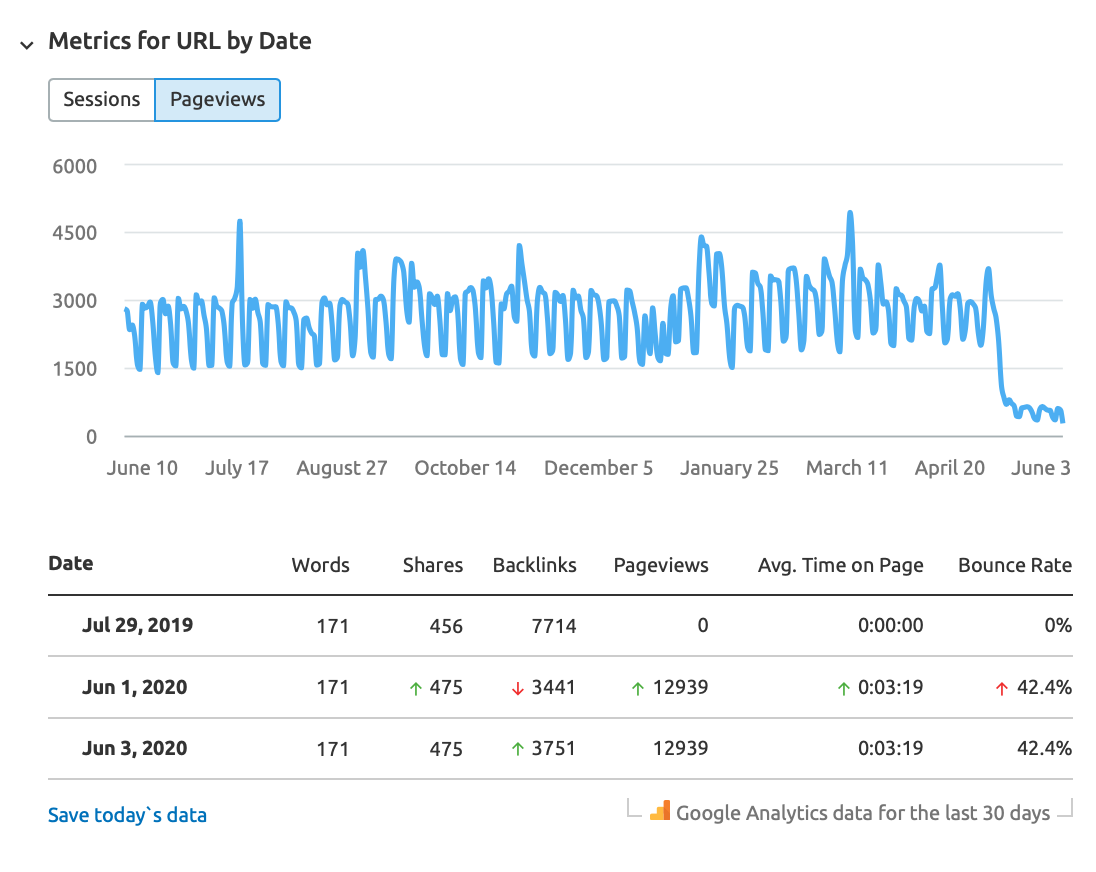 Image Source: writelydone.com
To do a successful content audit, start with what you have before creating new content. In most circumstances, sites can fulfill their objectives by repurposing existing content. Besides, investing in an audit will help you make wise decisions based on the data you obtain. Also, remember that upgrading existing content will allow you to get results faster than creating new content.
11). Hire an SEO Expert
To ensure your website is optimized, you can hire an SEO specialist. An SEO expert or agency can analyze your website to see how it performs against your most essential keywords. Then, they will offer you a prioritized set of action items to help you take your site to the next level. The good thing is that you don't have to be an SEO genius to ensure your website is properly positioned for organic search engine traffic.
12. Create Video Content
There are multiple reasons why video dominates content marketing and has evolved into one of the most effective types of content for engaging your audience. First, short-form video is incredibly effective on social media platforms and is one of the most popular methods of content consumption. This is why, when compared to all other media formats, short-form video has the highest ROI and why social media platforms are focused on and actively investing in the medium.
Image Source: motioncue.com
Besides, customers use video platforms as search engines for education and entertainment. As a result, you should create video content that connects with your target audience when they view it. It would be best to emphasize SEO optimization to ensure your content can be readily found among many other videos.
13. Optimize Your Internal Links
Internal linking has been and will continue to be crucial for SEO. And the good thing is that internal link optimization for your key pages is a low-cost SEO method that doesn't require much time or resources.
There are two main purposes for internal linking; to distribute and pass the value of the backlinks to your pages and help users navigate the most relevant content for them. And since internal links' purpose is to guide search engines and users around the website, your text anchors should be descriptive. Unclear anchors, such as "learn more," "see more," "here," etc., are less likely to be effective. Instead, make it clear where the click will take you.
On the other hand, Google recommends using a reasonable amount of internal links, although they do not provide a guide on what that entails. When you add internal links, you tend to show Google which of your pages is significant.
Featured Image Source: digitalagencynetwork.com