Here is a bleak reality; if your site is not ranking on the first page of a search engine, it might as well be invisible to searchers. According to a Hubspot study, at least 75% of searchers do not look past the first page in search results. This statistic makes it quite important to apply SEO best practices to appear highest on the initial page.
Need help figuring out how to do that? Read on as we tell you the 7 best practices to improve your website rankings. But first:
What Are SEO Best Practices?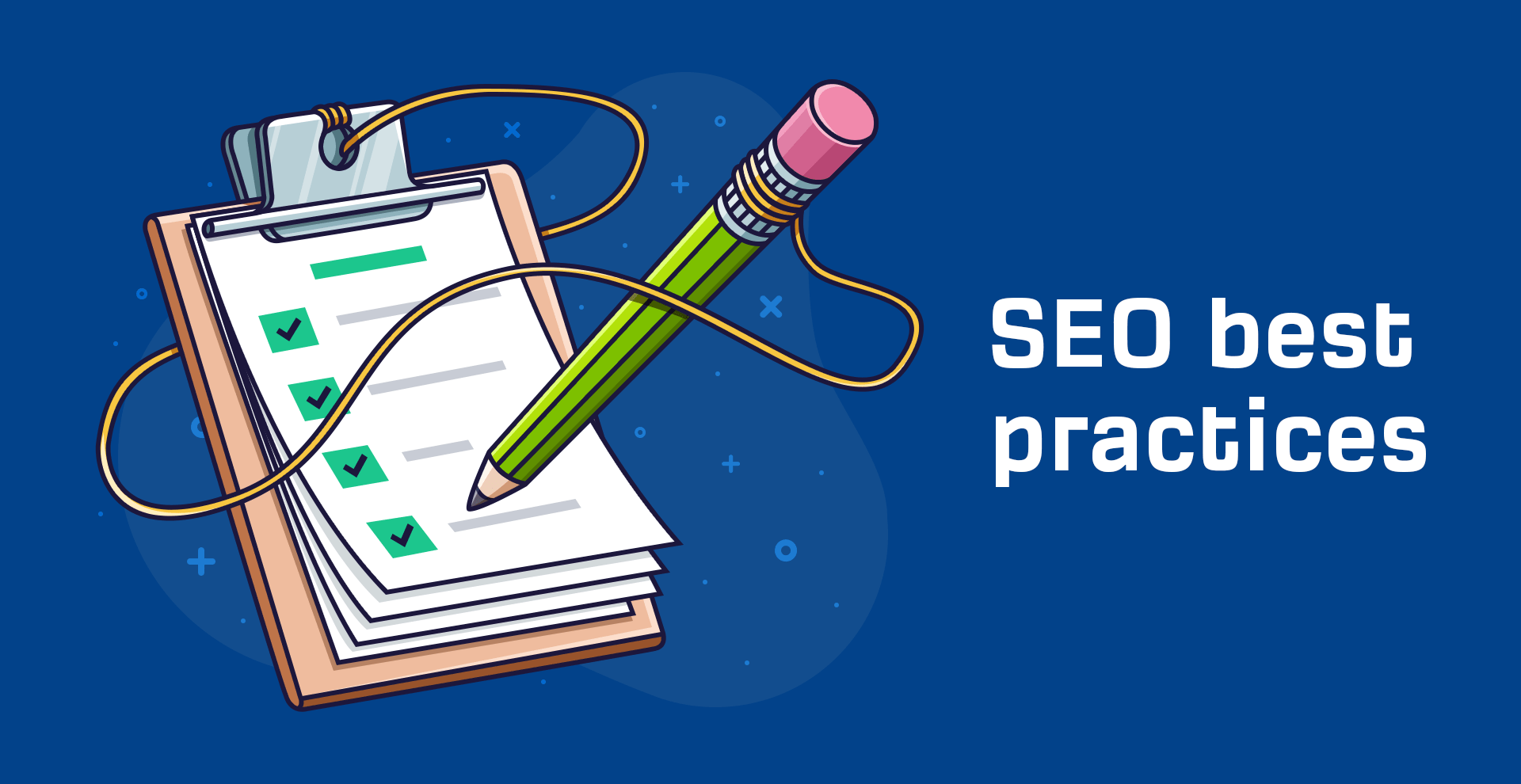 Image Credits: ahrefs.com
As you already know, search engine optimization (SEO) helps you gain organic traffic for your website content. But you need the best SEO strategy to boost the stream of new and returning visitors to your website.
SEO best practices are actions that improve your site's visibility. These are actions you apply to your content and site's design. When done correctly, these practices make it easy for search engines to crawl, understand, and index your site.
Unfortunately, SEO is such a broad topic, so understanding what to do first becomes daunting. However, we want to make this process easy for you, so we have broken down the most important SEO fundamentals into three sections; website, content, and credibility.
We will tell you what you need to do in each section to rank your web pages highest on the most popular search engines. So, the following are the 7 best SEO approaches you can consider:
For website:
Web hosting and CMS
Web design
Optimizing the site for a good user experience
For content:
Understanding user intent
Creating high-quality content
Optimizing content
For Credibility:
Link building
1. Web Hosting and CMS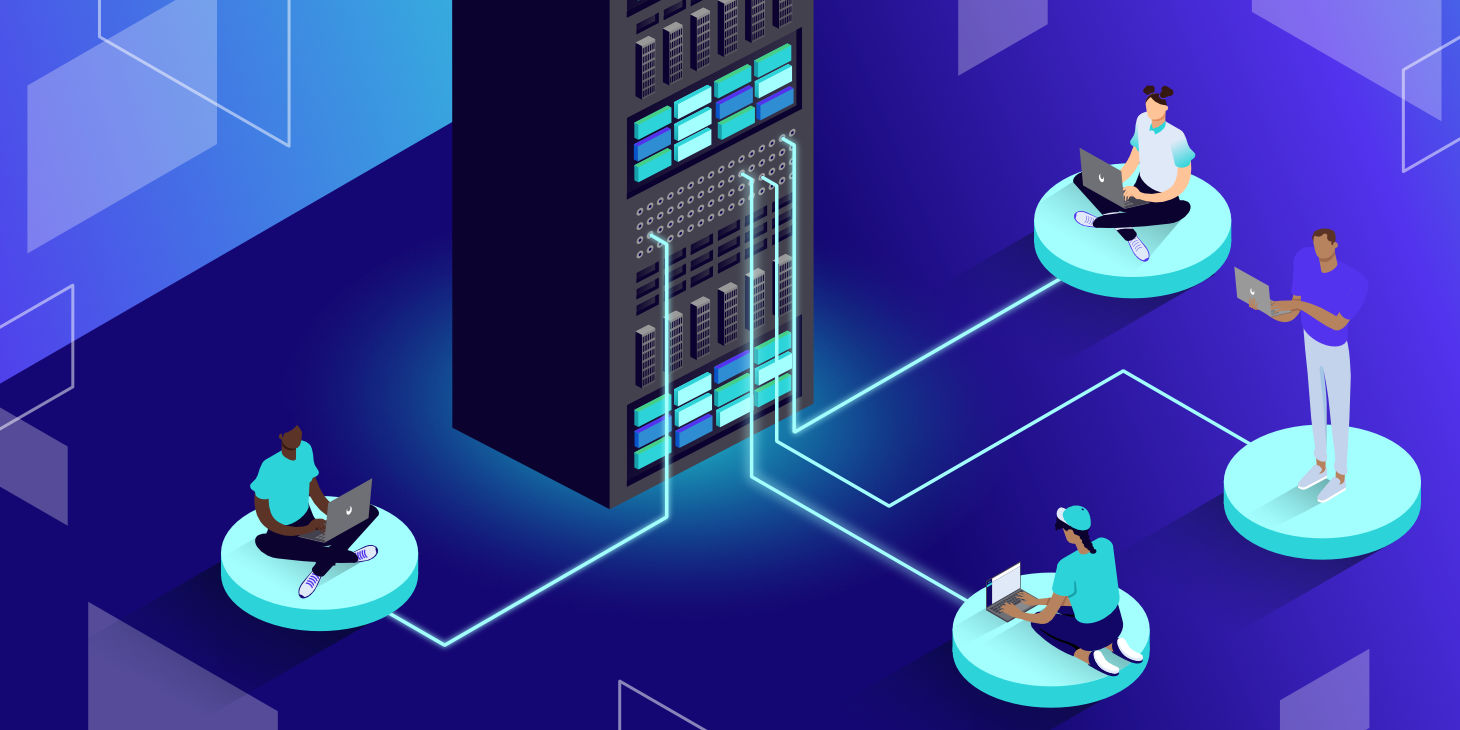 Image Credits: kinsta.com
A good SEO strategy includes what you do before you have a website. First, you will need to find a home for your site or where users will access your content from. When looking for web hosting, you will find a lot of offers from different companies, but you will want to choose the fastest of them all.
A fast hosting service will make website optimization a breeze and, thus, give you the perfect headstart to a good SEO strategy. Here are some types of web hosting services you can choose from:
Shared Hosting
Virtual Private Server
Premium Shared Hosting
Cloud Hosting
Dedicated Server
Afterward, what technology will your site use?
Open-Source CMS or SaaS Platform
Image Credits: triadwebservice.com
After you decide on the best web hosting service, the next step of your SEO approach is to understand your site's technology. So, you must choose between a self-hosted content management system (CMS) or a software-as-a-service (SaaS) platform.
The former might be the best option for a blogger, while the latter is more suitable for a high-performance business website.
Some of the best self-hosted CMS options include WordPress, Joomla, and Drupal. WordPress might be the best option for beginner and experienced bloggers thanks to its affordability, ease of use, and SEO support.
To rank a high-performance business website, you can look into some of the best SaaS platforms, such as Wix, Weebly, and Squarespace.
The best thing about these SaaS platforms is they make it easy for you to design an SEO-optimized website from scratch, even without a lot of website design expertise.
For instance, Wix is a leading SaaS platform with over 200 million users globally. Their website builder incorporates some of the best SEO practices, including excellent site speed and on-page SEO. And, of course, while in conformity with Google's guidelines. Plus, it considers the integration with a content delivery network (CDN) to give your site an edge over competitors in search results.
2. Web Design
Image Credits: 99designs.com
Web design is fundamental to a website's performance. It mostly has to do with visual aspects, which are a huge part of SEO. As such, you want to consider SEO web design when building your site.
Web design and search engine optimization go hand in hand, where SEO best practices can improve your web design, and web design can improve or damage your SEO strategy. To make things clearer, here are some aspects of web SEO design you should consider;
a) Code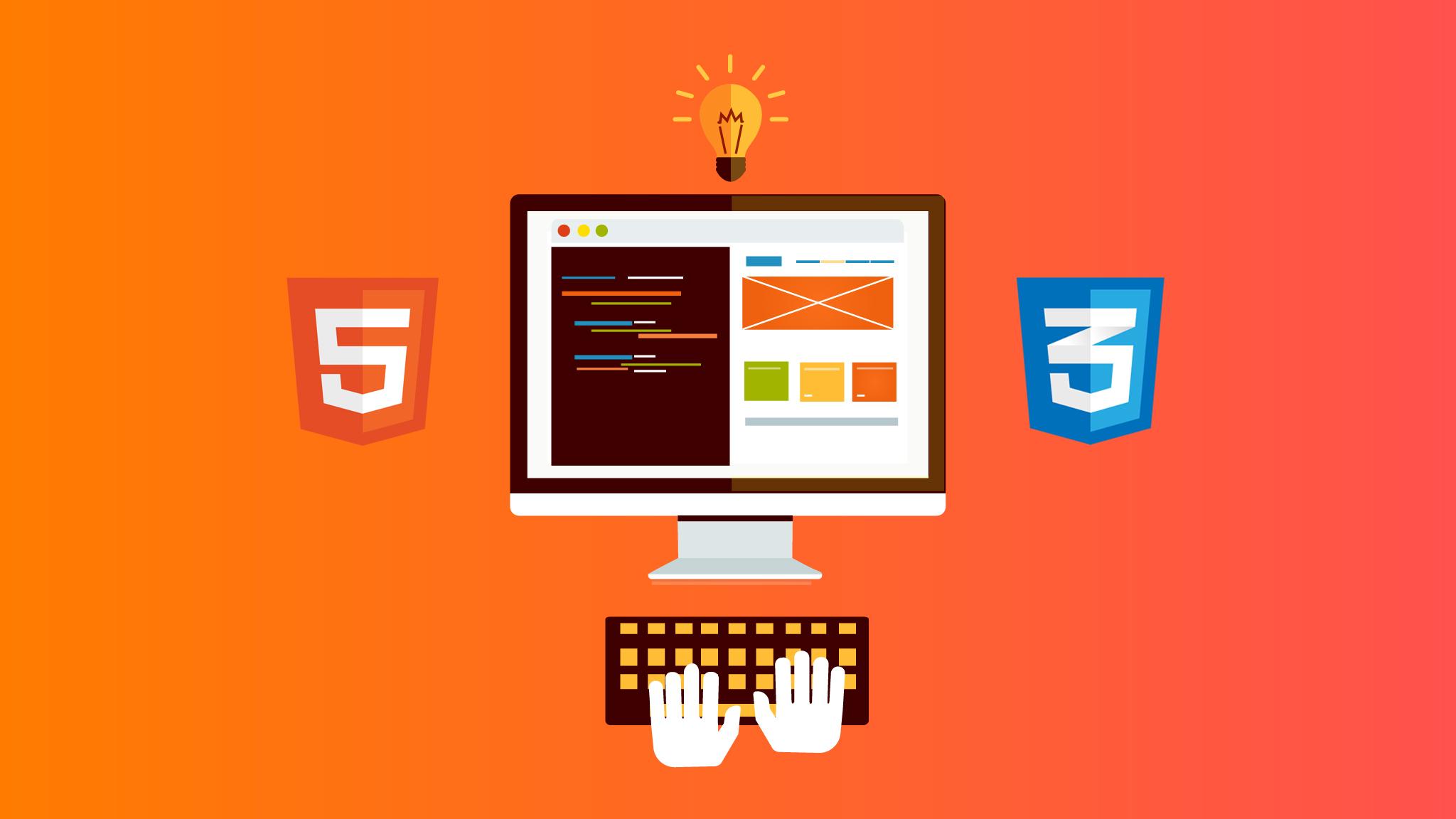 Image Credits: maktabkhooneh.org
Consider HTML and CSS for your website. These codes are often the best for search engine optimization and make updating certain elements easy.
b) Readability
If you want your website to succeed, you also have to consider design elements that can affect the reader. As such, always choose the right fonts and sizes, and ensure you have enough free space for a lot of text. Suffice it to say a design that leaves little space for text will hurt your SEO efforts.
c) Navigation
While SEO ensures you get organic traffic, website navigation determines how much of that traffic you keep. Categories, sub-categories, and easy-to-navigate web pages make the user experience better, thus lowering possible bounce rates.
d) Images
Images are vital for a good website. They are visually appealing and can help search engines, and readers understand your web page better. But, you must ensure the images are well optimized to improve load times.
e) URL Structure
While we will talk about the URL structure for SEO later, this practice is also part of your web design process.
Select a descriptive URL structure that suits your services when designing the site. For instance, it is better to use words instead of numbers for each page and to divide the words with a hyphen rather than an underscore.
3. Web Optimization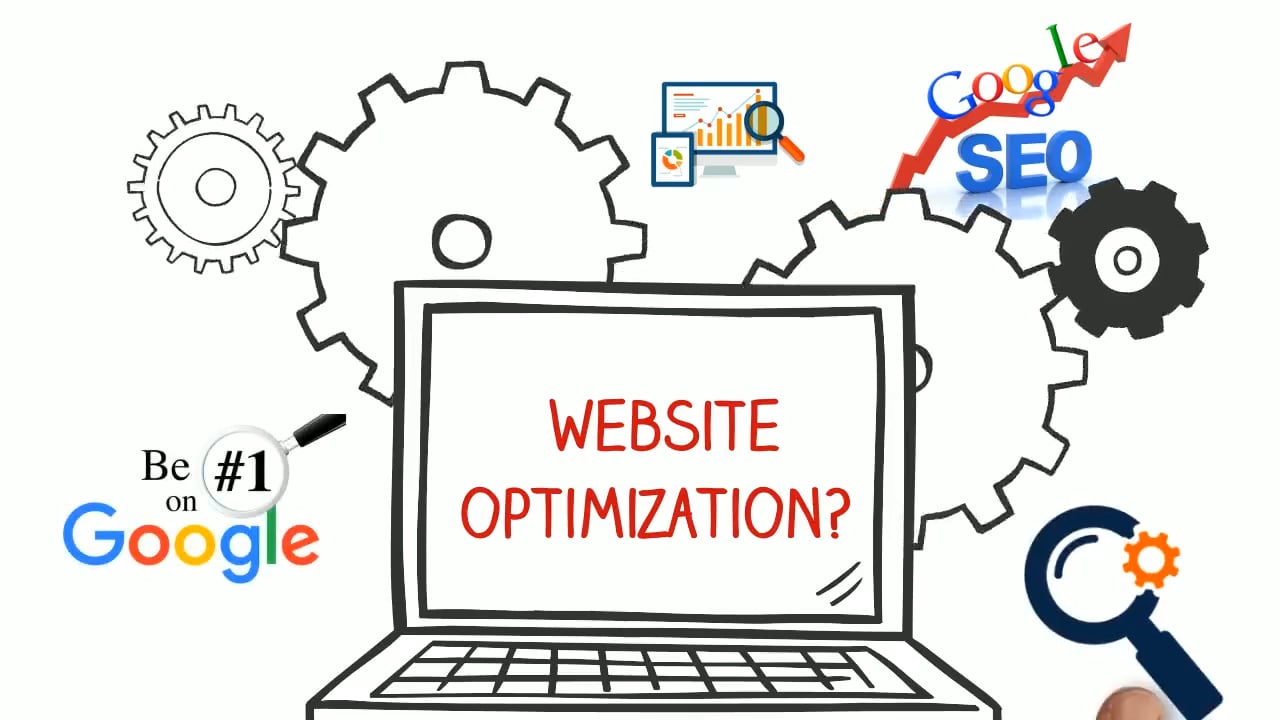 Image Credits: blissmarcom.com
The last SEO approach when creating your website is to guarantee a good user experience. As such, you want to optimize the site speed and mobile-friendliness.
A site that loads fast on any device will attract more readers and will motivate the readers to go through an entire article.
But speed and mobile SEO support are just some of the things that improve user experience. It is also best to use white space that creates a sense of organization. In addition, avoid enabling many intrusive popups, as these will annoy your readers, thus increasing the bounce rate.
4. Understand User Intent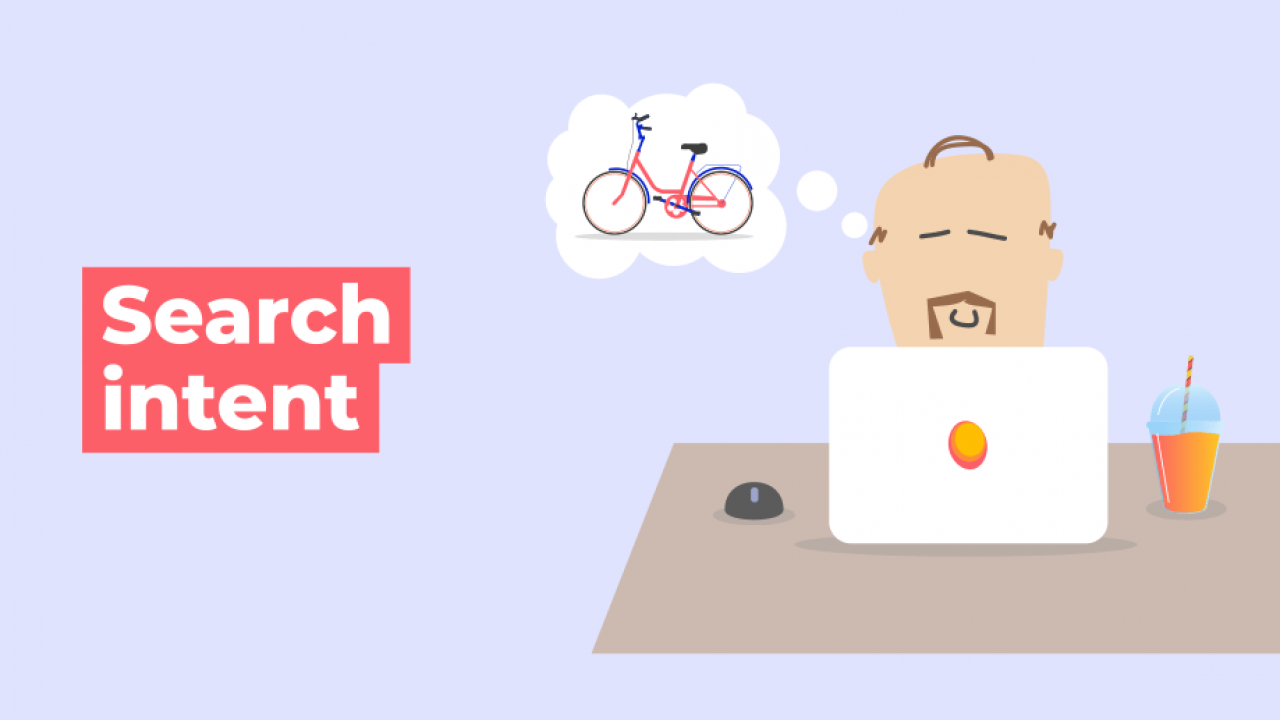 Image Credits: mangools.com
The next best practices will concern content once your website is set up and optimized for search engines and readers. So, you first want to understand why your target users are searching in the first place and whether your products or services are potentially helpful in fulfilling that need.
In short, what is your site about? What solutions can your site offer your target readers?
Here are four main types of user or search intent:
Informational intent: Consider this when your site aims to provide answers to users' questions.
Navigational intent: Consider this when your target audience needs to find specific information, such as a website, platform, or place.
Commercial intent: Consider this for a target audience who needs to explore different products or services before settling on one.
Transactional intent: Consider this for a target audience ready to buy a particular product or solution.
So, now that you know what user intent means, the next step is to ensure you meet it. The best way to meet search intent is to perform thorough keyword research.
Keyword research helps you find the terms searchers use to find your services or products in search engine results pages. When performing keyword research, keep your searches in line with the search intent you want to target.
For example, you can target the "best protein powder" if your site is about fitness and if you want to target commercial intent. However, you will have to target a specific protein powder for transactional intent. To target informational intent, you will need to answer questions/keywords like "what is a protein powder."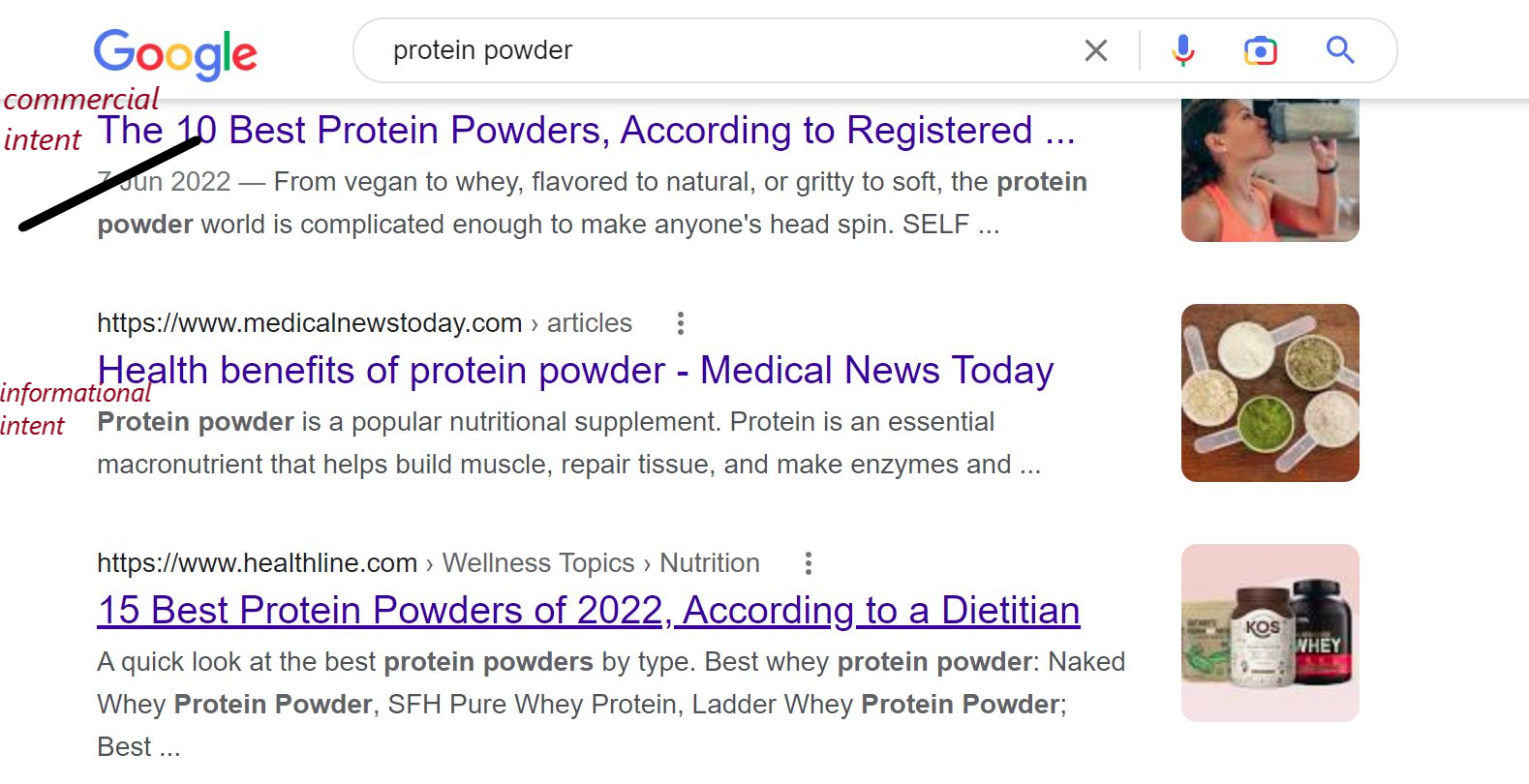 Trying to figure out where to start? You can use the best SEO tools to formulate a good keyword research strategy. In addition, these are seven keyword research tips to help you get creative.
Understand what your target audience wants.
Target long-tail keyword phrases, For example, "B2B business training" is a better target keyword compared to "business training" or just "training."
Use phrase variations to find the best target keywords. For example, words like tips, certifications, and more would expand the portfolio for the keyword "B2B business training."
Pick areas of opportunity. Use the best SEO and keyword research tools to analyze search volume and competition to know which keywords you can succeed with. As a rule of thumb, targeting high-volume keywords that competitors have covered less often (lower keyword difficulty) is always better.
Create high-quality content for the keyword phrases. In addition, the inverse of this tip will also work well for already published content, where you can research keywords to plug in after the fact.
Optimize visibility odds with related keywords. For example, you can use keywords like "what is the price of XYZ" and "how much does XYZ cost" to maximize the chances of readers finding your content.
Analyze trends. Look at your website's performance to notice which content drives more traffic. In the future, you can build on these trends with super-quality content.
5. Create High-Quality Content
Image Credits: digitalmarketing.org
As the saying goes, content is king. Therefore, good content is your best foundation for SEO success.
Your content needs to be good for search engines to crawl and understand and even better for your target audience to find useful.
And now that you have the best website and keyword list, here is what you need to do to create the best SEO content.
a) Write for Your Readers
SEO copy must be tailored for readers first, regardless of how badly you want your site to rank high on SERPS. To do so, you need to create awesome, unique, and fresh content that answers all questions your readers want from the entry they made on a SERP. This tip will help you assert authority and help search engines rank you highly.
b) Use Super Impressive Headlines

Here is the thing: human readers have a very short concentration span, and your main goal is to keep them reading your copy. So, leverage titles and make them catchy to encourage people to click on them.
In short, use clear, interesting, and keyword-rich headlines. When writing a headline, try as much as possible to summarise what your article will be about. For instance, the title "7 Best SEO Practices to Improve Your Rankings" tells the reader exactly what information awaits them and how they will benefit after they read all of it.
Still, keep the headline within a maximum of 60 characters or 10 words. In addition to headlines, create short, clear, and keyword-rich meta descriptions. These are two article features that will appear on search engine results, and they will encourage people to want to read your content.
c) Use Your Main Keyword Early
Sure, you have a keyword to cover, and know you need to use it several times throughout the article. But, it is a better SEO practice to use it early in the article because search engines put more weight on terms that appear first on a page.
Using the main keyword in your introductory paragraphs also tells your readers you are committed to covering the topic. However, avoid using the main keyword too often, which can be interpreted as keyword stuffing. Additionally, the practice makes search engines deem your content poor and rank you lower.
Using related keywords throughout the article is best to avoid keyword stuffing. Use these in headings, first paragraphs, and image tags.
d) Structure Your Content for Good Readability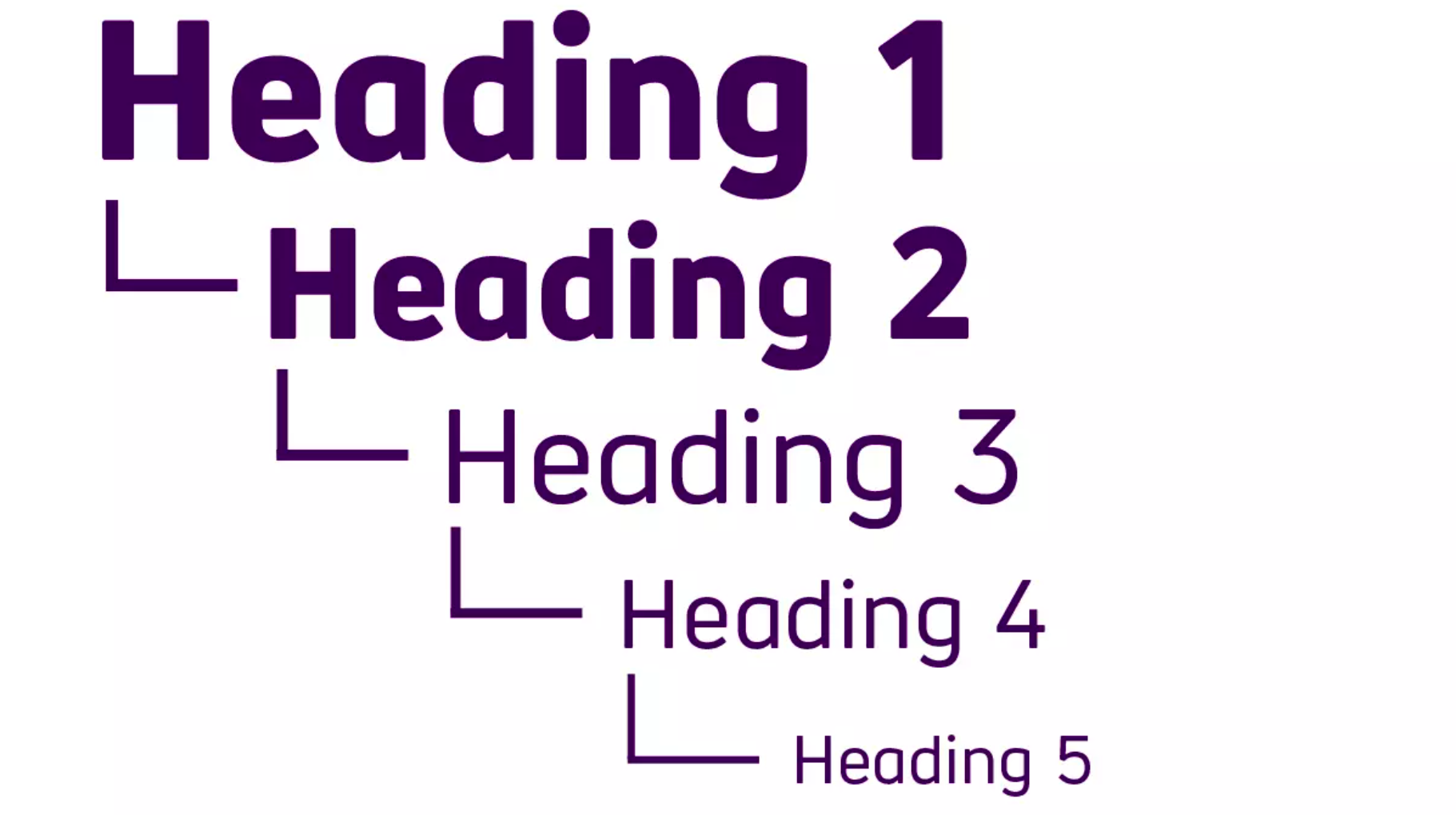 Image Credits: bighack.org
As you know, the main goal of SEO is to create content that search engines and human readers will love. One way to ensure your text is loveable is by following a structure that makes navigation easy while breaking down huge blocks of text.
So, use the proper heading hierarchy, for example, H1 for titles, then H2s for subtitles. If you want to elaborate your H2s, then use H3s and so on. In addition, use shorter paragraphs that will look easy to read for your human visitors.
e) Use Images
Another good way to create SEO content is to use images within your text. Images help readers understand our content better, so only use those that relate to your topic.
In addition, you can use pinned images that have the potential to drive more organic traffic to your site, especially from Pinterest.
6. Optimize Your Content
Image Credits: searchengineland.com
So, after writing your article, you are not quite ready to hit the publish button; optimize the copy for SEO first. Here is where to start:
a) Optimize Your Title Tag and Meta Description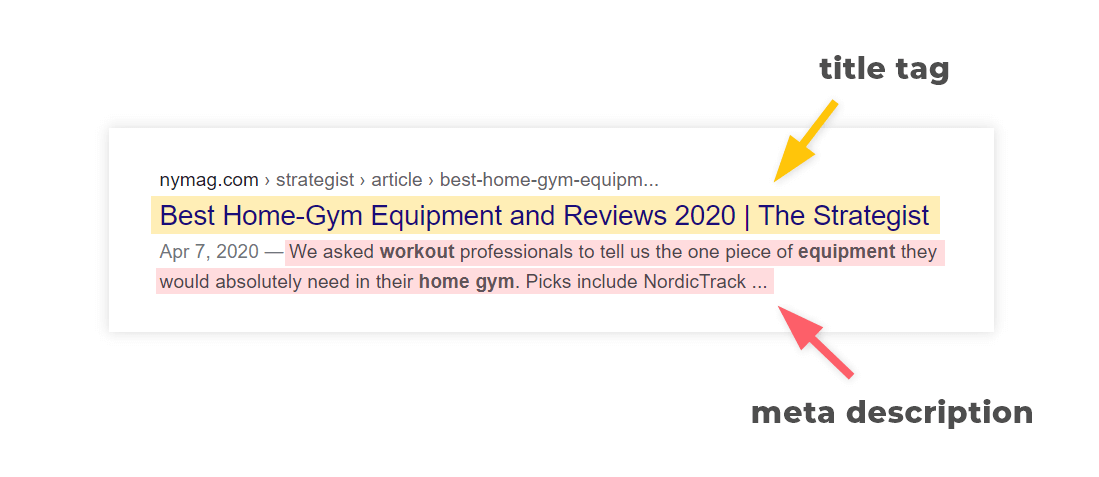 Image Credits: mangools.com
As mentioned above, the title and meta description are displayed by search engines, and they will encourage readers to read your content. So, it would help if you spent a little more time optimizing them as follows:
How to optimize your title tags:
Use the main keyword in the title.
Keep the title between 40-60 characters. Understand that search engines will display a maximum of 60 title characters.
Keep the title in line with the search intent.
Keep the title descriptive and concise.
Do not stuff keywords in the title tags.
Do not create duplicate title tags across your website.
How to optimize the meta description:
Keep the meta description between 120-160 characters.
Include a target keyword.
Match search intent.
Make sure the text accurately summarizes the page.
Create unique meta descriptions for all your pages.
Include a clever call to action.
When creating a meta description, understand it does not necessarily improve your search engine rankings. Rather, it acts as a pitch that helps improve your web page's click-through rate.
b) Optimize Images
Image Credits: sparkslc.ca
While images improve your site's user experience, you can also use them to improve your search rankings. You need to optimize your images to improve site speed and to explain their usage to search engines. Here is what you can do:
1. Choose the Best File Format
The first SEO best practice when optimizing images is to pick the right format. Image format dictates how fast a site loads and how well they help explain your text. The best file formats you can choose are JPEG, PNG, and WebP.
You can use a JPEG format for photographs without text, while PNG is the best format for illustration images with text or drawings.
WebP is the best file format for compressed Google images.
2. Compress Your Images
Images can make or break your site's load speeds. While large images will come with the best quality, they can sometimes take longer to load, thus affecting the site's user experience. The best solution here is to compress them before uploading them. Luckily, compressing images does not mean losing quality, thanks to some of the best tools such as ImageOptim, TinyPG, and ShortPixel.
3. Provide Image Alt Tags
Image alt tags are designed to help search engines understand your imagery. In addition, they provide a good avenue to gain organic traffic from image searches. So:
Use descriptive and concise text that explains your web page's content
Use keywords appropriately; do not stuff keywords in alt tags to avoid being flagged as spam
c) Optimize URLs
Image Credits: marketplace.webkul.com
Site URLs are vital elements of your SEO strategy; they help human readers and search engines interact with your website better. A good URL will convey what the web page is about, so don't forget to do the following;
Keep URLs short
Include target keywords in all URLs
Use readable words instead of numbers and blog post dates
Create URLs for different categories on your website
Remove unnecessary stop words to make your URLs easier to understand
7. Build Credibility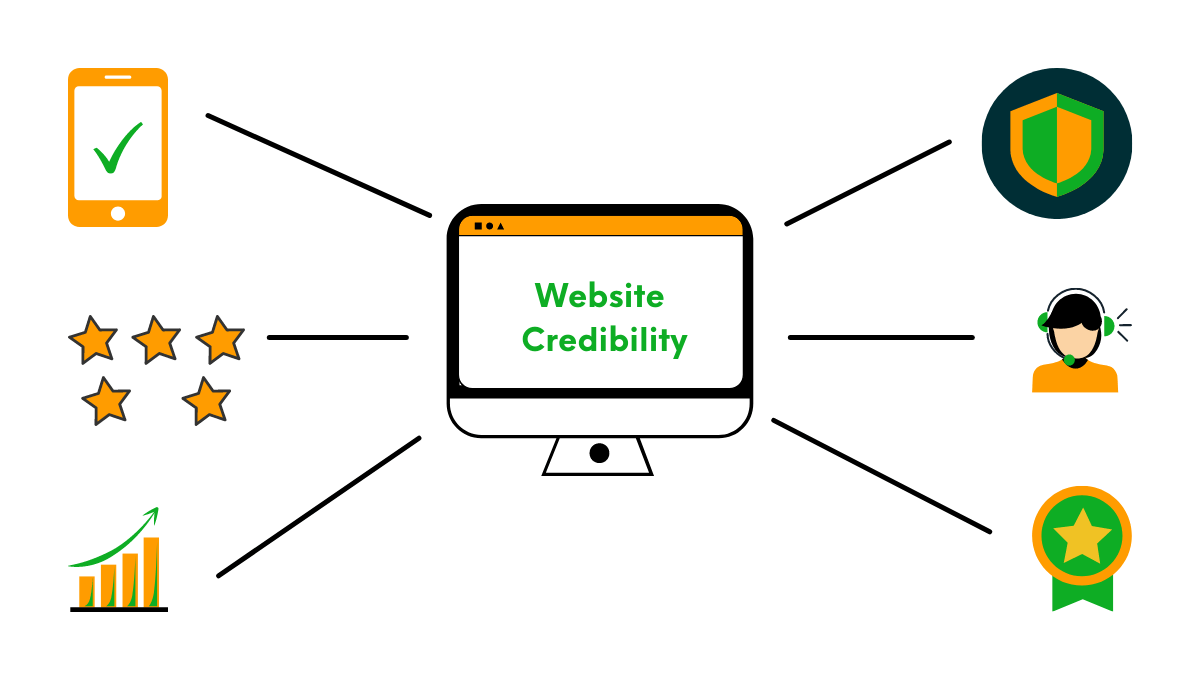 Image Credits: jagadeeshchundru.com
The final SEO best practice is building credibility with search engines. A link strategy is one way to do so.
Links are an integral part of any SEO campaign; as you know, the internet is built on links. Therefore, you will only rank high on search engines if you have links in your content. So, each page needs to connect to another for better visibility, but you must be careful where you get links to use on your pages.
When creating content, you need to include two main types of links on your pages. These are:
a) Internal Links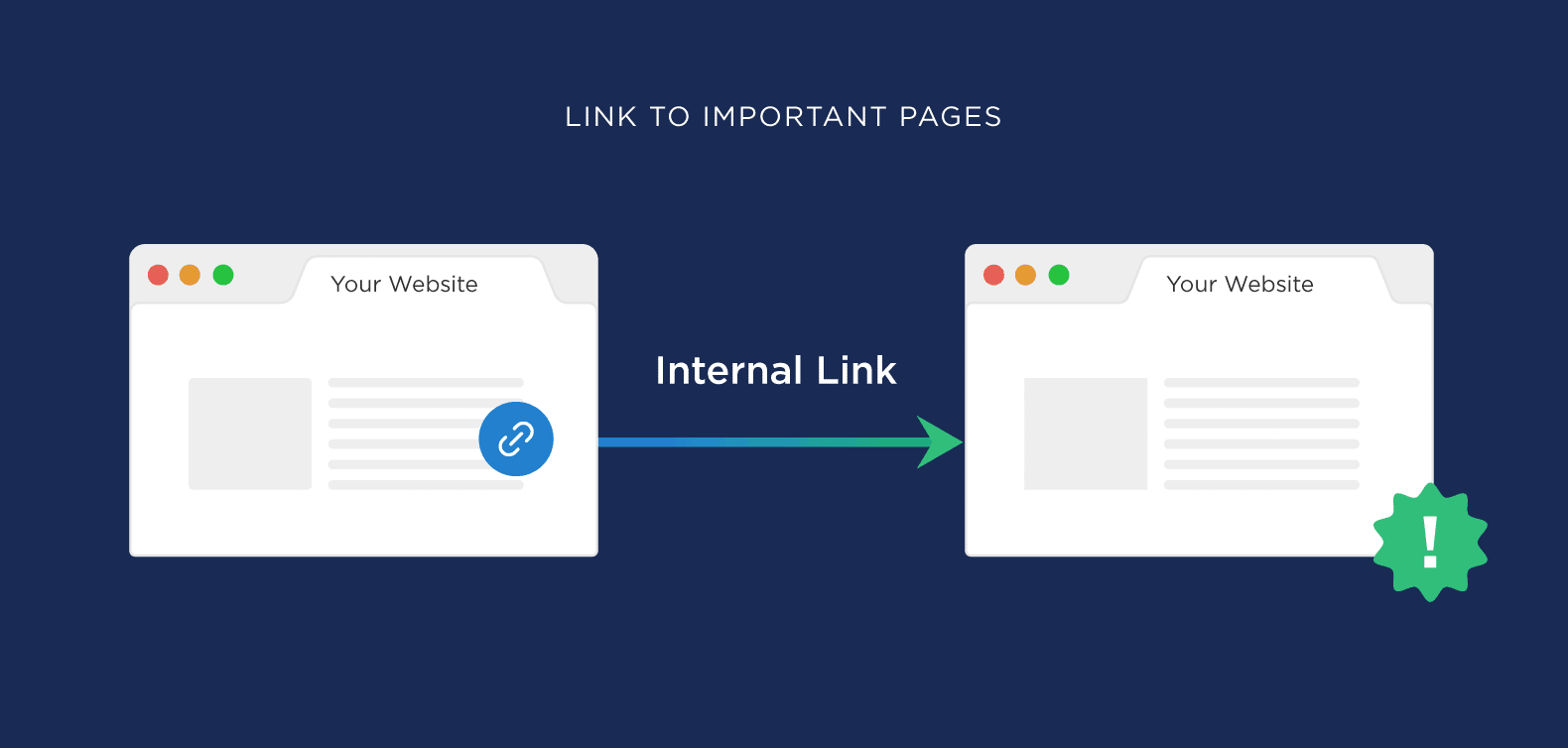 Image Credits: backlinko.com
Internal links are links you find on your website and allow you to connect your new content to existing content. These links are vital because they allow site visitors and search engines to find other pages on your site, which is one of the best ways to enhance your site's visibility.
b) External Links
External links are found on other websites. Thus, they allow you to connect your pages to others on the internet. The goal of external links is to improve your site's visibility and provide the most authoritative content for your readers.
Only select sites with a higher domain authority than yours and those with more authoritative content than you can provide.
c) What Are Backlinks?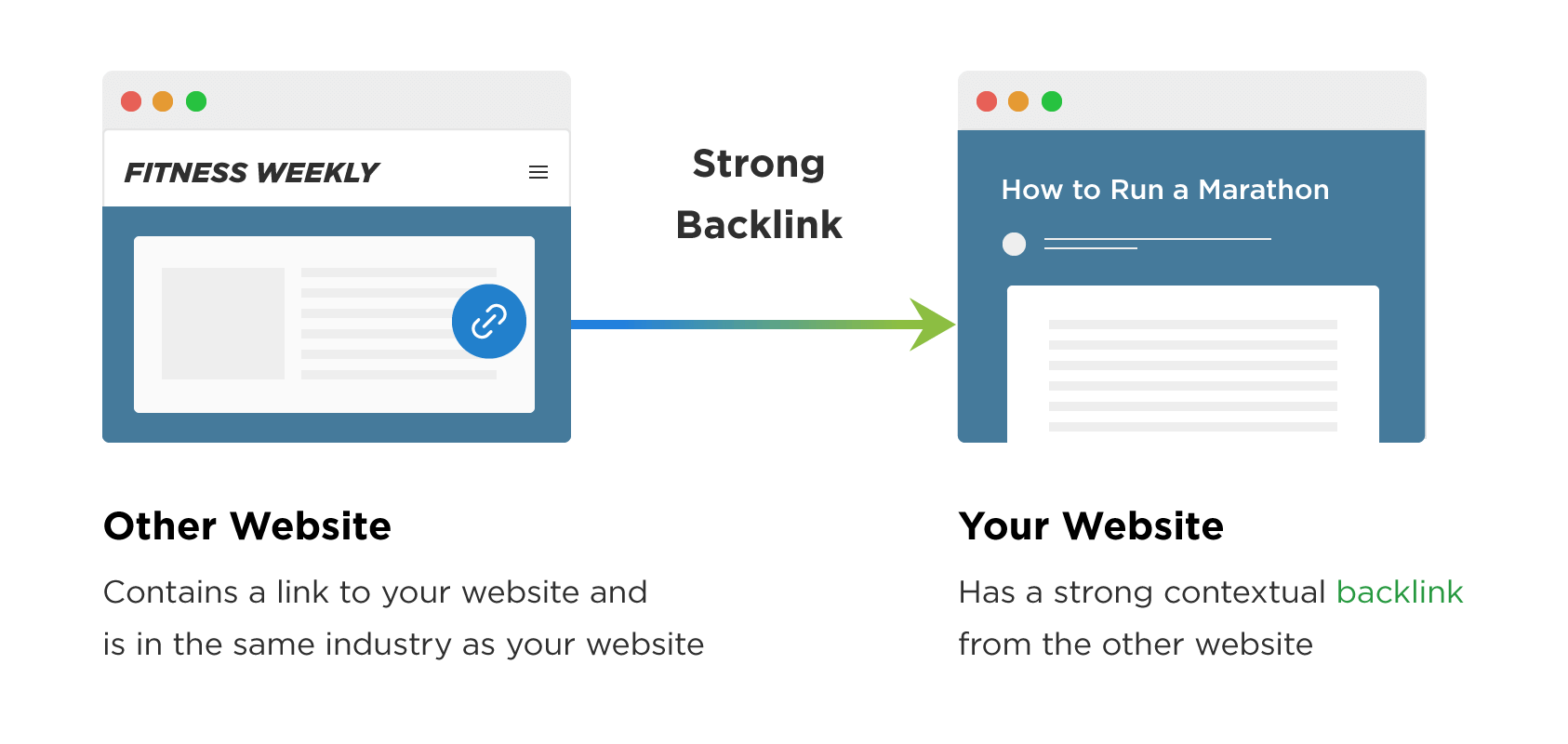 Image Credits: backlinko.com
Now that you have learned what internal and external links are, it is also worth knowing what backlinks are. These are links that point to your content from other websites.
Backlinks have a significant value in terms of SEO because they indicate you have valuable content that helps improve other websites. So, high-quality backlinks are a vote of confidence from other websites.
However, you will want to attract only the fancy of authoritative websites for backlinks to help you rank higher. On the other hand, backlinks from spammy sites are not very helpful and might even hurt your ranking efforts.
Here is how to get the best quality backlinks as part of your SEO best practices.
Ask your partners to link back to your content.
Use Help A Reporter Out (HARO) to find journalists who want to know who to cite.
Write guest posts on industry publications.
Turn brand mentions into links by reaching out to the website owners.
Create industry-related e-books to be quoted as a verifiable source.
Look for the best link-building services.
Analyze your competitors' backlink profiles to scout opportunities.
Buy backlinks from reputable brands.
Final Thoughts
Appearing on the first page of Google search or another search engine is a great measure of success. While it is a feat that takes time and careful planning, the 7 SEO best practices above can get you on the way to higher rankings.
Once you implement these practices, you will only need to keep abreast with emerging SEO trends while creating high-quality content to stay ahead of the game. However, if you cannot implement these strategies, you can also look for the best SEO companies to improve your site's fitness.