Attention all content creators! Tired of gazing at a blank screen while attempting to come up with new and engaging ideas for your website's SEO articles? Look no further! Thanks to SEO article generator software tools, creating high-quality, keyword-optimized content has never been easier.
Say goodbye to writer's block and hello to a wealth of informative, topical, and entertaining content at your fingertips. You can improve your content marketing strategy today and watch your website rocket to the top of search engine results. So, if you are ready to revolutionize your content creation game, let's explore the exciting world of SEO article generator software tools together.
What Is an SEO Article Generator Software?
An SEO article generator is an artificial intelligence-based platform that comes in the form of downloadable software or an online application that can create content according to your needs.
Interestingly, an article generator tool can depict the human writing tone. It does this using AI technologies, machine learning algorithms, and the GPT-3 (natural language processing model). These advanced AI technologies can create readable, well-organized content and even pass the Copyscape test.
SEO article generator tools can create different types of content, including:
Long-form content for your website or blog and can even edit and improve your existing content
Generate product descriptions for an eCommerce store
Generate blog ideas, blog outlines, and article topics
Create a digital ad copy for Facebook, Twitter, Google, and other social media platforms
Creating a persuasive website and landing page copy
Create and caption ideas meant for social media channels
1. Autoblogging.ai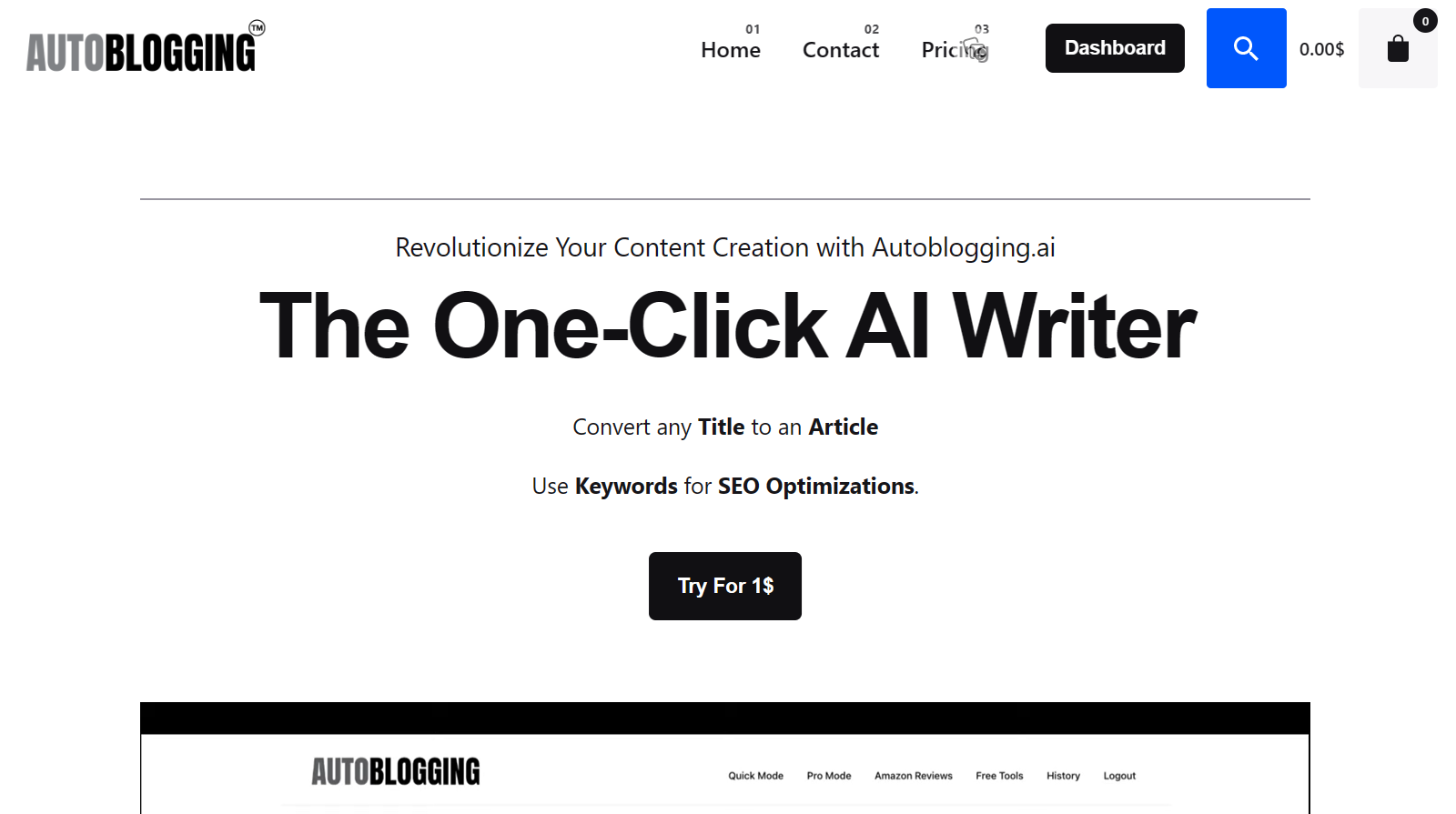 Our favorite software that you can use to generate content is the Autoblogging.ai tool, which creates articles from scratch or generates content from long-tail keywords. We prefer this content generator for its natural-sounding content, but you can also use the software to rewrite existing content to create unique articles.
This AI content generator writes whole articles based on user-defined keywords, and you will not need a human editor. It can be used to fill a blog or website with content. In addition, it is the best article generator since it comes with fully customizable settings that can control how often new articles are generated and how many keywords should be used per article.
Not only does the Autoblogging.ai SEO software create high-quality content, but it's also good enough to pass a Copyscape test. You can also publish these articles directly to your website or save them as drafts for later editing. If you are impressed with the article creator software features, check out our detailed review for more information.
Pros
Instant bulk article generator tool
You can create content through RSS feeds
One-click-long Amazon reviews writer
Multi-language
HTML format
You don't have to come up with any blog post ideas since it does all the work
Cons
Limited control over the content
Pricing Plans
Free plan- $1
Starter Plan- $19
Regular Plan- $49
Standard Plan- $99
Premium Plan- $249
2. Jasper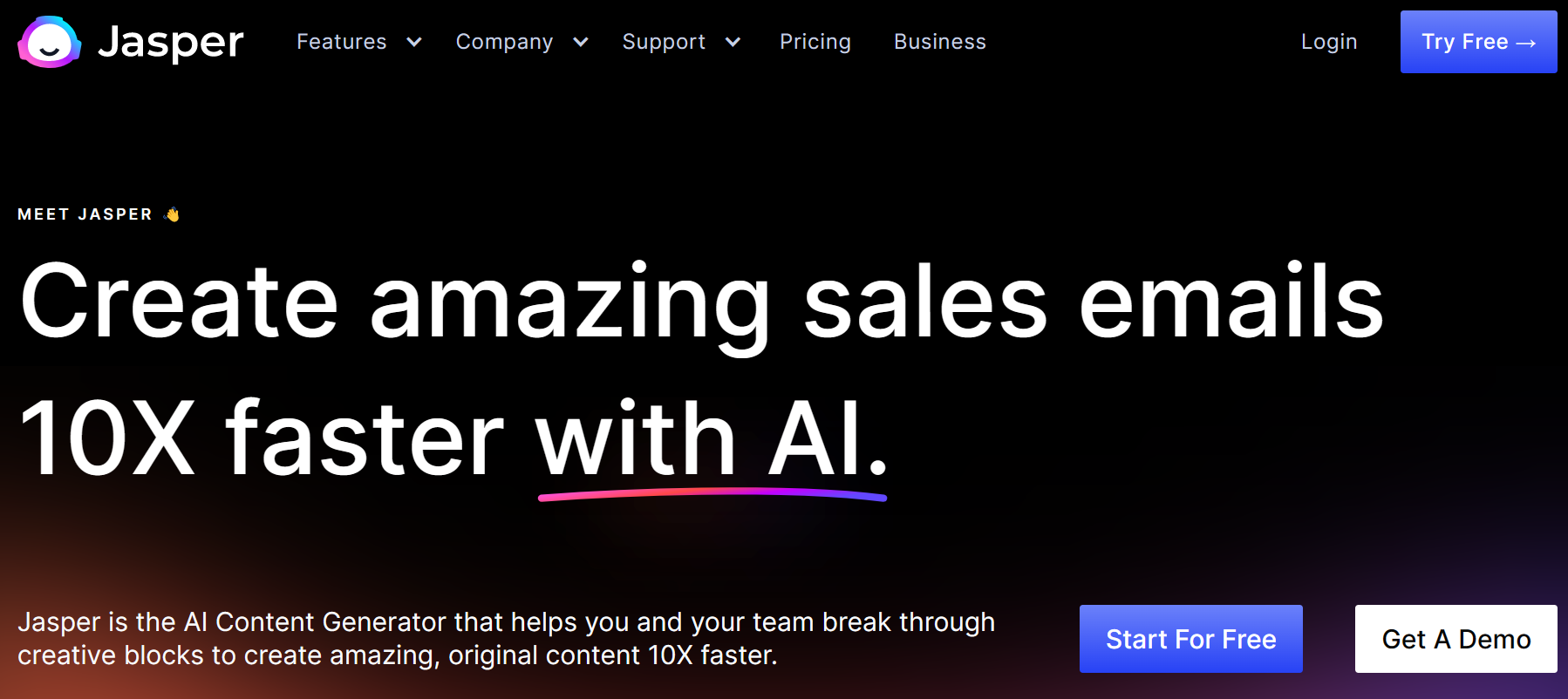 Jasper is your best bet if you are looking for an SEO article generator software tool full of multiple templates you can choose from, saving you time and effort. We recommend it for bloggers and marketers who have many sites to cater to regularly.
It is a popular AI article writer that can generate compelling content copies to cater to all your marketing needs. All you need to do is add some context to the template, and you'll have several versions to choose from.
Jasper AI article generator also includes different categories where you can choose the specific content type you would like to create, including email copy, SEO copy, social media copy, advertising, and a blog post. All these types of content can be written in multiple languages without a language barrier, and you can also download the Jasper Chrome extension to use it on all writing platforms.
Furthermore, Jasper not only works on content creation but also assists you in creating royalty-free, high-quality images using Jasper Art. All you have to do is supply the context for the photos you require, and the tool will generate unique images based on your inputs.
Pros
50+ premade templates
Jasper Art
25+ languages
10,000 words credits
Limitless output in word count
Surfer SEO integration
Google Chrome extension
Education resources
Cons
Requires text editing and fact-checking
Pricing Plans
Jasper's pricing plans are customizable, meaning you can choose the best plan for you depending on the amount of content you need. There are three plans offered, and they include:
Free trial or a demo
Starter at $49 per month- best for short forms content like an ad copy or product descriptions
Bose Mode at $82 per month- best for long-form content creation
Jasper for Business which has a custom plan and price
3. WordAI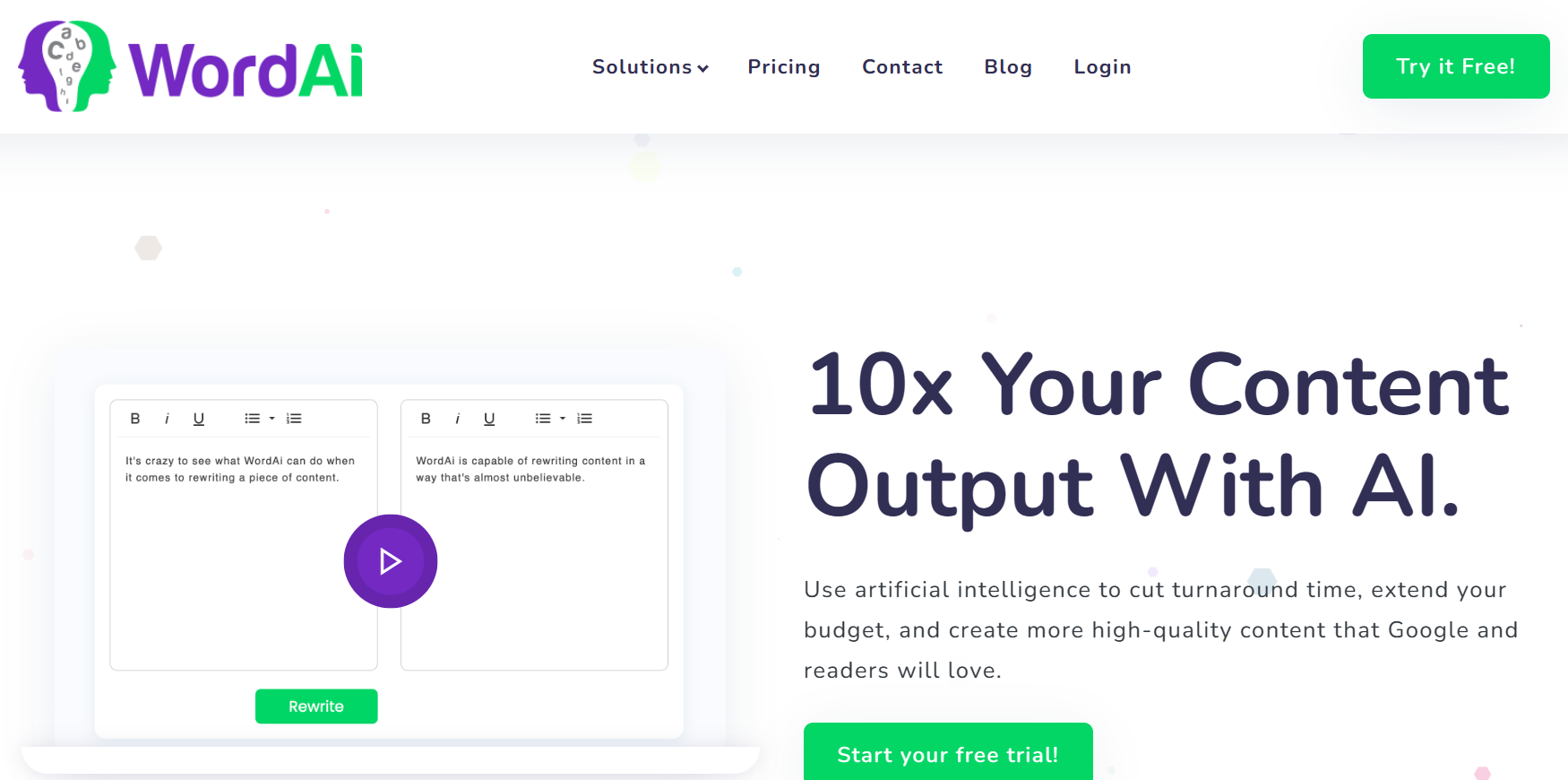 WordAi, a free article generator on the list, is an automatic word-spinning tool. It rewrites phrases and paragraphs to create new, original, and valuable content. LSI keywords make the generated content rich, which will eventually help with organic ranking.
WordAI is an excellent tool for producing high-quality, automated text content. You may generate effective and engaging texts with their simple platform. They provide a variety of features to help you get started, like automatic grammar correction and word substitution, to ensure that your material is always ready to go.
The SEO article writer tool can generate up to 1,000 rewritten variations of your original text. This helps in choosing the best version for your writing style. Furthermore, they provide free trial periods so that you may experience how WordAI works before making a purchase decision.
Pros
Affordable pricing schemes
Uncluttered workspace
Bulk creation features
Easy to use
Multiple variations of rephrased content
It creates better blog articles than most free article generators
It comes with a free trial
Cons
Pricing Plans
Monthly: $57 per month
Yearly: $27 per month (billed annually)
Enterprise: custom pricing negotiated with the WordAI team
4. Article Forge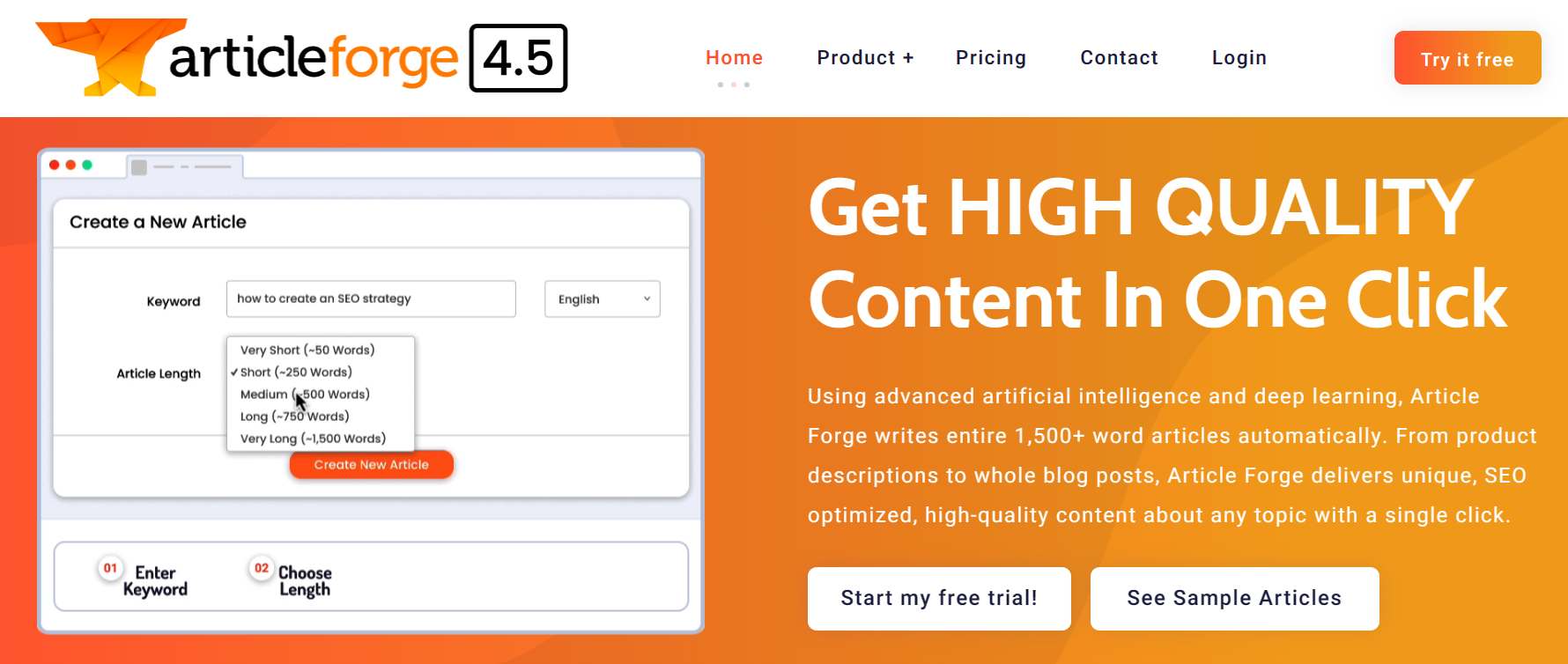 Article Forge is among the most effective content-generation tools for creating highly interesting and persuasive articles. This unique article generator tool automates the tedious task of producing a blog post or other long-form materials with a single click.
The AI content generator has an artificial intelligence engine that automatically generates SEO-optimized content in multiple languages. The article can be integrated to work with third-party applications to monitor the performance of your content in the SERP.
What you will appreciate about this tool is that it automatically inserts relevant photos, videos, LSI keywords, and headings to make your content more engaging. Since it is a premium product, it also comes with a 30-day money-back guarantee if you don't like it.
Pros
Easy to navigate
Media can be included in articles automatically
Links can be included automatically
Supports multiple languages
Cons
The article length is limited to 750 words
The content needs proofreading and editing before publishing
Pricing Plans
Unlimited- $57 per month when billed annually
Standard- $27 per month when billed annually
5. QuillBot

Quillbot is one of the best multipurpose software tools that ensure you come up with quality content in the right tone, style, and language to suit any situation. To use it, you will type your words in the input box, and the tool will use its cutting-edge AI to analyze and create the best possible paraphrase.
In addition to the paraphraser, Quillbot features an AI summarizing tool that sifts through news articles, lengthy emails, and research papers to highlight key ideas and give a high-level overview of the content.
It is also an article writer called a co-writer. Other features will be beneficial to creating SEO content. Some of these include a summarizing tool, a citation generator, an almighty thesaurus, and a grammar checker.
Pros
7 Quill modes
Extensions and add-ons
Web-based
Clean and neat editor
It has a word flipper that regulates the word count
It has a summarizer for any piece of content
Cons
The free plan is too limited
Pricing Plans
Free plan
Monthly plan – $9.95/mo.
Semi-annual plan – $6.66/mo (billed $39.95 every 6 months).
Annual plan – $4.17/mo (billed $49.95 every 12 months)
6. WriteSonic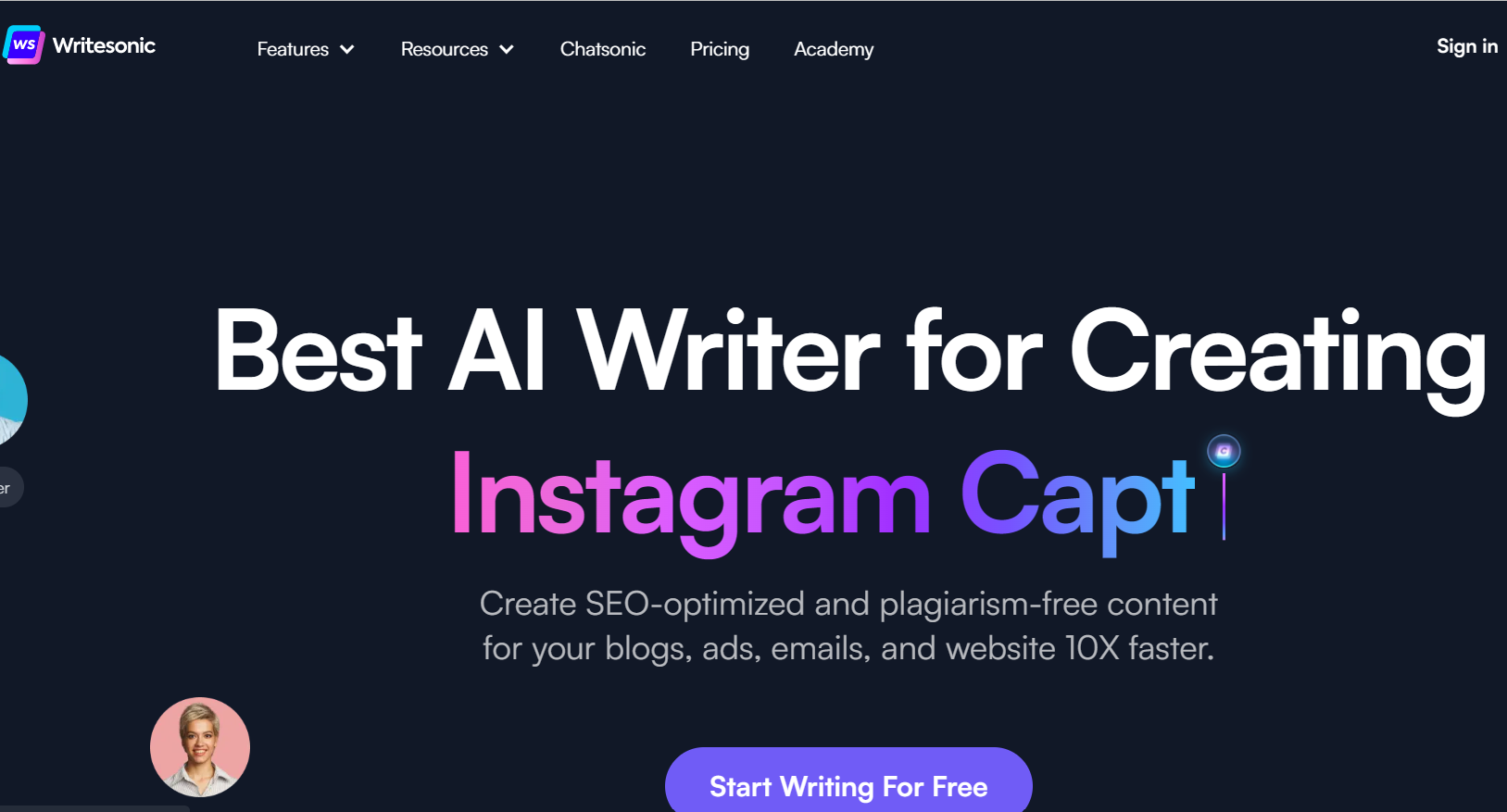 WriteSonic is among the most advanced AI writing tools, designed to help you write high-quality articles efficiently and quickly. It will generate articles, blog posts, ad copy, product descriptions, and other content types using cutting-edge GPT 3.5 technology.
This content generator is multi-purpose and can be useful to marketing professionals, content writers, social media content creators, and bloggers. Therefore, with its wide capability, we recommend it for users who want quick access from one place when creating content for different platforms.
Pros
Automated SEO optimization
Chatsonic to communicate with AI about your needs
Photosonic to create an image based on a text description
Mostly plagiarism free
Cons
The user interface is confusing for beginners
Lacks human touch, nuance, and descriptive detail
Pricing Plans
Free trial at $0 per month
Short-form at $15 per month
Long-form at $19 per month
7. Ryter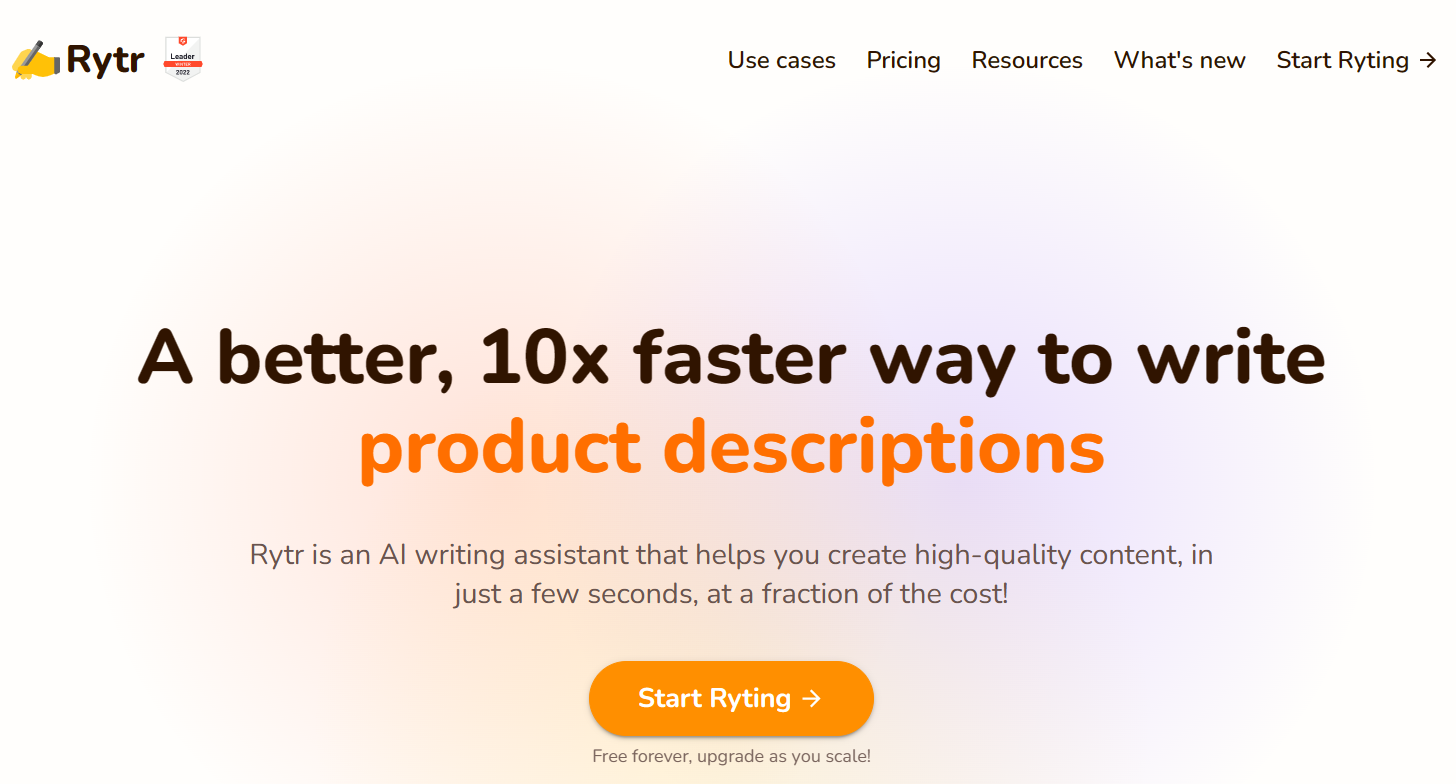 Rytr is another excellent AI-based article generation tool based on GPT-3 that you can use to write articles. It comes with an unlimited word credit and lets you create material in any tone you desire, with more than 20 use cases and 25 languages to select from.
This SEO article generator may help you with blog post ideas, article outlines, business pitches, and social media captions. It also includes multiple use cases that may be utilized to create high-quality sales emails, interview questions, company profiles, landing page copies, creative stories, and much more.
Rytr will get the job done quickly with priority email and chat assistance, allowing you to focus on what matters most—completing more articles.
Pros
It has a free-flow editor to generate long-form content
Simple UI & UX for article generation
API access
20+ templates for ads copy, blog articles, conclusion, and emails
It can be integrated with a Semrush account
Priority email and chat support are available 24/7
Cons
It only refers to a highlighted text when editing, which can produce random results
Pricing Plans
Free plan- 5,000 characters credit per month
Monthly plan- $19/mo for unlimited words credits
Yearly plan- $180/mo (approx $15/mo) for unlimited words credit
8. GrowthBar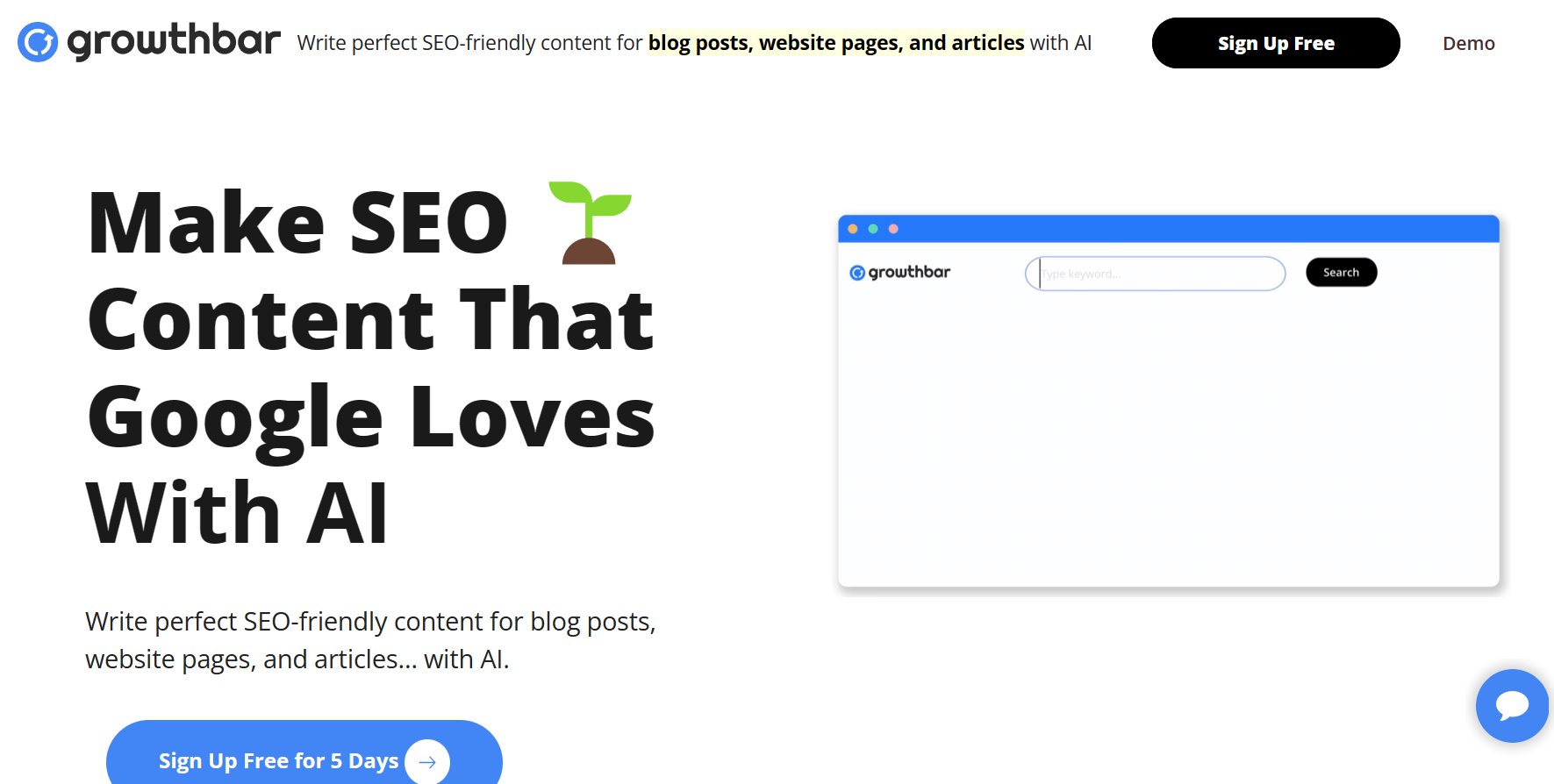 GrowthBar SEO Article Writer is an AI tool that can help you with your SEO when writing content. The article builder will create blog posts and come up with fresh ideas for your articles and blog posts.
The article writer makes keyword research straight to the point since all you need to do is enter your keywords, and it will show the number of people searching for them. There is also keyword tracking, which allows a content writer to see the ranks of popular keywords and track their impact on your website traffic.
Another impressive feature of this article writer is the Blog Marketplace, where users can access skilled AI writers at affordable pricing. Lastly, there is also a "Done for You" feature to help inexperienced users with artificial intelligence tools to create search-engine-optimized articles in a few days.
Pros
Built-in SEO tools
Creates an effective SEO campaign
Unlimited keyword research
Simple interface and is easy to use
Chrome browser extension integration
Cons
Only ideal for basic SEO content
It doesn't display keyword difficulty score in keyword suggestions
Pricing Plans
Standard Plan at $48 per month or $29 per month annually
Pro Plan at $99 per month or $79 per month annually
Agency Plan at $199 per month or $129 per month annually
9. SEO Content Machine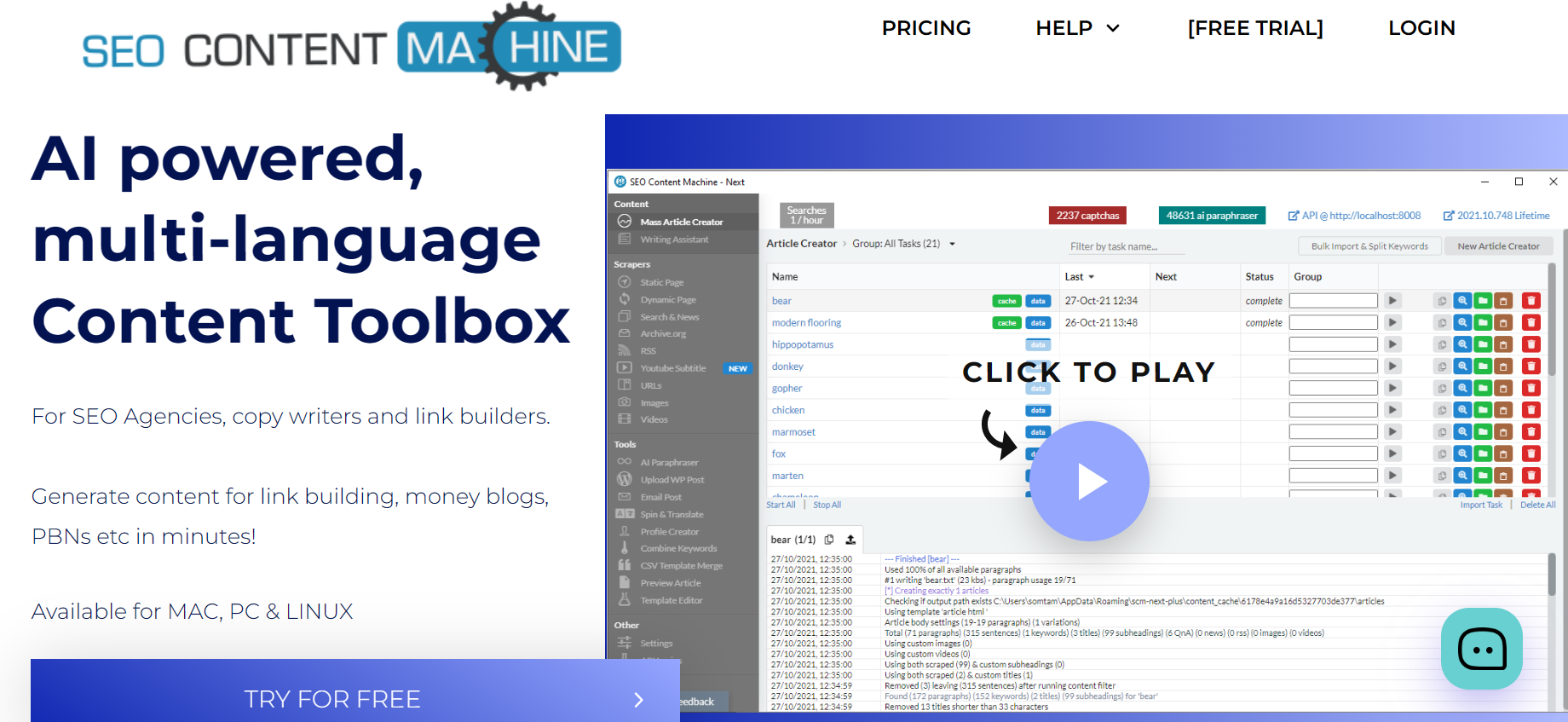 SEO Content Machine takes the crown as the best article generator tool for link builders, agencies, and copywriters.
Furthermore, if you want to speed up your content marketing, you can use a mass article generator to generate thousands of articles. Secondly, if you want to insert your content and edit it with the help of an SEO content machine, you may do so by selecting the custom content option.
We recommend this content generator for bloggers and creators with multiple blogs who need a bulk of SEO-optimized, high-quality content.
Pros
Supports multiple languages
Automated scheduled posting
Sorts the writing and publishing process
Link building tools
Inserts subheadings, lists, images, videos, links, etc., by itself
Cons
Articles need editing before publication
Complex interface
Pricing Plans
Monthly plan at $27 per month
Quarterly plan: $57 every 3 months
Yearly plan: $120 annually
Fallback plan: $197 full purchase
10. Aiseo.ai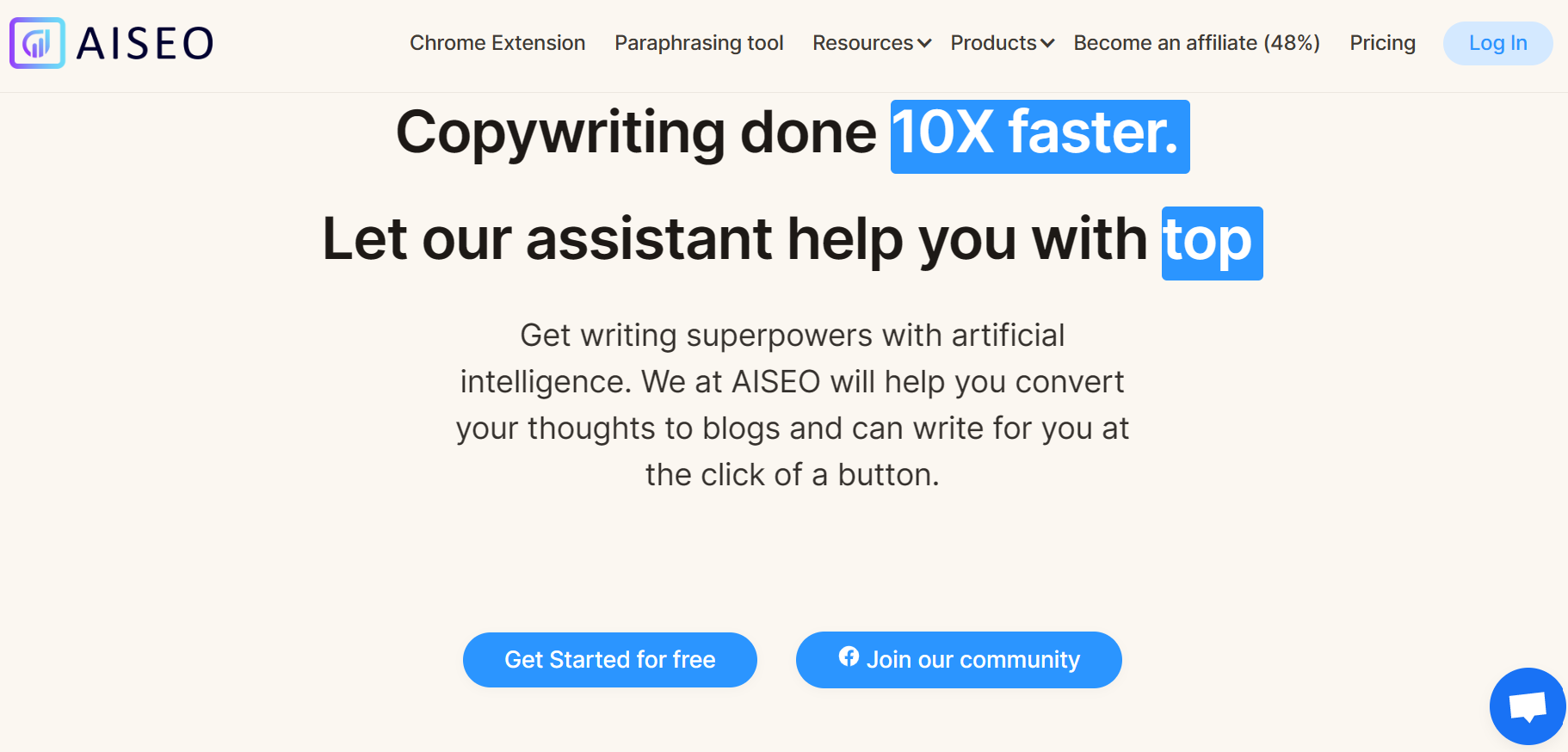 Aiseo.ai article writer is suitable for all website owners and upcoming bloggers who need bulk content of high-quality content in a short time and at affordable rates. The tool's AI algorithm creates SEO-optimized original content by using simple contextual inputs, resulting in high-quality content.
These contextual inputs are made up of keywords and descriptions for the type of content needed. AISEO also specializes in long-form assistant guidance for writing in-depth blog entries. Apart from creating fresh content, you can paraphrase old text with the help of a paraphrase.
The AISEO paraphraser will spin your content using synonyms to create new content for you to use. Lastly, there is a readability improver that can improve your content for the best user experience and help form better sentence structures.
Pros
Simple interface
It has Word.AI integrated
Uses longtail keywords to produce SEO-friendly content
Research-based unlimited content
Keyword-related media links can be automatically put into the generated article
Cons
Articles have a maximum length of 750 words
Pricing Plans
Grow plan: $19 per month
Scale plan: $34 per month
Team plan: $49 per month
What Are the Advantages of SEO Article Generator Software Tools?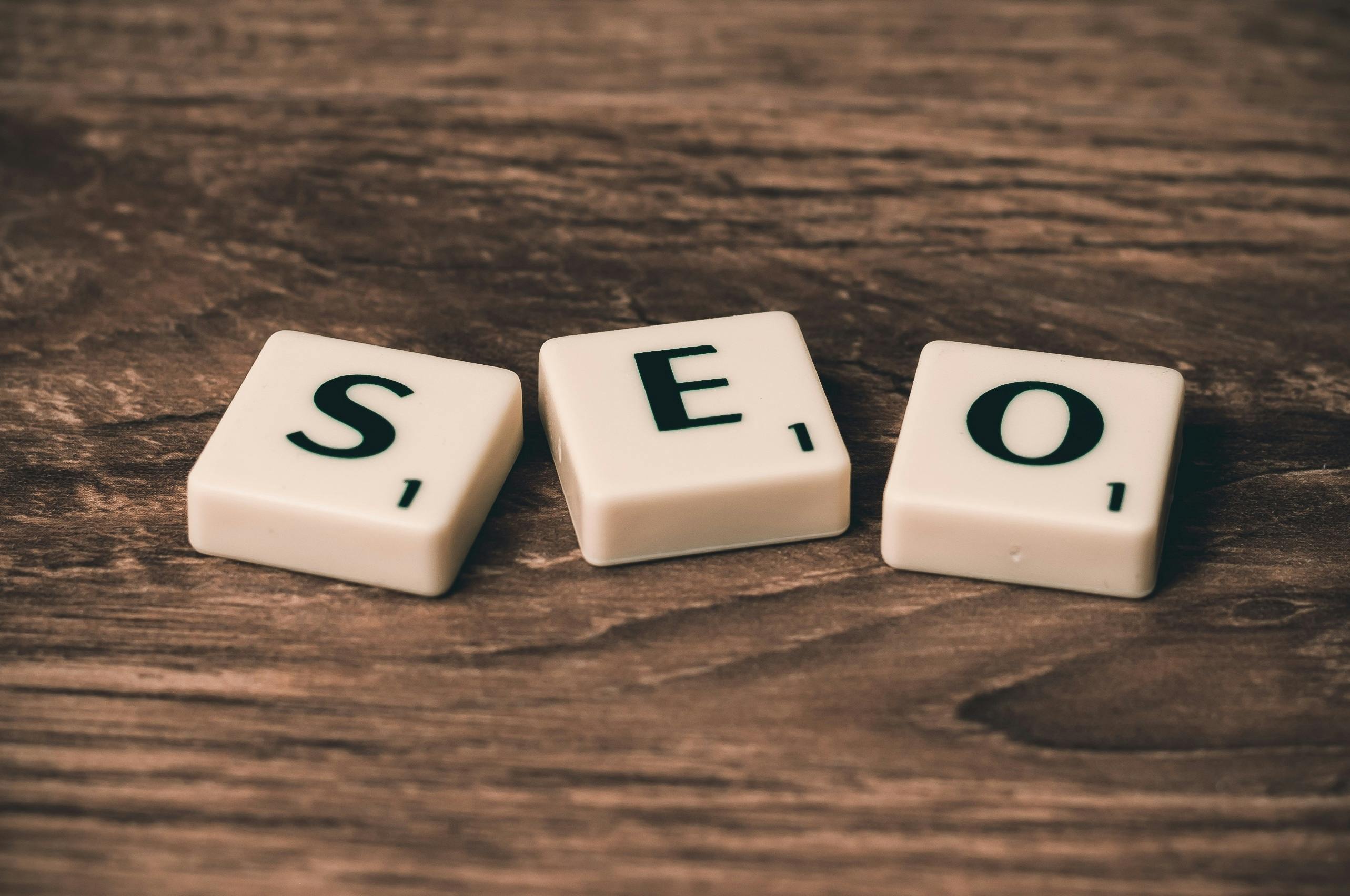 1. Eliminates Writer's Block
Writing articles or a comprehensive blog post needs research, topic analysis, and personal input. Often, the writer becomes stuck in the writing process and cannot create sub-topics to keep the article moving.
However, article generator software pulls top content from the web and develops the piece without writer's block.
2. Boost Content Marketing
Compared with manual writing, using an AI article writer can improve your content marketing strategy by generating a large number of posts quickly.
3. Creates SEO-Friendly Content
Most article generator tools will create SEO-friendly articles since they know this is among the key uses of these tools. They will write articles packed with keywords related to the topic you have provided, but they will also feature LSI keywords. This ensures search engines understand your context better and make it available to the target audience.
4. Multiple Features
Apart from writing high-quality content, most article generators will include extra features such as a plagiarism checker, content templates, a grammar checker, an AI graphics generator, and an SEO dashboard to enhance your content further.
5. Save Time and Money
Considering the money spent on employing content writers and paying them adds up to hundreds of dollars each month, which is far more expensive. On the other hand, content writing tools can cost anywhere from $20 to $100 per month. As a result, an article generator tool appears to be an appealing alternative since it saves you money and time.
What are the Disadvantages of SEO Article Generator Software Tools?
Although these software tools can easily generate articles, they have some limitations. They include:
1. Lack of Human Behavior Understanding
No matter how advanced these AI auto writers are, the human touch in the material is always absent. This is particularly noticeable if you want to set a very different tone within the content, which is impossible to do with article-writing software.
2. Lack of Judgement
The automated content lacks empathy, opinions, and direct answers, which are present in human-created content.
3. Risk of Plagiarism
If you are using these article generators to increase your organic presence, there is always the chance of an article written by online article generators getting caught in search engine core updates.
Factors to Consider Before Choosing the Best SEO Article Generator Software Tools
1. Text Accuracy
If you are allowing an AI article writer to write you fresh content, then the results should be accurate. After all, there is no point in using these software tools if you will have to spend a lot of time correcting the text manually. The SEO article generators we have listed above can understand search intent which is a major factor in ranking on Google's first page.
2. Ease of Use
An important factor to consider is how easy it is to use an article generator tool. The best SEO article generator tool should be able to start automatically generating articles within just a few minutes of signing up.
3. Availability of a Free Trial
This is an important consideration with all the SEO article generators out there. Since not all users are comfortable opting for the premium plans immediately, a free trial is a good option for trying out a tool before committing.
4. Pricing
All effective automatic content generators will cost money. These tools contain far too much technology, research, and development to be of high quality if they are free.
However, we made sure that the above choices were of great quality and represented good value for the money. Nevertheless, you will often bump into a free article generator that can still deliver, although not the best content.
Conclusion on the Best SEO Article Generator Software Tools
SEO article generator software tools have completely shifted how we think about content creation. We no longer need to waste time contemplating ideas and researching relevant keywords. With these powerful tools at our disposal, we can now easily generate high-quality, optimized articles.
These tools are an absolute must-have for anyone trying to remain ahead in the ever-changing world of search engine optimization, whether you're a blogger, marketer, or business owner. So, why delay? Use the power of technology and work on making high-quality content today.
Featured Image Credit: obiztools.com