As web users and online consumers behavior evolve, search engine optimization practices are also constantly changing. At the moment, one of the best practices for SEO is to have a sound plan in place that addresses both on- and off-page aspects. One of the most successful forms of content marketing is on-page keyword optimization.
Quality content and ensuring that the technical parts of the site have been optimized for speed, efficiency, and keywords are the essential priorities for on-page SEO. When it comes to off-page SEO, the most crucial thing you can do is to promote high-quality backlinks from reputable websites.
Below is an on-page optimization guide to improve live web pages and improve your rankings. You can get the most results and beat the competition using the checklist below. Keep reading to start increasing your SERP rankings and organic traffic right away.
What is On-Page SEO optimization?
On-page SEO is the practice of optimizing a web page for search engines. On-page refers to anything on the web page that can be optimized, including links, images, HTML, meta descriptions, meta titles, meta tags, and keyword density.
When you optimize these elements of a web page, you get increased SERP website ranking as well as improved organic traffic. The on-page SEO of a website should be optimized regardless of the size of your company. Without an SEO strategy, competition may push your website down in search results.
Why is On-Page SEO Important?
Enhancing your on-page SEO will help you draw in the correct visitors to your website, which will greatly boost your inbound marketing efforts. For search engines to be able to know who you are, what you do, and what you're writing about, you need to optimize your pages.
Furthermore, by enhancing your on-page SEO, you can improve your website's organic position in search engine results (SERPs). In order to better understand thr searcher's intent and provide search results that are appropriate for that user, Google is continually tweaking its algorithm.
As a result, your website and all of its content, including what is accessible to people (such as media, content, and photos) and what is visible to search engines (such as HTML and metadata), must be optimized based on the most recent techniques by search engines like Google and Bing.
Due to the relatively cheap cost and long-term benefits, on-page SEO gives almost any digital marketing tactic the best ROI(Return On Investment). It may help websites thrive and bring in passive visitors for years. Remember, more than 32% of keyword traffic on Google goes to the top result, and up to 92 % of traffic goes to the first page of search results.
On-page SEO Checklist for a Perfectly Optimized Page
1. Content
Although search engine optimization is important, your reader should come first when creating content. The aim of your content should be to educate, engage, and attract people. So, how do you optimize your content for on-page SEO?
i. Quality Content
As you draft your content, keep on-page SEO guidelines in mind, but never at the price of creating high-quality content.
There are several helpful tools available if you need assistance creating high-quality content. For instance, Hemingway Editor and Grammarly are both well-known programs that point out mistakes and offer helpful recommendations to help you write better.
Ensure the content meets the following criteria:
Accessible- The writing should be easy to comprehend, depending on your target market.
Clear and concise- Never fluff information to satisfy word count needs or keywords.
Researched- Ensure there are credible sources to back up your information and claims.
Valuable- The information should be helpful to your readers and answer their questions.
Grammatically correct- Remember to proofread your content and ensure it is free from grammatical errors.
ii. Language
The main content should naturally repeat keyword words throughout and make use of relevant modifications. This is often referred to as LSI (Latent Semantic Indexing), which refers to synonyms and closed variant keywords that Google uses to more accurately assess the relevance of the page.
Image Source: pinterest.com
Read your content aloud as a test to see if it sounds like something that would naturally emerge in conversation. If not, think about trimming your keyword list or changing your language to improve flow.
III. Uniqueness
A smart option to get unique content is to assign content development to experts or outsource content from third-party businesses. Although the information provided by these services is of the highest caliber, it is quite important to run the content through a plagiarism checker first.
Making sure the SEO content passes your preferred plagiarism detector will protect your site from any content penalties since search engines punish websites or blogs containing spun content.
IV. Content-Length
If you can, try to aim for a longer content piece because the length can be a sign of power in SEO. Theoretically, the more valuable the content you offer, the better, but this isn't always the case. Finding the ideal ratio between word count and value delivered is key to optimizing a page.
Longer content typically ranks much higher on Google's first page, according to industry research done by Statica.
Use your best judgment to assess whether the content you're producing meets the demands of your visitors by providing the knowledge, entertainment, or other needs they may have. Information-rich pieces of content don't necessarily need to be lengthy pieces.
V. Keyword Research
Finding long-tail keywords and search engine keywords are both parts of keyword research. You should also make sure to provide information in line with the search intent, which could be that the user wants to buy, get information, or find a website.
Several keyword research tools or SEO tools help you find the best keywords for on-page optimization. One main goal phrase that's relevant to your website's content and your audience's search terms
Placement of targeted keywords in the body text, the first and last paragraphs, the H1 (title tag), and the meta description is important. Effective keyword research and placement across all of your web pages are essential for on-page SEO.
VI. Images
Every piece of content needs great images. Image sourcing is now simpler than ever, thanks to free photo banks like Unsplash and Pexels. However, image optimization is essential and must be done as well.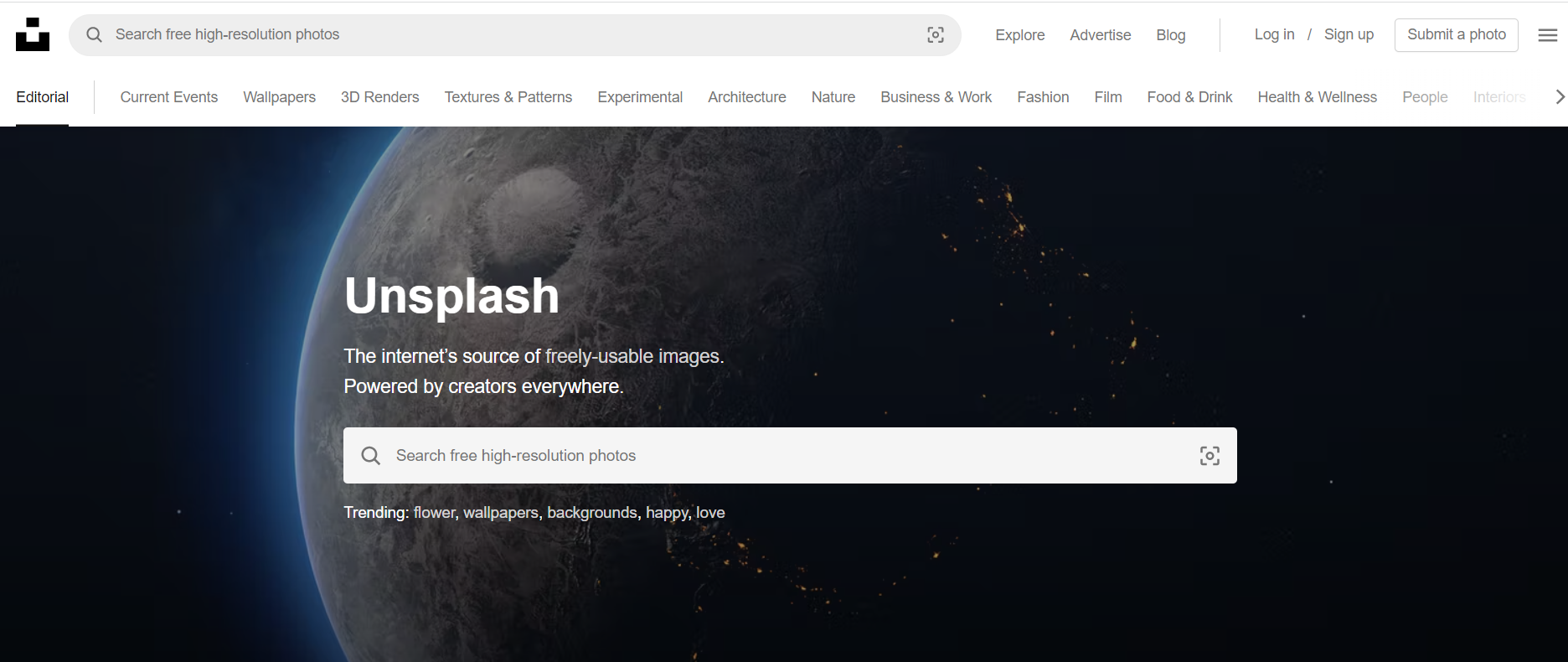 Search engines can recognize the significance of your image to your content by using image alt text. To improve your on-page SEO, include your main keyword in the image alt text and any specific information about what is in the image for the readers.
2. Meta Data and HTML
I. Headings
Another HTML feature that typically represents the post's title is an H1 heading, sometimes referred to as a header tag or h1 tag. The h1 heading is the largest text on the page, but you can alter the size and format of that tag using CSS styling to better match your website.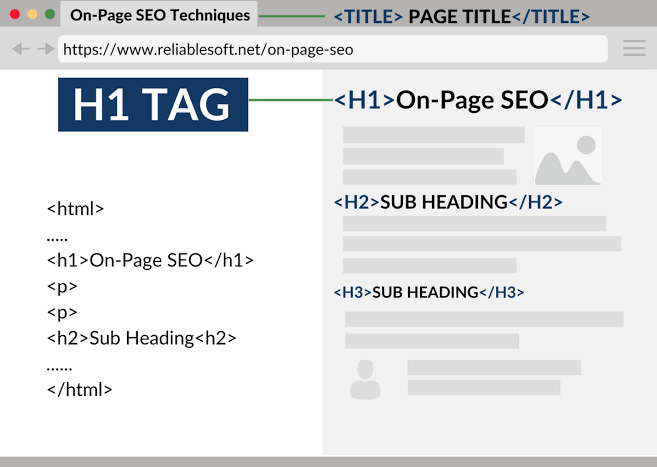 Image Source: i-connectweb.com
Also included in header tags are H2, H3, H4, etc. These headings inform Google and other search engines about the comprehensive structure and topics covered on each webpage.
2. Meta Description
The short text that appears on the search engine results page is known as the meta description of a webpage. It is an HTML attribute that offers a detailed description of the page's subject to a user and search engine.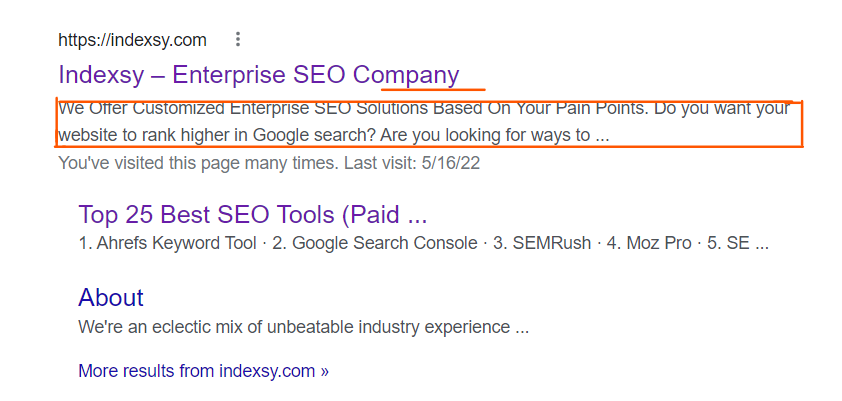 The meta description significantly impacts click-through rates, which can boost the number of page views. Ideally, meta descriptions should have 145 to 165 characters, including spaces. You should put the keyword near the start of the meta description.
3. URL Structure
First, ensure your new page has an SEO-friendly URL that incorporates keyword phrases naturally while highlighting the page's topic. This benefits users as well as search engines as it helps establish trust by making the URL understandable.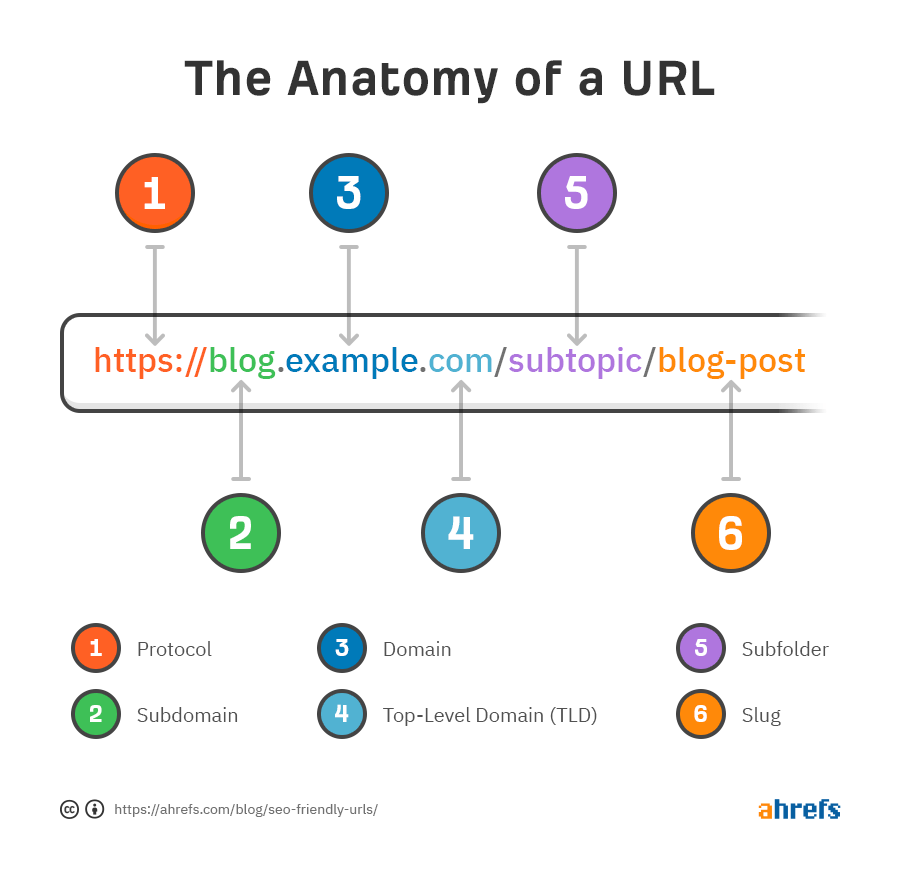 Image Source: ahrefs.com
The key is to keep it straightforward, simple to read, and easily recognizable while still being keyword-rich, as the keywords in the permalink URL are bold in Google search results, indicating that they still have some weight.
Tips:
Test out keyword-only URLs; they have the potential to rank higher.
Avoid ugly default URLs provided by your Content Management System.
Verify that you're only using one version of your URL, as it could cause confusion for both users and search engines.
4. Internal Linking
Internal linking is the method of connecting pages under the same domain. Although they are frequently employed in the main navigation, they can also be found in the content itself.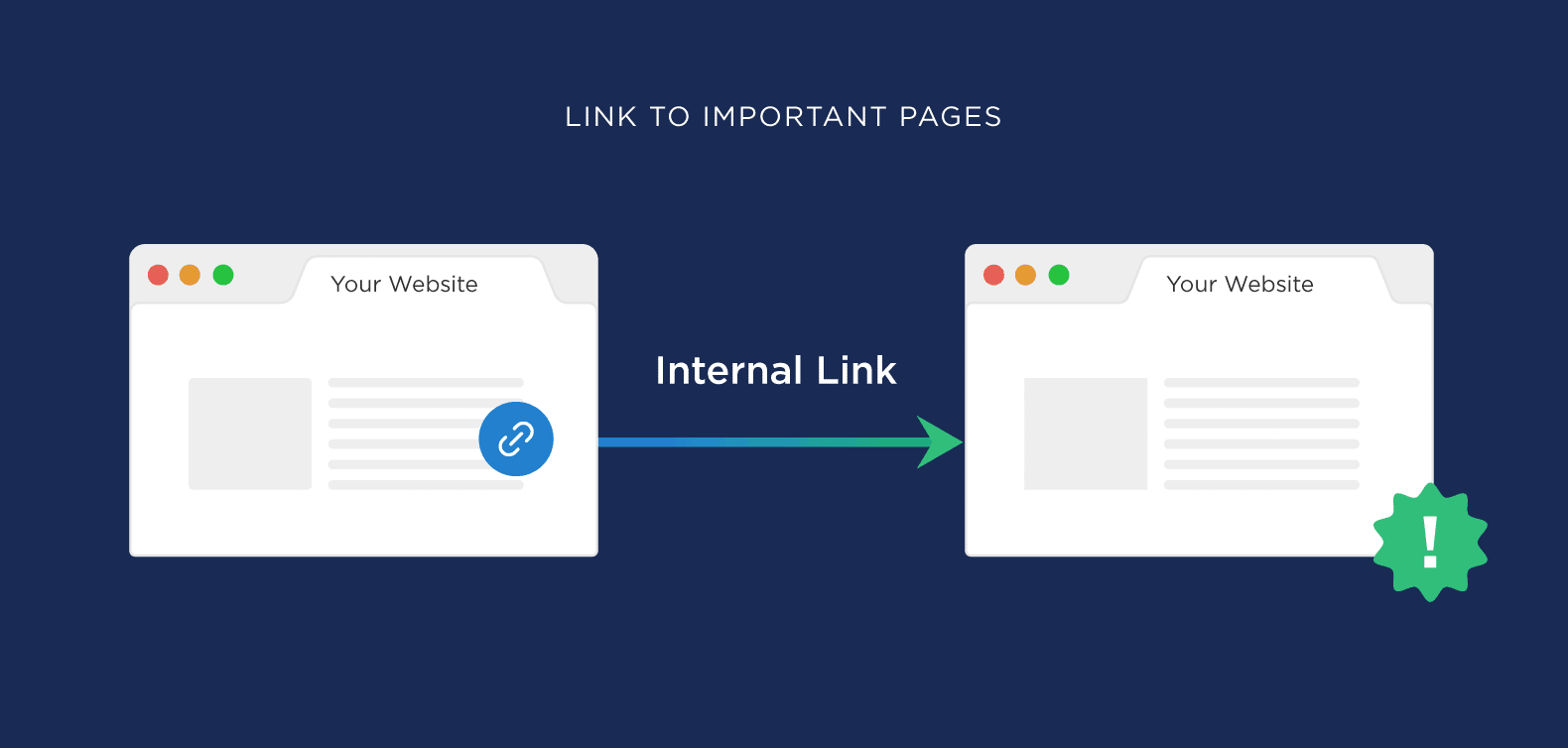 Image Sources: backlinko.com
The text that is highlighted in a hyperlink is known as the anchor text. It can open a new tab or direct you to the connected URL when you click it.
Anchor text in SEO can be useful as it shows the keywords a web page targets. According to best standards, anchor text should be relevant and grammatically correct.
5. Meta Title
The search engine results page's title is a webpage's meta title. It is an HTML attribute that summarizes the page's subject to both searchers and search engines.
Image Source: quora.com
The meta title is meant to draw the searcher's attention and inform Google and other search engines about the keywords that the webpage aims to rank for. Usually, the meta title tags are between 55 and 65 characters, including spaces. The keyword should also appear towards the start of the meta title.
6. Outbound Links
In the world of SEO, outbound links have a purpose, and it is thought that referring to other websites in your business for citation or reference benefits SEO. But more important than the ranking factor, it serves as a relevancy signal that tells Google what your content is about.
Image Source: seo-hacker.com
The goal is to enable readers to dive deeper into the content you are producing with research, evidence, and references and hear you out on credibility issues by giving them access to the research you conducted for them.
7. Structured Data Markup
You can further categorize your information using schema markup. It's another tool that helps with the comprehension and ranking of your content by search engines. Schema markup, a type of structured data (SD), adds categories to the information on your website.
Web pages with recipes are a typical example. Before you even click the result while searching for a recipe on Google, the schema markup gives you the meal's cooking time and caloric content. Schema markup can assist you in enhancing website traffic.
3. User Experience
The user experience of your visitors should be among your first priority. Although optimizing your website for an algorithm may sound completely scientific, keep in mind that search engines want to give their searchers the best possible experience.
Here are some things you should check on your on-page seo checklist.
I. Site Speed
Your website will be more user-friendly if it loads faster. A fast website has superior on-page user metrics, and there is a link between having a fast website and high ranks.
Your hosting may occasionally constrain site speed, but if you're unsure how to improve it, look into your load time with a tool before getting in touch with your hosting company.
II. Design
Nowadays, websites come with responsive design due to a fundamental shift in web design, which is a tremendous gain for users and search engines. With responsive design, a page's layout may be adjusted to fit the user's device, making it easier to browse and more aesthetically pleasing.
Google has implemented a mobile-friendly label in search results, which will enhance the click-through rates of mobile-friendly sites; this is more crucial than ever.
Additionally, they've even added a label for websites that aren't mobile-friendly, which should indicate that Google is concentrating on mobile consumers as the number is growing thanks to smartphones and tablets.
Although the responsive design will simply improve your site's SEO performance, it may be even more significant that users will spend a longer time there.
III. Readability
The font may be too small. Ensure that it is easy to read. Also, the paragraphs and images should be well-positioned for easy readability.
Whether you like it or not, these aspects of SEO matter more than you would realize. A high bounce rate can indicate to search engines that your page isn't providing value, so ensure your content can engage and be readily read.
On-Page SEO Tips for Better Ranking
1. Avoid Keyword Stuffing
The practice of keyword stuffing, also known as irrelevant keywords by Google, involves repeatedly using the same terms throughout the text, whether in page content, URLs, headings, or descriptions.
It is simply the technique of overusing keywords in the content to increase the frequency of the desired keyword being cited and improve the ranking.
This was an old SEO tactic. However, modern search engines have been designed particularly to spot it. It appears spammy, and as a result, search engines will penalize you and disregard it.
2. Don't Hide Your Keywords
Using a background that is the same color as the text, hiding them behind images, or using CSS to position them off to the side are some examples of how the keywords are hidden in the content. Hidden keywords can lead to substantial search penalties as the search engines can easily detect hidden keywords.
3. Avoid Keyword Cannibalization
When a term or phrase is used repeatedly throughout the information architecture of a website, it is said to be "keyword cannibalizing." Numerous pages targeting the same keyword might negatively affect rankability; this can happen accidentally.
Frequently Asked Questions (FAQs) on On-Page Keyword Optimization
1. How do I optimize keywords for a page?
Here are keyword optimization suggestions for your content strategy to assist you with keyword planning:
Examine your On-Page SEO
Look for keywords for your website.
Your keywords on a map
Include keywords on your website.
Don't overuse keywords.
Keep in mind your target audience.
2. What is the ideal keyword density on a page?
Although there are no strict guidelines for keyword density aside from the suggestion to not keyword stuff, many SEO specialists advise employing about 1-2 keywords for every 100 words of content. That results in a keyword density of 1-2 percent.