If you're wondering whether it's worth becoming SEO certified, well, given the significance of the internet in connecting organizations with clients (customers and audiences), SEO has become a sought-after profession that plays a crucial role in making these connections. So, having a Google SEO certification will make much difference to your organization.
In this post, we will learn what an SEO certification is, which SEO certifications you need to pursue, and their cost. Also, we have included tips for successful learning.
What's SEO Certification?
SEO certifications are provided by online education platforms, digital marketing agencies and others. After completing the course, a certification is usually awarded. This certification shows that you have acquired the training and skills for working with search engine optimization.
You can learn and get certified in beginner's SEO, advanced SEO, link building, keyword research, inbound marketing, competitive analysis and many more.
Is there a Google SEO Certification?
No, Google doesn't offer a program for SEO certification. This is crucial for Google to keep its algorithms confidential. Besides, Google SEO training certification usually supplies detailed data on the search engine's core mechanisms. So, the company doesn't do this to avoid manipulation and conflicts of interest with SEO specialists.
Image Source: techglobex.net
Therefore, if you want to be a Google SEO expert, you can learn and complete an SEO course from a 3rd-party provider and be awarded certification. Besides, Google usually gives a free "Fundamentals of Digital Marketing" certification through the company's Digital Garage. The course has 26 models, less than 14 hours of content and covers several aspects of digital marketing, three of which are dedicated to SEO.
Furthermore, the firm also offers the "SEO Fundamentals" certification in the Google Digital Garage. The course is free, offers less than 2.5 hours of SEO content, and covers the four major aspects of SEO ( keyword research, off-page, on-page, and technical). Besides, if you want to learn Google analytics, there is the Google Analytics Certification.
These are the best SEO certifications you may pursue to get SEO certified.
1. Best for Comprehensive SEO Training: Yoast Academy
Yoast is a well-known name in the SEO industry for its most popular WordPress SEO plugin and its contributions to the SEO and WordPress community. Their all-around SEO training is usually part of Yoast SEO Premium, which has the Yoast SEO Premium Plugin as well as access to all of their SEO courses.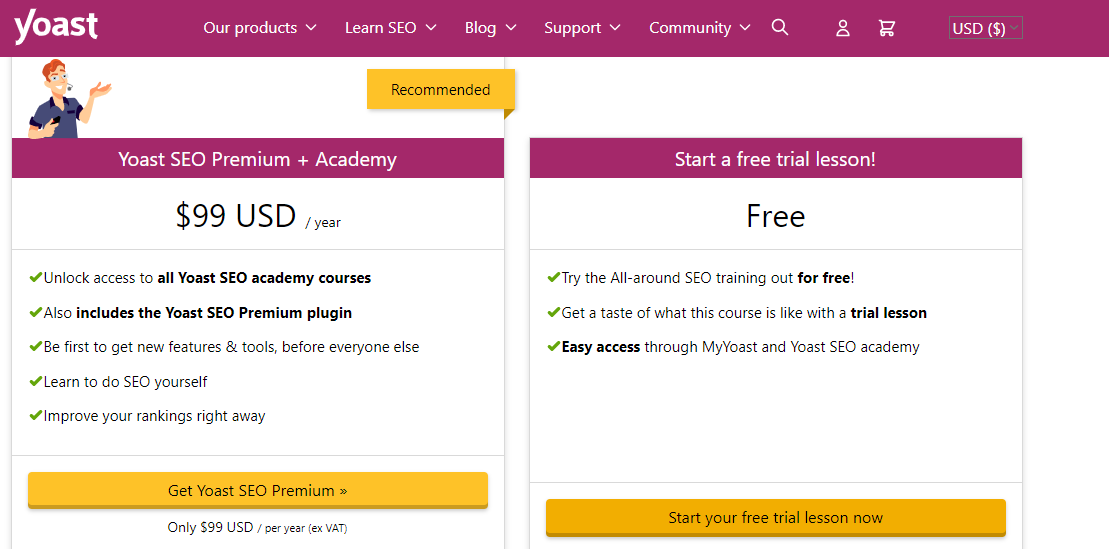 Image Source: yoast.com
The SEO course consists of three hours of instructional videos. Besides, the Yoast Academy emphasizes hands-on learning. On top of the introductory materials, you will be assigned assignments such as writing blog articles, coding a website or developing a promotion plan.
The best part yet is you can rely on feedback from the SEO professionals and rectify possible mistakes. In addition, you are presented with several pricing plans to choose from on the website.
Yoast SEO Academy Free – You will learn the fundamentals of search engine optimization for free.
Yoast SEO Academy Technical and Yoast SEO Academy Content – You will deeply understand one of the selected topics on these plans. The first program covers SEO complexity, copywriting, keyword research, and website structure. The second program helps understand the technical components of data ordering, optimization and ISEO. Besides, you will get free course updates as well as the recent industry news.
Yoast SEO Academy Premium – you will have access to all educational programs, training, news and releases on the website. It will only cost you $99 per year for the full package.
2. Best for SEO Fundaments Course: SEMrush Academy
SEMrush Company is among the largest participant in the digital marketing industry. Apart from having a great tool, the firm now provides a series of free courses which you are awarded the certification after completion. The company had launched a browser SEO plugin and switched to the SaaS model before launching SEMrush Academy.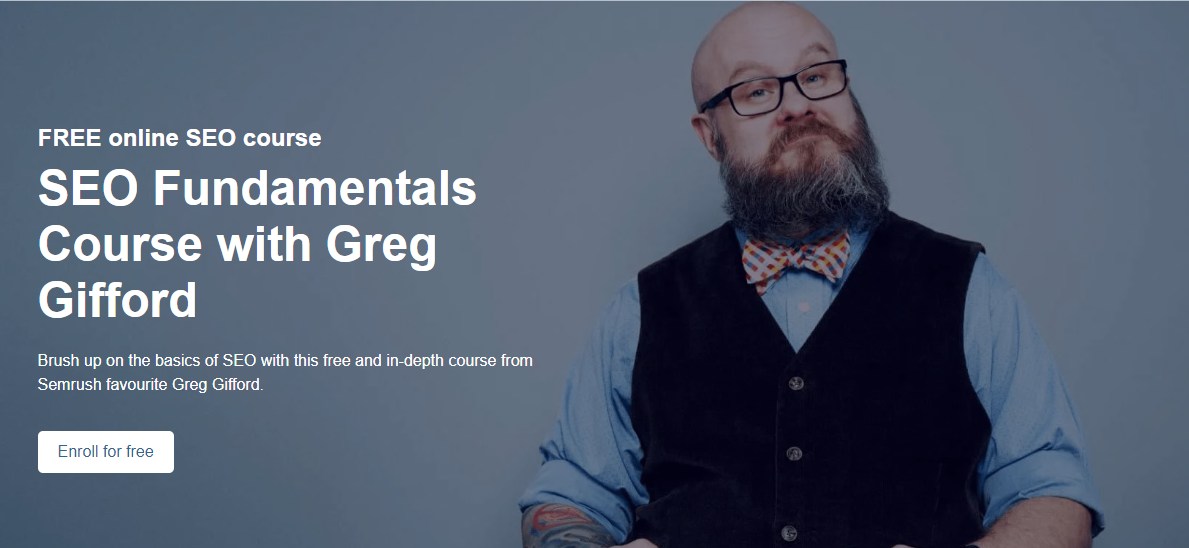 Image Source: semrush.com
The free SEO course is delivered by Greg Gifford, an accomplished SEO consultant with over 16 years of working experience. The course is divided into eight modules covering; link-building fundamentals, technical SEO, mobile SEO, on-page SEO, and local and international SEO. Besides, the full SEMrush course has everything you need to know about SEO.
Therefore, if you want to add value to your CV, courses on website auditing, On-Page and technical SEO testing, keywords testing and competitive analysis, link building, and rank tracking will help you. And the good thing is you will be awarded a free certificate in each field.
Additionally, quizzes after each session allow you to assess your progress. And at the end of exams, you will be awarded a SEMrush Academy certificate which you can add to your CV or LinkedIn profile.
3. Best for Inbound Marketing Courses: HubSpot Academy
HubSpot is popular for its inbound marketing as well as sales of software that help businesses attract visitors, close customers and convert leads. HubSpot experts launched this educational portal (called HubSpot Academy) to share their knowledge with anyone willing to learn. It usually offers CRM-based software for sales, marketing, and customer service.
Image Source: academy.hubspot.com
The SEO courses are free to learn and target areas in both SEO and digital marketing. In addition, you will learn how to create a promotion strategy tailored to the needs of a specific business. The course has 7 lessons, 34 videos and 8 quizzes which last for 4.5 hours. Besides, the focus is on working with blogs and getting the link mass.
This SEO certification course has well-produced videos, conversion strategy, social media promotion, lead nurturing, developing a conversational growth strategy, aligning marketing with sales, applying a customer marketing approach and inbound marketing basics.
At the end of the training, you will need to do a certification test and practical tasks. You have 3 hours to answer the quizzes. And if you are not pleased with the result, you are allowed to retake the test every 12 hours. You can use the awarded certificate on your website, LinkedIn profile, CV or Upwork to let employers know about your accomplishments.
4. Best for Beginners and Pros: Coursera
The SEO program is offered by UCDavis (University of California) and delivered by Coursera. Besides, it's available at other universities such as the University of Pennsylvania, the University of Illinois and the National Research University Higher School of Economics. So, Coursera allows you to study the courses from these world's top universities from your home.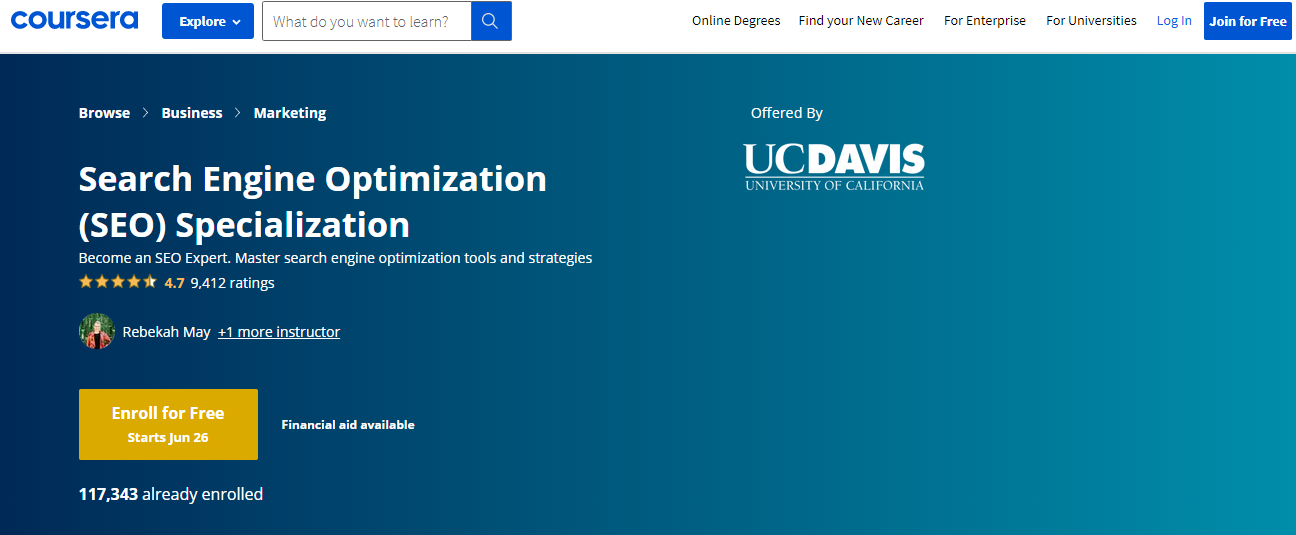 Image Source: coursera.org
The good thing with Coursera SEO programs is that they are ideal for both newbies and experienced optimizers. And when choosing a specific course, you can consider other users' feedback, for instance, how handy the knowledge was obtained and whether it helped in employment.
The SEO specialization bundle has 5 courses covering fundamental and advanced SEO concepts. Each course includes notes, brief video lectures and self-study materials. Also, there are assignments, mini-tests at the end of each module and a final test on the topics to help you understand better.
One of the course instructors is Eric Enge, an SEO expert highly respected in the SEO industry.
Introduction to SEO and SEO Basics – These courses are ideal for beginner optimizers. You learn SEO basics of ranking content in Google, Yahoo, and Bing, developing a promotion strategy and website optimization, and how social media presentation and advertising affect brand awareness.
Advanced SEO Strategies course – you will learn how to find and fix problems, analyze competitor data, enhance your website's architecture, speed, and display, and present a convincing strategy to your clients.
Advanced Content and Social Tactics for SEO Optimization – You will learn how to create large-scale marketing campaigns, evaluate their effectiveness, and interact with opinion leaders to boost the product.
Website Optimization Client Report – you will learn how to create infographics, perform competitive analysis, map key queries, and present materials to clients.
Optimizing a Website for Search course – You will learn about working with keywords and promoting local content.
The course usually takes about 5 months to complete at $245. And after you are done with all five courses, you will receive an SEO certification.
5. Best for CV and LinkedIn: ClickMinded
ClickMinded is a digital marketing platform with over 8,000 start-ups, entrepreneurs, agencies and students. Its main focus areas are PPC and SEO, with low and high entry levels. Besides, the SEO course is an all-around course that covers every aspect of search engine optimization. And the lessons are usually taught by SEO professionals with several years of working experience in the industry.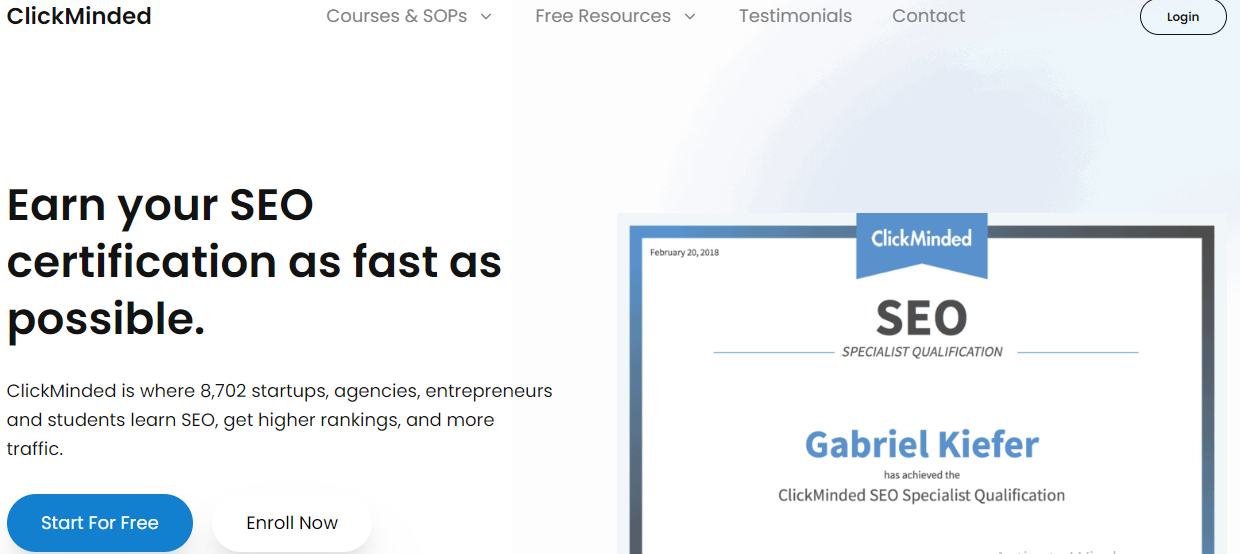 Image Source: clickminded.com
The training includes an introduction to useful SEO tools, the basics of how SEO works, how to implement the ClickMinded Search Framework to search engines (Google, Pinterest, Quora, YouTube, Yelp, etc.), an introduction to the Google search console, keyword research advice and much more. Also, you will get training in web analytics, content marketing, paid advertising, sales funnels, social media marketing, and email marketing.
Furthermore, there is a guide to working with technical optimization, keywords and the key tools of Google, Amazon, YouTube and Pinterest. Each course takes about 3-6 hours. And to facilitate easier learning, the contents are divided into short sessions. Besides, you can repeat the specified lesson at any moment thanks to easy navigation.
The best part is that you will have lifetime access to the training materials and updates after the course enrollment. And after training, you are given a certification exam which, after passing, you will be awarded a certificate integrated into your CV or LinkedIn profile.
Is Paying for an SEO Course Really Worth it?
Paying for an SEO Course has some of the following benefits:
1. You can use the course for reference
SEO has lots of rules you need to configure, and it might not be easy for you to understand them and implement everything. Therefore it's handy to have the course with you to reference.
2. You can easily follow a checklist.
Most of these SEO courses have a checklist that you follow to ensure that you consider all important SEO aspects in website optimization.
3. A good SEO course offers a great ROI in the long run.
Paying for a good SEO course is an investment that, in the long run, will guarantee you a positive return. It will generate you money through more traffic and higher rankings.
4. An SEO course will save you time.
With an SEO course, you won't need to spend time searching for answers on Google. Instead, a good course is enough to teach you everything you need about SEO.
5. The course allows you to learn from the experts.
Most of these SEO courses are designed by industry experts with many years of experience. You are learning and following their steps; you are guaranteed to get results faster than someone learning from unsolicited sources on the internet.
6. Get motivation
The truth is that SEO usually takes time to work, and sometimes you might feel disappointed and want to give up. However, the best thing about these SEO courses is that they come with real-life SEO success stories that you can get motivation. And reading about their stories can help you stay focused on your goals.
Frequently Asked Questions on the Best Google SEO Certification Courses
1. Does SEO count as a good career?
Yes. SEO is one of the most sought-after jobs in the Digital Marketing industry. As a result, several organizations worldwide hire SEO professionals to create better content and thus generate more business leads.
2. Will SEO still exist in 10 years to come?
SEO won't be phased out within the next ten years since social media and search engines will likely merge. For instance, Facebook has already begun to do so, with over 1.5 billion daily searches. Also, Twitter has come in partnership with Google.
3. Do you need coding for SEO?
No, SEO does not require hands-on coding. You can learn SEO and do any SEO related to jobs without coding.
Featured Image Source: backlinko.com