You want to start a blog and employ SEO to ensure your content is visible to potential clients. But first, you need to determine which content management system will serve you better regarding SEO Squarespace vs. WordPress. Let us help you decide with a comprehensive breakdown of the two.
WordPress and Squarespace are both excellent content management systems. Of course, both tools are well known and have features that may work for you, and choosing one can be challenging. Hence, we have highlighted their strengths and what makes each tool unique. This article shares features and characteristics so you can select what works best for you.
Squarespace Vs. WordPress (Platform Variations)
The differences we highlight are in terms of functionality. Even the most elegant website won't do you good if no one sees it. Therefore, the content you add to your Squarespace or WordPress website matters greatly. At the end of the day, your SEO capabilities can make or break your website.
It's fair to say that Squarespace is the most preferred for users with no web development skills. It's more like a drag-and-drop editor. On the other hand, you have to be tech-savvy to use WordPress sites. Both Squarespace and WordPress are excellent blogging tools for search engine optimization.
1) Mobile Optimization
Google rewards blogs and sites that are mobile responsive and friendly since most people use the search engine on their phones. Therefore, mobile optimization is an important Google ranking factor. Regarding mobile optimization, all Squarespace templates have a responsive and mobile-friendly version for your site. You don't have to struggle with specific installations or plugins on this blogging platform.
Image Source: rginfortech.com
WordPress site, on the other hand, has newer mobile-friendly templates. However, if you are not careful, you might select outdated WordPress themes. When this happens, there is only one way of knowing; you must manually check the mobile site. Now it's important to note that you might have to consider an accelerated mobile page or change your theme and install an SEO plugin.
However, with an accelerated mobile page, there are major SEO benefits and drawbacks. While you can greatly improve user experience with this option, you will also have more to maintain as your content marketing plan will need updating. Implementing it is also technical, so be careful before using this method.
2) Metrics and Data Reporting
If you are considering using a WordPress plugin, you might have to connect your site to Google Analytics to get a full rundown of data and metrics. Unfortunately, your WordPress site has limited built-in analytics showing only a few data points.
Since they are limited in what they can do, you won't be able to monitor your site or blog post in a meaningful way. Additionally, WordPress analytics include data points like social shares and page visits, which might be useful in some instances, but not all.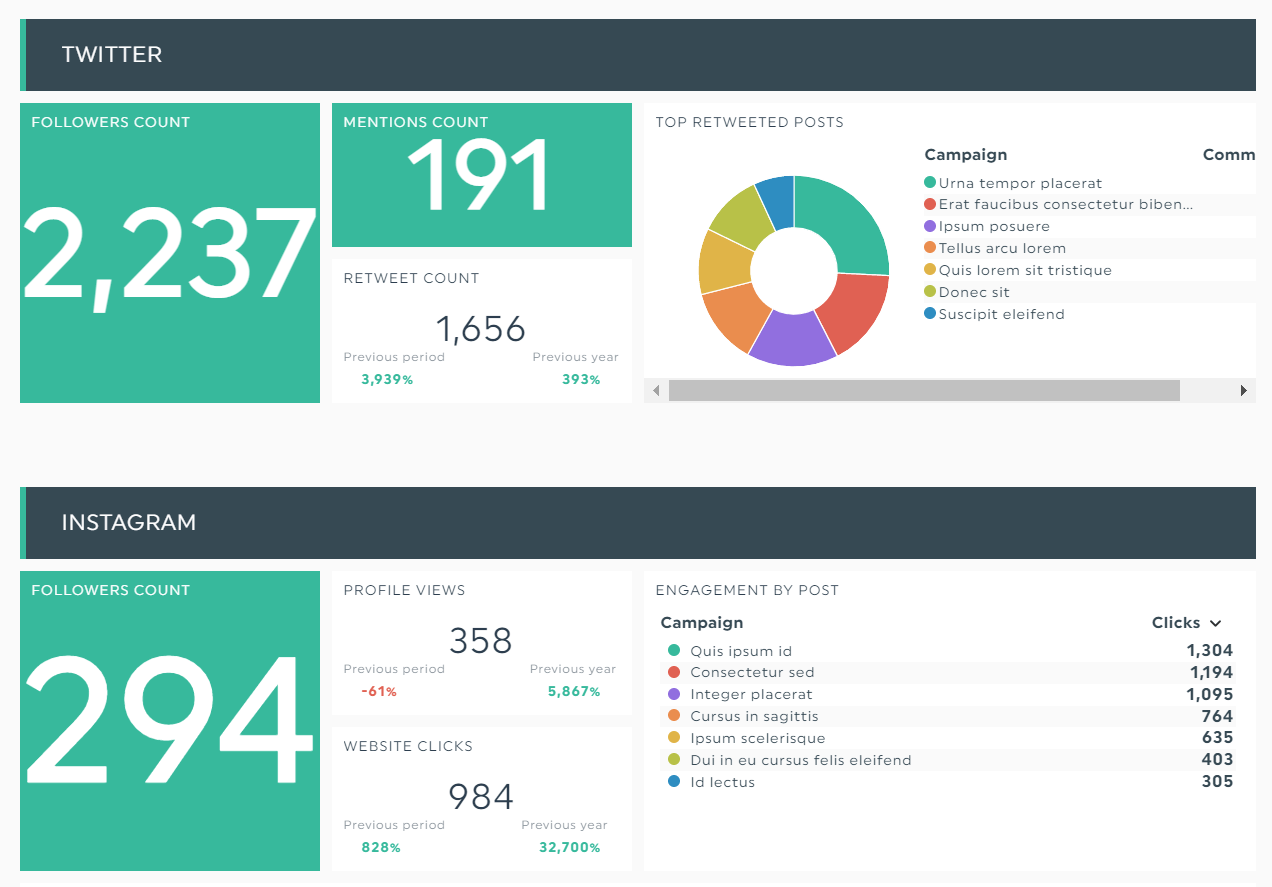 Image Source: dashthis.com
Squarespace offers tracking of metrics with an in-built analytics dashboard. With this dashboard, you can track data points and metrics like:
Popular content
Sources of traffic
Cart abandonment
Conversions
Tracking these metrics gives you insight into how best to proceed toward customer satisfaction and elevated user experience. However, we have to emphasize what type of Squarespace plan you choose. Based on your plan, you might not have access to some reporting details.
Furthermore, you can't independently analyze the data on the Squarespace analytics dashboard because it cannot be exported elsewhere. This might give you some limitations on what data you can analyze or share with your team. An alternative to the Squarespace in-built dashboard would be to attach your site to Google analytics.
3) Keyword Optimization
Keyword optimization is one of search engines' most important SEO ranking points. With WordPress SEO, you can access one of the best WordPress plugins; Yoast SEO. Yoast SEO drastically improves your SEO efforts and gives you access to tools to make your process easier and your SEO implementation more effective. Still, you may need to learn the essential SEO tips to master to improve your rankings.
Yoast plugin gives any WordPress site a huge competitive edge and advantage. It is a simple-to-use SEO tool that makes content management and optimization easy.
Image Source: kontely.com
Yoast SEO is ultimately one of the best WordPress blogging tools, as it shows you how to get the most out of the keywords when you do keyword research. With Squarespace websites, you can still get SEO-friendly tools and third-party plugins; however, the downside is that they don't have Yoast. You can't designate relevant keywords for blogs or pages, and the headers only range between H1 and H3.
Over the years, Squarespace has made advancements to be SEO friendly. However, they fall short of advanced SEO tools. However, this doesn't mean that your content has no quality. It simply means your Squarespace account SEO tools are limited in functionality.
4) Sitemap Submission
A sitemap is like a blueprint of your website. It helps search engines to find, crawl and index your website. Sitemaps also show search engines the most important content on your website.
There are 4 types of sitemaps that are important for every website:
Image sitemaps
Normal XML sitemaps
News sitemap
Video sitemap
Squarespace website builder has sitemaps directly linked to their platform. The process on the Squarespace site is barely a hassle, and you only send them to Google. Plus, it is quick and simple and only involves a few steps. After submitting your XML sitemaps, you must wait at least 72 hours for the data to populate.
Image Source: webnots.com
With WordPress, the process involves an extra step when creating the sitemap. However, if you have a Yoast plugin, you can easily create and submit your sitemaps without a problem. Furthermore, it is a one-off affair!
5) Security
Every website has to protect its users. Installing an SSL certificate is one of the ways you can keep your website visitors safe. Since user protection is important to Google, you must ensure your site is well-protected and features HTTPS for encryption and verification.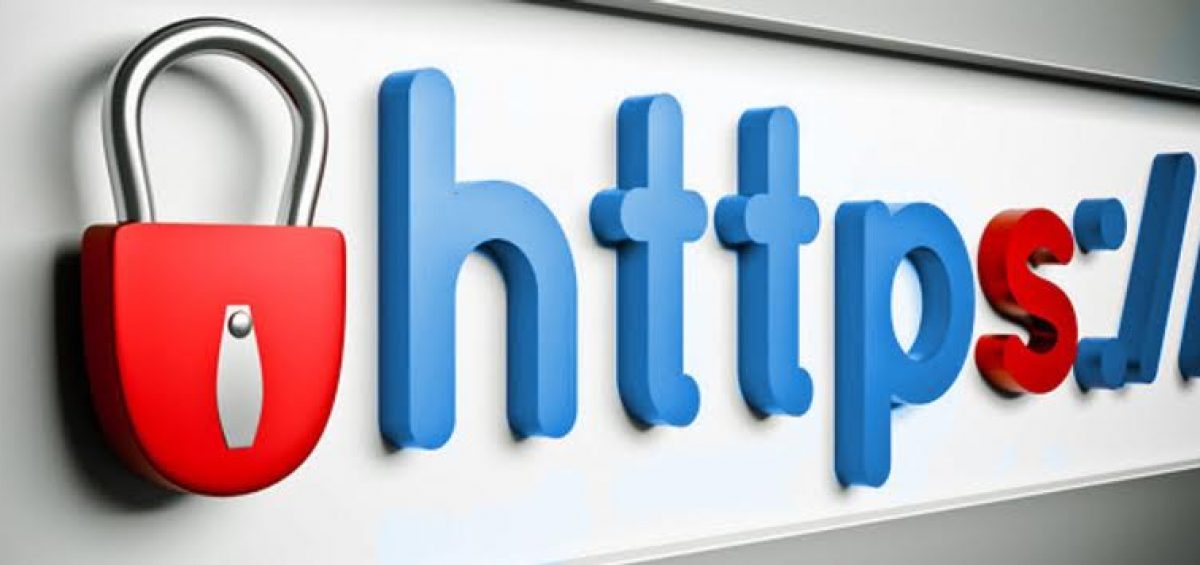 Image Source: milt.com
Squarespace sites have a legitimate SSL encryption certificate with any plan you pay for. Nevertheless, WordPress themes are not the same as Squarespace plans. Therefore, you will have to manage your SSL security separately.
Unfortunately, there is no WordPress security plugin for SSL certificates. However, you can download one for free from sites like Siteground and Bluehost. You might also need instructions on changing your WordPress HTTP to HTTPS. But, again, instructions can be found on your hosting platform or plugin provider.
6) Snippet Optimization
When driving consumers to your content, you require search engines to rank your small business well. Knowing how to optimize your snippets, titles, and meta descriptions should be the step you take to improve your small business SEO.
Snippets are how content appears on the search engine results pages. Here is where your meta descriptions and title tags matter. Google doesn't consider your title tags and meta descriptions; however, the more catchy they are, the more clicks you'll get.
Image Source: searchengineland.com
With WordPress's website's SEO, you can easily create rich snippets using Yoast. In addition, you can add images to your snippets and other interactive details like FAQ sections. WordPress users can also opt to use other plugins to ensure the snippets are inviting. So, of course, WordPress wins in this section.
Squarespace has the latest tools in their most recent versions to help you create the perfect snippets. You can edit the snippets for all your web pages with a simple content management system using SEO descriptions and titles. A great example of good snippets is how recipes on Google's search engine are rated with stars.
7) Pricing
Image Source: freepik.com
The pricing ranges for WordPress and Squarespace don't cost an arm and a leg. There are very agreeable since you get what you pay for. WordPress comes with four main plans. However, there is only one plan that provides SEO tools. So, before you install WordPress, here is the WordPress cost breakdown of the available plans:
a) WordPress Pricing Plans
WordPress offers the following plans and SEO settings for your website.
1) Free Plan
The free plan doesn't cost you anything. It is handy if you want to get a feel of creating content or web hosting. The free plan offers a WordPress subdomain, WordPress community support, free themes, WordPress advertising, and jetpack essential features.
2) Personal Plan
This plan costs $5 billed yearly. The plan comes with a free domain for 1 year, Email and live chat support, basic design customization, jetpack essential features, no ads, storage, and free themes. This plan is best for personal use.
3) Premium Plan
The premium plan costs $8 billed yearly. It comes with unlimited premium themes, a free domain for 1 year, advanced design customization, monetization of your site, simple payments, no ads, more storage, VideoPress support, and jetpack essential features, among others. This plan is best for freelancers and entrepreneurs.
4) Business Plan
The business plan costs $25 billed yearly. It contains advanced SEO tools, unlimited storage space, install plugins, ditching the WordPress branding, Google analytics integration, attending live courses, VideoPress support, jetpack search, no ads, and advanced design customization.
b) Squarespace Pricing Plans
Squarespace SEO features don't change even if Squarespace users are on their cheapest plan. You can also try their 14-day free trial to get a feel of what it would look like. Squarespace also has only 2 plans with ecommerce features. They are:
1) Personal Plan
The personal plan costs $16 per month. You can also choose to pay annually. It contains; a free custom domain, SSL security, unlimited bandwidth, video storage, SEO features for sight visibility, templates to fit every need (you can customize every Squarespace template), and 2 contributors.
2) Business Plan
This one costs $23 per month. It contains everything a personal plan contains, except it has unlimited contributors.
Pros and Cons of WordPress and Squarespace
Image Source: flexjobs.com
Both WordPress and Squarespace interfaces are excellent web-hosted website builders. However, here are some of their pros and cons.
Squarespace Pros:
It has excellent marketing features like ecommerce plugins, free Squarespace domains, and social media growth. These features make Squarespace perfect for business growth.
It has the best help and support features of all website builders.
Beginner-friendly
Free and functional templates optimized for mobile phones, laptops, and desktops.
Squarespace Cons:
The editor is very manual. The editor will not autosave your work but instead prompt you to save.
No full customization. Every template has preset customization rows. You'll only be able to customize the presets provided.
WordPress Pros:
It has many tailored features to design your blog or website.
The best option for a blogging website. This website builder has all the features to make your website a success.
WordPress editor has advanced features for SEO.
WordPress Cons:
WordPress is a website builder specifically for blogs. You cannot build anything other than a blog.
WordPress is not beginner-friendly. You need to know basic coding to get the most out of it.
The Verdict
WordPress and Squarespace are giants in the SEO space. Additionally, they are both relatively easy to get into. Of course, both these tools have excellent SEO KPIs to track for a successful online venture, and you won't have to worry.
When it comes to SEO, both Squarespace and WordPress are at a draw. However, with issues like pricing and value for money, in-built features, and blogging, WordPress is the clear winner. On the other hand, Squarespace takes the win regarding ease of use, beginner friendliness, ecommerce functionality, ongoing maintenance, and security.
Since WordPress has defined steps to combat the steep learning curve, it will give you a pre-customized site when you start your journey. Additionally, you can select how technologically savvy you are. If you are a beginner, click on the beginner level and immediately get a checklist of steps to follow.
The Bottom Line
Whether you choose Squarespace or WordPress, you are still making an excellent choice. The main issue is understanding how to implement successful SEO strategies and practices on each platform. Each platform is designed with user interaction in mind; therefore, don't be shy to dive in head first and create the best content for your website.
Featured Image Source: searchenginejournal.com