Every website owner should have some familiarity with sitemaps. In order for the pages on your website to appear in search results, search engines need information from your sitemap. Sitemaps also help the audience navigate your website when they land on a page. But what is sitemap XML, and why is it important for SEO? In this post, we seek to answer these questions.
What Exactly Is an XML Sitemap?
To put it simply, an XML sitemap serves as a road map for search engines. It outlines the key information on your website in XML format so that search engines can quickly identify, index, and show it in search engine results pages (SERPs).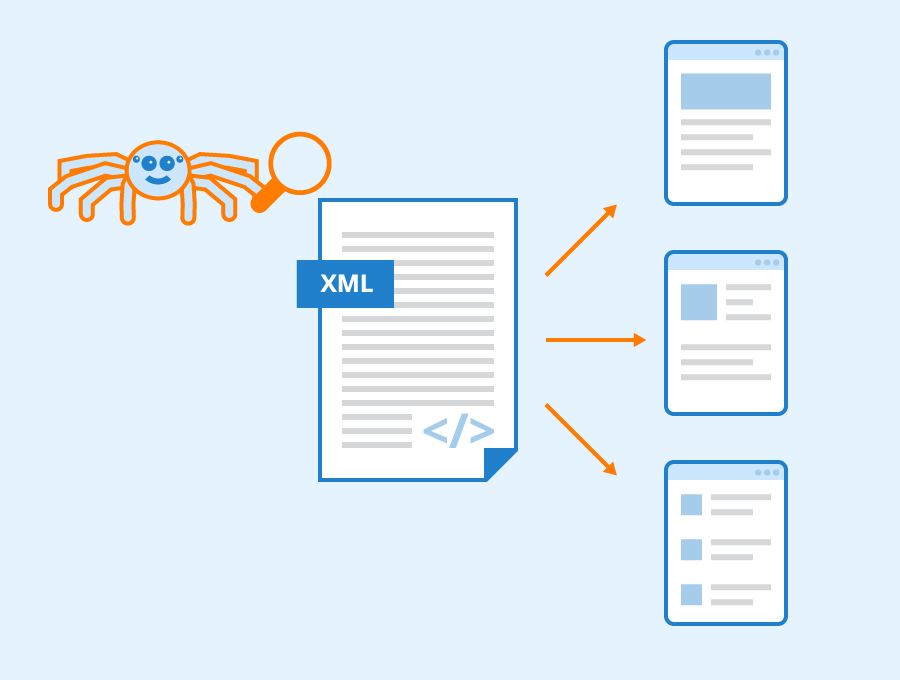 Image Source: seobility.net
Any webpage or XML file you wish to appear in search engines should be listed in your XML sitemap. Why? Because a sitemap guarantees that your content can be found.
Assume you have web pages not connected to any place on your site or the internet in general. Web spiders cannot discover those pages if they do not have hyperlinks leading to them. An XML sitemap (uploaded to search engines) guarantees that any pages you wish to appear in SERPs may be found by search engines.
But it isn't all. An XML sitemap may offer more information to search engines, such as when your material was last updated and which pages are more important. More on it in a moment.
Components of an XML Sitemap
Image Source: br.sharpspring.com
All of the components are identified using special tags that mimic HTML code.
Mandatory Elements:
The first line. The first line specifies the XML version and the needed encoding for Sitemap files — UTF-8;
urlset> — a tag that specifies the current protocol standard. It is a parent tag for the ones that come after it;
url> — a tag for each URL input. It is the parent of the tags below and a child of urlset>;
loc> — a page's URL. If your web server requires it, this URL needs to start with the protocol (such as HTTP) and end with a slash.
Optional Components:
lastmod> — a tag that shows when the page was latest modified. Google evaluates the value of this tag only if it corresponds to the time of the most recent page update.
changefreq> — a tag that provides the page's approximate refresh rate. Always, hourly, daily, weekly, monthly, annually, and never are valid values.
Priority> — a tag that specifies the page's priority in relation to other pages. The value ranges from 0.0 to 1.0.
Although the changefreq> and priority> tags are mentioned as eligible for usage in the Sitemaps XML format specification, the search engine ignores the values given in them, according to the most recent data from Google Search Central.
Types of XML Sitemaps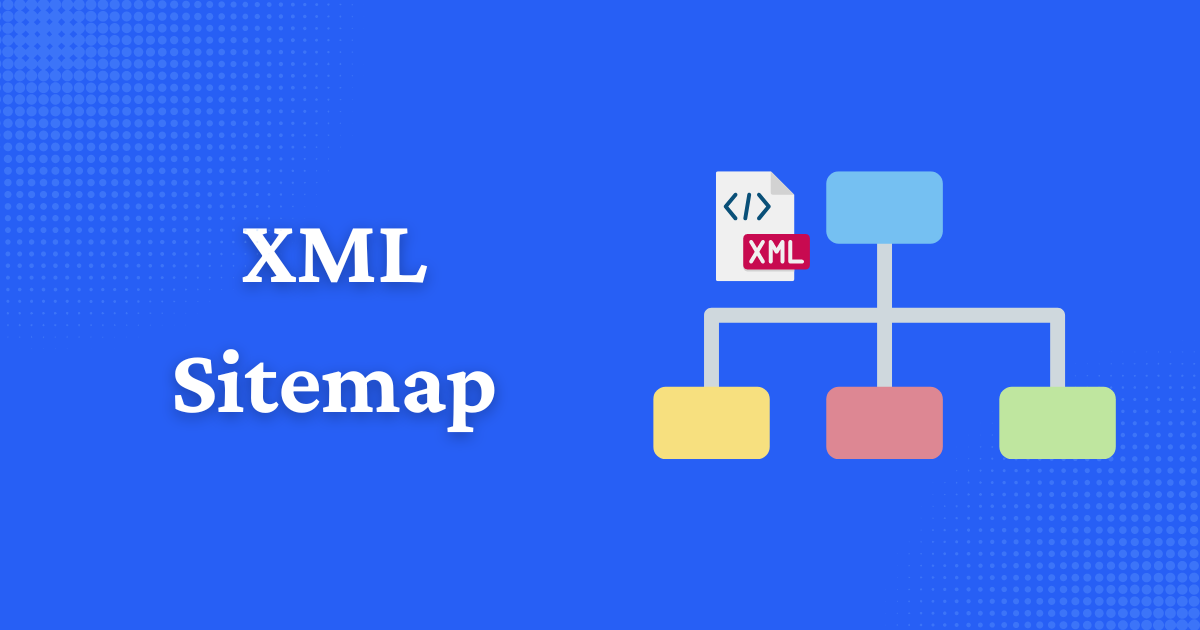 Image Source: actiondigital. vn
Various forms of XML sitemaps exchange information with search engines, which may assist your website in climbing up the search ranks. Here are the many XML sitemaps you may use to help search engines in crawling your website and gathering the information they need to index it efficiently:
1. XML Sitemap Index
An XML sitemap index serves as a sitemap for your sitemaps, making it much easier for search engines to explore a large site. This might be advantageous if you have a huge website that requires going over the typical XML sitemap constraints of 50,000 URLs and a 50MB uncompressed XML sitemap file size. When this occurs, divide your sitemaps and build a sitemap index that links to all of them.
2. Dynamic XML Sitemaps
A dynamic XML sitemap adjusts itself automatically as you add or delete material from your site and always maintains an up-to-date version. A dynamic XML sitemap is essential for large websites or those with frequent content modifications. For instance, an e-commerce website may want to utilize a dynamic XML sitemap rather than manually updating one whenever a product page is added or removed.
3. XML Image Sitemap
XML image site mappings increase image indexation on your website. Consider utilizing this sitemap if your company relies significantly on graphics to generate traffic and revenue. This might include stock photo websites or e-commerce sites. This can help your photographs appear in search engine results for image searches.
4. XML Video Sitemap
An XML video sitemap is similar to a page sitemap but focuses primarily on video information; therefore, it is only required if videos are vital to your organization. If not, conserve your crawl budget (the limited number of crawlable pages and resources on your site) and include the video URL in your sitemap.
Why Is an XML Sitemap Important for SEO?
Image Source: merkle.com
As we have indicated earlier, an XML sitemap is essential because it allows search engine spiders to view your website without the need for external connections. This sitemap may be helpful if your website does not yet have any external links. After all, search engines won't be able to find your website without links pointing to it.
Search engines do not crawl websites by looking for external links. Instead, they search for terms in the sitemap URLs of web pages as they crawl websites. A new website won't obtain many links, and the ones that do are likely to forget about it and remove the backlink.
Instead of waiting for external sites to notify the search engine, an XML sitemap enables search engine crawlers to index your website as soon as they discover it. Any SEO strategy must include having a search engine index your website. So XML sitemaps are a useful tool to prioritize because they frequently take just a few minutes to develop and provide search engines with the information they want about your website.
How to Submit Your Sitemap to Google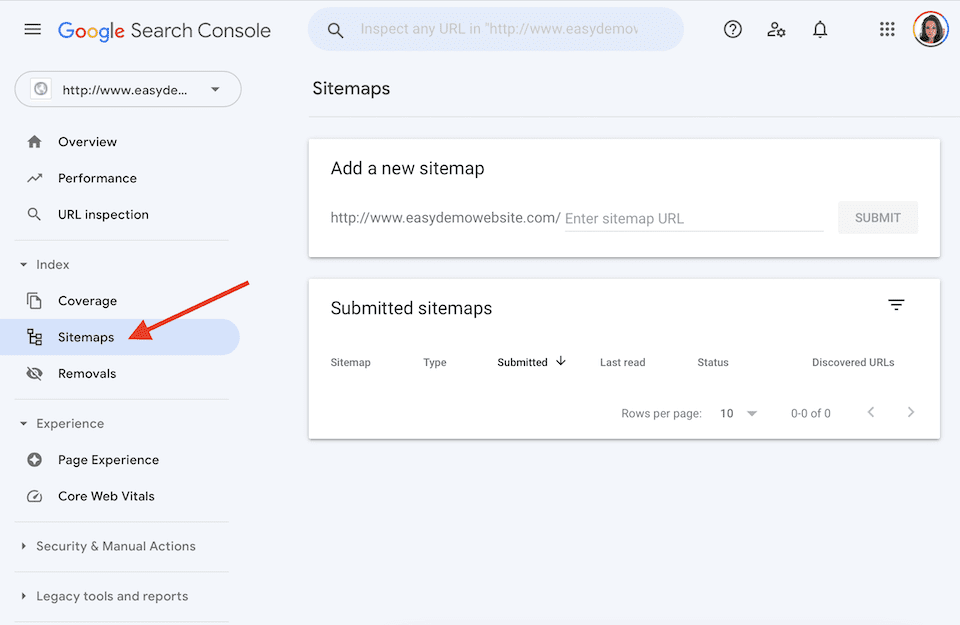 Image Source: elegantthemes.com
Despite the fact that Google crawlers will ultimately find your sitemap on their own, it is still an excellent practice to submit the sitemap's URL to Google.
Primarily because
It will facilitate finding your sitemap more quickly.
It will assist you in determining potential sitemap issues with Google.
This is possible using Google Search Console:
To begin, navigate to the "Sitemaps" dashboard in Google Search Console. It's on the left menu, under the "Indexing" section.
Copy and paste your sitemap's URL into the "Add a new sitemap" area, then click "Submit." You do not need to submit each sitemap separately if you have more than one. Simply upload your index sitemap, which contains a list of all of your other sitemaps.
Once Google has indexed your sitemap, a green "Success" status will appear next to it in the "Submitted sitemaps" area.
If your sitemap has problems, the status will be "Has errors" or "Couldn't fetch."
Click the row containing your sitemap to examine the discovered problems. Google also gives step-by-step advice for each probable issue.
How to Remove the Sitemap from Google Search Console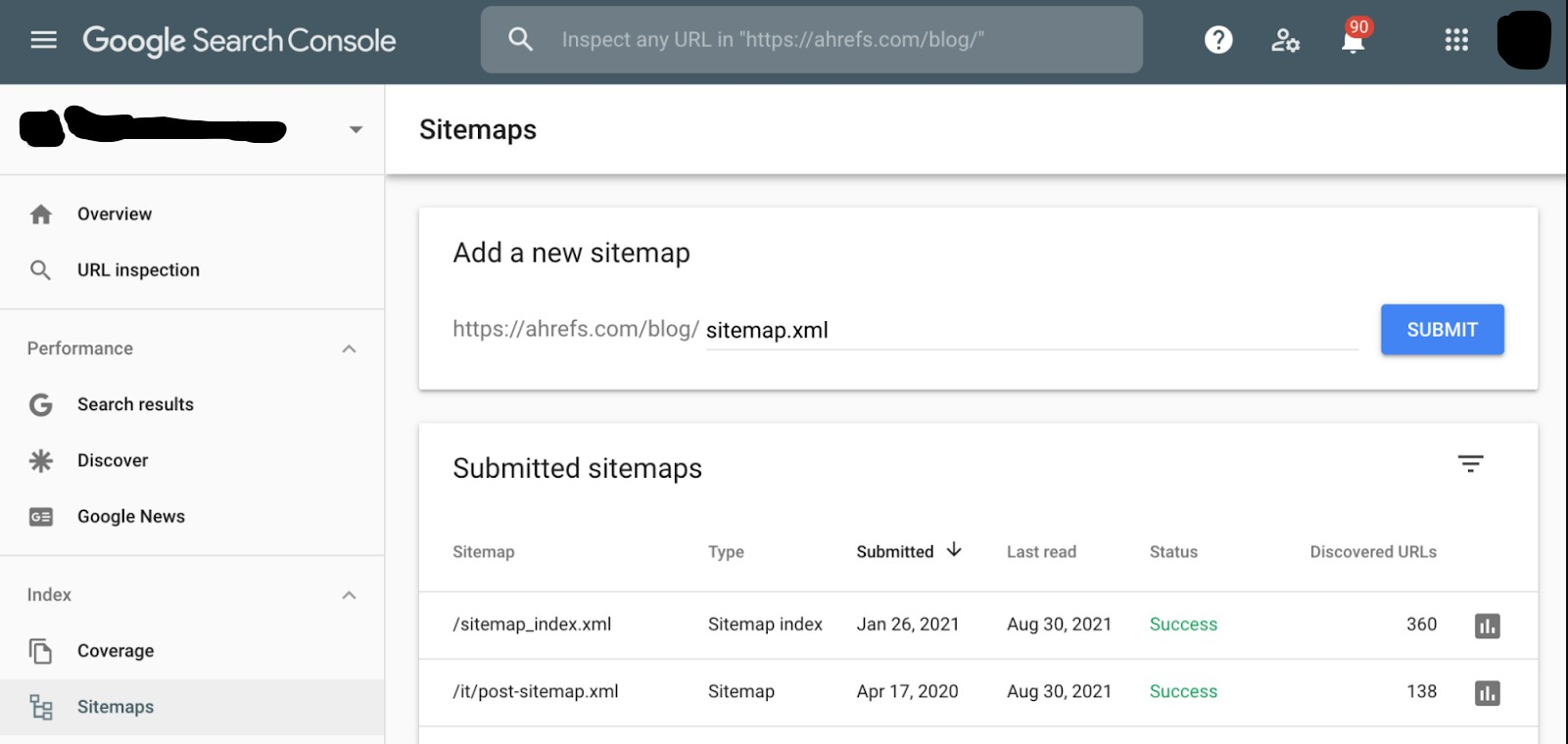 Image Source: ahrefs.com
If you submitted the sitemap_index.xml file incorrectly or need to remove another sitemap, you can delete it and re-submit it. This is not expected to harm your site's SEO.
Register with the Google Search Console.
Select your website from the sidebar.
Select 'Sitemaps.'
The 'Sitemaps' menu option is located inside the 'Index' section. If 'Sitemaps' does not appear, click 'Index' to enlarge the area.
Click on the sitemap you wish to delete under "Submitted sitemaps."
Remove the sitemap by clicking on three-pointed dots in the upper-right portion of the page. You may then re-add the sitemap if necessary.
How to Use Webmaster Tools to Submit Your Sitemap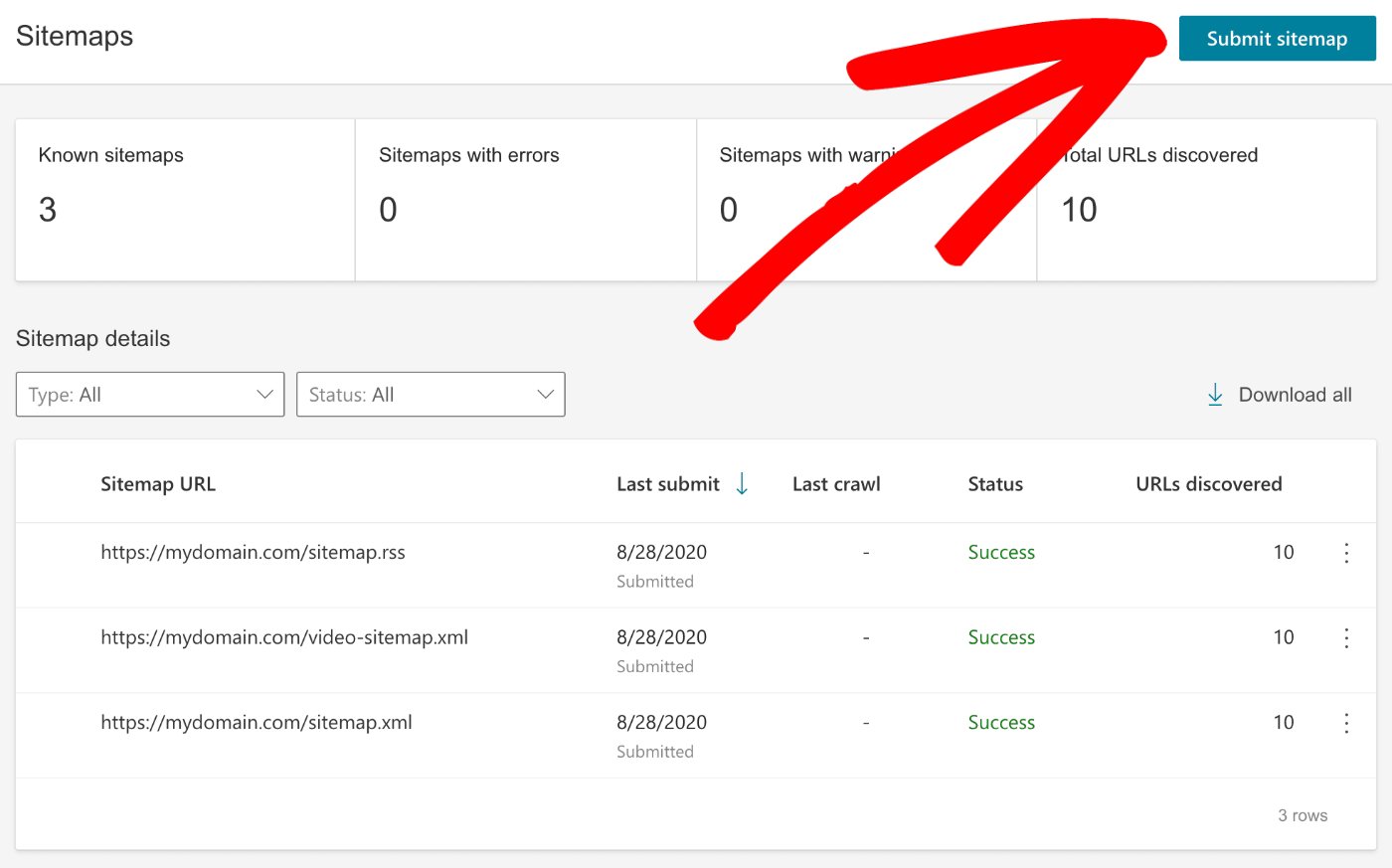 Image Source: aioseo.com
1. Bing Webmaster Tools
If you haven't already added your website to Bing Webmaster Tools, please do so first.
Register with Bing Webmaster Tools.
Select your website from the "My Sites" page.
Click Configure My Site, then Sitemaps on the left sidebar.
Remove any out-of-date or invalid sitemaps.
Fill up the text box at the top with your sitemap URL.
Click the "Submit" button.
2. Yandex Webmaster
Register with Yandex Webmaster.
Select your website from the main page.
Click Indexing Options and then Sitemap Files on the left sidebar.
Remove any out-of-date or invalid sitemaps
Fill up the text box at the top with your sitemap URL.
Select Add.
Best Practices for XML Sitemap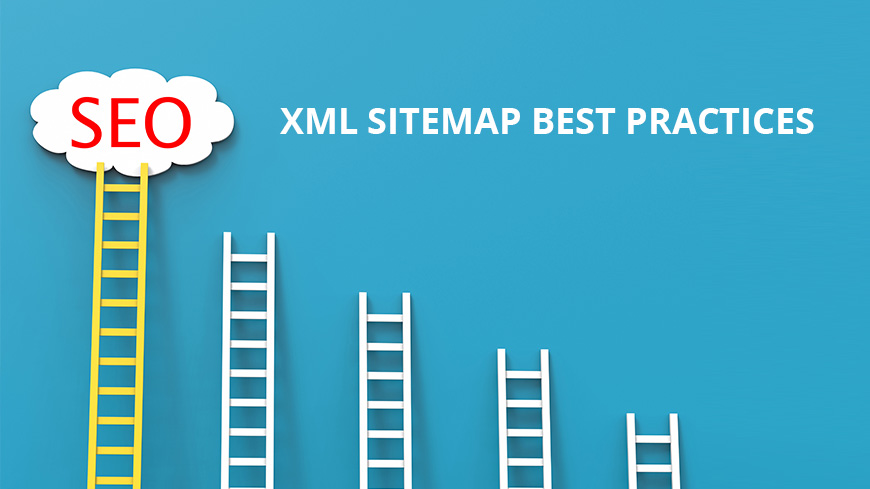 Image Source: dynomapper.com
Sticking to these recommended practices is crucial when putting XML sitemaps into effect.
1. Update Your XML Sitemap Regularly
A current representation of your website should be provided via your XML sitemap. Every time a page is deleted, your XML sitemap should, likewise, remove it from the list. When the pages on your site change, be sure to update the timestamp if you're using the optional lastmod tag.
Remember, when determining whether your XML sitemap contains all of your indexable pages, you should look for the "Indexed, not submitted in sitemap" problem in Google Search Console's Index Coverage Report.
2. Only Include Indexable Pages in Your XML Sitemap
Only describe indexable pages in your XML sitemap. This implies that you must exclude any URLs relating to missing pages or redirects.
Additionally, these pages must be indexable, which implies that they must be available to search engines (i.e., no robots.txt exclusions) and free of instructions telling search engines not to index the page (i.e., meta robots, canonical links, or x-robots-tag).
3. Keep the Default Filename and Location
The default locations and filenames for your XML sitemap (/sitemap.xml) and XML sitemap index (/sitemap_index.xml) should be followed wherever feasible. Search engines can now discover them the easiest, thanks to this.
4. In Your robots.txt File, Mention the XML Sitemap
You should make a note in your robots.txt file when you deviate from the standard for the website address of your XML Sitemap or XML file format Sitemap Index. To guarantee that search engines can find it, it is advised to mention it in your robots.txt file, even if you stick to the usual URL.
5. Avoid Being Fixated on Lastmod, Priority, and Changefreq
Although you may specify the lastmod, priority, and changefreq attributes for each URL, doing so is optional. However, it's widely accepted that search engines don't pay much attention to them. Defining them won't harm, and there may be a minuscule possibility that search engines may utilize this information.
6. Respect the Restrictions for XML Sitemaps
Make sure your XML sitemaps have a maximum of 50.000 URLs and a maximum uncompressed file size of 50MB. Use an XML sitemap index and divide the XML sitemap if you go over either restriction.
Final Take
A sitemap is a wonderful place to start if you need to enhance the SEO of your website. Sitemaps can affect your pages' search ranking both directly and indirectly. An XML sitemap reduces the time it takes for search engines like Google to recognize and scan your web pages while also assisting them in understanding the content of your website.
Once you've done everything you can to optimize your content, make sure your website is hosted so that its speed and dependability may provide you with an additional SEO boost.
Featured Image Source: hostinger.vn