Customer experience and website performance have become incredibly crucial to online businesses. Nothing can make online activities more annoying than running into website issues. Just think about how inconvenient it would be to fill out a form for feedback or click a "Buy Now" button that doesn't work.
The thing is, users, may occasionally be unable to access your website, although everything appears to operate normally when you view the website on your own. Such minor issues may easily cause users to bounce, which can dramatically increase your exit rate.
It is critical to learn how to check website status and detect problems before they affect your users to avoid these issues. This will allow you to troubleshoot any host server difficulties.
Why is it important to check a website's status?
Image Source: quoracdn.net
There are numerous reasons why you should examine the state of your website. At the most fundamental level, it may assist in making sure your website is constantly accessible and functions properly. Let's examine a few additional elements for website monitoring.
1. Prevent revenue losses.
Websites can have a worldwide audience, so someone from anywhere on the globe could be attempting to access your website anytime. Visitors who can't access your website often leave and visit another site instead of waiting.
Every person who visits your site has the potential to become a customer. You need those clients to make money, whether you're offering a service, a product, or monetizing through advertisements. If you don't fix a broken website as soon as possible, it's simply money lost.
2. Performance improvement
Knowing how your own website operates is the only way to determine which areas to improve. Website performance contributes to the user experience and is a factor in search engine rankings. Netizens today are increasingly impatient and will abandon websites that are too slow to load.
3. Keep clients and visitors satisfied.
Nobody enjoys visiting a website that is frequently unavailable, performs slowly, or doesn't function properly. Some of your devoted clients will wait through downtime, but they typically just go to your rival. If their alternative is superior and more dependable, you won't see that rival again.
4. Search engine rankings and website availability
Although we don't often consider it, most search engines heavily rely on downtime. Your website is constantly being crawled by Google spiders, who evaluate its availability, page speed, and content. Even the all-powerful Google is aware that outages occasionally happen, but having frequent or protracted malfunctions hurts your SEO (Search Engine Optimization).
Monitoring your website keeps you informed of any website downtime it has, even the little ones that you might be unaware of but that the search engines were. Knowing about outages as soon as they occur enables you to address the issue swiftly to safeguard and improve your page ranking.
Reasons for website crashes and ways to avoid them
Image Source: cloudways.com
There are a few primary reasons why websites crash that you should be aware of.
Too many users are accessing the website at once (server overload).
Untrustworthy website hosting
Improper management of the web hosting server
DNS problems and DDoS assaults
You may take measures to improve your website's stability even if there is no way to totally eliminate website crashes.
To prevent domain and host expirations, enable auto-renewal.
Select a reliable hosting provider.
Only set up the essential plugins.
Utilize content delivery networks (CDNs) to split up the strain of the network traffic among several servers.
Regularly check your website's operation.
Utilize website monitoring services to reduce downtime and improve website operation.
How to Check Website Status and Detect Issues Before They Affect Your Users
Image Source: popupsmart.com
The fastest way to determine if a website is available to everyone or just you is to utilize one of the countless internet services and tools. Some of these programs offer extra information, such as how long the website has been down and which checkpoint has received the most complaints about it from consumers. Let's go through the most popular services you may use right now.
1. Checking with Site24x7
Site24x7 is a useful online website-checking tool that can inform you whether or not your website is operational. Every time your website or application has a problem loading a resource, a network connection problem, a performance problem, a server CPU utilization issue, or any of a variety of additional issues, Site24x7 sends you a thorough and complete alert.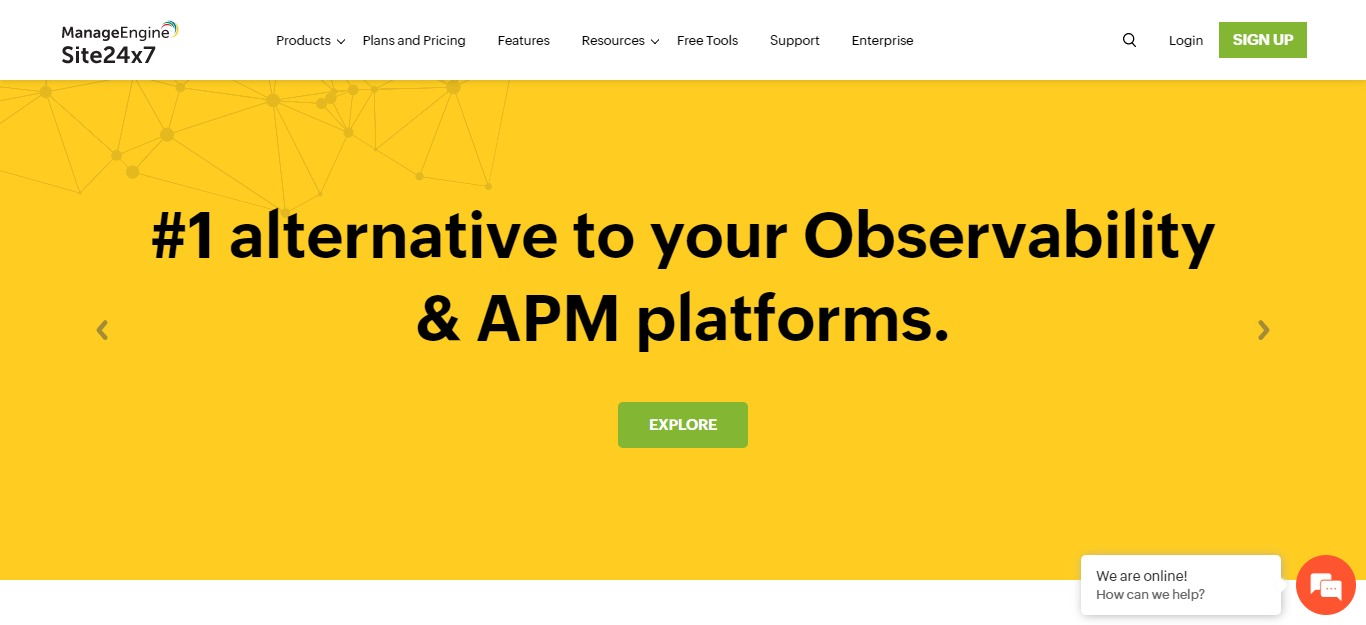 Site24x7 enables you to check the accessibility of your website from more than 60 different places, including China, Barcelona, London, New York, and Sydney.
This website checker not only verifies that your site is available but also provides precise details on the entire response time, the time it takes to connect and resolve DNS, as well as the first-byte and last-byte times.
Here are the steps to use this test tool to see whether your website is online:
When you visit Site24x7, you will immediately see a section where you can input your website domain.
Click "Test Now" after entering your domain or URL.
Wait a little while before all the data is obtained. A graph and a table with more information will then appear.
If the status for each location reads "OK," your website is accessible from everywhere in the world.
In addition, the Status and IP columns will, respectively, display dashes and Host Unavailable if the website is down.
2. Checking with Host Tracker
Host Tracker is another one of the best online tools that will help check the site's uptime or website availability. This tool enables you to test your website's web page speed, HTTPS, port, ping, trace, health, and security.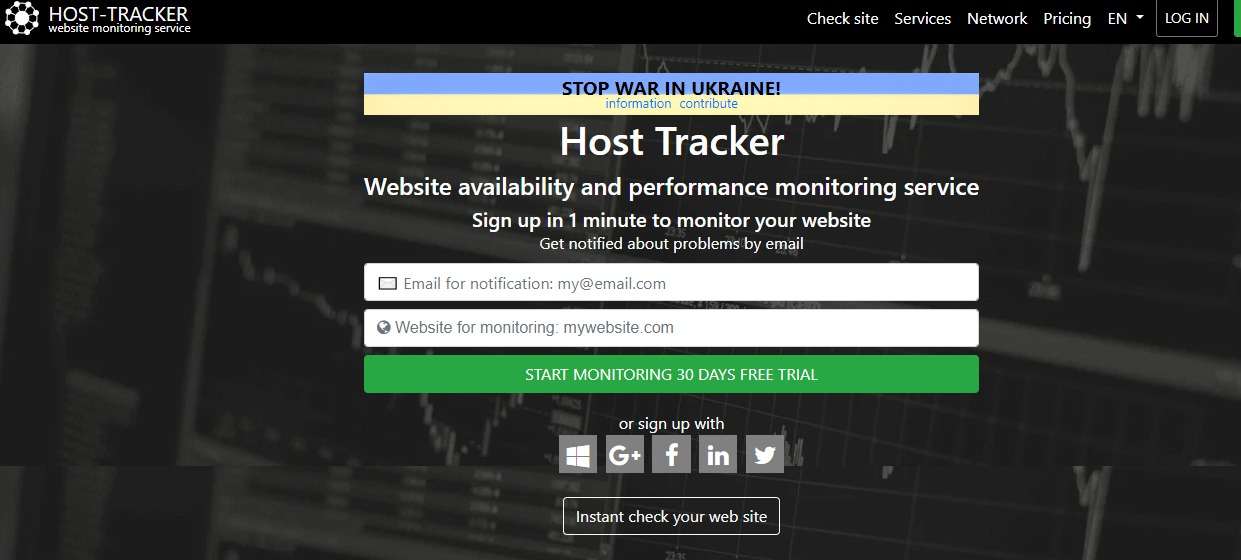 Furthermore, if your website goes down, this website checker tool will send you automatic notifications. However, you may join up for a free trial period or pay $9.92 to $74.92 each year to access this service.
Here's what you should do to use the tool:
Go to Host Tracker and scroll down until you find a column labeled "Check Site."
The website's default goal is to measure page speed. However, you must select the Ping tab, as we need to check if your website is accessible internationally.
Fill in the necessary details, including the test location and your website's domain or URL. If you wish to cornfirm the status of your site globally, select All World in the location tab, then click "Verify.
Watch for the data to load completely.
3. Checking with Is it down right now?
IsItDownRightNow is one of the most widely used internet resources for checking a website's availability status. To test the website's availability, just enter the URL and press the "check" button.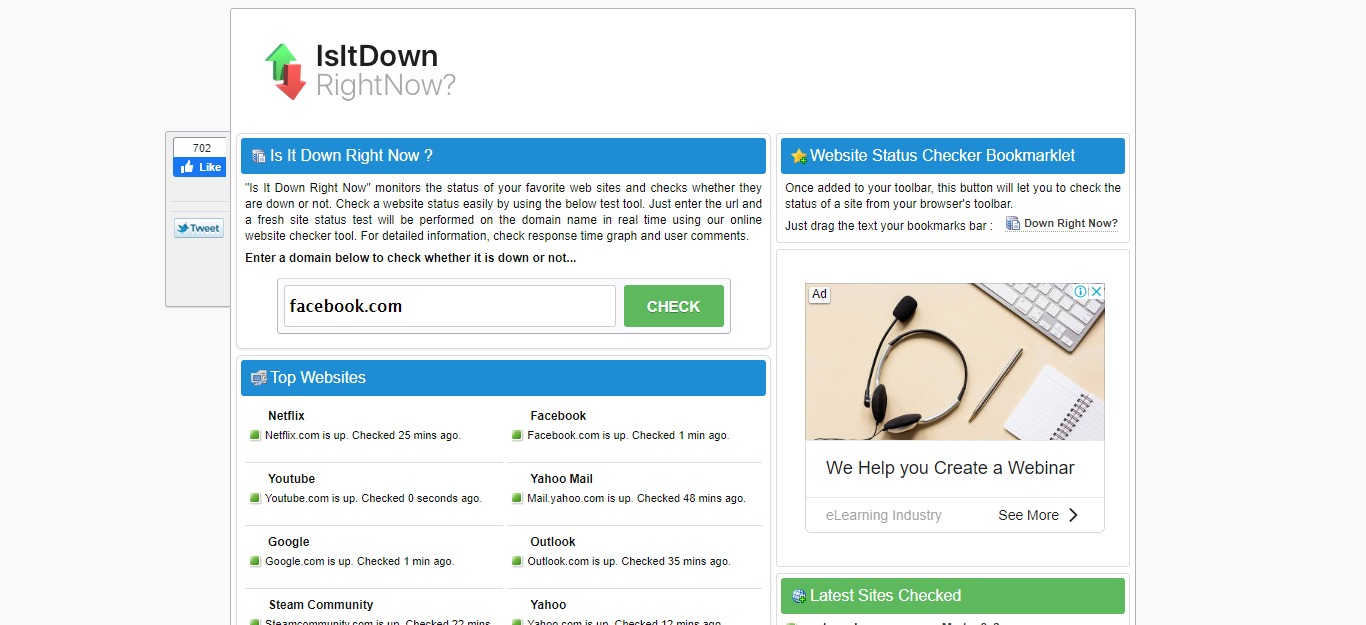 It also provides some more details. For instance, you can see a user rating and a list of connected websites. It also offers a thorough historical record of website uptime.
4. Checking with the HideMy.name Proxy Server
HideMy.name provides a unique solution to test the status of your website by using a proxy server to redirect your site to other destinations and verify its validity. As you may know, using a proxy server to visit a website can ensure that it is accessible from a different location.
This is feasible because the connection will first reach a proxy server situated in a completely different area of the world, after which the server will submit a request to the website, which will be displayed on your screen.
Here is how to conduct a website availability test with this tool:
Go to hidemyname.com and select the "Free Trial" option.
Enter an accurate email address and then click the Get Code button. This will send a free VPN access code to your email, which you will need later.
By selecting the best VPN for Windows, the application may be installed. Alternatively, you may set up the software's Mac, Linux, or Android versions. Choose based on the operating system you use on your machine.
Adhere to the installation procedure. After that, open HideMyName VPN on your computer, and input the code you were emailed.
To check the connectivity of your website, select a certain nation. For instance, we may use this program to see if Hostinger is accessible in Tanglin, Singapore.
Your website is down in that region if you are unable to access it after changing the location of your server. To verify that your site is accessible from various places, try checking from multiple servers.
5. Checking with Uptrends
Uptrends is the last tool we'll be looking at and recommending. This website enables you to determine any problems with accessing your website from various areas throughout the world, just like other best tools do.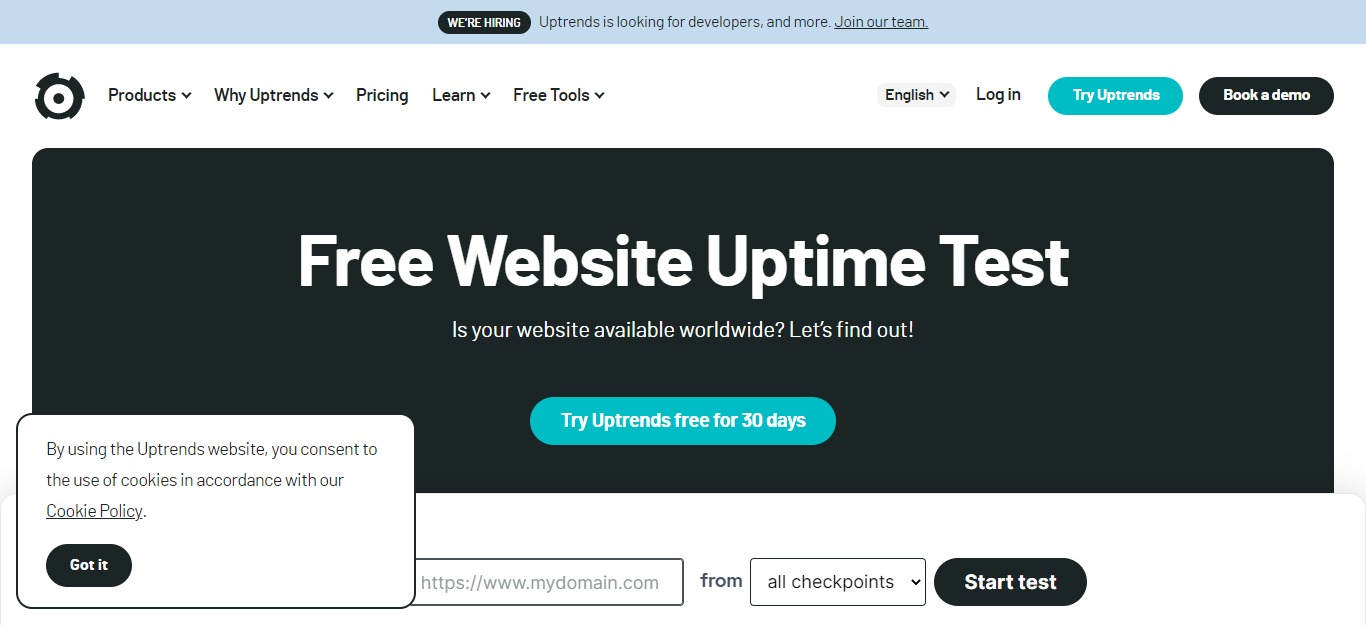 The findings are a little simpler to read and provide the average load time for each place, making it obvious where a problem could be.
This is how to utilize uptrends:
Go to the website: https://www.uptrends.com/tools/is-my-website-down.
Fill up the "I want to test" box with your website URL.
Choose 'all checkpoints' or a particular place of your choice.
Select 'Start Test'.
View your outcomes.
My website is down. What should I do next?
Image Source: blogbackend.bigrock.in
Check Yourself: Is It Really Down At This Moment?
Before presuming your website is down, it's crucial to ask yourself if it's down for everyone else or just you. Use one of the website status checkers we've selected above to determine whether your website is down for everyone or just you.
If only you could access your website,
Using your browser's incognito mode to view the website is the simplest approach. If you can access it, a caching problem could be the cause.
After clearing the cache, cookies, and history from your browser, try visiting the page once more.
One of the most common causes for being unable to access your website is a DNS issue. If you just upgraded your DNS and cannot access your site from a local computer, you ought to verify to see if the new DNS in your region has been updated.
To check if the new DNS has been updated, go to a DNS propagation checker like WhatsMyDNS.net and run a DNS lookup. The checker enables you to compare numerous name servers with different geographical locations to determine your domain name's current IP address and DNS record information.
Try emptying your browser's cache if your DNS has been updated for your location but you are still unable to access your website. This permits you to view the most recent version of your website.
Your use of the best VPN for privacy might be causing another problem. Security software on certain websites can identify this and mark it as a bot. You might wish to try again after disabling your VPN.
If your site is down for everyone,
Image Source: popupsmart.com
Does not everyone have access to your website? Then adhere to the detailed instructions below.
1. Contact your web hosting provider.
A website's downtime might be caused by a variety of factors.
Inquire with your web host's customer service about the status of your website. Inform your web hosting provider of the problem as soon as you see it and inquire about any web server issues.
Additionally, you might wish to request that your hosting provider review your logs for any unusual activity. If they see something strange, a trustworthy hosting company will always assist them and provide solutions.
Consider switching to a reputable hosting provider if you experience frequent outages on your website.
2. Check for malware on your website and fix it.
If you fear your website has malware, a URL scanner is a useful online tool for identifying it. Most scanners only require entering your website's domain name to run an external malware scan. Scanning your site ensures that it is up-to-date and safe. If malware has been detected on your website and you want to identify where it came from, you can begin by looking at the code. The clean code can then have the malware removed.
3. Verify that your domain registration is current.
Finally, check to see if your domain registration fee has been paid. If not, kindly pay the cost so that your website may be launched as soon as possible.
Final Take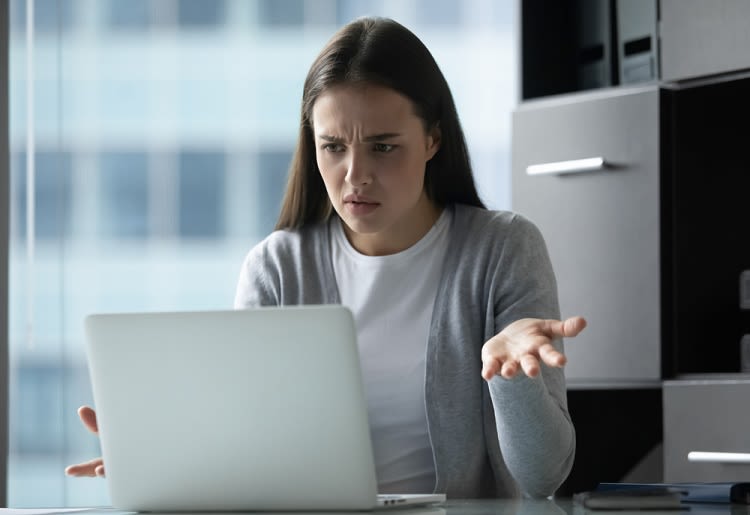 Image Source: top10.com
As an online business owner or a sit owner, you need to optimize your site by paying attention to its uptime. If your website is down for a lengthy period of time, it may expose security issues, reduce traffic, and result in revenue loss.
Fortunately, there are several tools available to determine if a website is down or not. You can view the outcomes of your site status in minutes after entering your domain or other necessary information.
Sometimes users cannot access your website because it seems to be down on their network. You must first search using one of our tools to determine whether your website is accessible globally.
If the website appears to be operating OK, then the user's network is the cause of the issue. The user may need to clean their cache or resolve internet connection issues in this situation.
Note: For more precise results, it is best to test with several tools.