Is it too overwhelming to keep track of all SEO metrics? The digital landscape advances swiftly, and it is not easy to keep pace. Thankfully, a mix of Artificial Intelligence (AI) with SEO can keep you in the race and help you stay ahead in the game. This is why marketers turn to AI to help their businesses rank high in search engines.
AI SEO tools use advanced machine learning techniques and algorithms to analyze and optimize website content and make necessary adjustments to improve search rankings. Therefore, if you are ready to optimize your content to get more organic traffic to your website, let's explore the fascinating world of the best AI SEO tools that will speed up your SEO workflow.
What is an SEO AI Tool?
AI SEO Tool is a software that enables you to track and optimize your website's content for better SEO (search engine optimization) performance. It uses machine learning to analyze your content and fetch the best keywords for your site. It also continuously analyzes the keywords and makes suggestions for improving them.
AI powered SEO tools are helpful to anyone who want to improve their search engine rankings. It is especially beneficial for small businesses that may not have expertise or access to paid services in SEO.
1. Autoblogging.ai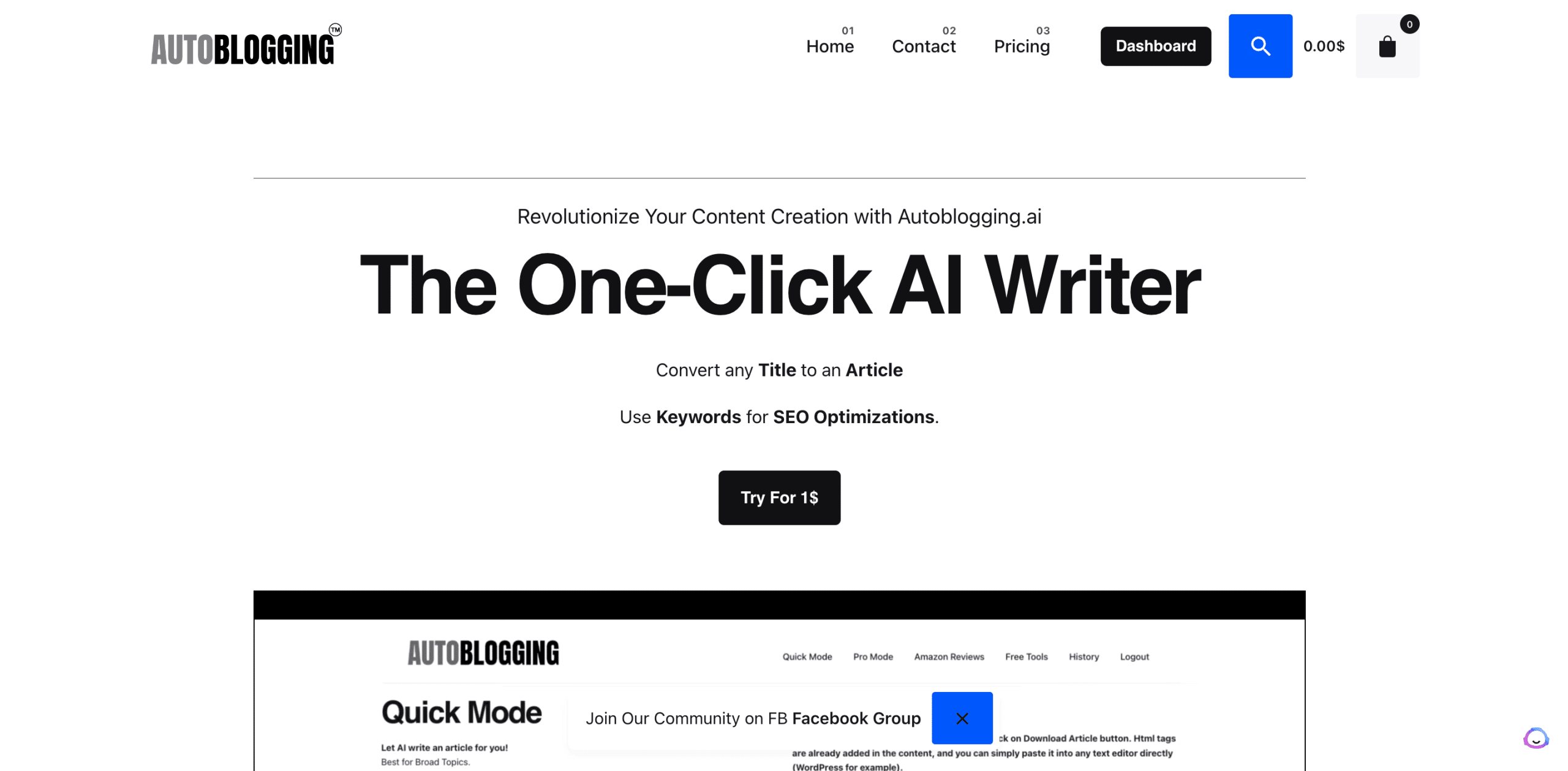 Image Source: eddyballe.com
One of the best AI SEO tool you can use to optimize content is the Autoblogging.ai tool, which generates SEO-optimized articles from scratch or by using long-tail keywords. This SEO AI tool is a unique and compelling content generator that is best for ranking on Google search results. It converts any title to an article and uses keywords for SEO Optimization.
This tool writes articles based on keywords and phrases relevant to the topic. You can use this software to fill a website with content, and of course, the more content on your site, the more consumers you attract. You can also use this software to rewrite the existing content and create unique articles
Furthermore, since this tool enables you to create new and fresh content more often, you will receive better engagement because consistency with AI writing keeps the customers returning to your website, increasing its traffic. It not only generates multiple contents faster, but the contents are high-quality and good enough to pass a Copyscape test.
If you are impressed with this AI SEO tool's features, check out our detailed review for more information.
Pros
Generates more content hence increasing traffic
Helps in ranking for more keywords
Better engagements
Multi-language
Cons
Pricing Plans
Free plan: $1
Starter Plan: $19
Regular Plan: $49
Standard Plan: $99
Premium Plan: $249
2. Surfer SEO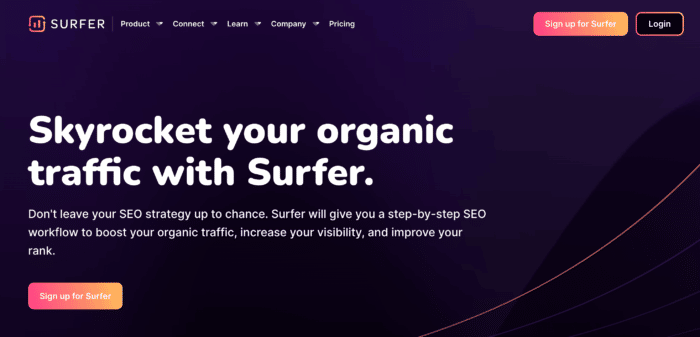 Image Source: hustletostartup.com
Surfer SEO is among the best AI powered tools that is suitable for quick and easy creation and optimization of content for higher Google search engine rankings. It covers a set of tools, including planning, writing, editing, and optimization, that help with SEO content.
Its core feature, the optimization tool, pulls data for your target keyword from the top-ranking pages in the SERP and generates recommendations for what you should include to improve your SEO. It gives you tips on how to optimize your content based on keywords and content structure for better rankings.
Using the Surfer SEO app, you can track your content's progress. It has a visual indicator showing the score, making it easy to understand how well the content will do at a glance.
Additionally, the site audit feature can be used on specific pages or a whole website to find and fix common SEO issues to drive traffic to the site.
Pros
Easy To Use
Jasper integration
Affordable pricing considering its many features
Well Documented
Chrome extension
Quick insights
Make content briefs easy
Accurate data for decision making
Best for SEO Content Writing
Mobile friendly
Cons
Information overload
Needs improvement in loading time
Limited keyword research
Pricing Plans
Basic plan: $59/month
Pro plan: $99/month
Business plan: $119
Enterprise plan: Custom/month
3. WriterZen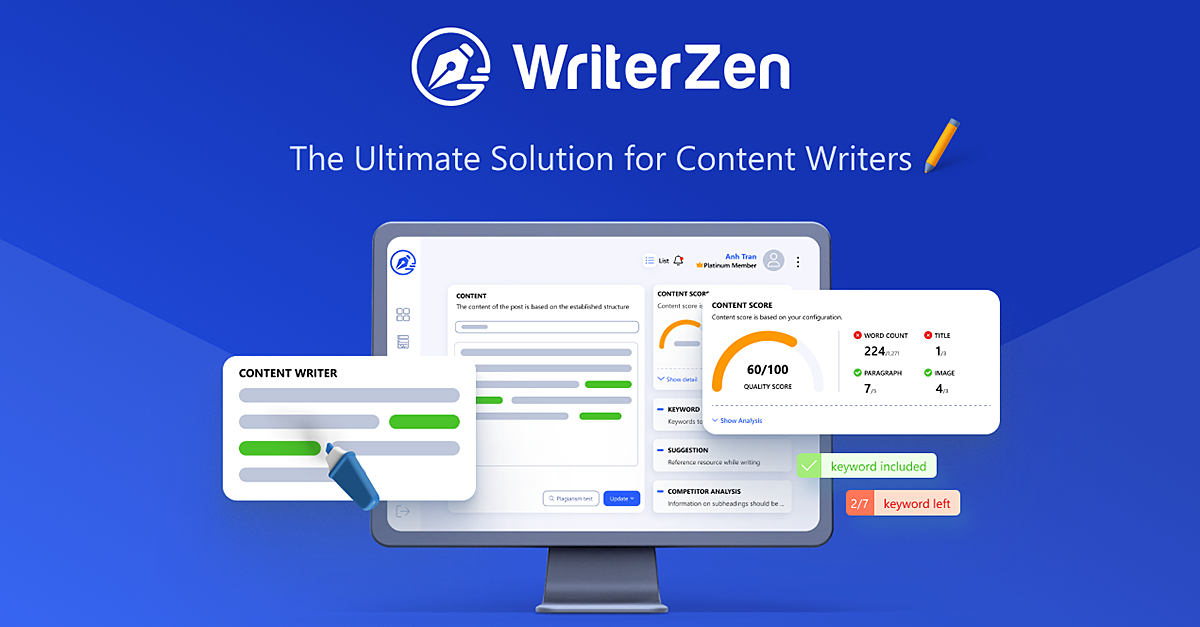 Image Source: writerzen.net
WriterZenis your best bet if you are looking for SEO AI software to create expert-level content but lack the skills or time to do so. It is a powerful AI tool designed to assist with brainstorming, research, and word choice, making it ideal for bloggers and business owners who want to improve their SEO.
It combines multiple tools into one platform, allowing you to develop and streamline your writing and research processes. With Google NLP entities, you'll be able to understand the type of content you should create to be more relevant and rank higher. Some of its key features include clustering keywords, keyword discovery, and submitting multiple keywords to be grouped into topic clusters with ideas for the content.
Furthermore, WriterZen has a user-friendly interface and is easy to use. Therefore, it is an excellent tool for creating customer-focused content and establishing topical authority within a specific market.
Pros
User-friendly interface
Includes plagiarism checker
Combines multiple tools into one platform
Offers suggestions on what to use to improve content quality
Keyword explorer
Cons
It may not be suitable for all types of writing
Cannot add team members
No keyword rank and competitor analysis tracking features
Pricing Plans
Basic plan: $27 per month when billed annually
Standard plan: $41 per month when billed annually
Advanced plan: $69 per month when billed annually
4. Diib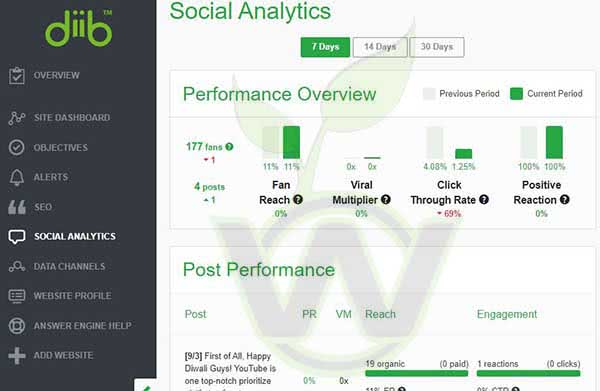 Image Source: weobserved.com
Diib is another excellent AI SEO tool perfect for businesses with multiple websites needing several AI SEO features apart from writing and editing. It allows you to manage all your analytics, track your progress, and identify growth opportunities in one platform.
With Diib, you can improve your website's performance by comparing your website's analysis with those of your competitors to see what you can improve on. This benchmarking helps improve where you are underperforming and keep track of your performance.
Furthermore, it helps you research the best keywords for your content and suggests changes to make to gain authority and be more visible. Even better, if the Google ranking drops, this tool will let you know the affected areas and what changed so you can fix it. Moreover, its Growth plan includes social media analytics that will help you engage your audience with relevant content by being consistently present on social media.
Pros
Affordable
Easy to understand and easy to use
Always Up-to-date.
Reliable suggestions and advice.
Fast scanning and straightforward advice.
A better way to monitor social media page and progress
Tracks your progress and changes due to it.
Cons
Problem with Bad-backlink finding and related objective.
It may repeat some alerts and objectives the following day even after completing it.
Pricing Plans
Free plan
Pro plan: $7.99 per month
5. Frase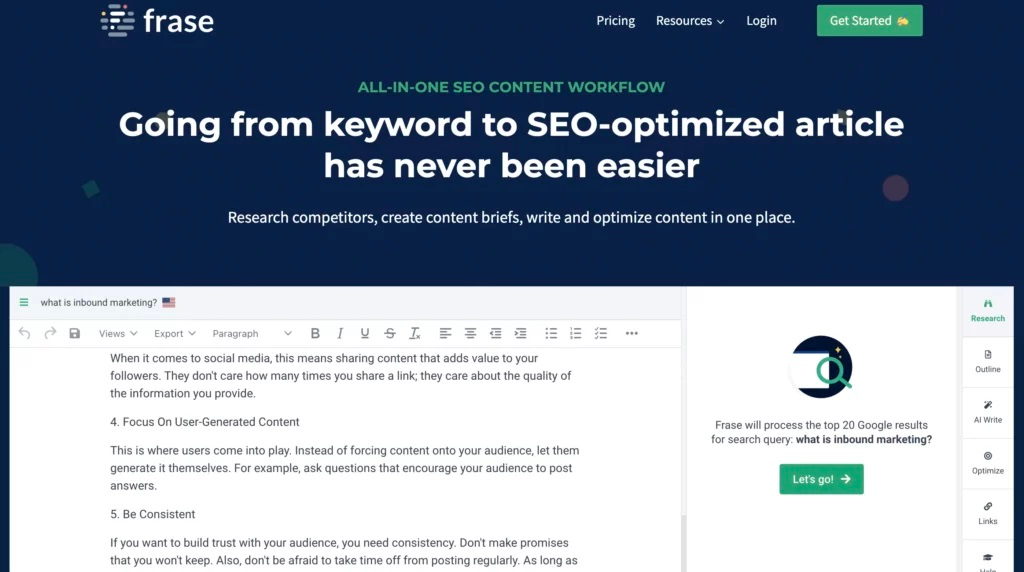 Image Source: selfmademillenials.com
Frase.io is an AI SEO tool that can help you analyze your content and offer suggestions on how to improve it to rank higher on search engine results pages. It is designed to make SEO content research, writing, and optimization easy. It uses natural language processing and machine learning techniques to learn, understand, and interpret content from the web, enabling it to generate relevant content briefs with high efficiency.
While Frase may be considered similar to Surfer SEO, it emphasizes on writing more than editing. It compiles, analyzes, and consolidates the contents that can aid you in creating thorough content briefs within a short time. In addition to covering many short-form templates, it has an AI writing assistant that is more complete and refined than Surfer SEO's AI writer.
A cool feature is that through Frase, you can research the relevant keywords, headings, and outlines used by your competitors from the top 20 Google results. This way, you become aware of your competitor's target and leave no stone unturned.
Also, Frase's easy-to-use text editor grades how well your content covers a topic compared to your competitors'. It also shows you exactly which keywords and topics are missing and provides instant feedback as you fill in the gaps. Frase generates a topic list assisting you in publishing SEO-friendly content.
Pros
Multi-language support
40+ short-form templates
Creates custom templates
Integrates Google search console and Google docs
Has Rewrite and Shorten tools
Performance tracking
Cons
Some users may find it complex
Pricing Plans
Solo plan: $14.99 per month
Basic plan: $44.99 per month
Team plan: $114.99 per month
6. RankIQ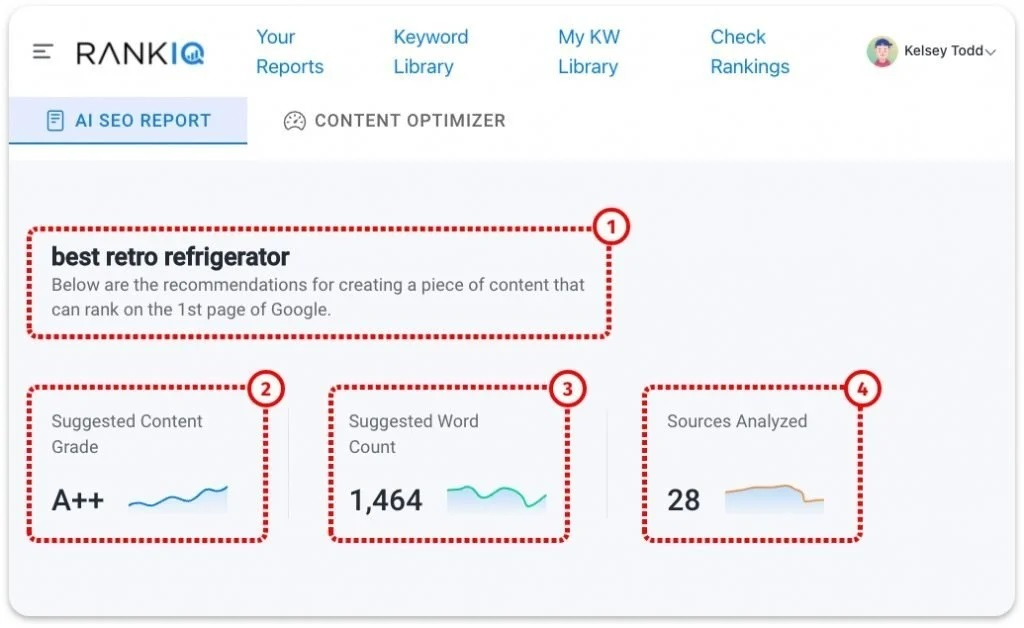 Image Source: thegoldenlamb.com
RankIQ is easy to use and has quality customer support making it easy for businesses and bloggers to automate their SEO strategies to help increase their website's organic search traffic. This AI SEO tool identifies trending titles and content you should write about, allowing you to write optimized content faster. The software features a list of carefully selected, low-competition, high-traffic keywords that can get your blog posts ranking faster.
Keywords are essential to the success of the content, and RankIQ ensures you have the right keywords in your arsenal. Once you've typed your target keyword, the software uses AI to fetch the best results from Google Analytics data. This enables you to create SEO optimized content that can rank on the first page of Google.
RankIQ also prepares a detailed AI SEO report based on results from Google search. This enables you to check any posts not ranking highly and make changes accordingly.
Lastly, RankIQ is easy to use. The interface has an intuitive design. Also, it offers video clips showing you how to use it properly.
Pros
Easy to use
Awesome customer service
Affordable
AI SEO content report
Offers rank tracker and tracker analysis tools
Optimizes old contents easily
Cons
Grammar issues with some keywords
Pricing Plans
Lite plan: $29 per month
Standard plan: $49 per month
Pro plan: $99 per month
Agency plan: $199 per month
7. Jasper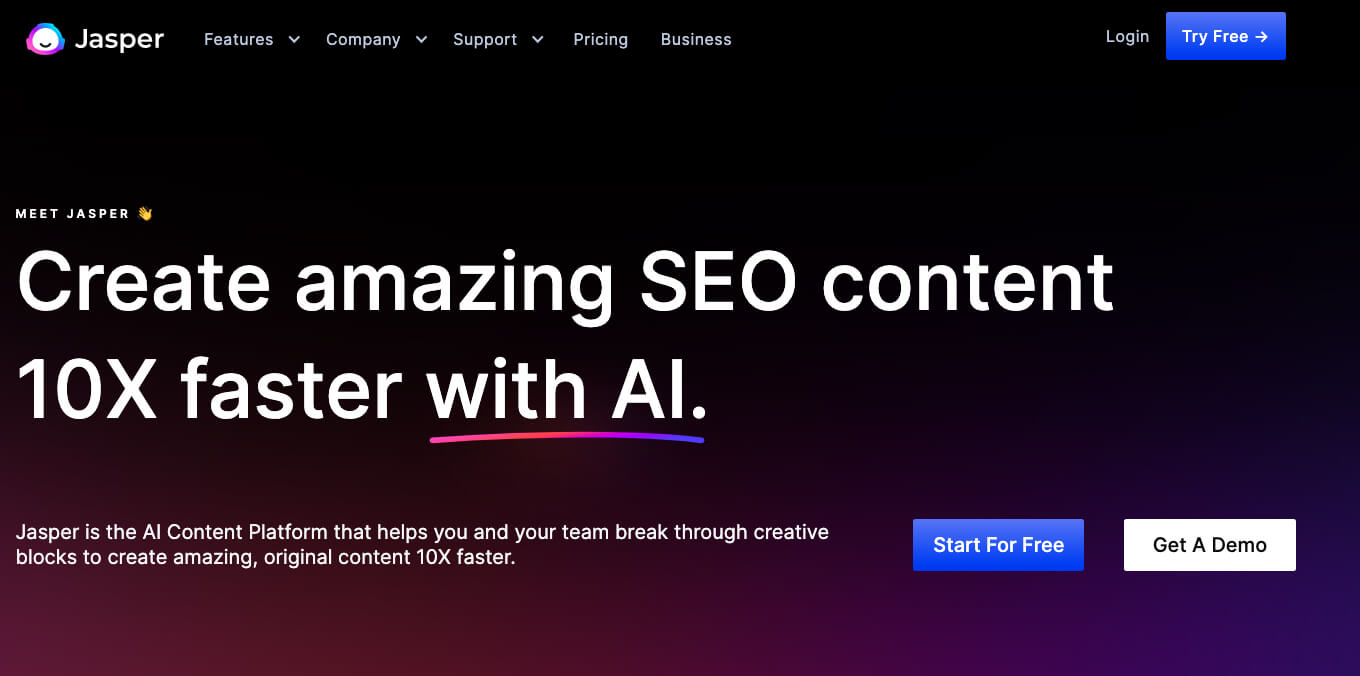 Image Source: greatsoftware.io
Jasper.ai is one of the best AI SEO software tools for its wide variety of usability. With over 50 templates, Jasper is perfect for individuals and businesses in need of assistance with generating SEO-driven articles, blog posts, social media copy, advertisements, and headlines. The machine learning algorithms help you produce SEO-optimized, high-quality content faster and easier.
Jasper's AI-generated content is 99.99% original and plagiarism free. This allows you to create SEO-friendly content in less time. In addition to the 50 templates, its long-form assistant, Boss Mode, unlocks the Surfer SEO integration, and together they give you the best AI-generated content and search engine optimization for quick SEO workflows.
This AI SEO tool has a user-friendly interface and keyboard shortcuts, making it easy to use. Also, it offers a variety of features and is it's available in 25 languages. Generally, Jasper.ai is a powerful tool that helps in increasing productivity. So if you are looking to save time by outsourcing your content creation, Jasper is an excellent investment.
Pros
50+ premade templates
25+ languages
10,000 words credits
Surfer SEO integration
Google Chrome extension
Education resources
Cons
Requires text editing and fact-checking
Pricing Plans
Jasper AI's pricing plans are customizable, so you can choose the best plan depending on what you want to do. Nonetheless, it has 3 pricing plans, including:
Free trial
Starter plan: starting at $42 per month
Boss mode plan: starting at $59 per month
Business plan: starting at $499 per month
8. Outranking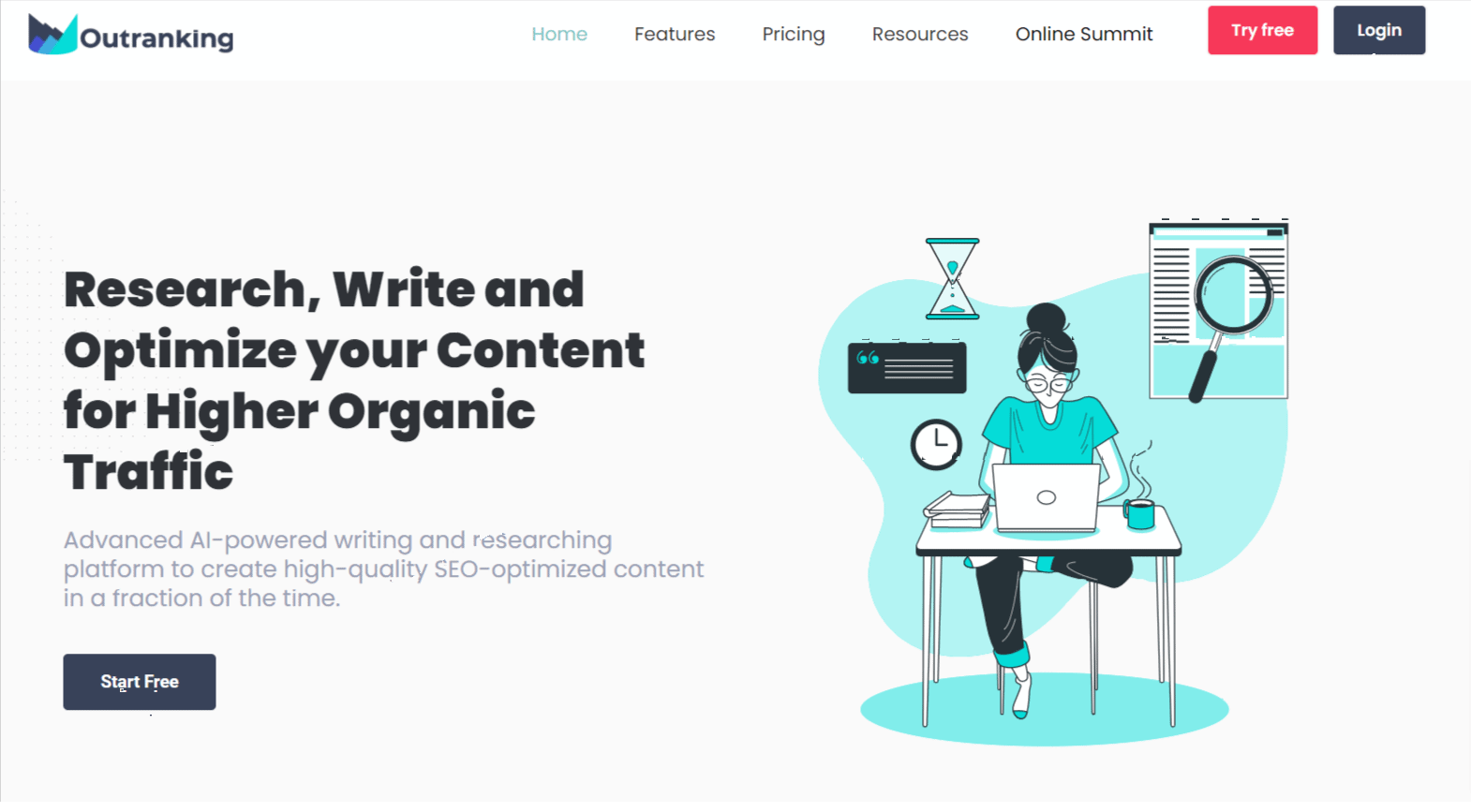 Image Source: bloggersideas.com
Outranking is another AI SEO platform that can help address engagement and organic traffic issues. It makes automatic content hassle-free and simple while targeting organic content through SERP analysis at the same time.
Outranking scrutinizes top search engine optimization websites and uses the information to find opportunities that can help improve your search engine rankings. By using SERP data, it provides you with the automatic creation of drafts faster without sacrificing quality. You can then do further fact-checks, edits, and rewrites where necessary.
It makes SEO a priority in every content created for your site, including blog briefs, outlines, and titles. Besides the Concepts feature, Outranking has a comprehensive SEO Content Editor you can use to improve your SEO. Its ability to research and write high-quality content, combining human and AI automation enables you to get the most out of your content.
Whether you need a social media post, article, website page content, or press release, Outranking does the job efficiently. It is an affordable option that proves to be one of the best tools for companies with smaller teams or solo content creators.
Pros
Easy to use
Includes tons of SEO-focused tools
Uses GPT-3 technology
Cons
Many features may be overwhelming
Search results are not real-time
Pricing Plans
Free plan
Starters plan: $49 per month
Solo plan: $79 per month
Pro plan: $149 per month
Company plan: $219 per month
9. NeuronWriter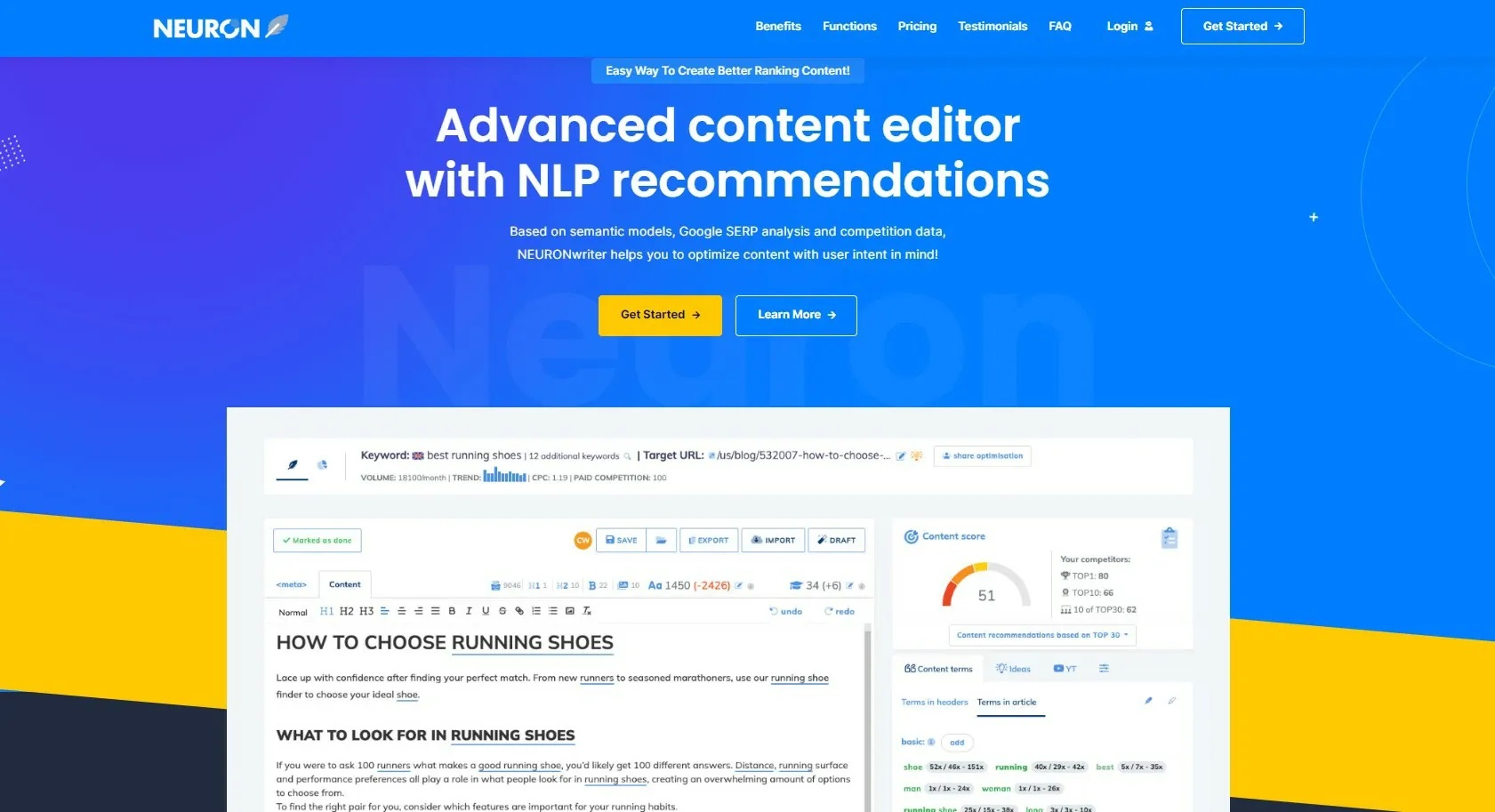 Image Source: droidcrunch.com
NeuronWriter is among the most advanced AI-powered content optimization tools that help you hash out the best social media posts and articles that will rank high on search engines. One of the critical strengths of NeuronWriter is its AI Writer, which generates AI-written content for more effective SEO optimization and writing. Within NeuronWriter's dashboard, you can get data on natural language processing (NLP), Google SERPs and competition insights to create actual content related to the target keyword.
Besides the AI Writer, NeuronWriter features Internal Linking, which gives you recommendations for related sites. This makes internal linking and link-building effortless. Also, the Competitor Analysis analyzes your competitor's successful content to check what's driving their rankings per content in the search engine.
Other add-on features of NeuronWriter include supporting over 170 languages, a Document Management system, and a content planner function for adept SEO content campaigns.
Pros
Easy to use
NeuronWriter Academy
Powerful in-built AI
High number of analysis included
Multi-language
Awesome customer support
Cons
No free trial
No on-page audit feature
You need Gold plan to get all features
Pricing Plans
Bronze plan: €19 per month
Silver plan: €37 per month
Gold plan: €57 per month
Platinum plan: €77 per month
Diamond plan: €97 per month
10. INK Suite

Image Source: vaslou.com
INK Suite is one of the best all-inclusive SEO AI tools combining an AI writer, SEO Optimizer, Copy Assistant, and Content Planner to help you create optimized content for search engines.
Its distraction-free text editor allows you to expand, simplify, or reword any written sentence. Thanks to GPT-3, INK Suites' co-writing capability can generate texts that are on par with a human writer's. All you need to do is type in your keyword of choice, and INK Suite will optimize it.
INK Suite also suggests related search terms for your post and gives you a score based on how it is likely to appear in Google's top ten search results. It checks for the target keyword's correct usage and suggests any relevant content you should include to rank higher on search engines.
Pros
User-friendly interface
WordPress extension
Free plan
Learning resources available
Cons
No mobile app available
Uses only English language
Pricing Plans
Free plan
INK Suite pro: $60 per month
Factors to Consider Before Choosing the Best AI Tools for SEO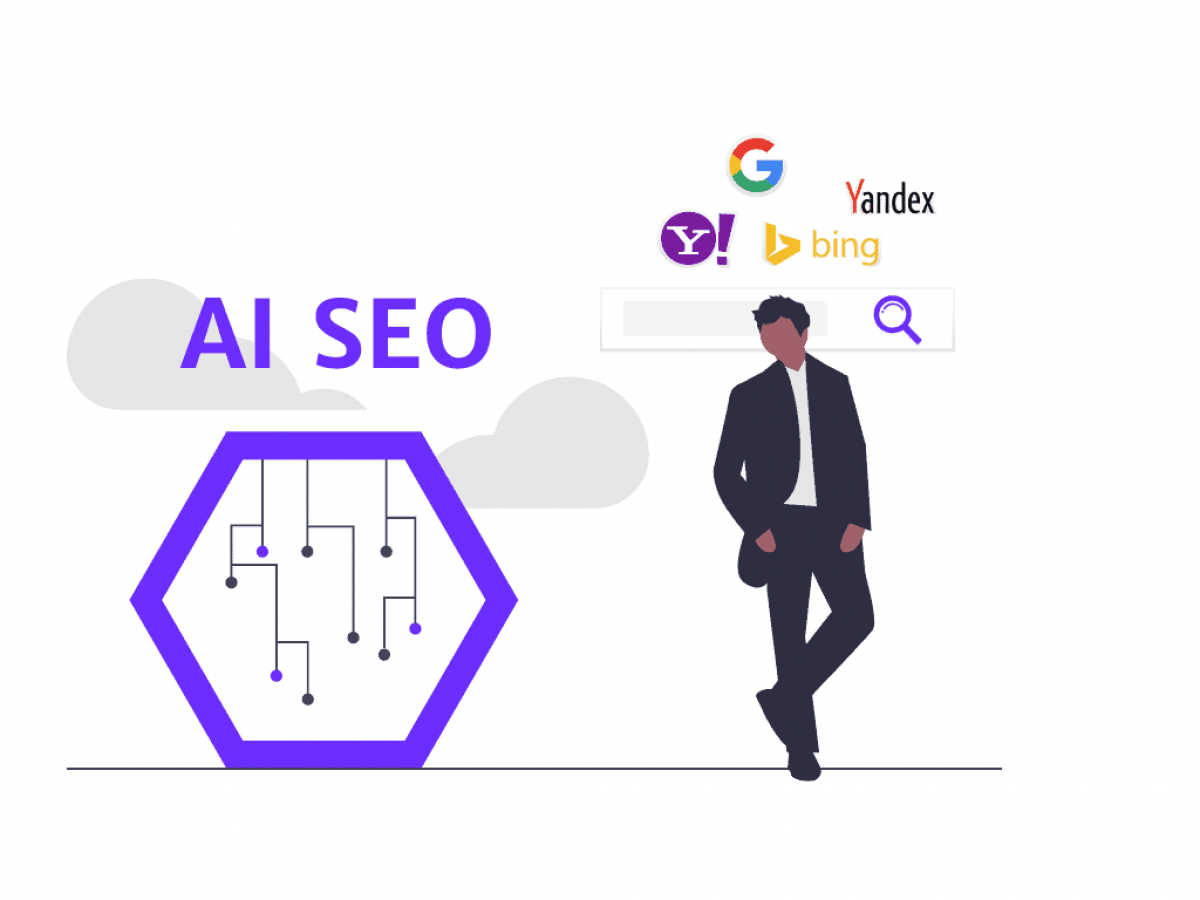 Image Source: thenicheguru.com
1. Pricing
All effective SEO AI tools cost money. Consider your budget and pick an AI SEO tool that suits you. An ideal tool is one that offers AI Writing, content optimization, and content planning features. However, a more expensive tool may offer more advanced features but might not be the ideal solution for your business.
However, the above choices are of excellent quality and represent good value for the money. Nonetheless, you will often bump into a free AI SEO tool that can still deliver, although not the best results.
2. Features
AI SEO tools are utilized in various ways to assist a website in ranking better. To aid in this, most tools include various relevant features, including keyword research, link building, website analytics, SEO data, content creation, content optimizations, and rank tracking, among others. It would be best to determine the most important features to help your business grow and choose a tool that includes those features.
3. Ease of Use
An important factor to consider is how easy it is to use an SEO AI tool. The best SEO AI tool should have an intuitive design that is easy to understand, especially if you are a beginner and not well conversant with SEO.
4. Customer Support
Different companies rank differently when it comes to customer support services. Choosea tool that offers good customer support whenever you need help or has questions regarding the tool.
Conclusion on the Best SEO AI Tools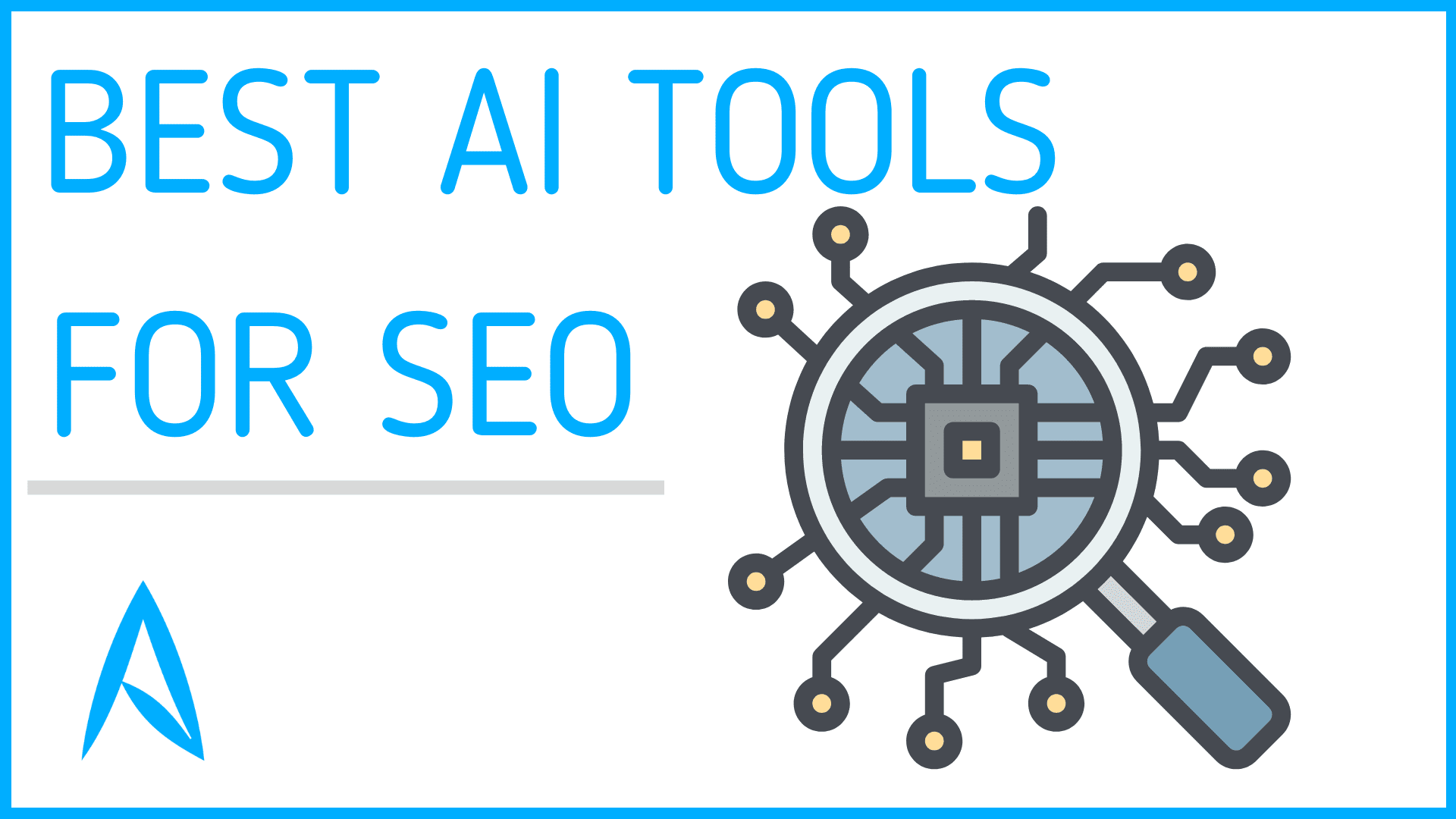 Image Source: amirsinfo.com
AI SEO software has greatly improved the effectiveness and efficiency of SEO efforts for digital marketers and businesses. It is a great help in achieving a higher Google search ranking and bringing in tons of visitors to your website. These tools also offer clarity on the possible weaknesses and suggest how to rectify them faster
According to how the SEO landscape is changing and the competition is skyrocketing, AI SEO tools are becoming more relevant with their advanced analyzing and monitoring capabilities. Therefore, these tools are a must-have for anyone who wants better control over their SEO efforts and to check if their SEO strategy is fruitful.
Featured Image Source: imeanmarketing.com