Are you shopping for the best customer portal specifically catering to B2B agencies and service providers, Service Provider Pro is your best bet! One of the top reasons is that it's designed with simplicity and flexibility, which are necessary for B2B product portals.
Most businesses struggle with setting a framework for success when coming up with their agencies. This is a crucial factor since although you train your team and find clients perfectly if you lack a good system, everything else is useless. So, if you want a detailed review of Service Provider Pro (Spp.co), we have you covered.
Before we get started, the owners of SPP reached out and wanted to offer our customers an extended trial via our link here.
Overview of Service Provider Pro
Service Provider Pro (SPP.co) is an all-in-one platform for agencies to run their businesses. It is meant for agencies that offer web design, content, advertising, SEO, and hosting services.
The software combines client management, time tracking, online invoicing, and billing to assist agencies in delivering extra value to their clients.
In short, Service Provider Pro is a client management and billing software used by productized service agencies. The white-labeled client portal software should be your go-to if you want satisfied clients and also to scale up your team with the role-based permission controls.
How Does Service Provider Pro Work?
Image Credit: spp.co
Service Provider Pro has beautiful order forms integrated with your payment processor, making it simple to sell services. In addition, they feature a dashboard that displays every new order, allowing you and your team to know what to do immediately.
When a client makes an order, SPP automatically registers a client account. So, when clients log in, they can view order updates, documents, invoices, and much more from the central dashboard. In addition, users can now reply to messages by email or through the Client Portal, and everything will be in one location.
Lastly, Service Provider Pro helps you to identify each customer and note their lifetime value, contact information, and previous orders. Then, use the drag-and-drop form builder to develop order forms and forms for project data.
Why Should Agencies Use Service Provider Pro?
Integrating project management and collaboration capabilities within the client portal, Service Provider Pro streamlines operations for agencies. This makes it simple to maintain team organization and progress while giving your clients the required details.
Below are the benefits of using SPP to take your agency to the next level:
1. Designed for Productized Services
Service Provider Pro isn't an all-inclusive, multifunctional solution. Instead, SPP shines in a select range of tasks that are necessary for the sale of services.
2. It Features Multiple Tools Under One Roof
In the past, service organizations have employed various tools to manage specific client tasks. The list includes everything from membership portals, form builders, project management tools, and shared email inboxes.
With Service Provider Pro, you get everything in one convenient location that functions flawlessly.
3. SPP is Easy to Use
Image Credit: spp.co
The SPP software team has tried to keep things as simple as possible rather than create a tool with pages of complicated settings dispersed across dozens of distinct menus. Even though it results in higher development costs for Service Provider Pro, they won't compromise on this.
4. Unique Design and Experience
Most likely, you've used tools that don't look good but perform the job. That is not how SPP works. In fact, within a few minutes of exploring, you'll be ready to develop your first order form and begin selling services.
5. Service Provider Pro Takes Security Seriously
Since SPP is a crucial component of your company, they incorporate all industry-recognized security procedures, such as secured sessions, XSS filtering, SQL injection prevention, and numerous backups.
6. Quick and Responsive Support
Things can often come up, and SPP is always reachable via email if they do. You are more than a ticket number to Service Provider Pro. The people creating the application are the same ones who respond to your emails.
This enables the Service Provider Pro team to understand their users better and respond to any problems you might have more swiftly.
7. You get your client portal
Many large agencies have created client portals with their branding for managing orders, enhancing customer retention, and increasing average order value.
These customized solutions cost thousands of dollars to design and maintain, whereas SPP is ready to use immediately.
Service Provider Pro features handy tools to add customized branding and domains to all client portals.
8. You can Manage your Business from anywhere
Image Credit: thedigitalprojectmanager.com
Service Provider Pro is one of those tools that you can use on your phone to monitor your business anywhere because of its responsive design and simplified user interface. But unfortunately, there isn't a Service Provider Pro app to download or buy; it operates right in your browser.
The professional-looking and intuitive interface guarantee managing your business from anywhere is a breeze.
9. It Helps your Businesses Grow
It's no secret that growing a service-based company is challenging. However, using Service Provider Pro makes it simpler because it has built-in team management features that help you grow and hire more personnel as needed.
With full item-based e-commerce analytics, you can get a detailed breakdown of your sales to funnel in Google Analytics. Analyze which order forms convert more effectively and look for areas that can be improved. You may monitor their performance, impose deadlines, analyze customer interactions, and more.
Lastly, Service Provider Pro allows you to track conversions on your Facebook campaigns using add-to-cart and purchase events, along with a detailed breakdown of line items.
10. Switching to SPP is Easy
Image Credit:
You likely already have existing customer data, payment information, and subscriptions unless you're launching a new firm. Notably, SPP knows that implementing new software can seem intimidating during the early stages.
So, Service Provider Pro assists you with setting up your services, forms, and client panel, and they can also make any necessary customizations. To start selling your services through SPP, you must change the order links on your website.
11. It Comes with a Fast Application
Because of the speed optimization of the Service Provider Pro platform, you may complete tasks fast and without having to wait for lengthy page loads.
12. SPP is keen to listen to Feedback
The Service Provider Pro platform is continually improving, thanks to users' feedback and suggestions. You should think about implementing it since it will help you sell services.
Service Provider Pro also has regular software updates and posts the newest updates on their e-commerce site, or if you subscribe, they can send you the updates through your email every month.
13. SPP Easily Connects to Your Marketing Software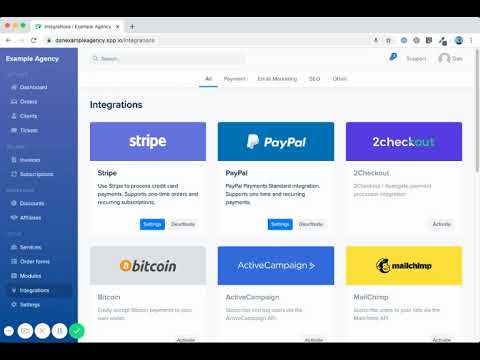 Image Credit: SaaSworthy.com
Customers can use the Zapier integrations to connect Service Provider Pro seamlessly to over 1000 other platforms. Depending on their purchased services, it can also help you subscribe and tag users in your MailChimp and ActiveCampaign lists.
Other notable benefits of agencies using Service Provider Pro include:
E-signatures that allow clients to sign agreements easily thanks to the E-signature feature
Unique tools to assist helpdesk systems set up with in-built collaborative features
An advanced form-building tool that develops simple one-page checkout functions and sales funnels
Sell one-time or recurring offers
One-click payments by Paypal and Stripe
14-day free trial
Service Provider Pro Features
1. Client Management
Service Provider Pro communicates with the customers and delivers work in their client portal. Clients will have their unique login and dashboard area where you can communicate with them.
It also allows you to order extra offers from a user at any time, and you can fit Google Drive or Dropbox into the process. However, the work will be done in a messenger-style format.
Lastly, you can increase retention with customized client onboarding and email integrations to communicate with them what you need from them to get started.
2. Project Management Tool
Service Provider Pro allows you to manage your assignments and also your team. You will not need anything else to manage your projects, keep track of customer communications, or control and manage payments.
You can add your team to the billing software and assign them tasks if you need to. This can be done either manually, or you can create custom rules to assign tasks in your preferred way.
3. Order Management
Image Credit: spp.co
Order information is updated automatically whenever a customer fills out a form. You can sell services with order forms, replacing invoicing software like Freshbooks.
There are other ways you can sell services:
One-time services
Subscription services
Customizing projects with special quotes
Additionally, you can add upgrades to purchases like a faster turnaround to increase the value of every customer. You can also show them inside the Service Provider Pro client portal if you have multiple offers. This allows you to upgrade or purchase from "shop" anytime.
4. Manage an Affiliate Program
Image Credit: spp.co
One of the most effective business growth strategies is the use of affiliate programs, and Service Provider Pro comes with a respectable one already included. You can choose who can promote your services and set commission rates by manually reviewing affiliates.
Customers will get instant access to a referral link without needing to register on any third-party platform. However, the SPP software doesn't hold funds to allow you to pay your affiliates through Paypal mass payments or account balance.
Lastly, Service Provider Pro has an account level tagging, where affiliates can receive commissions on the sales over the customer's lifetime.
5. Reseller Program
This great feature allows any other company to white label your services. You sell them at the standard price, complete their orders, charge customers whatever they want for the services, and profit from the difference. Unfortunately, it's only accessible on Pro plans and higher.
6. Shopping Cart
Service Provider Pro helps to choose a service or a product displayed on a website, order it and finally help with the purchasing process.
7. Client Portal
Service Provider Pro is a facility for clients to view and track their progress through the client portal to access select files, information, documents, and projects.
What is the Service Provider Pro Pricing Plans?
Image Credit: spp.co
Service Provider Pro has no free plan but comes with different pricing structures, including:
1. Starter Plan
$49 per month when billed yearly.
Only two team members
No transaction fees
2. Basic Plan- Suitable for Small Shops
$99 per month when billed yearly.
No transaction fees
All starter features
Includes 5 team members
You can use your own domain
It has a helpdesk module
3. Pro Plan- Suitable for Established Agencies
Image Credit: zapier.com
$249 per month when billed yearly.
It has all the basic features
Includes 10 team members
You can use it with your own domain
SPP allows you to create a reseller plan
Allows you to edit client-facing pages
Removes the SPP linkback "powered by"
In addition, there are customized pricing details for enterprise solutions if you need more than 50 team members. There are also bonus features such as access to the API, custom rules, and workflow. These costs shouldn't be an issue if your agency operates on a large scale.
The costs for the above Service Provider Pro plans are indicated in annual payments. However, expect to pay, on average, 30% extra if you pay monthly.
All the pricing plans include:
A Client Portal with the agency's branding
Unlimited orders, clients, services, affiliates, forums, order forms, and contact information
A drag and drop builder for intake forms
Unlimited order messaging through an email or portal
Priority email support
Customizable client portal menus, colors, and languages
Are Service Provider Pro Payments Secure?
Image Credit: spp.co
Yes. You are guaranteed secure and compliant payments since checkout is the lifeline of your business, and you need to be sure that it's in good hands. To ensure there are secure payments, Service Provider Pro offers:
PCI-compliant payments that are paid directly to your Paypal or Stripe
You get proper invoices, which are automatically created for all payments, and they can also be exported for accounting
It is backed by AWS (Amazon Web Services) cloud infrastructure, helping you secure your data and absorb traffic spikes
Supports VAT, GST, and HST, where the tax charged is based on the customer's location and also gets the reports on the collected taxes
A manual payment option can also be used for bank transfers or when clients want to pay you outside Service Provider Pro
Is the Service Provider Pro Worth it?
Image Credit: Captera.com
Of course, yes! Service Provider Pro does what it says it will do while being simple yet effective. It comes with all the features you would need to ensure dealing with your customers' orders is easy, quick, and responsive.
Although there are plenty of Service Provider Pro alternatives, some claim to give more features, which is not necessarily an advantage. This is because, in the world of SAAS, more often means under-average solutions to many things meaning you will have a lot of features but not the best quality.