Twitter has over 320 million active monthly users, and about 51% of these users earn more than $50,000 per year. These numbers, together with the purchasing power, tell you just how significant Twitter is to any business. After all, leveraging it means qualified traffic to your blog, website, or product page.
However, tweets have a limit of 280 characters which sometimes is not enough to capture a conversion. Although you can always add an eye-catching photo, you may wish your Twitter audience could take action, like signing up for your email list or downloading your new app from a tweet without ever leaving the social platform.
Twitter cards give you the power to convey much more useful and engaging information without violating the character limit. You can add a photo, an article summary, a youtube video, and much more to your post. We will review everything you need to know about implementing Twitter Cards to improve your social media presence.
What Are Twitter Cards?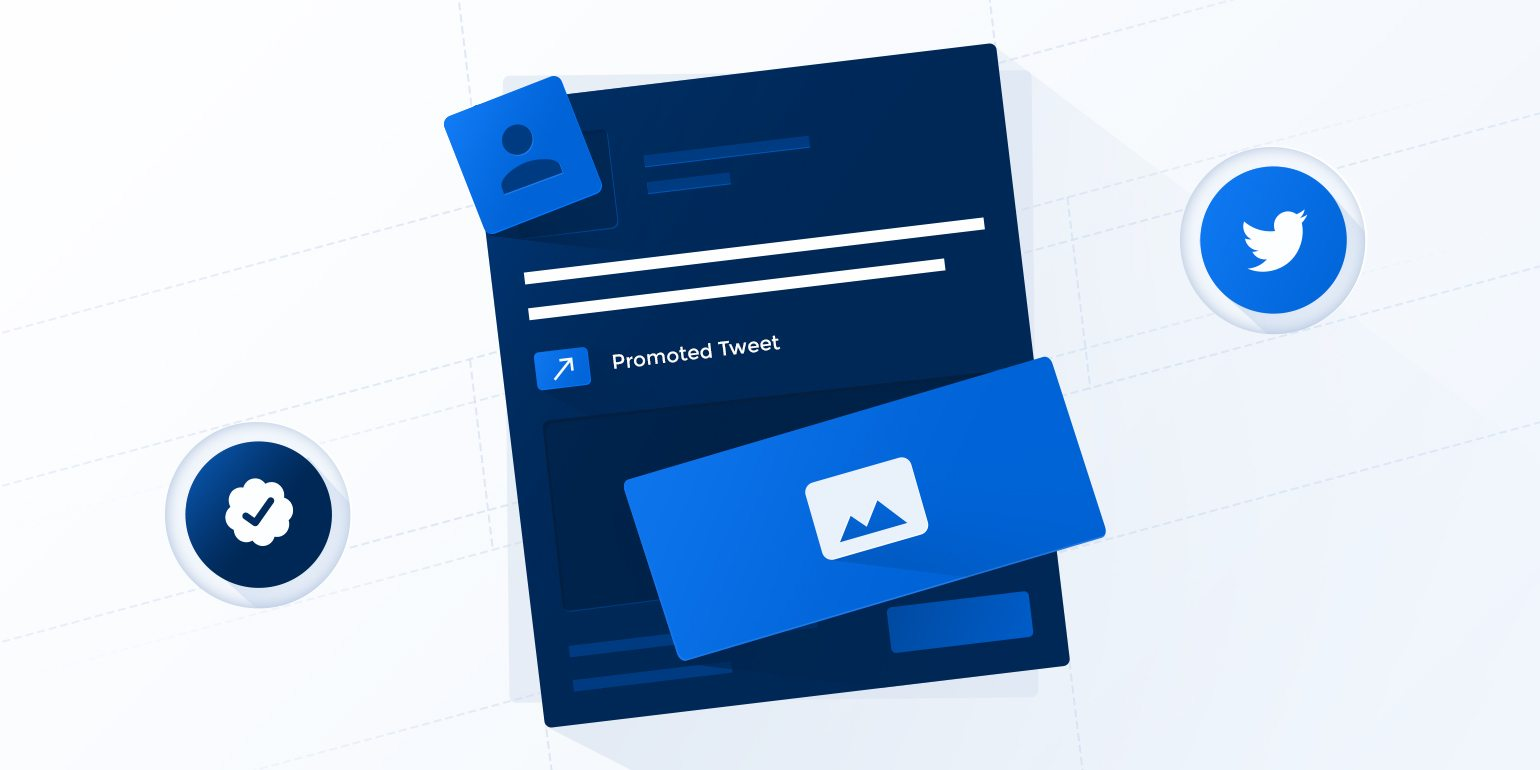 Image Credits: Instapage.com
Twitter cards were designed when the character limit was only 140 characters to allow people to go beyond the restrictive cap. However, this character limit was increased to 280. For Blue users, the character limit was increased to 4,000 and recently to 10,000. Twitter Blue Subscribers have a cap of 10,000.
Twitter cards can be defined as content shared in your tweets to promote your products or services and may include video, audio, and other media attachments. The Twitter card infrastructure allows users access to rich media such as Vines, YouTube videos, and Photos.
Using Twitter cards gives you more visibility on Twitter, which can lead to increased website traffic and a higher SEO ranking. They help you earn more followers through interactions, encourage customer conversion and make your tweets more attractive, leading to more clicks. After all, Twitter cards are a visual component of your posts that help you stand out from millions of daily updates. They give you more space to engage your followers.
You can use Twitter Cards to tell your audience to view an image, watch a video, download an app, visit a landing page, and more.
Importance of Twitter cards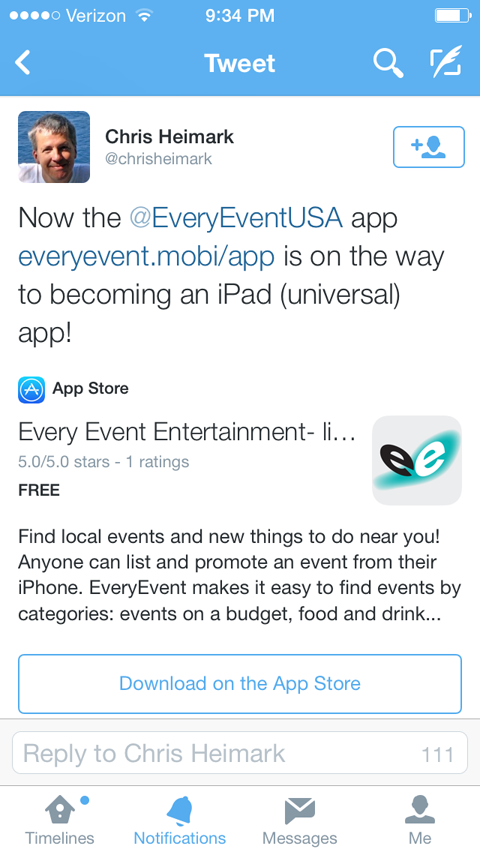 Image Credits: Socialmediaexaminer.com
Besides increased engagement from your tweets, Twitter Cards have other benefits to your account, which include:
Increased followers
Highly attractive posts
High conversion rates
Increased web traffic
A great mobile experience for your audience
Customized titles and descriptions for your post photos
A consistent look for your posts
Types of Twitter cards
Four Twitter cards are available, which work differently for various Twitter users to help with different marketing goals. They include:
1. Summary Card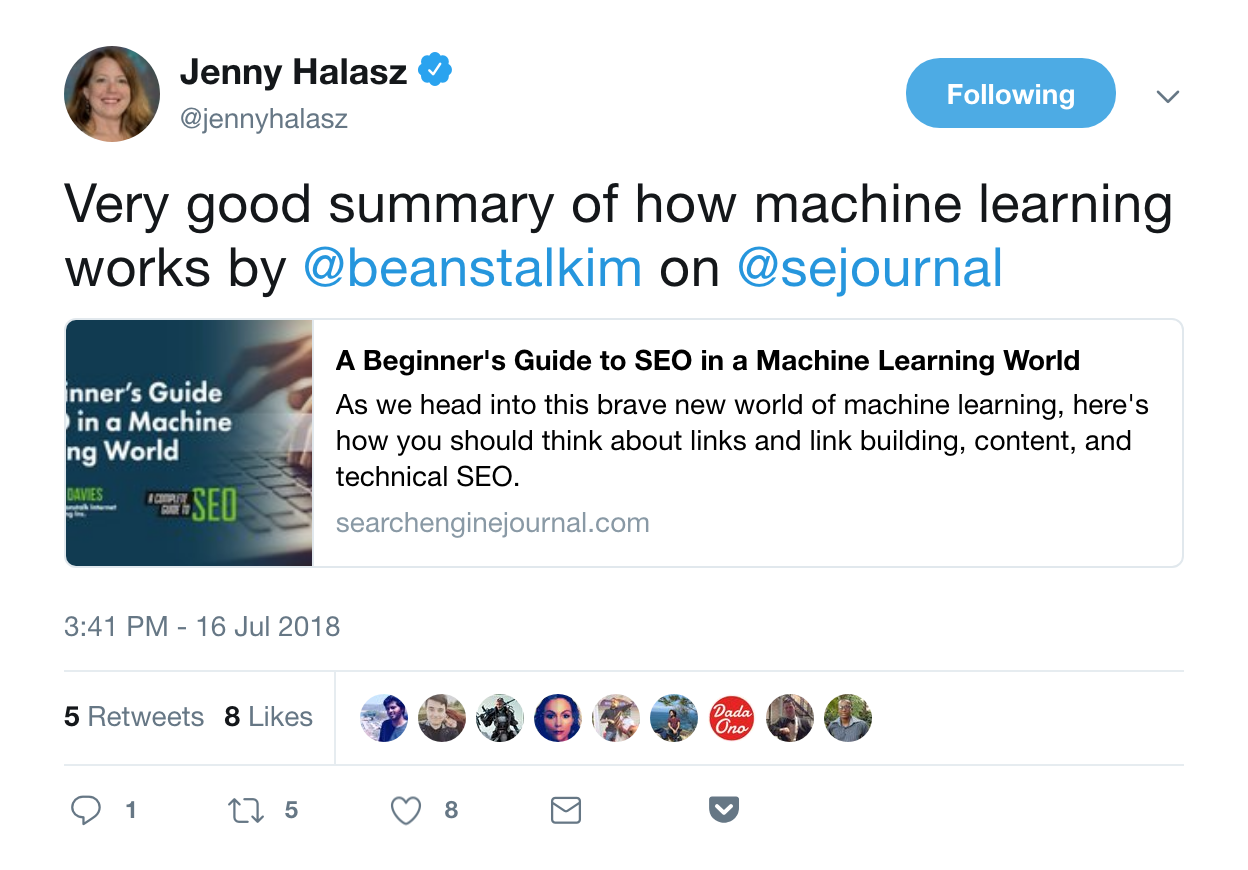 Image Credits: Contentkingapp.com
This is the default Twitter Card, and it includes a title, description, image, account attribution, and link to the content. It summarises your tweet by presenting a preview of your site content. The site URL is displayed at the bottom of the Twitter smart card, a strategic position to boost traffic to your sites. This is the best card to use if you want to promote a new article in your blog, demonstrate a new product feature, or announce your brand's news. You can also use this card to give a shoutout to businesses that mention your brand.
2. Summary Card with Large Image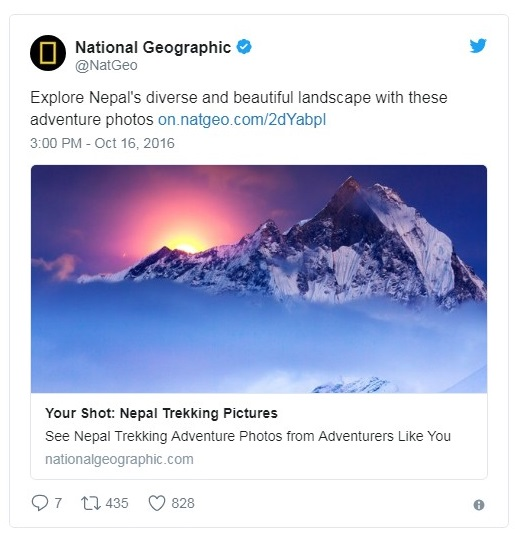 Image Credits: Stackoverflow.com
There's no big difference between this card and the summary card discussed above. The main difference is the thumbnail image size. The card gives up some description space for a big beautiful image. Most businesses use this Twitter card when they want to capture user attention.
This card is best for Twitter users who produce highly visual content. For example, users need to display a thumbnail of their logo, demonstrate new products, highlight an important statistic, or show an image of an infographic.
3. Player Card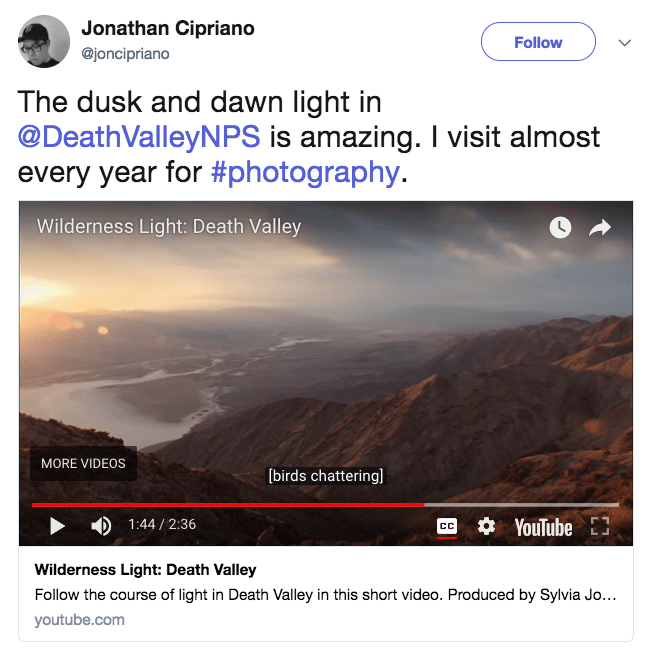 Image Credits: Ampfluence.com
This card displays multimedia content, including videos and audio. After all, multimedia content is undoubtedly taking over every social media platform. Twitter's live-stream events to a global audience have increased drastically in recent years. As the video content audience increases, you can take advantage by using the player card.
The player card offers plenty of ways to interact with your customers. However, this card can be more complex than the rest, so ensure that your media matches the requirements. The specifications for video are Baseline Profile (BP), level 3.0, H.264, and up to 640 X 480 pixels of video dimensions. The audio specification should be a Low Complexity Profile.
4. App Card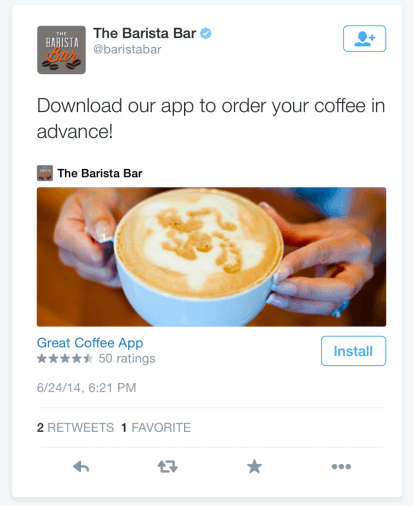 Image Credits: Ampfluence.com
Twitter App Card is ideal for users who wish to drive traffic directly to an app. Businesses focused on giving their customers an all-around mobile experience will use this card to promote mobile app advertisements to their users.
The App Cards show a preview of the app icon, a description, and your app's rating. If you have a new or existing app that you would like to inform your users about, this is the perfect card.
How to Get Started with Twitter Cards
To use a Twitter card, you will need to place an HTML code on the backend of your website. This can be quite challenging, especially if you are a novice at programming. It is not as straightforward as LinkedIn and Facebook, where you can edit what the post displays before publishing it. However, you can use various methods to access and test Twitter cards before publishing them.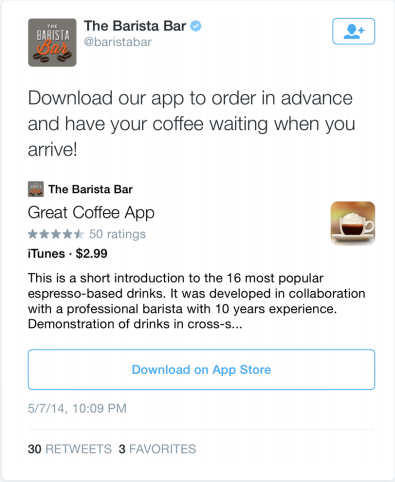 Image Credits: Strikesocial.com
If your WordPress site is self-hosted, it is best to install a plugin that enables you to add code to your website easily. The two most popular plugins that you can use are the Yoast SEO plugin and the JM Twitter Cards plugin because they require no coding skills.
You can also visit the Twitter Card Page and pick the card that you want to use. On the Twitter Card Page, it is easy to set up all the individual specifications of your card and get your code to embed on your site.
Following the Twitter Card Page instructions is the easiest way to start using your Twitter Cards. Follow these prompts:
Choose your preferred card type.
Add the necessary meta tags to the page.
Run your site's URL through the validator tool to test.
You will get a code that you will use for whitelisting. Place this code on your website.
After whitelisting, post your URL and see how it displays on your Twitter account in the details view before publishing it.
How to Preview Twitter Cards
It's good practice to preview your Twitter card before posting it. This will help you ensure that your post appears as you expect it and that they work correctly. This is a great opportunity considering the importance of brand reputation to any business.
Use a Twitter Card rendering tool to ensure your cards work correctly. To use it, copy your web page URL into the rendering application. If your card works well, you will see a card preview with other details, like how many meta tags you have installed.
Using Twitter Analytics to Measure Twitter Cards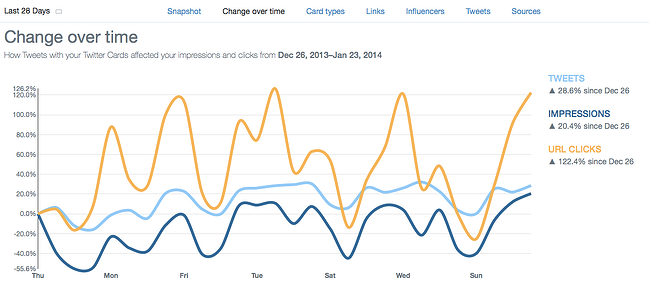 Image Credits: Blog.hubspot.com
Once you have successfully set up your Twitter cards, you will need to optimize your campaigns. Just like SEO analytics, Twitter Cards Analytics shows you the exact traction that you are getting from each of the Twitter cards codes you've implemented.
Some of the insights you will get include:
Snapshot: It helps you quickly see how your cards and tweets drive shares, traffic, and installs. If you want to find out more about a specific conversion, you will click on the circle indicating a snapshot.
Tweets: This analysis shows successful tweets inside and outside your profile. They will tell you which of your posts led the most customers back to your website.
Links: They help you see your best-performing content; those doing well in terms of clicks and impressions will appear at the top of the page.
Influencers: Your top influencers are the posts that had the biggest impact on your clicks and impressions.
Change over time: This is a graph that shows the impressions, clicks, and tweets of your Snapshot to demonstrate your growth. It appears as a 25-day rolling image.
Twitter Cards Best Practices for Success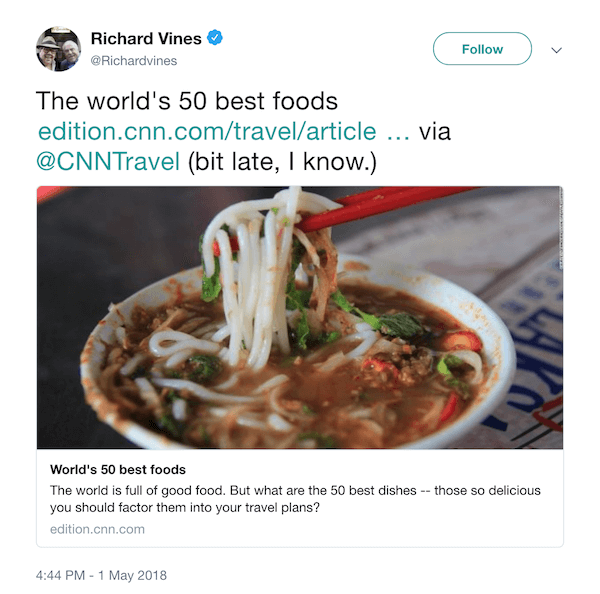 Image Credits: Contentkingapp.com
Twitter cards are still a very relevant social media feature in today's business world. They are still one of the best ways to stand out for businesses that want to get attention and drive conversion to their website.
Consider these strategies when adding Twitter cards:
1. Capture People's Attention
Give people a reason to click your tweets, whether they are browsing on mobile or desktop. Capture their attention by pinning your latest card at the top of your timeline. This is also a great way of improving your mobile SEO strategy and getting leads from mobile phones. Anyone interacting with your profile will see this card and are likely to click on it.
You can also focus on creating a compelling copy user can't resist clicking it.
2. Use Captivating Images
Great images will attract your target audience to your Twitter cards. Tweets with images attract 18% more clicks than those without, and you don't want to miss out on this opportunity. Twitter lets you adjust your images to fit your post. However, don't let it do all the adjusting, as the images may appear overstretched. Work on your profile's appearance to fit your brand, increase its reputation, and boost conversion. Ensure that your pictures are compelling enough to drive traffic to your site.
3. Use Hashtags
Hashtags are a crucial component of Twitter posts. Research and use them when publishing your Twitter cards. You can use your hashtags to carry out a campaign or to ensure that people find your posts when using specific keywords.
Use hashtags that attract the most attention on Twitter and use the same keywords to connect with these customers.
4. Create Short and Valuable Content
The featured image and video or audio in your Twitter card contain enough communication that you want to put across. That means the 10,000-character limit is more than enough to write your copy. The best Twitter cards contain a short and compelling introduction that is used to draw attention and convince customers to click.
Conclusion
Using Twitter cards on your website will greatly improve its traffic and attract a valuable audience. Visual content makes your posts stand out and attract clicks. The rich media that Twitter cards produce via video and images encourage customers to interact and engage with your content.
Image Credits: Create.twitter.com