According to Google, B2B buyers conduct research through search engines to influence their decision-making process. The study also shows that most B2B buyers conduct at least 12 online searches before interacting with any website. Therefore, it is now more important than ever to employ the best B2B search engine optimization strategies for your business to be discoverable to other businesses looking for solutions.
This article is best for you if you have launched your online business and don't know where to start with B2B SEO. Our ultimate beginner's guide will detail what B2B SEO is, how different it is from B2C SEO, and the basic steps you can follow to improve your business' discoverability on search engines like Google and Bing.
Let's get started!
What Is Search Engine Optimization (SEO)?
Image Credits: scoopfed.com
When trying to understand the basics of business-to-business SEO, we want to tell you the meaning of SEO, so we can later differentiate between B2B SEO and B2C SEO.
According to Hubspot, Search Engine Optimization (SEO) is a strategy you use to ensure your website ranks high on search engine results pages, also called SERPs. Ranking high on SERPs guarantees your website outperforms your competition by making you more visible to search engine users looking for solutions like products or services you offer.
When developing an SEO strategy, it is best to target all search engines like Google, Bing, DuckDuckGo, Yahoo, Baidu, and more. Here is our comprehensive list of the best-performing search engines in 2022.
What Is Business-to-Business Search Engine Optimization (B2B SEO)?
Business to Business SEO is a digital marketing technique that helps businesses target other businesses that are looking for solutions through services or products.
So, B2B SEO is a strategy you employ to rank higher on SERPs than your direct competitors, making your website visible to businesses or business buyers who can benefit from the solutions you offer.
This marketing strategy focuses on keywords that decision-makers from your target companies use when looking for solutions to purchase.
How is B2B SEO Different from B2C SEO?
Image Credits: blog.shift4shop.com
B2C stands for business-to-consumer. The SEO strategy here targets consumers, i.e., people searching for a product or service to buy. So, unlike B2B SEO, B2C targets individuals rather than businesses or company leaders.
That said, there are no different search engine algorithms for both types of digital marketing. You use the same strategies but target different audiences.
It is only when you consider the target audience that B2B and B2C SEO strategies look different. Here are some key differences to note:
B2B targets low-volume keywords compared to B2C's high-volume keywords targetting
B2B SEO is designed for company decision-makers compared to B2C SEO's broad audience
B2B content is more formal or tactical compared to B2C content
B2B keywords have a high cost per click compared to B2C keywords
Are you ready to create a B2B SEO strategy that increases your brand awareness for better relationship building? Read on as we show you how to navigate the basics below.
What Is a Good B2B SEO Strategy?
Image Credits: softwaresuggest.com
A good B2B SEO strategy creates an easy-to-climb ladder for convincing company leaders to purchase products or services from your company. As such, you need to answer three main questions before developing a strategy. These are;
What are your potential customers (business buyers) looking for?
How can your business help business buyers solve their problems?
How can you convince search engines that your business can satisfy your audience's needs?
When you answer these three questions, developing a powerful digital marketing strategy is next. But first, you need to understand the basics of B2B SEO so you can prepare your website to start targeting company leaders.
What Are the Basics of a Good B2B SEO Strategy?
B2B SEO relies on three broad categories:
The content you have on your pages; on-page SEO
What you do outside your pages; off-page SEO
How easily visitors access your web pages (your web pages' ease of navigation); technical SEO
Here is a better representation of these three categories so you can start working on them now.
a) On-page SEO
Image Credits: seotraininglucknow.com
On-page SEO is the content on your web pages that will attract business buyers to work with you. It is also called Content SEO, but there is more to it than just content about your business or the solutions you want to sell.
You need the following for good on-page SEO:
Content is king, so you need trustworthy, authoritative, and informative content to attract your audience
Keywords that your target audience identifies with
Title tags and Meta descriptions for search engines to display impressions about the site
Header tags that increase your content readability
Visual assets like images, videos, and infographics. Remember to use Alt tags to identify your images
Geotagging for local B2B SEO
Good URL structures
b) Off-page SEO
Image Credits: portent.com
Off-page SEO refers to the strategies you employ outside your website to increase brand visibility and credibility. The tactics you employ here do not involve publishing or updating content.
You can do the following for good off-page or off-site SEO;
Link building by replacing broken links, performing link reclamations, reaching out to unlinked brand mentions, and promoting linkable assets
Performing content marketing by conducting interviews and surveys, guest publishing blog posts, creating infographics, and writing whitepapers or ebooks
Performing social media marketing
Creating podcasts and videos
Ranking keywords
Ensuring your website loads fast
Optimizing your website for mobile users
c) Technical SEO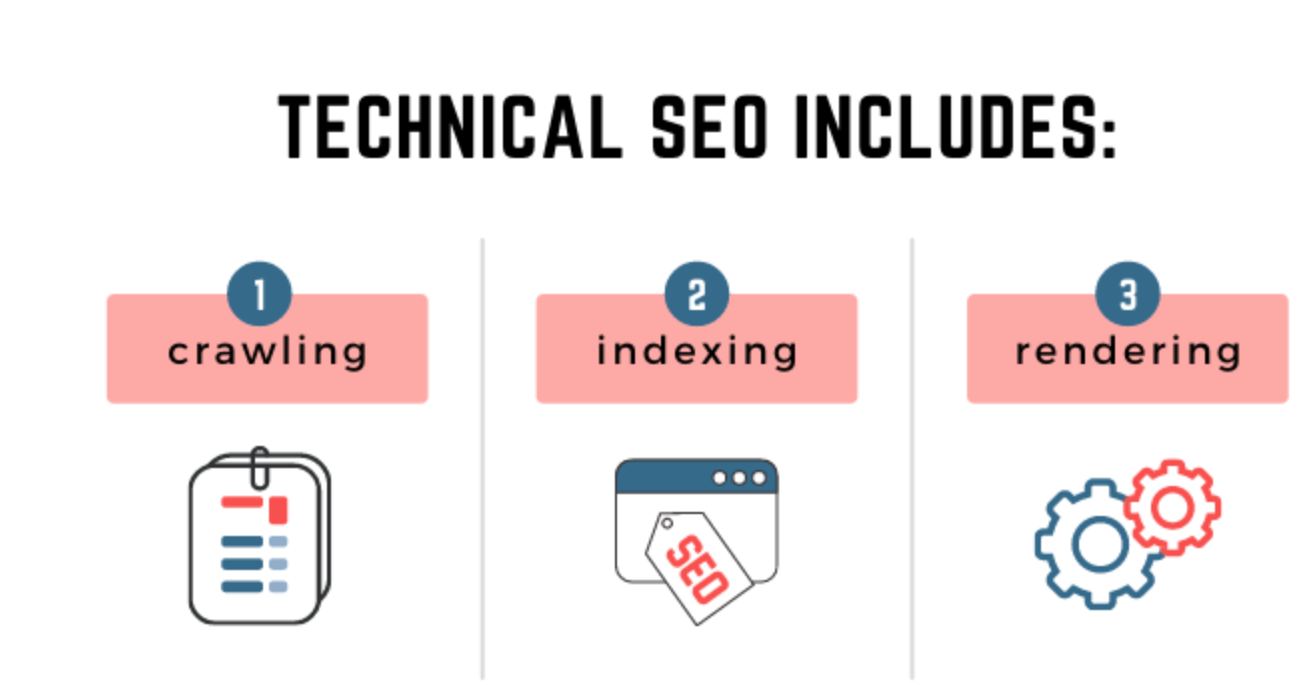 Image Credits: wishdesk.com
As the name suggests, this SEO category ensures your website is easy to find, index, and crawl by search engines. It also includes optimizing your website for fast loading, mobile users, and security.
While some of these functions also fall under the off-page SEO category, you may need to work on them more under technical SEO.
Firstly, ensure your website protects visitors from viruses using the HTTPS page security protocol. Then, include the following solutions as part of your site's technical SEO:
HTML and CSS tags to help search engines categorize your content
Use the appropriate robots.txt files for search engines to navigate your pages
Create an XML sitemap, so search engines can direct business buyers to your content
Remove dead links or 404-page errors
Remove duplicate content
Structure your page data with Schema
Use hreflang tags if you target international business buyers
How to Develop the Best B2B SEO Strategy
Now that you understand what your site needs, it is time to develop a good SEO strategy for your B2B business. This strategy aims to win organic traffic and, thus, business buyers.
So, where do you start as a beginner?
Step 1: Generate Your Business Buyer Persona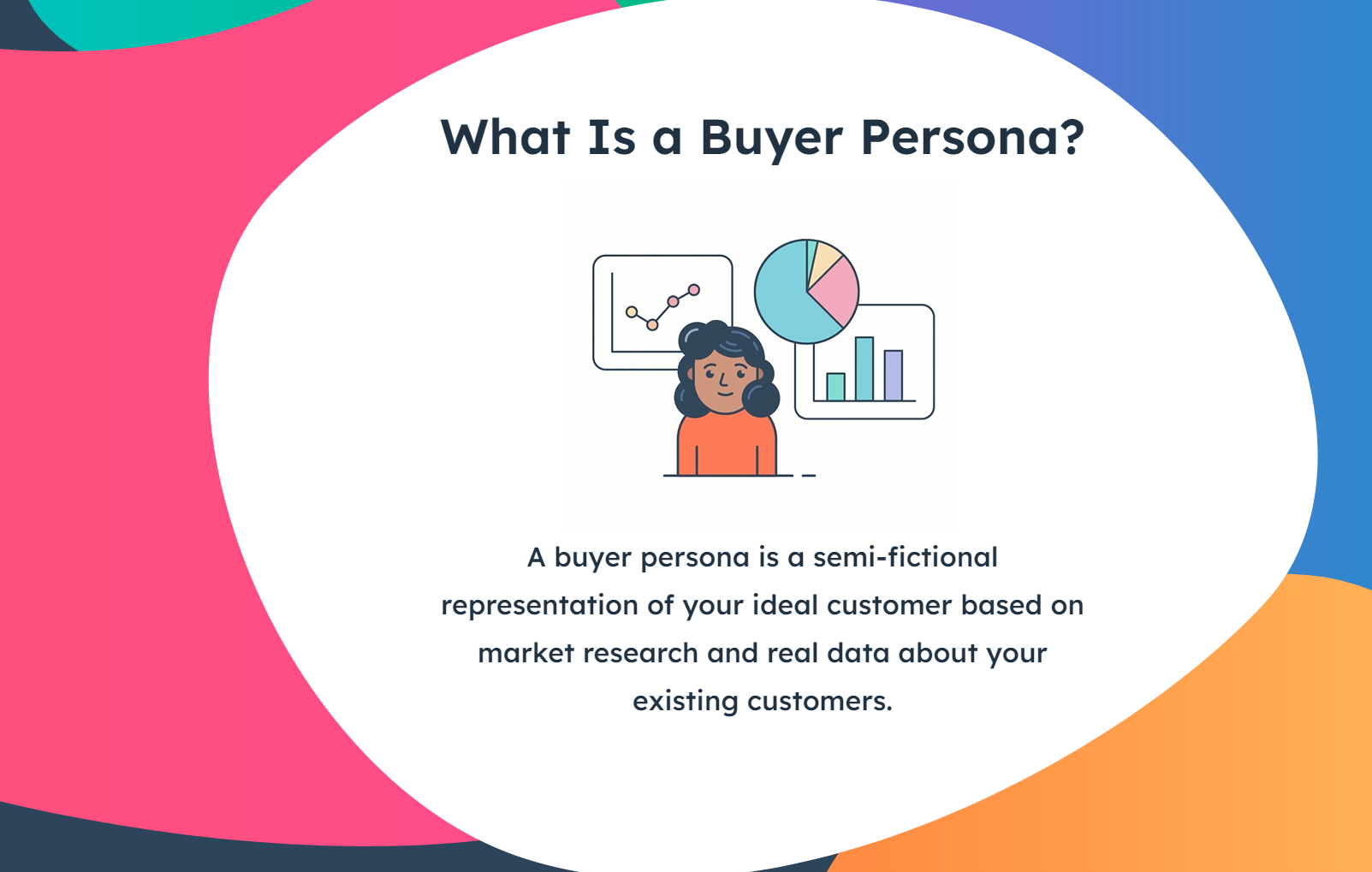 Image Credits: hubspot.com
This step aims to understand who your target audience is and what solutions they are looking for. So, you need to account for the decision makers you target, i.e., product managers, CFOs, practitioners, or other stakeholders. Note that you will generate the business buyer persona depending on what your business offers.
You can use the Hubspot Make My Persona tool or the following pointers to create persona avatars you can target with your content marketing efforts.
Decide the titles of people you want to target at companies, e.g., marketing managers, product managers, CFOs, or more.
Describe some demographics and career information, including age and level of education.
Then, describe their business industry. This is vital because it will help you define what solutions you can offer their businesses. So, target their industry, i.e., technology, if you offer tech solutions.
Then, estimate some company details, such as the number of employees.
Finally, understand how your business buyer persona makes decisions- what their job entails, i.e., generating leads or sales, and to whom they answer.
Once you have a general understanding of your target audience, the next step is understanding what they want, which is where keyword research comes in.
Before we get into how to perform keyword research, here are some things to keep in mind;
Keyword research is always ongoing, so you must learn best practices to save time. Here is our guide on developing the best keyword strategy to get you started.
You will need the best keyword research tools to gather all the keywords your potential clients are using. Paid options like SemRush, Ahrefs, and Moz are some of the best SEO software to use. You can also use the Google Search Console to gain your website's data.
Step 2: Conduct Keyword Research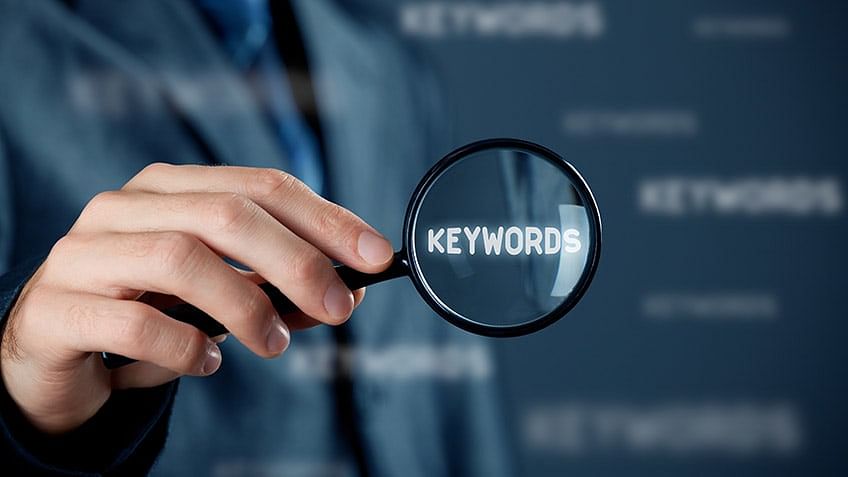 Image Credits: simplilearn.com
The main reasons you want to conduct keyword research are to understand the keywords you already rank for and to generate new ones that your business buyers are using to look for your products or services.
The first thing to do when you open your keyword tool is to search for keywords you rank for. This move is vital to avoid creating content for topics you have already covered.
Head over to your tool's organic keyword report tab and export the keywords to thoroughly review the list. The report should show you the following data:
The keyword you rank for
The keyword's search volume (monthly)
The keyword's CPC
The position your URL ranks on the SERPs
When you have this information, you can now proceed to generate new keywords. Remember, comparing new keyword ideas with the list of keywords you rank for is vital to prevent creating duplicate content. If you find a keyword you worked on that could perform better, you can simply update a few aspects of the page instead of creating new content.
Here are a few ways to generate new keywords for your new B2B digital marketing strategy;
Generate keywords from your competitors and publications in your industry; a good SEO tool will show you the data that you can export to your spreadsheet.
Use your intuition, think of possible keywords you could rank for, and analyze them with SEO tools. Likewise, export these to a spreadsheet so you can vet them later.
Step 3: Prioritize the Keywords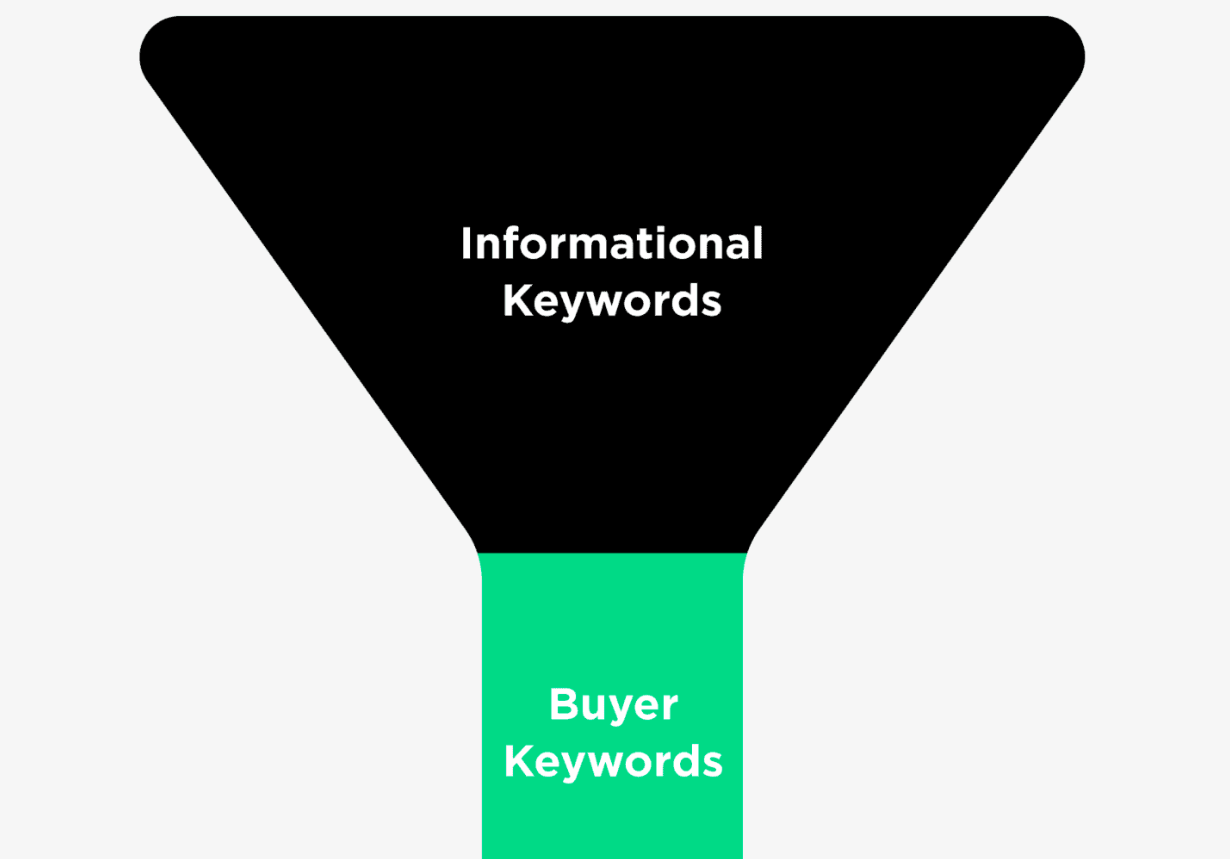 Image Credits: backlinko.com
In this step, you need to vet keywords based on search intent and relevance to your business. Before deciding on search intent, strike out all keywords that your buyer persona cannot find you with. The goal is to create content for keywords with your target audience's vocabulary.
When you clean up your keyword list, you will end up with two types of keywords;
Top of the funnel keywords- informational keywords
Bottom of the funnel keywords- transactional or buyer keywords
These two types of keywords communicate where your potential business buyer is on their purchase journey.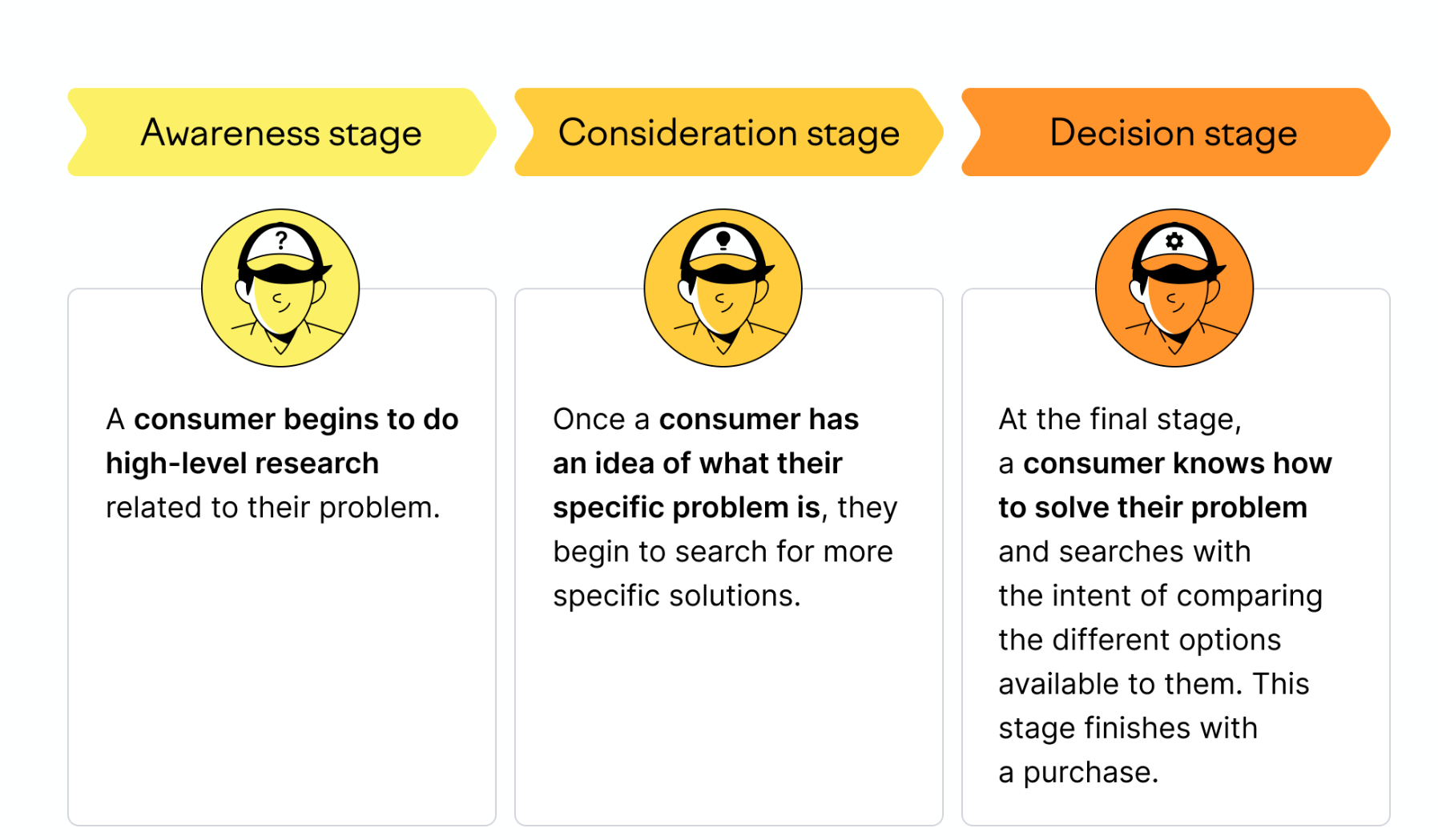 Image Credits: semrush.com
Informational keywords indicate the audience is looking for information about their problems and your solutions, but they are not quite ready to buy yet.
On the other hand, transactional or buyer keywords indicate your audience has all the information they need, so they are ready to buy your solution soon.
When researching B2B keywords, remember:
You can rank easily for keywords with a lower difficulty score. Keyword difficulty measures how much ranking competition you face for a keyword, and the best keyword research tools will provide the best data.
You don't necessarily need to target high-volume keywords.
Here is more information about the keywords to target for your business-to-business SEO strategy.
a) Buyer keywords
The best keywords to work on first for a B2B SEO strategy are the buyer keywords. Here is how to find them:
Step 1:
Seed your keywords for your business. This step is important for targeting decision-makers. The process includes creating scenarios to understand what your audience is looking for. While you can guess it, you can use the Seed Keywords Tool to create the best scenarios for your business.
To use this tool, you need to create a scenario that someone in need of your service or product would search for. For example, you would search for the following scenario if you sell office furniture: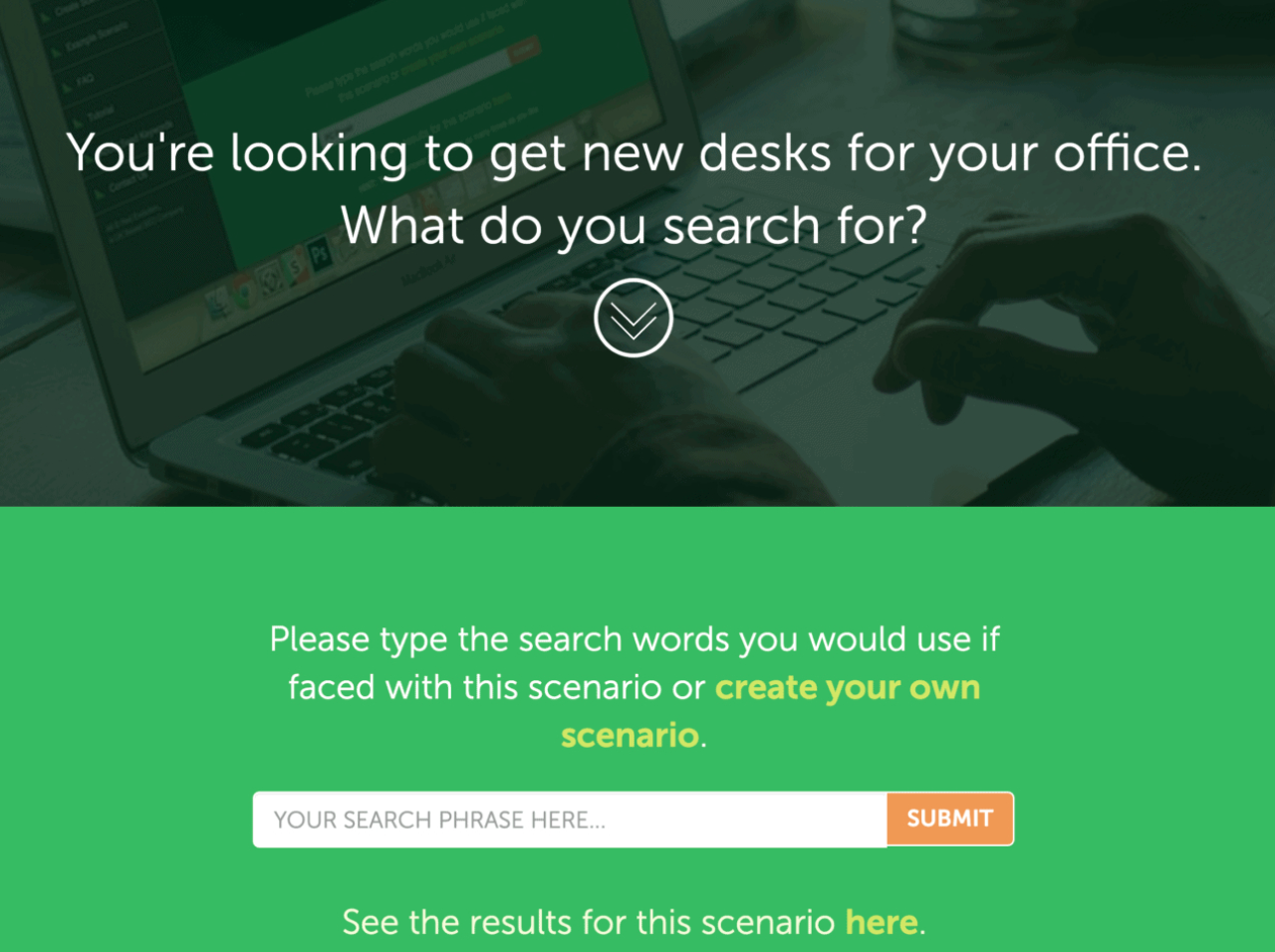 Image Credits: backlinko.com
After creating your buyer's scenario, the tool will ask you to send the URL link to people who fit the buyer persona you created above (in Step 1). Here are some results you can get from the above scenario;

Image Credits: backlinko.com
With the results above, you will know which buyer keywords to target for your digital marketing strategy. But, there is more to do before you start creating content.
Step 2:
Find long-tail keywords for your buyer keywords. For this step, we recommend using Google Autocomplete. This process is simple; just start typing the buyer keyword on Google and get the best suggestions your business buyers could be looking for.
Image Credits: backlinko.com
Step 3:
Prioritize search relevance over volume for buyer keywords. Remember at the beginning when we said B2B keywords don't need to generate high volume? This is because of the B2B landscape: you want to market your solutions to fewer businesses that are ready to purchase. So, a slow search volume here may be more profitable than a higher one with consumers who might not remember you the next minute.
Additionally, give more relevance to each keyword's cost per click (CPC). CPC refers to how much people bid on Google Ads for your buyer keyword.
For B2B SEO, a high CPC indicates you have valuable traffic since it is a term buyers use when purchasing a business solution. So, if your buyer keyword research shows a phrase with a high CPC, create content for it even if it has a low search volume.
b) Informational keywords
Informational keywords are part of the long-term conversion strategy for your B2B SEO plan. The keywords here represent an audience that just began their purchase journey. They are researching the information that will eventually inform their purchase decision.
So, they will not buy from you instantly, but if you provide valuable information, you can convert them into actual buyers when they get to the decision-making stage.
Generating informational keywords and creating content around them is the first step to establishing yourself as an expert. So, a decision maker at your target company will keep you top of mind when they finally decide to buy.
So, how can you establish your organization as the best solution for your target audience?
Step 4: Optimize Your Product or Service Pages
Image Credits: impactplus.com
Now that you know what your potential clients are searching for, you need to optimize your product and service pages to rank on the search engine results page.
The following are the best strategies for the best on-page SEO for B2B marketing. You can also read our detailed on-page SEO checklist if you want to nerd out on everything on-page optimization.
a) Create Authoritative Content
To increase organic search engine rankings and traffic, you must tailor unique content for all your landing pages. And after comparing your existing and new keyword lists, you have to avoid creating duplicate content for better chances of ranking for the keywords.
b) Create Long-Form Content for Landing Pages
The best way to rank on Google and other search engines is to provide enough information about your business. So, your B2B SEO plan includes creating long-form content on your landing pages.
This way, the search engine will rank you higher, and you will also lower your site's bounce rate. In addition, your business buyers will find all the information they need about the solutions you offer without navigating through several pages on your website.
c) Use Your Keywords Strategically
While you want to rank for keywords related to your business, the last thing you want to do is stuff keywords when describing what your business offers.
For example, if you are creating a product page for the best industrial-grade coffee grinders, avoid repeating the keyword in every paragraph. Instead, do this:
Use the exact keyword in the landing page's title tag.
Ensure the target keyword appears on the page's URL.
Try using the main keyword in your page's first 50-100 words.
Use the best synonyms or variations that describe your keyword in the landing page body.
Use the keyword in your meta description to boost better rankings and click-through rates.
Step 5: Start a Blog to Build More Brand Credibility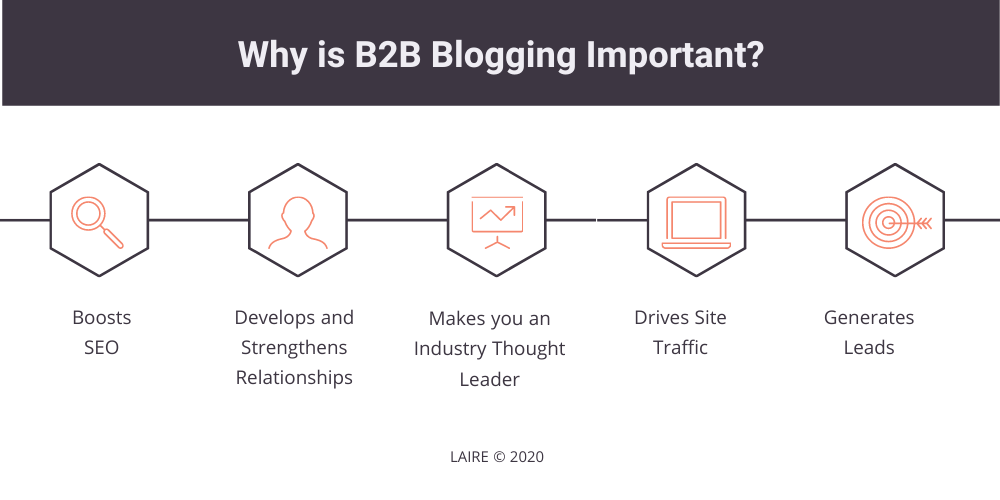 Image Credits: lairedigital.com
After creating and optimizing your seller content, you still need to convince SERPs and your target audience that you are a resourceful firm.
In addition, a valuable blog is the best way to impress potential business buyers who are just starting their research journey. If you provide them with valuable content, there is a high chance they will also buy your solutions.
So, how do you improve your B2B SEO efforts with a blog?
a) Writing Content Based on Shoulder or Cornerstone Topics
A valuable blog offers a platform where you can also discuss other topics besides what you sell. The topics you will discuss here are called shoulder topics in that they are related to your business, though not exactly what you sell.
With such content, your blog becomes invaluable to potential clients who need a platform that answers all their search queries.
When writing a blog post based on a shoulder topic, it is best to keep it purely informational and sales-free. This B2B SEO strategy will help your business rank for broader topics, grow remarketing audiences, and generate more email subscriptions for better business relationships.
b) Create Deep Tactical Content
Because a blog is dedicated to building brand credibility and improving search engine rankings, use it to share in-depth tactical content, such as step-by-step tutorials and how-to articles.
These need to be long-form articles that prove your expertise in your field, thus helping you create confidence in your target audience that your business can solve the problem they have.
Writing these ultimate guides rewards getting more backlinks and social media shares, which improves your brand credibility. In addition, unlike when creating shoulder content, your ultimate guides can lead readers to the solutions you are selling. But keep the sales pitch brief, and share it only after giving your reader valuable content.
Step 6: Signal Quality to Search Engines
Image Credits: dashclicks.com
Now that you have answered the first two questions for your B2B SEO strategy, the final thing to do is signal to search engines that your website has the best solutions that other businesses are looking for. This final phase includes building credible links, and here is how to do that:
a) Build a Link Lattice for Your Product Categories
This method is part of your internal link building, where you build a series of interlinked pages around your product or service categories. Doing so connects your transactional (product or service) pages to other informational pages you have published and aims to help your reader with the following.
Find the product they are looking for (product-first approach)
Understand which problem the product can solve (problem-first approach)
Understand why it is the best product for their specific needs (consumer-first approach)
The process for internal link building starts with writing a product page, linking the page to a definitive guide for the product, interlinking both pages to solution pages on your website, and linking your solution pages with the industry pages.
One rule of thumb when creating content is to ensure each page can connect to the product or solution you sell. So, by creating a link lattice for all pages, you eliminate the risk of content sprawling (creating content that is irrelevant to the solution you sell).
b) External Link Building
You need the best link-building practices to prove to Google search and other SERPs that your content is valuable. External link building works similarly to how word-of-mouth is in real life. This process includes getting other websites to link to the content on your website, which SERPs interpret as credible content worth loads of traffic.
While you can use the best link-building services or buy backlinks online, here are a few tips you can employ to get other businesses to link to you.
Contact industry influencers and ask them to link to your pages.
Perform digital PR to have news sites and industry blogs link to you.
Create helpful tools or calculators that generate backlinks.
List your partner pages and ask the websites to also link to yours.
Ask your email subscribers to share your new blog posts.
Conclusion
If you have stuck with us this far, excellent job! You now have the ultimate guide to creating the best B2B search optimization strategy.
To recap, you only need to:
Discover what your target audience is looking for
Create content and solutions that satisfy their needs
Convince search engines that your content offers searchers the best solutions
Now that you have a stellar B2B SEO strategy, you can relax and watch your clients stream in.