While earned media was difficult to come by in the pre-digital era, it has now become a reality for businesses of all sizes. You can use earned media to enhance your brand and online visibility, whether it's a tweet on social media, a post on a blog, a Google review, or a news site write-up. Keep reading to learn what earned media is and to see some examples of earned media.
What is Earned Media?
Earned media, also known as earned content or even free media, refers to content about your company authored by others and posted on channels you don't control, such as social media posts. You can't buy or possess this content; you have to earn it.
Earned media isn't paid or owned PR. When a firm buys a magazine to produce a lovely piece about them, it is not paid earned media; it is simply paid media. It's also not earned media when you publish a blog post for your company blog on your latest product release — it's owned media because you own that blog post.
Why is Earned Media Useful?
While earned media might happen naturally when your company achieves something remarkable, it is more frequently the result of research and outreach. This implies it will take a lot more effort than simply posting it on your own website.
The most significant benefit of earned media is that customers are aware that all businesses publish positive information about themselves. They're aware that the articles and posts on your own site are intended to make your products and services sound fantastic, so they'll take everything with a grain of salt.
On the other hand, earned media shows viewers that objective editors and site owners deemed your material or business worthy of discussion. They understand that the viewpoints are more likely to be fair than anything on your own website and that the authors have no motive to publish incorrect information about your company.
Earned media may help you reach a wider audience than content on your own site ever could, in addition to reinforcing your company's image to people who are already familiar with it.
Lastly, earned media will help you raise brand recognition and interest in your products and services if the press coverage is positive. Link building is a time-consuming and challenging procedure, but links from well-known sites in your field may significantly influence your results.
Types of Media: Earned Media Vs. Owned Media Vs. Paid Media
1. Earned Media
Earned media is any content or discussion about your business or product developed by someone else and released anywhere other than your own channels.
It is earned as a result of your paid and unpaid work. As news sites and social media users catch up on your efforts and help spread the word, you may think of it as amplification.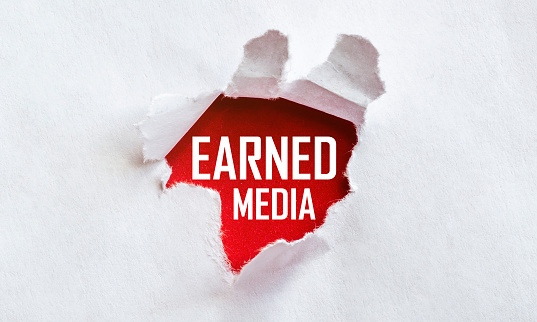 Media coverage, social media mentions, shares and retweets, product or company evaluations, and blog entries written by people who aren't affiliated with your firm are all examples of earned media.
Increase your earned media by increasing the exposure and reach of your content through social media participation.
2. Owned Media
This is media that belongs to your company. The company's website, blog, mobile applications, and social media presence on sites like Facebook, Twitter, LinkedIn, and Instagram are examples of online, owned media.
Retail outlets, pamphlets, flyers, billboards, and other forms of offline, owned media are examples. A website is one of the most popular instances of owned media channels, but blogs and social media channels are some of the other examples of owned media assets.
Social media and blogs, for example, are extensions of your website, and all three are extensions of your overall brand. The more owned media you get, the more opportunities you'll have to expand your brand's digital presence.
3. Paid Media
Paid media covers everything you pay for to get out to customers, such as ads or sponsored material on news sites and blogs. You're dealing with paid media when you make a monetary transaction before reaching out to customers.
It is the simplest of the three channels to comprehend, and it includes any promotion that you pay for. These traditional media outlets include television commercials, radio ads, and print advertisements.
How Do You Gain Earned Media
1. Create Quality Content
One of the most crucial things in any earned media strategy is your content. You should expect difficulties in your strategy if you don't create content that people want to share.
If you publish poor content, you'll have a hard time getting shares, links, shout-outs, and other benefits. Make it easy for users to share your content.
Consider what motivates and fascinates your target audience. What kind of creative content can you come up with that will capture their interest and keep them engaged? Infographics are another option, as they provide rapid information in a visually appealing style.
2. Make your Brand the Favorite of the Target Demographic.
Your target audience may have a big impact on your earned media strategy and overall performance. Increase your audience's influence by becoming their favorite brand. You may advance to this position by providing your clients with a one-of-a-kind experience.
Increase your audience's influence by becoming their favorite brand. You may advance to this position by providing your clients with a one-of-a-kind experience. While this program will likely demand a large commitment from your team, it will benefit your organization in a variety of ways, including sales.
There are a few things you can do to boost your audience's thoughts about your brand:
Quickly respond to client inquiries via social media and email.
Interact with consumers as though you were a human rather than a machine.
Offer high-quality goods and services.
Provide a simplified customer experience for purchases, payments, and other services.
While your audience's enthusiasm for your brand is unlikely to alter overnight, this project has the potential to have a long-term influence on your company's performance.
3. Interact with Your Audience
You and the potential consumers are practically strangers if you don't use social media. One of the incredible things about social media is that it gets you considerably closer to your customers.
You should be able to invest a lot of time and energy communicating with them personally online in order to create an impression on them and encourage them to talk about your company.
Set up filters in your social media monitoring tools to assist you in keeping track of conversations regarding your business and joining in when you have something to say. Pose different questions to your followers about their everyday lives or their interactions with your company.
Give a shoutout from your account to your top admirers. Your desire to show people that you care about them, their experience, and your own company by responding to their postings may generate great feelings about your brand, and those positive feelings are share-worthy.
Examples of Earned Media
1. Review Sites
The feedback you get from websites like Yelp, TripAdvisor, and Google My Business is covered by earned media from review sites. Earned media is won by giving honest and favorable feedback.
According to a Brightlocal survey on customer behavior surrounding reviews, 87 percent of consumers check online evaluations for local companies, and just 48% would consider doing business with a company that had fewer than four stars.
Image Source: brightlocal.com
It's not enough to understand how customers interact with reviews; you also need to understand what they do after reading them.
After reading a nice review of a local business, 31% go to the company's website, and 28% keep looking for more reviews. Before deciding whether or not to put trust in a company, the average consumer will read ten reviews.
As you can see, customer reviews play a vital role in a buyer's selection. If you want to remain on top of them, you'll need a good online review management approach.
2. Social Media Posts
There are a few ways to get a social media shoutout. The consumer may have had such a memorable time at your restaurant that they felt compelled to tell others about it.
Alternatively, your product may have met customer demand, prompting them to suggest it to others. Or you posted something amazing on Instagram that had to be shared with everyone.
You may not be able to influence what others post on social media, but you can certainly impact what they post.
You have influence over how your brand acts, how wonderful your product is, and how entertaining your content is. You're more likely to get social media shoutouts if you do these things on a regular basis.
3. Search Engine Results
In earned media, search engine optimization (SEO) is important. Search engines notice every time you add material to your website. You may appear on the first page of results if someone's search term matches that blog article you just published.
Paid media, like paid search advertising, can ensure placement, but SEO strategies allow you to work organically to gain 'free' placement if executed correctly. There are different components that go into a well-formed SEO plan, from keyword research to technological best practices.
Creating high-quality, valuable content that meets your audience's demands is one of the most crucial core pieces. To generate findable and shareable content for your audience, try to correlate with your marketing personas' search intent and interests.
This method will provide more value than just pursuing popular keywords, which may or may not be related to people's reasons for purchasing your product or service.
4. Word of Mouth
Although you might not think of "word of mouth" as an example of earned media, it is still as free and powerful as a tweet or a Yelp review today.
Every time your company positively or negatively impacts a consumer, you earn a position in everyday dialogue. This means that departments like marketing and customer service are equally as important as the product itself in determining the tone of the dialogue.
A marketing team, for example, is making potential consumers happy when it generates useful or interesting material for its audience.
It's making current customers happy when a customer care staff addresses a significant problem for them. And the happy your customers are, the more positive earned media you'll get the next time they're talking to someone wanting to buy something similar to yours.
Conclusion
Of course, the distinction between earned and paid media can become hazy at times. Take, for example, viral videos. A video does not become viral by accident; most of the time, it takes a lot of deliberate preparation to start the video's exposure with bought media, and as earned media gets up, the paid media stops.
The borders between earned and owned media can also blur. For example, other bloggers and media sites might pick up a blog post based on your own market analysis.
A press release you create after a product launch, for example, encourages others in the business to spread your news on other websites. While earned media isn't always a direct outcome of owned media, it can help you attract more third-party attention.
The key to distinguishing between the three is this: unlike owned and paid media, earned media is not controlled by brands, making it less biased and more trustworthy.
Frequently Asked Questions (FAQs)
1. Is social media earned media?
Owned, paid, and earned media all apply to social media. It all depends on the content and who uploads it. This is a sort of sponsored media when a company supports a post promoting a new product. Earned media is when a client promotes a product on his or her own social media account.
2. Is SEO earned media?
Technically, SEO isn't a form of earned media. SEO is a process that you may regulate to improve the performance of your media. However, your optimization might help you "earn" organic traffic. Therefore, organic traffic is a sort of earned media, even if the content is owned by you.