As more businesses set up online shops and blogs, speed is one of the main factors standing in their way of success. By this, we mean how fast the website loads so visitors can access the information they need. So do you want to make your website faster? We have compiled this WPX hosting review for you, so read on to see if it can be a good fit.
Why You Need the Best Web Hosting Company
When you visit a website that is slow to load, your first thought is to leave the site. Unfortunately, it means that you will miss out on essential information, and there are also chances that you will never return to the site again. This is why companies need to ensure their website loads within a few seconds.
The only way to ensure your site loads fast is by using the best hosting company. A web hosting company offers a place for your website to exist online. In simpler terms, you can think of a web host as a place you store your site's information and data.
If you have a WordPress website, you will be looking for a web host offering features exclusive to WordPress sites. WordPress hosts enable your site to load faster while not compromising on other areas such as layout. WPX.Net is a company that offers the best WordPress hosting services.
So, do you have a WordPress site you want to improve? First, you need to look for the best web hosting company. If you've been foraging the internet trying to find the best web host, we'd like to make the process much easier for you. We have found WPX Hosting to be great, but does it fit your needs?
Our WPX Review
When choosing between the best WordPress hosts, you pay attention to vital factors like speed, availability or uptime, customer support, and your site's needs. However, before we delve deeper into the features, here are some pros and cons of using WPX Hosting for your WordPress websites.
Pros
It is a fast web host
Free site speed optimization
It has an easy to use control panel
Offers unlimited site migrations
Performs daily backups
Offers daily malware scans
Offers free SSL certificates
Free email service
One-click WordPress installation
Fast response from the WPX Hosting support team
Cons
Basic email features
No phone support
WPX Features
Here are the best WPX Hosting features that can improve your site performance.
1. Speed
Did you know, Google recommends that your site's TTFB, time to first bite, be less than 200ms? The TTFB is the time it takes your host to process the necessary HTML to deliver information asked for by a site visitor. So, you need a good web host that improves your site speed, which is where WPX hosting comes in.
WPX Hosting offers better loading speeds compared to other managed WordPress hosts. But, before leaving WPX Hosting to optimize your site for better speeds, we'd love to tell you why your site could be loading slowly.
While there is the recommended TTFB by Google, other factors such as plugins, themes and templates, WordPress versions, and your website design can negatively impact the load speed. You can check your site's current load speed through platforms like Google Page Speed Insights and GT Metrix. If the performance score indicates your site loads after 3 seconds, WPX Hosting can help you improve the performance.
Luckily, WPX Hosting offers remedies to these problems using their powerful site-speed optimization that includes the following steps;
Site backup
Installing a cache setup that works with the WPX hosting platform and the custom CDN to improve performance scores online.
Optimizing images by reducing their sizes while keeping the quality.
Full database optimization after a backup. Doing so removes unnecessary data tables that are slowing the WordPress website down.
Performing a thorough plugin audit to identify those slowing your site.
Running new performance tests to understand the difference and then backing up the site data.
You will need to send an Optimization Request from your client area to optimize your site. Besides TTFB, WPX hosting also targets under two seconds for First Contentful Paint (FCP), under 4.5 seconds for Largest Contentful Paint (LCP), and under 2.5 seconds for Load time.
2. Daily Updates
When you've used other managed WordPress hosts, you know how hard it is to find a reliable and straightforward WordPress website backup plan. WPX Hosting provides daily site backups. Even better, they store the backup files on a different server for 28 days, unlike other web hosts who store for lesser time. Storing the files on a different server guarantees they do not affect your disk quota.
When you allow this automatic daily backup, you will love that you can also access your files with the click of a button. WPX web hosting allows two types of WordPress website backups;
The automatic daily backup allows you to store files on a different server for 28 days.
The personal backup that you can select manually. Unlike the automatic daily website backup, a personal backup stores your files for 24 hours only. In addition, these take up your disk space. When you perform a personal backup, it also deletes the former backup files you had saved. Finally, you can only create one personal backup of every hosted website.
When you want to perform a personal backup;
Step 1. Head over to your Backup Manager on the WPX control panel and choose the website you want to back up.
Step 2. Select create New Personal Backup.
Step 3. Select your backup dates, and click Restore. Click Continue, which will erase all previously stored files.
Step 4. Since the personal backup is deleted from the Backup Manager after a new backup overwrites it, you want to download every new backup. You can download both the website files and website database backups.
If you want to delete a backup, you can find the delete feature from the Backup Manager. Likewise, you can also restore the website files after a few clicks from the Restore Automatic Backup feature;
Step 1. Choose the Backup point dates.
Step 2. Choose what you want to restore between website files or website database. You can also restore previously deleted emails by checking the Restore Email Boxes. Note that you need to create a box for each email to restore it.
Step 3. Click Run Website Restore Process.
If you want to backup your website data another way, WPX Hosting also allows you to use other backup solutions so that you can use your best plugins, such as BackWPup or BackupBuddy.
3. Unlimited site migrations
Do you have another WordPress website that needs a better web hosting service? The WPX managed WordPress hosting makes it easier to migrate your entire website to their platform in 24 hours. Want to do so? Here are the simple steps to follow.
Step 1. Read the WPX Hosting website migration policy here.
Step 2. Fill the Migration from. To access the form, you will need to click on the Migration button on the WPX navigation bar.
You can also access the migration bar from the WPX control panel as follows.
Click My Services.
From the dropdown menu, select WordPress Hosting.
Then, select the Send a Migration request.
Once you access the Migration form, you must choose between express migration or normal migration. The difference between the two migration methods is that the normal migration takes 24 hours to complete and is completely free, while the express migration takes less time but is a paid service. Therefore, the express migration is ideal for busy websites and will cost you around $100.
Once you have chosen your ideal migration method, you then need to fill out the migration form, which requires the following details;
Your current web hosting provider.
The name of your website
Your website's wp-admin credentials. 
Then, you need to grant WPX Hosting access to your website files through any of SiteGround, cPanel / Hosting account, FTP/SFTP and phpMyAdmin, SSH, Backup (must contain files and database), or Migration with a Plugin. It is best to avoid granting access through the Migration with a Plugin process as most web hosts put certain limits or restrictions that might hamper a successful migration process.
When you also want to transfer your mailboxes, you need to indicate so. The email migration process is free, and it also allows you to add as many emails as you have.
Finally, you can fill out additional optional information on the form and choose if you want WPX to install cache plugins for better performance. When done, submit the form, and the WPX hosting team will start the migration process immediately.
4. Email service
Any WPX Hosting plan includes a free email service. The email service allows you to receive or send emails associated with your website domain. Here is how easy setting up a WPX Hosting email account is;
Step 1. Log in to your WPX Hosting dashboard
Step 2. Go to Email Boxes and select add an email box.
Step 3. Fill in your email details, including the name of your email, your real names, aliases, and preferred quota. When done, click submit, and WPX hosting will create the new email.
While setting up an email is easy and free from your WPX Hosting dashboard, the WPX email system is very basic and only ideal for simpler websites. So, if you have a busy website with heavy email correspondence, it is best to use email solutions like Zoho or Google Suite.
5. Straightforward dashboard
The WPX hosting control panel is responsive, fast, and easy to use. In addition, the dashboard displays all your account details, from websites you have to WPX hosting plan specifics to unpaid invoices.
You will find it easy to complete various tasks from your dashboard, such as;
Add multiple websites
Purchase different WPX hosting plans
Add SSL certificates
Review and pay invoices
Add or edit email boxes
Monitor disk space and bandwidth usage
Get help fromWPX support team
6. Installing WordPress
Are you looking to design a beautiful website? While you can employ the best website design companies to do the work for you, you can also start the process by installing WordPress from the WPX Hosting control panel. This WPX Hosting review section will detail how to install WordPress on the WPX hosting panel.
Step 1. Log in to your WPX hosting account. If you've not added a phone number, you need to do so so the WPX Hosting team can contact you with any critical issue they find with your account.
Step 2. Head over to the dashboard, select My Services and scroll down to Service Management.
Step 3. On the left menu, select the Websites/SSL tab. The tab stores data about the different domains under your account, and it is where you decide which domain needs the WordPress installation.
Step 4. When you decide which website to install WordPress on, find the Install WP on its right. After a few moments, the installation will be complete, and you can proceed to enter different website details, then click Deploy WordPress to complete.
Alternatively, you can also install WordPress from your server space through FTP and SFTP. You can use this method for better flexibility with themes and plugin files.
7. WPX Hosting Support
When looking for the best WordPress hosts, you need a company that is always ready to answer your questions. Lucky for you, WPX Hosting offers 24/7/365 support through live text chat and help desk ticketing.
Besides the support team, the WPX hosting service has a detailed online knowledge base. You will find helpful answers to questions you could have from different categories like performance, security, performance, and more.
8. WPX content delivery network (CDN)
As a site owner, the last thing you want is to have loading problems when you get visitors from different parts of the globe. For this reason, WPX Hosting has a very successful content delivery network (CDN), also called XDN (eXceptional Delivery Network), that has 30 endpoints and is growing.
With the XDN, you are guaranteed that visitors worldwide can easily access your content without bad delays. Simply put, CDNs or WPX Hosting's XDNs are servers across the globe, where every center caters to site visitors in the area or country. The centers work by copying your site content to other servers worldwide so that far-away visitors can also have a pleasant time on your site.
According to a 2021 test, WPX.Net surpassed other managed WordPress hosts with the custom-built XDN. So, you will not have a site visitor in Brazil experiencing loading delays because there will be a server somewhere in Brazil or South America that helps the information they want load faster. 
The WPX Hosting XDN is on by default for all websites hosted by WPX.Net after 2018. But, if your website was designed earlier than that, you will need to turn it on after ensuring your domain is pointed to the WPX Nameservers. Here is how to turn on the XDN for better global visibility;
Step 1. Log in to your website and go to the Control panel.
Step 2. Under Server Management, click on the WPX Cloud button and activate XDN for your domains. Note, after activation, all your site content will be copied distributed worldwide after about an hour. The WPX Hosting XDNs are currently available in the US (multiple states), Brazil, Canada, United Kingdom (two servers), Europe (multiple countries), Asia (three countries), and Africa( South Africa). In addition, the feature is completely free, unlike with some other hosting companies.
9. WPX Hosting pricing
WPX Hosting is an affordable managed WordPress hosting that caters to all levels of your online business. These are the detailed WPX Hosting plans you can choose from. All plans come with the first two months free when you pay early.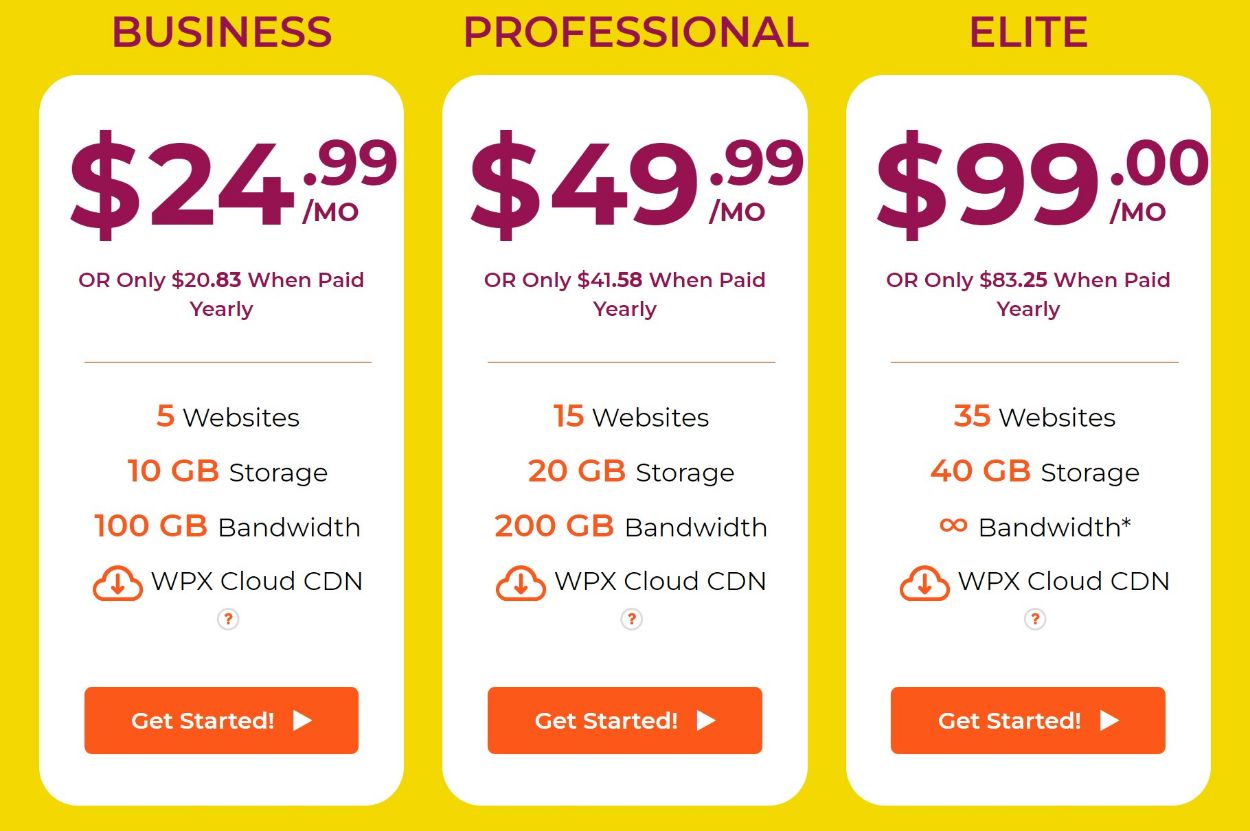 a) The Business plan at $24.99/month.
This plan supports up to five websites with 10GB storage and 100GB bandwidth. In addition, you get a 30-second support response, free malware scanning, free site speed optimization, plus 99.95% uptime.
b) The Professional plan at $49.99/month
The plan is better for busy websites as it comes with 20GB storage and 200GB bandwidth to support up to 15 websites. In addition, it also has a 30-second support response, free malware scanning, free site speed optimization, 99.95% uptime, and free fixes when the site is offline.
c) The Elite plan at $99.00/month
This Elite plan has everything you get from the Business and Professional plans. However, it comes with more storage and bandwidth at 40GB storage and Unlimited bandwidth to support up to 35 websites. However, since WPX Hosting aims to improve your site performance, they can apply a reasonable bandwidth limit to guarantee fast floating times.
Here are some other features you get from the WPX hosting pricing plans;
Easy WordPress installs
Reliable SSD Storage
DDoS protection
unlimited SSL certificates for every WordPress website
High-Speed Custom CDN coverage
Unlimited free migrations
Staging areas to make changes to your live site
PHP 7.x & PHP 8.0
Unlimited email boxes
HTTP/2 Enabled Servers
MySQL & phpMyAdmin Access
Daily WordPress website backups
30-day moneyback guarantee
Advanced account security
Multi-user access
WPX Hosting User Experience
Now that you know what to expect from the WPX Hosting company, here is a quick way to get started on the managed WordPress hosting service.
a) Easy signup
The signup process is quite straightforward. You will only need to pick the best hosting plan from the three WPX Hosting offers. If you are opening a simple blog, you can choose the business plan, but you will need the other two plans for busier websites such as e-Commerce platforms.
When selecting your best WPX Hosting plan, you can also choose to either pay monthly or annually. While any payment style is good, paying annually will save you more money.
b) Register domains
After choosing your best WPX Hosting plan, you can include a domain with the purchase, or register details of your existing domain. If you want an easier time migrating your website in the future, it is better to register a domain through WPX hosting.
c) Billing
When you have chosen your plan and domain, you will then enter your billing details to complete the order. After paying, you can now access your account details through the WPX Hosting dashboard.
d) WPX Hosting performance
Now that you have registered your account and paid for your best WPX Hosting plan, the next thing you are looking for is easy-to-use features so you can set up your WordPress sites. Here is where we find WPX Hosting better than other managed WordPress hosts.
No more technical c-panel. The first thing to love about WPX Hosting is the easy-to-use Custom Hosting Dashboard. If you don't know much about designing websites, the last thing you want is a technical c-panel with confusing navigation. Luckily, the WPX Hosting Custom Hosting Dashboard is short, straightforward, and logical so that you can install basic features like WordPress and other plugins without hassle.
WPX Hosting Security. WordPress sites are very popular nowadays, demanding high security levels to your new site to keep malware and hackers at bay. When you get your WPX hosting package, you get free application firewalls, free malware scans and reliable DDoS protection via Incapsula. If the malware scans find something, WPX hosting also offers free malware removal to restore your website to good health.
WPX Hosting staging sites. When you have changes you'd want to make to your website, the WPX Hosting service allows you to develop an easy staging site. The staging site copies all your website data in a safe sandbox so you can make changes while the website is live and accessible to visitors. After testing and making changes, you only need to click Merge to Live to publish the changes.
Free SSL certificates. If you've ever tried other expensive hosting companies, you know some can charge a good amount for an SSL certificate. If you want Google to mark your website secure with the green padlock, WPX Hosting is your best company to get the feature free.
When we talked about the different plans in this WPX hosting review, you noticed the company promises a 99.95% uptime, which seems better compared to other managed WordPress hosts promising 99.9% uptimes. The difference of 0.05% makes sense because the maximum minutes your site can be down in a month totals 216 minutes compared to 432 minutes with other managed WordPress hosts.
WPX Hosting Review Conclusion
When looking for a professional web host for your online business, WPX hosting is a great consideration. WPX hosting offers great value for money compared to other hosts for the features it offers. The WordPress host offers three affordable plans, where each plan offers free site speed optimization plus other security and performance features.
So, as you look to improve your site's speed for better visibility and SEO results, we hope this detailed WPX Hosting review will help you choose easily.