Keeping your business relevant is important especially online. Google my Business is one of the ways to optimize and keep your business profile on the local search results, for potential customers.
Of course, we understand how you might struggle with creating a business profile in the first place without knowing how to carry out SEO copyrighting. However, Google my Business SEO is an important tool that lets customers know what to expect when they visit your business. You just have to find the relevant keywords and you are set.
How Does Google My Business Work?
Before getting the benefits of Google My Business, it is crucial to know how it works. Google My Business is a free, easy way to boost in-store visits and boost your local SEO ranking. This tool also includes a Google maps pin to your business location. The following steps are how the platform works:
a) Create an Account
Image source: brightlocal.com
In this first step, you submit details like your business hours, address, and name. The information required in this step is basic and doesn't require any in-depth detail. Your business name is important here. Remember, Google might already have your business's information if you have a website. In this case, you should claim your business.
b) Ownership Verification
Image source: onlineownership.com
To put your business information on Google my Business, Google has to verify that you own the business. Naturally, this means sending a one-time pin to your provided email or calling the business number you have assigned the business.
c) Setting up a Business Profile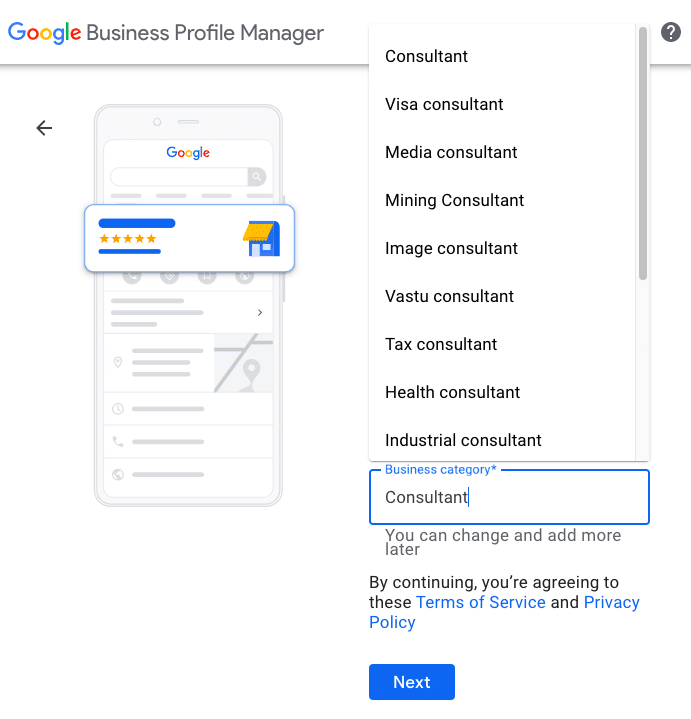 Image source: hootsuiteblog.com
Filling in a Google business profile is important for your business. Setting up this profile will ensure you connect to the right consumers. In this stage, you will provide information like whether you do deliveries, when you are open or closed, and other details like the most popular products or services you offer, and your business website.
Your business profile counts as SEO for an online marketing campaign. It is important to populate it with the right information. Don't leave any blank spaces that are relevant to your business.
d) Create your Website
Image source: hubspotblog.com
Google My Business offers users the option of creating their website. The website already contains information about your business, so you can customize your information by adding photos and descriptions. (Note that it is best to use real images of your business). Using this space carefully enables you to give potential customers a clear understanding of what your business is about.
e) GMB Posts
Image source: moyensI/O.com
Google My Business posts are posts that stay on your profile for at least a week. You can use them as advertisements when you have offers on your business. Additionally, you can also use them to keep customers appraised on what's happening with your business like updating business hours regularly. The posts also have a call-to-action prompt that enables the customer to engage with the message.
They can buy, book, or sign-up for a newsletter. This is designed so that the customer can have more interactions with the page.
8 Ways to Optimize Your Google My Business Account for SEO
SEO plays a key role in optimizing your Google business profile. Local SEO search results can determine how many customers you get. Therefore, there are ways you can use your optimized Google business profile for the best. Not to mention your business will also benefit from a complete SEO audit, with all the relevant information.
Here are ways to optimize it:
1) Review your Name, Address, and Phone Number Info
As a business owner, you cannot afford minor mistakes. Therefore, you have to keep everything up-to-date to back up any relevant searches. This means your business name, address, and contact details must always be correct. The best way to go over this is to head over to the info tab and edit your information from there.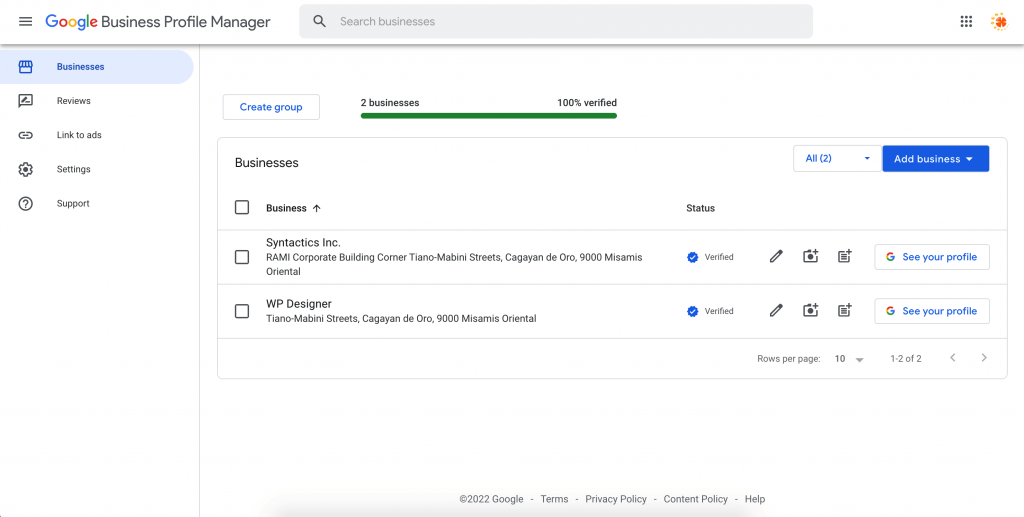 Image source: syntactics.inc
Updating your business profile also means ensuring the business name is correct. If you have linked other platforms to your business, then the name must be the same. Secondly, your address should also be the same. If you miss a number on your physical address it could spell trouble if customers can't find your location at the mentioned address.
If you want to remove your address from your business profile, just "clear address." This might be done if you are in-between locations. Lastly, you can also keep your business listings (across all platforms) as accurate as possible.
2) Business Primary Category and Description
Adding your business's primary and secondary categories will help with your Google search results since Google will know where to place you. As you add a brief description of your business, ensure to use keywords related to your field. Highlight your values and the areas of service you provide to your customers. You can also include a brief history of your business.
Image source: synup.com
As a local business profile, ensure to add the service area business (areas where your business has reach). Google will then rank you for keywords in those areas. Keep in mind that your business category matters.
For instance, if you own a grocery store, then your primary category would be "grocery store". If your grocery store also provides a deli service business or section, then add deli as a secondary category. In doing this, you ensure maximum coverage for your business profile.
3) Add the Services and Products you Offer
Most direct searches need a product or service from your business. Therefore, it is crucial to add some of the products and services that you offer. Adding this section also improves your business's visibility for later discovery searches via search engines. Keep in mind that when adding your services and products, you should use the preferred keyword terms.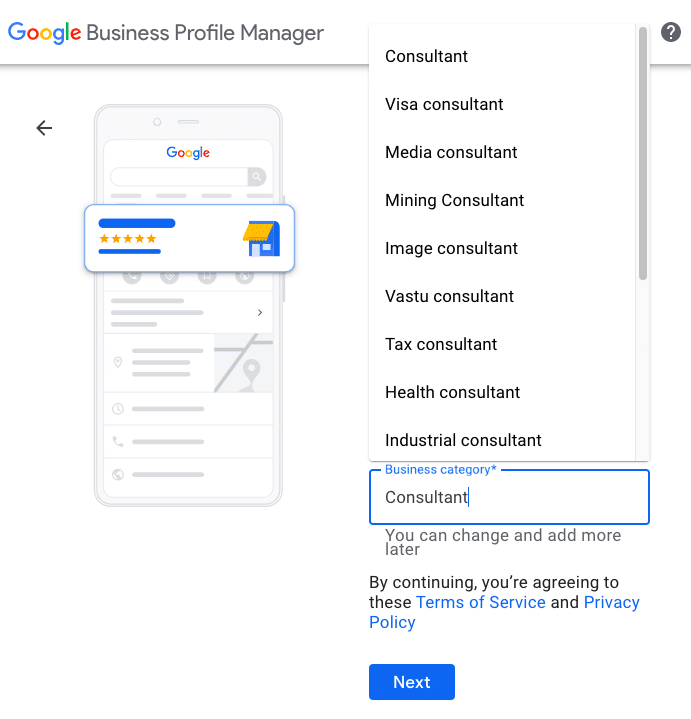 Image source: hootsuiteblog.com
This helps many businesses to rank for search engine optimization especially when you upload a description of your product or service with keywords people search for as well. Ensure to create a customized and unique business description with the keywords.
4) Use the Special Attributes Section
On the Google Business dashboard, under the info tab, you will find a section named special attributes. The special attributes refer to relevant information for your business. For example, under amenities, if you offer a gender-neutral restroom you can select that option. Additionally, if your business is LGBTQ+ friendly, you can also add that.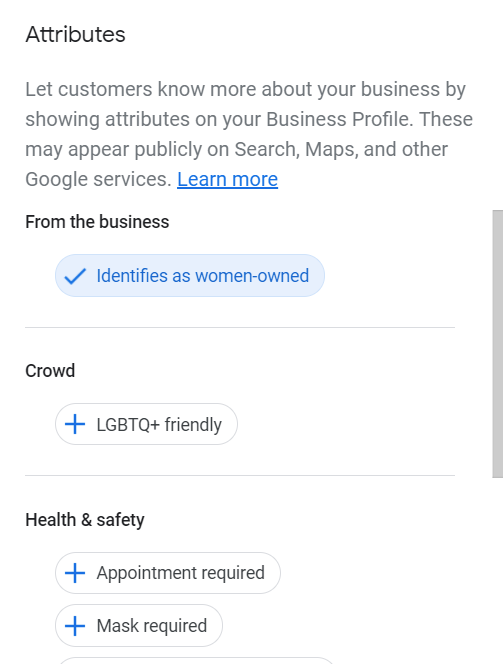 Image source: searchengineroundtable.com
These special attributes ensure your business is up-to-date and politically correct, which is a big part of society. As long as the information is relevant to your business, then add as many tags that apply to your business profile as possible.
5) Respond to Customer Reviews
Responding to customer reviews is an excellent way to make sure you get repeat customers. It is also a good way to ensure that you show you care about your customers. To respond to customers, you can head over to the reviews tab and it will show you all the customer reviews, with the most recent at the top.
Image source: searchengineroundtable.com
Your business reviews could make or break your business. Therefore, responding to them is super important. Of course, positive ratings will improve your business ranking. Therefore best practices when it comes to responding to reviews apply. You should also be prepared to respond to negative reviews. This is okay as long as you still offer excellent services.
When necessary, you can throw in a few keywords even when responding to customer reviews to boost your business. They don't have to be positive reviews only.
6) Update Covid-19 Information
Covid-19 has affected many businesses. Therefore, it is imperative that you address your working hours with Covid-19, or whether your business requires protective measures. On the attributes section, you can scroll down and find different attributes related to wearing masks, making appointments, and social distancing.
Image source: duoplusonline.com
As your government makes Covid-19-related changes, you should also adjust to the changes and implement everything per the requirements. Additionally, adhering to these requirements helps business owners manage their businesses without a problem.
7) Upload Photos of your Business
To create a Google Business profile correctly, you should try to upload real photos of your business. This is to keep your business listing accurate and up-to-date for current and potential customers. Additionally, your photos should be high quality with the best resolution Google Business can accept.
Image source: asapmapsmedium.com
You can use this as a business strategy and post pictures of the front and back of your business. You can also post your staff and the inside of your business. This will give customers a sense of security.
8) Use the Product Catalog
If you have products to present, then Google my Business has a product editor that allows you to post the products. Keep in mind that this feature only applies to small to medium-sized businesses. Unfortunately, if you are a larger business you might have to use the Local Inventory Ads to run advertisements for your products.
Image source: goodoilmarketing.com
As you post your products, don't forget to include a price range and a short description for more engaging content.
How Can Google my Business Improve Visibility and Reach Out?
Google my Business is very helpful for small to medium-sized businesses. It is a helpful marketing tool that will help you to boost your visibility and insights. Here are a few ways it does this:
a) Highlighting your Business Profile
Image source: searchengineland.com
With this tool, you can easily provide additional information to your business account profile. With a good Google business listing, local businesses can now appear in local search ranking. The Google My Business account dashboard helps with creating details that make your business unique.
Using the best features your business has to offer, you can take your business from a small to a medium. Don't forget to make regular updates as soon as there are changes or announcements in your business.
b) Perform Local SEO
Image source: searchenginejournal.com
Local SEO is important for businesses. Google has algorithms to rank websites and business profiles. Therefore, using keywords in your business descriptions is one way to help your business rank on search results. By targeting your optimization to the preferred audience, and using business details to rank, you get more exposure.
c) Engagement With Consumers
Image source: sterlingsky.com
Your Google My Business account is very versatile since you can use it to interact with customers by replying to reviews and answering questions. Adding direct messaging, a business phone number or an email also provides access to your business. You can also link various social media platforms to give potential customers more options.
d) Gain Important Insights
Image source: sterlingsky.com
Using the Google Business profile insights, you can gain relevant information on the performance of your business on local search results. In the analytics tab, you can see a rundown of how the potential customer tried to find you, what keywords they used to search your business, and how pictures of your business are performing.
These are important insights that allow you to easily keep your information up to date. If your pictures are not getting as much traffic as other factors, then you know it's time to change those images.
FAQs on Google My Business SEO
i) Can I have more than one Google My Business listing at the same address?
Yes. You can. As long as you are running legal but distinct businesses. You can have the same business location and a different Google listing for each of the businesses.
ii) How can Google my Business help SEO?
This tool helps businesses to get views on their content without waiting for Google to rank the business.
iii) How can you verify a location in Google my Business?
When creating an account on Google my Business, you can request a verified postcard, ensure the address is correct, and request the postcard.
iv) Is Google my Business free?
Yes. It's free to create your business listing on this platform. Additionally, you can manage your business.
v) How can I optimize my Google Business profile?
You can start by fully populating your profile, keeping your work hours updated, verifying your location, and filling in your business description.
The Bottom Line
Google My Business is a helpful tool that can help you to get the right customers, and rank your business among local businesses. Remember the more effort you put into it, the better for your business. Not only will you have an edge in the online world, but it is also one of the best tools for anyone who wants to start a business.
Image source: jamgraphicsblog.com