As an SEO specialist, is your SEO strategy producing real results in your digital marketing plan, and can you prove these results to your clients or employer? Keep in mind that you aren't only needed to create content that ranks or increases traffic but also be in a position to present the results of your strategy with solid SEO reporting. Here is the step-by-step guide to creating an SEO report.
What's an SEO Report?
An SEO report is an overview of key SEO metrics that represent business growth, organic traffic, search engine performance, website health as well as backlink portfolio strength. It is the primary resource for your clients, managers, or supervisors in tracking the progress and impact on your work. Besides, these stakeholders want to know that their money is being wisely spent on you.
Image Source: loganix.com
Though you may not be able to win with SEO every month, a perfect SEO report should express that your efforts are likely to provide a positive ROI in the long run. On the other hand, though stakeholders deserve more, no one wants to read a 100-page SEO report, including each metric under the sun. So, make the report brief and precise.
Why Is SEO Reporting Necessary?
SEO reporting usually serves several important purposes for marketing experts and organizations that hire them. For example, an SEO report may include the following:
Goal assessment of the effectiveness of a campaign
A starting point against which to gauge progress.
Direction and attention as SEO strategies are developed
Hints regarding what changes should be made
Accountability and progress monitoring
Concrete proof of return on investment (ROI).
5 Steps on How to Create a Perfect SEO Report
Step 1: Determine Your SEO Objectives
A clear set of goals will help you decide on the SEO metrics to track and will guide your analysis and recommended next activities. These objectives should be divided into two parts: the SEO metric you want to improve and the real-world result you want to achieve. Besides, boosting site traffic or whatever online metric you target isn't the end goal. It would be best to determine what big-picture target is behind your SEO objectives.
Step 2: Examine SEO Metrics
Compile and evaluate the KPIs that are most relevant to your objectives. Then, explain the meaning of the figures and why these metrics are significant. Also, take note of your strengths and weaknesses. The objective is to deliver a complete and up-to-date picture of SEO ranking elements and website performance.
Step 3: Review Your Current SEO Efforts
Image Source: databox.com
We recommend summarizing and assessing your current SEO efforts. Do this by describing the steps previously made to improve the website and its effectiveness. Then, compare your current efforts to your most recent SEO recommendations. Keep in mind that search engine algorithms are continuously being updated; therefore, what worked a year ago may not be the best practice now. Always look for gaps and create growth opportunities.
Step 4: Outline the Next Measures for SEO
Convert your analysis into practical recommendations. What measures should be taken to enhance SEO and, eventually, get the business closer to its long-term objectives? In this step, you need to be more specific. Explain what these changes will accomplish and how you plan to track progress.
Step 5: Review the Final SEO Report
Review the SEO report that you have written before sharing it with others. Look for sentence-level errors in grammar, punctuation, and spelling. Also, ensure your text is clear and that the formatting is consistent. Minor errors such as typos make your report look unprofessional and will distract from its content. A well-written SEO report template should be easy to read and comprehend, even for those with no SEO background.
Fundamentals of SEO Reporting
1. Objective Reports
Any reputable SEO firm will develop objectives and internet tracking in Google Analytics. Definitely, the objectives depend on the type of website. Your clients will want to know how many objectives SEO traffic is producing. These objectives include events, visit duration, conversions, visit or page, and URL Destinations.
Image Source: msk.org.au
The main idea is to seek a direct link between your consumer and your SEO efforts and show your consumers how your SEO efforts make the difference in guaranteeing consumer satisfaction in achieving their profit goals.
Usually, the reason behind blogging and posting on social media and goal reports help demonstrate your value as a marketer. However, note that it's wise to run benchmarking reports before getting into the objective performance.
2. Dashboards for Quick Information
In this context, your consumers are just like you. They are busy and need quick and easy access to crucial data showing them your successful SEO efforts.
Dashboards serve as a principal summary of your SEO reports. They provide a comprehensive, concise picture of how your SEO efforts create a good return on investment for your clients. So, you will need to provide easily accessible and configurable dashboards.
Keep in mind that you may have clients more concerned with monthly growth than annual growth. Besides, you may have clients more interested in which articles are receiving the most organic traffic than where that traffic is coming from.
3. The Total Number of Optimized Pages
You may have been hired to work on a website with hundreds or thousands of pages. Your client understood you had a lot of work ahead of you when you started the project but will still want to see a report that shows you're making progress.
The SEO report should indicate how many pages you have optimized against how many pages are still unoptimized. The former should increase with time, while the latter should decrease. This will demonstrate to your client that you are always working to enhance the website.
4. Acquired High-Quality Backlinks
Everyone wants a link to Wikipedia. Unluckily, not everyone will be able to get one. Keep in mind that links are one of the most crucial metrics to monitor, especially given Google's emphasis on reputation and authority in the EAT guidelines. And since reputation is more important than ever, ensure you keep track of any newly earned links you have helped your clients get.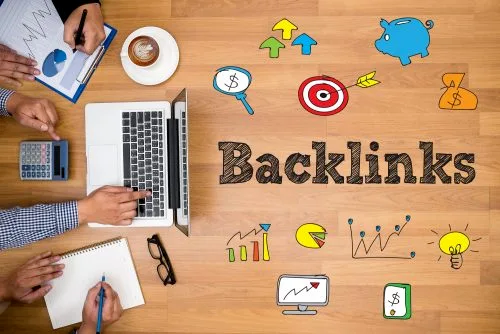 Image Source: seocompany123389339056.wordpress.com
You should emphasize this in your SEO reports so that they know you are doing your job, even if the SERP rankings or inbound traffic don't exactly meet expectations. Also, consider how it looks good for the client if other trustworthy sites link back to their content.
5. Total Work Done During the Period
What precisely did you do in the last month? Or in the previous quarter? Did you publish three new articles with fresh keywords? Did you write content for other websites and provide backlinks? Did you optimize seven more pages?
Create a detailed SEO report outlining what work was done in the last month/quarter. Clients often don't see what you are doing for their SEO performance firsthand; therefore, you must record everything and share your results.
Best SEO Reports for Tracking Keyword Growth
Most clients want to see how their organic keyword positioning and traffic are improving, and there are a few ways to do so.
1. Growth in Traffic and Keywords for Translated Pages
When you're ready, one of the most effective SEO strategies is to translate your website into other languages and get the pages ranked. This way, you have the potential to double your business or more. If you execute this for clients, they expect to see keyword growth and traffic for those additional parts in your SEO reports.
2. Boost in Overall Keyword Growth
If you've been tasked with ranking a specific keyword, you are probably aware that there are related keywords that you should also rank for. In some cases, the related keywords can be easier to rank, especially in terms of competition, or better for your client (in terms of monthly searches) than the keyword you were entrusted with ranking.
Image Source: diib.com
Keyword ranking companies such as SEMrush have organic keyword analytics, which gives visual statistics on overall keyword rankings, volume, and fluctuations. For example, you should tell them if your client's top keywords are losing rank in Google SERPs.
That is why you should provide a report detailing how many related keywords you have ranked for your client during your SEO campaign. You will demonstrate to them how you have an online impact or where opportunities still exist.
3. Improve in Ranking for Top Keywords
Your SEO services are primarily intended to propel your clients to the top of search engine results pages (SERPs), where their links are more likely to be clicked. Therefore, you should offer them an SEO report showing how their performance has changed.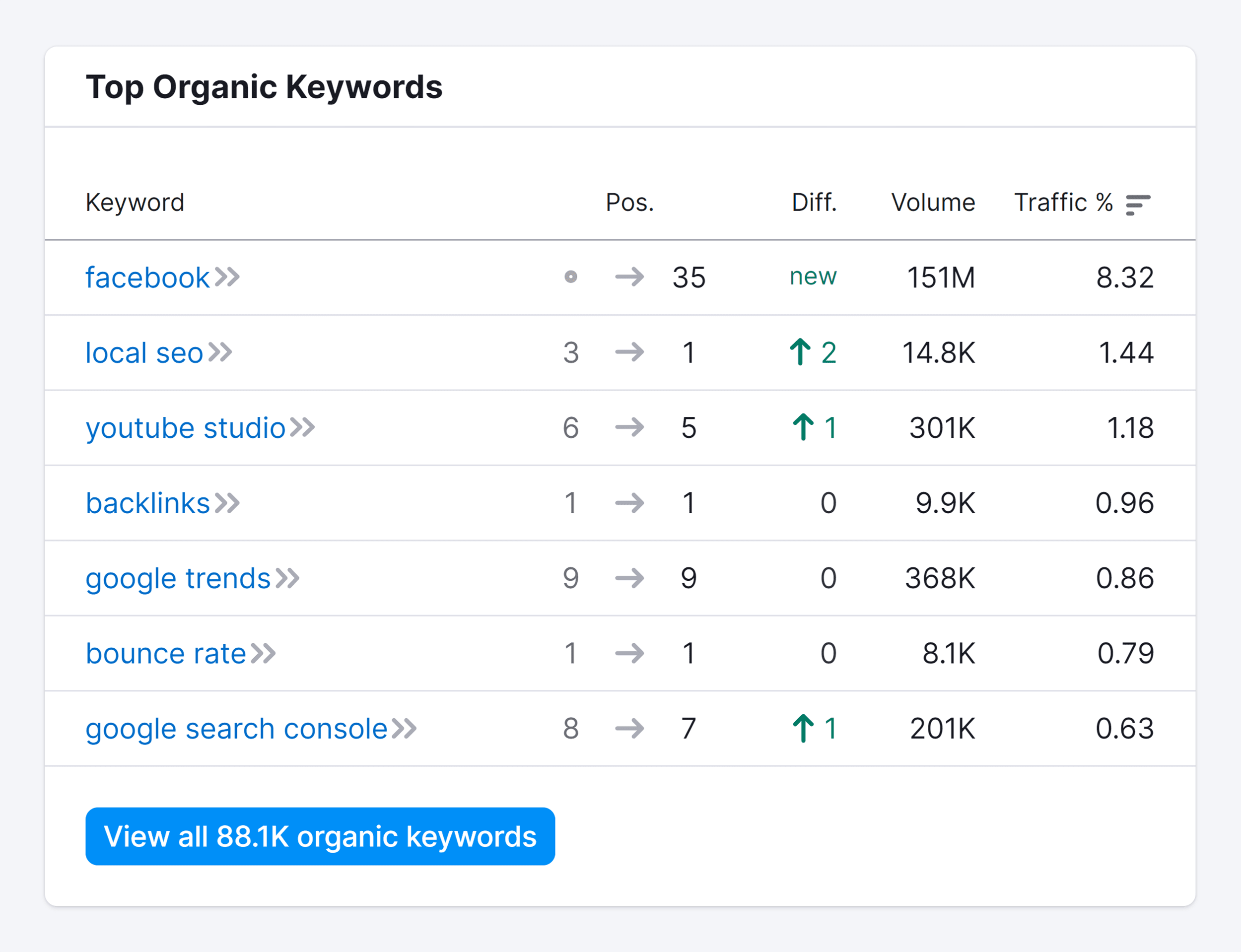 Image Source: backlinko.com
So, for instance, if you were charged with ranking "XYZ Widgets" in February, and you got that keyword up to Page 7 on the SERP rankings in March, then you will want to show that client how you have progressed since March.
An SEO report that illustrates to your clients that the keyword went to Page 5 in April and Page 4 in May shows them exactly how you are progressing month to month. This SEO report may also demonstrate to clients that there is a clear path to the top even if they are not in position zero.
Best SEO Performance Growth Reports
In any SEO report, you should always pay attention to the overall performance of a website since this is what SEO efforts try to impact. The overall performance of a client's website in Google SERPs determines its presence. We will show you where and what to report on.
1. Mobile Traffic Growth
Mobile traffic growth is as crucial as desktop traffic. The truth is mobile technology is growing up, and your SEO efforts should reflect that. You should therefore provide your clients with an SEO report that illustrates how your services reach people who use smartphones, especially if they are trying to connect with local users who are performing "near me searches."
That way, the clients will be able to see their competitive edge over their colleagues who are not paying any attention to the mobile space.
2. Google Search Console Performance Report
One of the latest reports in Google's revised GSC platform is an overview report that tracks your website's performance. This is an excellent example of an entry SEO report for your clients, demonstrating how their SEO efforts are paying off. Here, your clients will find details regarding keyword performance, fresh high-authority links, and any hard-won appearances in the results.
3. Month-Over-Month Growth
Month-over-month (MOM) growth is a significant indicator of success. Your clients will want to see that your SEO efforts are paying off right away.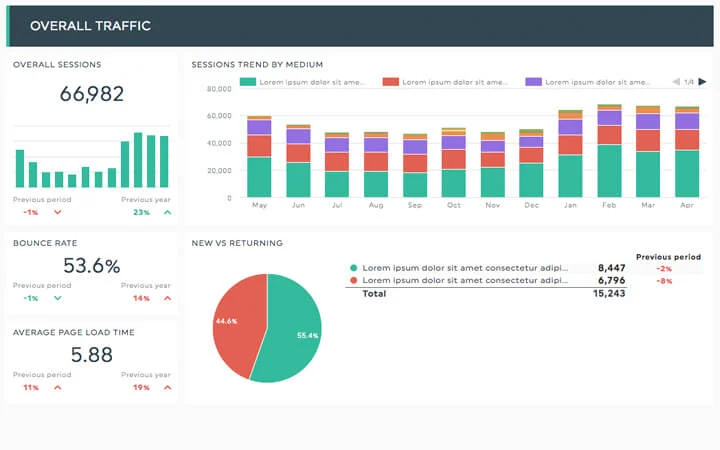 Image Source: dashthis.com
A good SEO monthly report will show your clients that they are continually improving—it appeals more to our innate need for instant gratification. Another advantage of monthly SEO is that you can go more specific, tracking seasonal highs and lows.
With time, you will be able to collaborate with the client to capitalize on seasonal changes for better results. On the other hand, MOM is a bit more immediate than the year-on-year report.
4. Year-Over-Year Growth
As a result of your efforts, your SEO clients should see an improvement in traffic over time. That is why providing them with a perfect SEO report that shows year-over-year (YOY) growth is critical. It shouldn't be a surprise that most businesses create annual budgets. That is why the YOY SEO metrics are so crucial.
If your clients find that your SEO efforts yield results, they will increase the budget for the next year. Everyone will benefit from this. Generally, the best SEO companies should be able to achieve this if there are no major technical difficulties, algorithm updates, or penalties.
What Are the Best SEO Reporting Tools?
1. Google Analytics
Google Analytics usually monitors the activity on your website. It can help you with everything from assessing your top sources of user traffic to tracking goal completions and determining how your competitors perform.
Image Source: indepthseo.com
You can use it to gather visitor insights, assess the performance of your SEO and marketing campaigns, find user patterns and trends, and receive visitor information such as demographics, engagement, and devices, among other things.
Google Analytics offers a detailed overview of your website's SEO performance. It also offers data visualization and monitoring SEO tools like dashboards, scorecards, and motion charts representing user engagement and traffic changes over time.
2. Google Search Console
The Google Search Console (GSC) is a free reporting tool that delivers multiple actionable SEO reports to help you identify opportunities, resolve difficulties, track keyword performance, and receive Google notifications about the health of your website.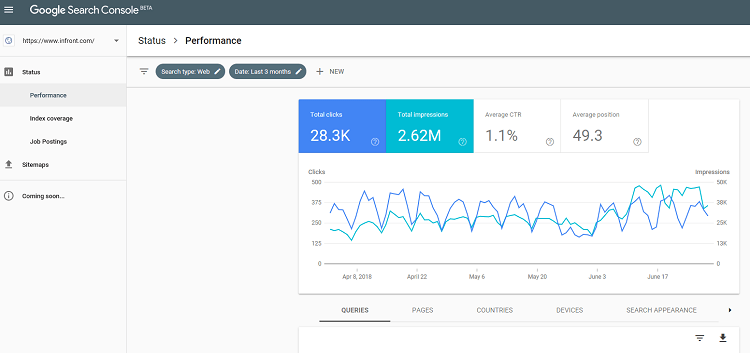 Image Source: infront.com
Although you cannot make changes to your website directly through the GSC, you can conveniently use it to submit pages to the Google index to check for faults across your domain property and verify your website's health.
Furthermore, unlike other reporting tools such as Google Analytics, GSC exclusively offers information on Google web searches about organic traffic. Therefore, if you want to rank higher in Google SERPs, this tool can help you cut your way through categories like social media, email, and others to provide you with Google-centric reports.
3. Moz
Moz usually helps you generate keyword lists and even anticipate ranking for certain keywords. In addition, it can crawl your site on demand, assess keywords based on search traffic, and research your competitors' backlink profiles. Moz's most popular features are Moz Local and Moz Keyword Explorer.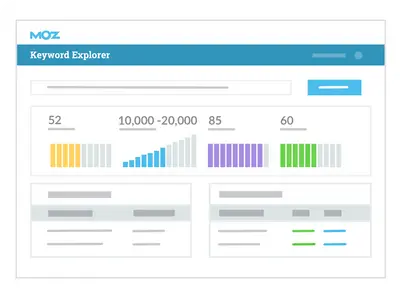 Image Source: moz.com
Moz allows you to build custom SEO reports with ranking data and on-page optimization reports, define report schedules, and export the data to PDF. You can use a Moz SEO report template or design one from scratch.
4. Semrush
Semrush offers customizable SEO reports to help you speed up and simplify your SEO reporting process. Semrush's "My Reports" feature allows you to go deep into your website's SEO analytics. The best part? It allows you to combine data about your site's performance with competitor data and Google Suite integrations.
Image Source: semrush.com
For instance, you can access aggregated data from Google Analytics, Google Search Console, Google Ads, Google My Business, and more than 40 Semrush tools. Besides, you can use the "Site Audit" feature to address technical SEO topics such as site performance, 404 error resolution, broken link repair, and more.
Moreover, you can view and export thematic SEO reports that include HTTPS, crawlability, site performance, international SEO, and internal linking.
5. Ahrefs
Ahrefs is popular for its "backlink profiling." When you input a site name in its backlink profile page, you will be sent to a dashboard with information about your site's backlinks, organic traffic, and metrics. When you go to "Backlinks," you will get a detailed breakdown of your links, including redirect, content, dofollow, nofollow, UGC, and more.
Image Source: ahrefs.com
Skilled SEO consultants and website owners usually use this SEO tool to assess their competitors' links. For instance, you can easily find pages that link to your competitors and check their link profiles to learn why people link to their websites.
Furthermore, Ahrefs has a "Best by Links" feature, which will help you identify website pages with the most backlinks. The feature also provides an overview of top-performing content, allowing you to optimize your content and SEO strategy to develop more engaging assets for your site.
Featured Image Source: grabsol.co.uk