Are you tired of feeling overwhelmed by the constant flood of marketing and advertising emails in your inbox? Look no further for the best ones for digital marketing. Whether you're a small business owner looking to expand your reach or a marketer looking for inspiration, newsletters are an excellent resource for staying up-to-date on the latest trends and strategies in the industry.
From in-depth analysis of current events to actionable tips for improving your campaigns, these newsletters offer something for everyone. So sit back, grab a cup of coffee, and get ready to learn from some of the best minds in the business.
What are Marketing Newsletters?
Image Credit: blog.triberr.com
A marketing newsletter is a particular type of email newsletter that businesses and organizations use to advertise their products, services, or events to a targeted subscriber base. It can be an effective marketing strategy for a business to reach its target audience and inform them about the company and what they offer.
Marketing newsletters can be sent frequently, such as daily, weekly, or monthly. It includes information about their promotions, industry news, special offers, new products or services, and other relevant content. These marketing efforts are meant to engage and influence the reader to perform the desired action, such as making a purchase or signing up for a service.
So, here are the top 20 best marketing newsletters to subscribe to if you want to fast-track your path to becoming the best digital marketer.
Specialization: Digital Marketing
Frequency: Weekly
We have to start with the industry's best marketing newsletter, Indexsy. It should be on top of your list if you want nuggets of news and information about digital marketing to remain on top of things. They focus on boosting organic traffic using SEO, unique marketing tactics, and digital marketing.
They are also unique since they also do monthly net worth and revenue updates which is beneficial to all marketers. Also, you can get a free audit of your website.
Specialization: SEO (search engine optimization) and inbound marketing analytics
Frequency: Bi-monthly
You may have heard of Moz since it's among the leading authorities on SEO, but did you know they also release a newsletter twice a month? The newsletter from Moz comprises a roundup with the month's top articles on growth marketing and SEO.
Moz Top 10 is an excellent resource if you don't have time to hunt down all the marketing and advertising news. It is carefully curated with marketing tactics and insights from different marketing leaders and combined in one place.
Specialization: Marketing News, Marketing Trends, Business News
Frequency: Daily newsletter
Morning Brew is a marketing newsletter highlighting the best marketing tips, industry updates, and think pieces. It is well-written with interesting articles and bits of actionable advice you would be interested to read, but very selective to avoid including fluff.
Image Credit: trinitypg.ca
Specialization: Content marketing
Frequency: Twice daily
As a marketing powerhouse, Hubspot also has a marketing-focused email newsletter. It gives digital marketers access to the hot industry topics like how to create better SEO content or use different marketing channels.
The Hubspot roundup newsletter comprises all the month's top articles on different topics such as SEO, email marketing, and blogging. You can expect everything from the social networks you should be advertising to the best digital marketing books you should read on working from home for remote employees.
Specialization: Latest updates in the marketing world, Interesting stories, Expert commentaries
Frequency: Thrice a week
Marketing Brew is one of the best resources for digital marketers. With straightforward yet educational content on the most recent marketing news reshaping the industry, Marketing Brew hits a daily home run. They dissect headlines from social media, television, channels, brands, and industries in a cool, casual language.
You will love how this Marketing Brew newsletter touches on everything from controversial ad successful marketing campaigns to social media trends, and you can learn something new from each one.
Specialization: All things Digital Business
Frequency: Daily
The Clickk newsletter is short, hilarious, and informative, meaning it will take a short time to go through. It is perfect for marketers since it covers all things in the digital marketing business, from startups to marketing trends and the future of e-commerce.
You can expect free resources, including thought-provoking prompts, instructional articles, and random quizzes or links that will get you thinking out of the usual marketing strategy box.
Specialization: Landing Page Optimization
Frequency: Daily or Weekly
Unbounce is one of the best newsletters for marketers looking for one that will help them learn all about landing pages from an SEO specialist within the landing page niche. They are experts in their field, and their newsletter is jam-packed with advice on creating landing pages, boosting conversion rates, and other topics.
It's interesting to note that you can get the newsletter daily or only once a week. In either case, you'll get updates on the industry and SEO tips for enhancing your marketing efforts.
Specialization: All Things SEO
Frequency: Bi-Monthly
Most marketers are constantly chasing SEO goals, and this Detailed newsletter could be the right tool for all marketers. It brings insider SEO tips and insights from the top companies to your inbox.
The Detailed newsletter is the best option for any content marketer, affiliate blogger, SAAS marketer, or brand marketer trying to make a difference through classic SEO strategies.
Image Credit: pinterest.com
Specialization: All things marketing
Frequency: Daily
This is the best resource site for modern marketing tools, articles, seminars, training, and forums from marketing experts from all industries. It offers daily marketing knowledge, including know-how, lessons, perspectives, and actionable insights.
Marketing Profs also grants you access to forums with other members where you can discuss your marketing experiences with other like-minded people.
Specialization: Social media
Frequency: Daily
Social Media Examiner is one of the world's largest social media marketing resources. It is beneficial to help brands connect with their customers and also build their following. You will also stay in the loop with the latest marketing tips, tools, and statistics.
Specialization: Marketing strategies in a friendly tone
Frequency: Daily newsletter
If you are looking for a marketing newsletter that teaches its readers to make intelligent business decisions, then the Hustle newsletter is your best bet. It differs from your average newsletter as it's full of puns and an entertaining tone to deliver valuable information on marketing strategies.
It is a top choice for marketers thanks to its no-frills layout, which delivers compelling headlines with detailed context and links back to its site if you want a deeper marketing dive.
Focus: Search engine optimization (SEO)
Frequency: Weekly
Exploding Topics stands out from other newsletters because it crawls many searches, forums, and mentions all over the internet to find the next big thing.
The newsletter is free with a 14-day Pro costing $1 which brings growth strategies directly to your inbox.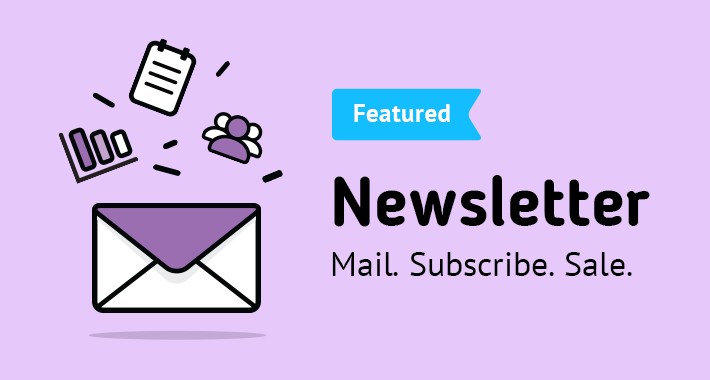 Image Credit: opencart.com
Specialization: Content marketing
Frequency: Daily, Weekly, Monthly
As a growth marketer who wants to keep up to date with the latest content marketing trends, the Content Marketing Institute's newsletter called This Week in Content Marketing is ideal for you. This newsletter combines articles from the leading Content Marketing Institute website, current job listings, and news from the marketing world.
Most marketers love how it gives an inside look at what is currently changing with content marketing and how you should keep up with the changes. Content Marketing Institute also will provide a daily blog post, details of events, training, community news, and general promotions directly to your inbox.
Focus: Social media, Mobile marketing, SEO to ads, analytics, latest marketing news and trends
Frequency: Daily
Marketers praise Martech Daily, which includes the best marketing insights, walkthroughs, updates, expert commentaries, and future trends. This is one of the best digital marketing newsletters if you enjoy marketing events, reports, and data, as it will give you wise and data-driven solutions.
Focus: Niche site strategies, SEO, business book recommendations
Frequency: Bi-weekly
This is the best for you if you are looking for a growth marketing newsletter to improve your general marketing knowledge. The Ariyh newsletter provides data-backed scientific findings and actionable insights to help boost your marketing efforts.
Most of its research falls under spanning psychology, economics, behavioral science, and neuroscience. Also, it is a fast read and will only take three minutes. However, although the newsletter is free, there is a mention of charging in the future.
Specialization: Marketing technology and trends
Frequency: Daily
The daily newsletter from Marketing Dive is an easy-to-read email that only takes 60 seconds to read! Updates address various marketing topics, such as marketing technology, video, mobile marketing, analytics, and measures.
Marketing Dive helps growth marketers by breaking down the top articles from their online publications into briefs to allow users to learn quickly.
Image Credit: pinterest.com
Focus: Ideas out of the box
Frequency: Weekly newsletter
This is one of the best digital marketing newsletters if you want one that will give the most interesting and under-appreciated stories of the week from brands and businesses worlds. It explains to marketers and entrepreneurs why they need to care about these insights in a conversational and friendly way.
The marketing strategist behind this newsletter aims to teach marketers to be more open-minded with their thinking and explore the latest industry trends outside mainstream media reporting.
Focus: Latest marketing updates
Frequency: Daily
The Daily Carnage is a growth newsletter with content that it says to be the day's best marketing content and categorizes it as listen, read or watch. It also shares an inspirational quote of the day, a hilarious ad from the past, and hidden reaction GIFs.
You will also love its accessible format, which will give you interesting articles in a voice-friendly and fun way. The newsletter from the full-service agency empowers marketing pros with the best practices, excellent knowledge, and the latest marketing news and trends
Focus: Growth acceleration, Marketing Strategy
Frequency: Twice a month
For startups and growth experts seeking to accelerate customer acquisition and income, Demand Curve is the best course to take. Data from local startups inform the playbooks and resources you receive as part of a data-driven course.
This newsletter rolls out twice a month, giving tips on the most successful growth tactics from the marketing community.
Focus: Failures of other founders
Frequency: Weekly
Our final recommendation in the list is unique since it focuses on companies that still need to achieve marketing success. It is an excellent resource for startup founders to help them avoid mistakes that have been made before.
Although it's good to know about successful marketing campaigns, knowing how other companies have failed is as valuable. Failory focuses on failures instead of successes, and it takes the form of podcasts and blogs with the aim of its subscribers learning from other people's mistakes.
What are the Benefits of Subscribing to Newsletters for Your Marketing Career?
Newsletter marketing is a new marketing niche that only some companies can live with. Subscribing to a marketing newsletter can help a reader stay up to date, learn new skills, connect with others in the field, and find inspiration for your marketing efforts.
These newsletters can be a great source of information for individuals and marketing professionals who want to stay updated with the latest trends and developments in the marketing world.
Below are some benefits you would enjoy if you subscribed to a marketing newsletter. They include:
Stay Informed- Marketing newsletters help marketers to keep track of the latest research, trends, and best marketing practices.
Networking- Many marketing newsletters have a significant yet active community of subscribers, which can help you connect with other marketing professionals in the field and get lessons from their experiences
Professional Development- When reading a newsletter, you can learn new skills and techniques to help you improve your marketing career.
Inspiration- Reading newsletters can offer ideas and inspiration for influencer marketing campaigns and projects
What Makes A Great Newsletter?
Image Credit: itscreativejuice.com
As a marketer, a great newsletter usually results in nurtured leads and increased traffic, but this depends on the experience and value you deliver to your subscribers.
From a subscriber's perspective, a worthy newsletter will include the following:
1. Beautiful Design
Most users prefer a newsletter with a clear, crisp, straightforward copy. The digital marketing content should be broken up in an easy-to-digest way, whether with plenty of images or not.
2. Useful Content
When you subscribe to a newsletter, you want to receive a relevant email providing information that aligns with what was promoted. A good newsletter should impact your day and allow you to learn something valuable from every edition.
3. Not Too Much About Sales
Nobody wants to get email newsletters that are just sales promotions over and over again, and most subscribers will unsubscribe quickly. This is discouraging since when one signs up, they are looking to gain some value or insights and not getting pushed to buy something. The best marketing newsletter should create a nurturing relationship with its readers and build trust, which enables users to eventually want what is being offered.
4. Consistent Quality
Most readers like to know what to expect, and when a newsletter offers consistency, you can build trust with your subscribers. In addition, you assist them in developing habits related to your content. Every day, every week, or every month if you send your marketing message simultaneously, it develops habitual behavior in response to this pattern.
Conclusion on the 20 Best Marketing Newsletters
Marketing newsletters are a great way to stay up-to-date with the latest marketing news and trends. With plenty of growth marketing newsletters worldwide, it can take time to pinpoint the best for your digital marketing needs. Luckily, we scoured the internet and found the best ones for you.
Make sure you subscribe to one or more marketing newsletters in our list to avoid wasting time searching social media and the web for the best digital marketing strategies.
Featured Image Credit: maropost.com