Backlinks and content make up the most crucial elements that affect how effectively your websites rank in search engine results pages (SERPs). If anything, understanding what backlinks are, how they work, and how to get them is extremely significant and ought to be regarded as such. This post on SEO backlinks explained will provide a complete breakdown and some strategies for obtaining them for your website.
What Are Backlinks?
Also known as incoming links, inbound links, or one-way links, backlinks are created when one website links to another. Basically, by clicking on these links, you can navigate from one website to another's webpage.
Image Source: moz.com
Backlinks are seen as votes for your website in comparison to competing websites. Many votes show the search engines that this content is reputable, helpful, and worth reading. As a result, the more votes you have, the higher your website will appear in Google, Bing, Yahoo, and other search engines.
Nevertheless, not every backlink is made equal. Using high-quality backlinks will help you rank higher in the search engine results pages (SERPs). After all, one high-quality backlink can outperform one hundred low-quality ones in search engine rankings.
While some backlink types will aid in raising your website's search rankings, other types are low-quality and may hurt how well your site performs in organic search results.
Why Are Backlinks Important?
Building backlinks is a crucial component of SEO since search engines utilize them to assess the authority and relevancy of a page. By utilizing backlinks, search engines can evaluate how important a page is. But, as we mentioned, not all backlinks are created equal. In contrast to the number of outbound links on your website, search engines analyze backlinks depending on the quality of the domain providing them.
Image Source: cqpchd.com
Because they demonstrate value, backlinks can raise your ranking. In the end, the number of high-quality backlinks you have will determine how highly search engines will rank your sites on the Google search results page.
They also aid in the online discovery of your company. You can increase the amount of referral traffic to your website from users who are already interested in the subjects you're covering when well-known websites link back to it. More potential clients can now access the marketing funnel as a result.
Types of Backlinks
1. Guest Blogging Backlinks
Guest blogging is one of the most beneficial types of backlinks that digital marketers should strive for as part of their link-building activities. It comprises publishing articles as a guest author on someone else's website and including a link to your own website.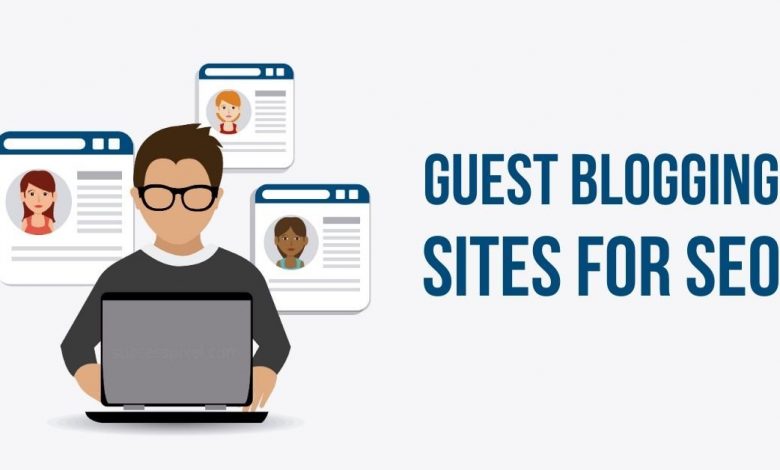 Image Source: 4seohelp.com
A guest link can be free or paid for, but often, it's a deal between two websites. Still, you can contribute a guest post to another website and receive relevant backlinks to your website embedded within the piece.
Any SEO strategy should include practicing guest blogging outreach to ask more worthwhile websites for these possibilities. Without a doubt, these backlinks can help you greatly and improve your rankings.
2. Paid or Sponsored Link Building Strategy
Paid linking occurs when one website pays another to include the former's link in the latter's content. Although link development is an essential part of SEO, buying links is against the rules and may result in penalties from search engines. However, it can be successful if done in a strategic manner.
The fact is, as long as you create high-quality material, Google can't really tell the difference between a sponsored and a natural link. So, if you're a new business, buying backlinks from a well-established site can be useful and important to entering the public eye.
3. Naturally Earned links
These backlinks are generated organically, without the need for the website owner to purchase them, either through guest posting or other link-building techniques. Natural links are created when other webmasters, bloggers, or site owners link to your content because they believe it will be beneficial to their audiences and enhance the value of their own websites.
Google urges all website owners to engage in this kind of link-building. When you publish a high-quality blog post, websites will inevitably connect to your company, helping you to spread the word about your brand. With natural links, you can be sure that your content is sound and that changes to the Google algorithm won't have an impact on your ranking or traffic.
4. UGC Links
Image Source: aioseo.com
User-generated content (UGC) links inform search engines like Google of the links that were made by users or clients. This enables website owners to state that they do not editorially support any of the links on their pages. Examples include links in blog comments and forum posts.
5. Nofollow links
Nofollowed links are links with a rel="nofollow" tag. Google does not pass PageRank or anchor text via these links; therefore, they do not affect how the destination URL ranks in search results. In actuality, Google doesn't even crawl nofollowed links.
6. Dofollow links
Links that Google and other search engines can use to link back to your website or blog are known as dofollow links. Because search engines can see what other authoritative websites, blogs, and posts are linked to you, every time you include a dofollow link on your website, it can point back to you and increase your authority.
7. Authority Links
Authority backlinks provide unadulterated ranking power, authority, and relevancy to advance the placement of your website in a SERP. These are links from websites that, as a result of their size, age, and quality, have gained a lot of trust from search engines.
Image Source: greengeeks.com
The easiest way to earn authority links is to keep an eye out for possibilities to acquire them because getting these backlinks is exceedingly challenging.
Amazing Strategies to Get Great Backlinks to Your Site
Image Source: shoutmeloud.com
1. Create Internal Links
An important aspect of having a successful blog is internal and external linking. You can make it simpler for visitors to move across your web pages and improve their overall experience by using an effective internal linking structure.
There are tools that can generate inbound links for your blog, particularly if you use WordPress, but you should make these links by hand instead.
2. Create Quality Content That's Link-Worthy
Publishing top-quality content on your website is another technique to increase your backlink profile and Google ranking. The most pertinent and reliable results should appear at the top of search engine results. You will rank better and receive more high-quality organic links if you have relevant, high-quality content.
As a result, websites with blogs receive more links than companies without blogs. You must therefore provide other website owners with a reason to link to your website. Even if your site has a high domain authority, it won't rank highly in Google's search results if you offer low-quality content.
3. Use Outbound Links to Form Partnerships
Examining your outbound connections is another method for identifying backlink possibilities. You can establish a partnership by sending an outreach email to websites that connect to you and have a lot of traffic.
Unfortunately, Google Analytics doesn't come with a report on outgoing connections. However, you can quickly view your top outbound connections with other tools. This way, you will see which of your website's external links get the most clicks. After that, you can contact these websites and start a conversation.
Mention that you're searching for a partnership opportunity and might collaborate on a case study or other type of content collaboration. You can obtain fantastic new backlinks, traffic, and a relationship with the source if they agree with the idea.
4. Utilize Infographics to Acquire Links
You can use infographics to generate backlinks for your website in addition to written text.
Image Source: visme.co
Infographics are visual displays of facts and information made up of illustrations, graphs, and charts. They aid in giving a brief overview of the subject and simplify complex ideas into clear, understandable pictures.
You help other content producers by making interesting and useful infographics. They might incorporate your visual design into a particular web page or in their blogs and credit you as the infographic's original author with a backlink.
5. Write Testimonials
If you want to get more organic search engine traffic and improve your search engine rankings, writing testimonials can help. Testimonials are essential because 95% of consumers check online reviews before making a purchase.
Most companies look for customer reviews to use as "social proof." On their homepage, they even showcase them. As a result, you can offer to write a testimonial in exchange for a backlink if you frequently use a tool or service. Locate organizations that are pertinent to your sector and request a testimonial from them.
Remember to look for websites with high domain authority (DA). After all, search engines view links from DA-high websites as being of high quality.
6. Participating in Interviews
Participating in interviews is a great way to gain backlinks, much like writing a guest article. By scanning the internet for websites that routinely hold interviews, you can get a job interview.
Image Source: soundrocket.com
Through HARO, one can obtain an interview. Simply keep an eye out for requests for an interview or a quote that is pertinent to your sector.
7. Analyze Your Competitors' Backlink Profiles
You might also focus on backlinks that your competitors have already acquired. However, your competitors' backlinks will work perfectly if you create excellent content that outperforms theirs since you can try to persuade website owners to link to your site rather than that of your competitor.
How to Check Backlinks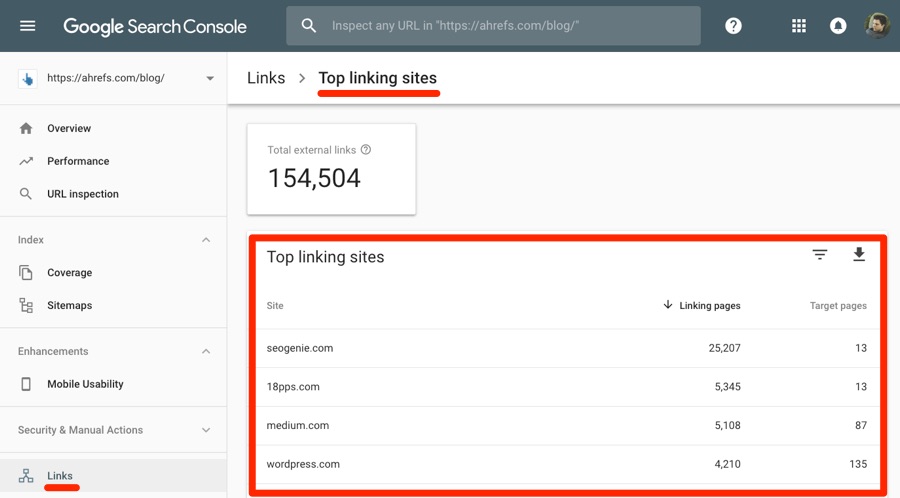 Image Source: ahrefs.com
Google Search Console provides you with relevant data about your site's organic search traffic and, generally, its overall performance. The fact that this tool is completely free and does the job even better than most other paid SEO tools is the best part.
All you need to get started is to sign up for an account and verify the ownership of your website. Once you have signed in, you will select Links on the sidebar. The number under "external links" shows how many backlinks are on your site.
This search engine optimization tool usually provides you with three reports:
Top linked pages: There are web pages that are most liked on your website.
Top linking sites: Under this category, you will find other websites that link to your site the most.
Top linking text: Here, you will be able to see the most used anchor texts when linking to your site.
Moreover, you can also export your site's external links in the form of a CSV file in the top-right corner. That said, it's necessary to note that there are many other SEO tools you can use to check the backlinks to your site. Some of the other best tools to use include:
a) Ahref
Ahrefs is one of the top SEO Indexers for monitoring backlinks to websites. You can monitor up to 10 backlinks and two sites per request in the free edition of the software.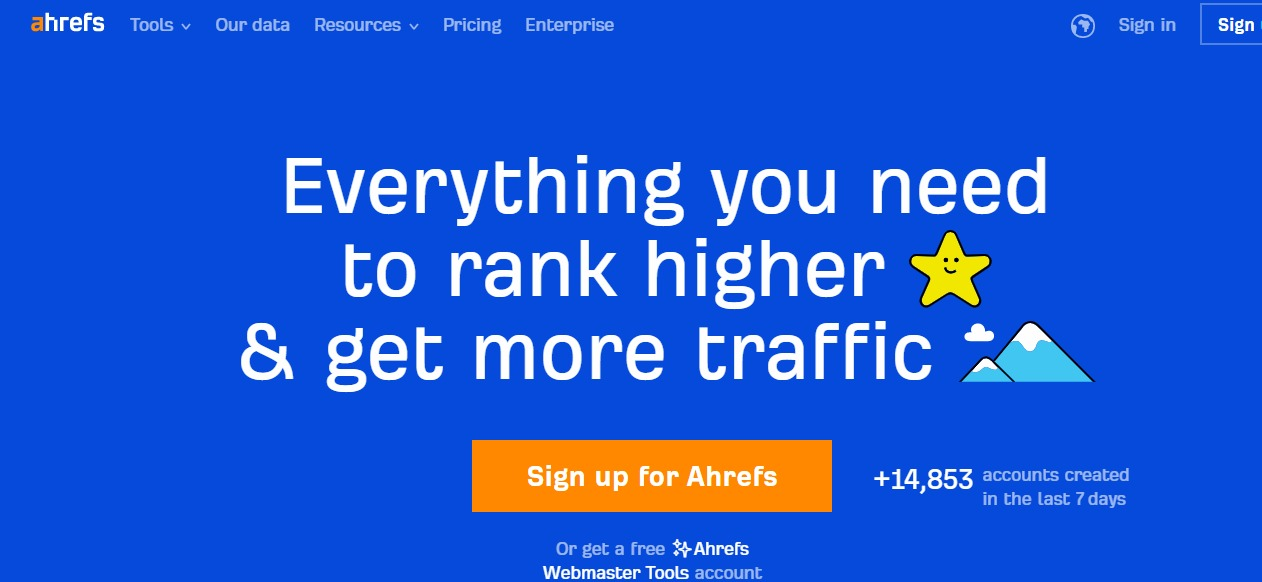 Paid versions start at $99 a month and feature a thorough analysis of the backlink profile, including dofollow and nofollow, anchor text, image backlinks, and more.
This tool will be useful in supplying you with an actual percentage of anchor text on your site if you ever incur a Google penalty.
b) Sitechecker
Sitechecker is another top-notch backlink tracker for SEO and marketing managers to monitor and assess a website's backlink profile. You can use the tool to monitor all of your backlinks, receive notifications when any of them are lost, and then restore them.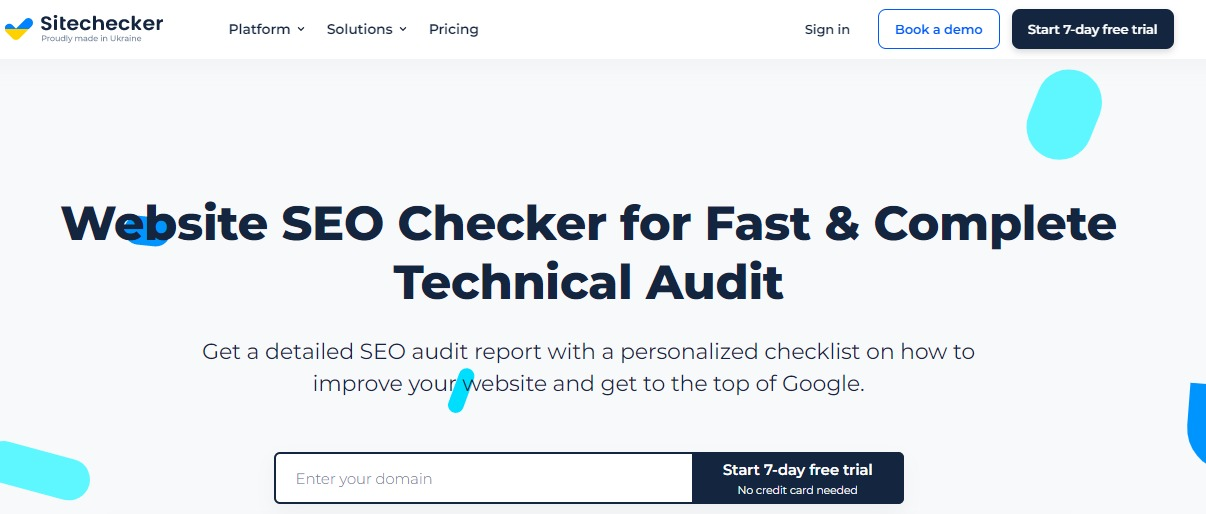 You can evaluate your link-building strategy using its straightforward reports, and you should try to increase its efficacy. Additionally, the most popular anchors that other websites use to link to your website are visible to you.
c) OpenLinkProfiler
OpenLinkProfiler is an excellent tool that can create up to 200,000 links for each report. It features a sizable, current link database and shows which links have been clicked recently (within the last 90 days).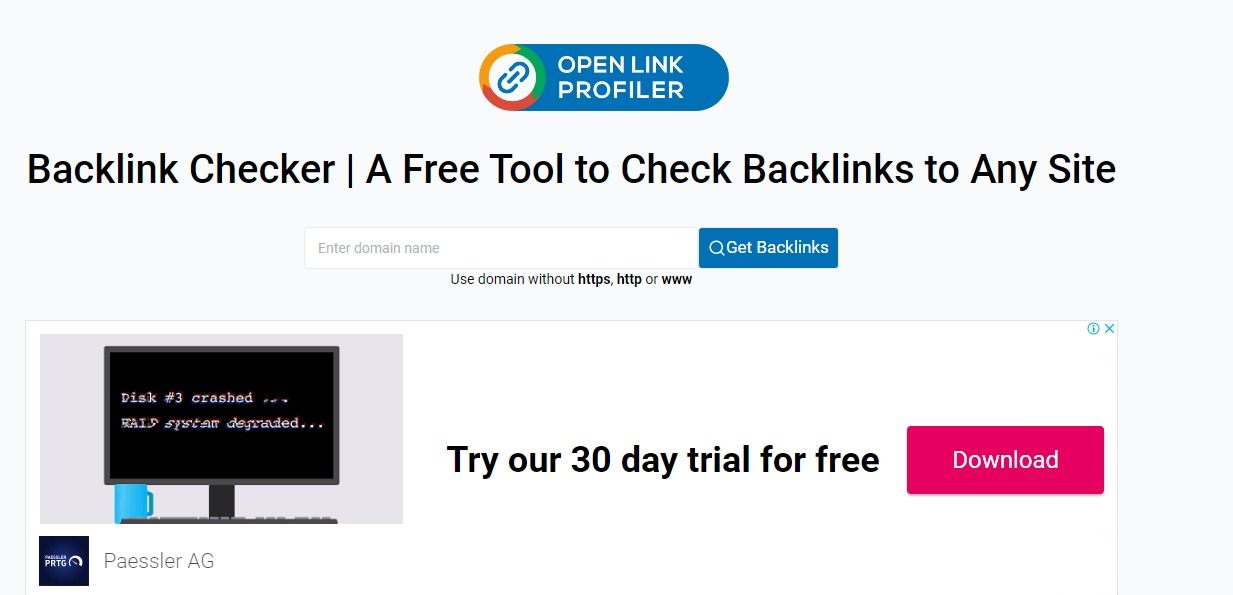 The free version allows you to export 100 backlinks in a CSV file. If you would like to export more, you can upgrade to the premium version. Along with the category of each link, the tool also shows the sort of websites that links to it.
Conclusion
The three pillars of SEO are backlink building, on-page optimization, and keyword research. But among these, generating distinctive and authoritative links is probably the most important part. They can be good for enhancing your overall SEO and for making you appear higher on search engine results pages (SERPs).
In recent years, the search engine algorithm for linking evaluation changed to emphasize quality links rather than numbers. As a result, obtaining high-quality backlinks for your SEO strategy became more difficult.
With more knowledge about backlinks at your disposal, you can get to work building an excellent portfolio of backlinks for your website. Never forget to keep a watchful eye on what your rivals are doing and to seize any new possibilities with haste.
Image Source: seoclarity.net