A content management system (CMS) usually has a lifespan of more than three years; thus, choosing the right one is crucial. And a good CMS can evolve with your company, stay up with new technological and security trends, and meet SEO standards. Besides, the content management system is your website's cornerstone, and search engine optimization ensures that your content grows the business. That said, let's check out the best CMS for SEO that you use on your website.
What is a CMS?
A content management system (CMS) is a software platform that allows users to conveniently build and manage a site's content by offering an interface that bridges the gap between common programming languages such as CSS, HTML, and JavaScript. The good thing is, with the CMS platform, you don't need to master these languages; it will allow you to create a site without having to write or learn how to code.
Now that we know a CMS platform let's check out the best CMS for SEO.
1. WordPress for SEO
WordPress is a popular website and blogging platform. It's usually open-source, with free templates, hosting, and support. You can choose from multiple templates, customize metadata, apply canonical tags, and create SEO-friendly URLs. Besides, it's one of the most popular CMS systems, with users ranging from bloggers who want their websites to small businesses to major enterprises.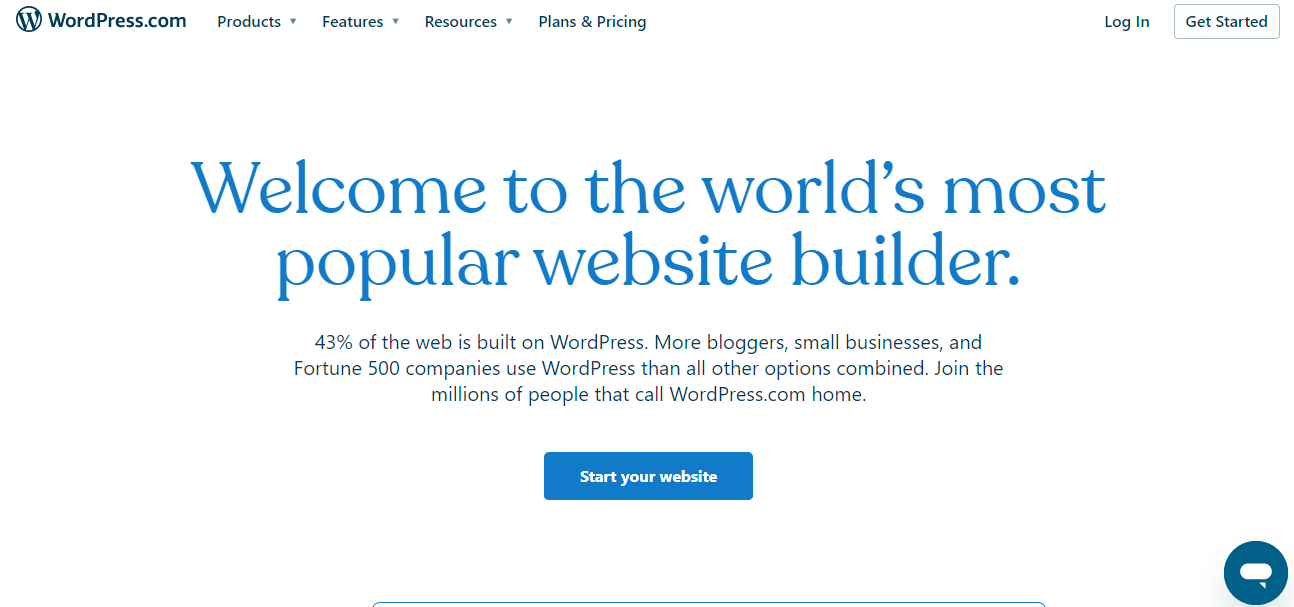 Image Source: wordpress.com
Since search engines are usually designed to drive traffic to a website, their algorithms are required to deliver the best information possible based on keywords, search terms, alt tagging, meta tags, and meta descriptions. Conversely, your Google search ranking factor and great placement on the search engine results page (SERPS) is the most common key performance indicator (KPI).
Furthermore, WordPress is quite an SEO-friendly CMS with solid page load times and a great user interface. Its features include free SEO-focused web design templates and WordPress themes, and it's easy to optimize images and add alt text for better rankings. However, you must install plugins such as SEMrush SEO Writing Assistant or Yoast SEO to use this site. Before installing your SEO plugins, like with every plugin installation, ensure you create a backup copy of your site.
Pros
User-friendly platform
Easy to customize crucial elements like metadata, permalinks, and alt descriptions.
Features flexible pricing based on your needs
Most themes are already optimized for mobile users
Cons
Requires plugins to optimize your site for SEO
2. Drupal for SEO
Drupal, like WordPress, is an open-source content management system. It's primarily a website-building tool. Conversely, it offers several technical SEO capabilities and SEO tools to help you get started with search engine optimization. The Drupal SEO tools module easily integrates a complex all-in-one suite of search engine analysis, reporting, and optimization tools into your site.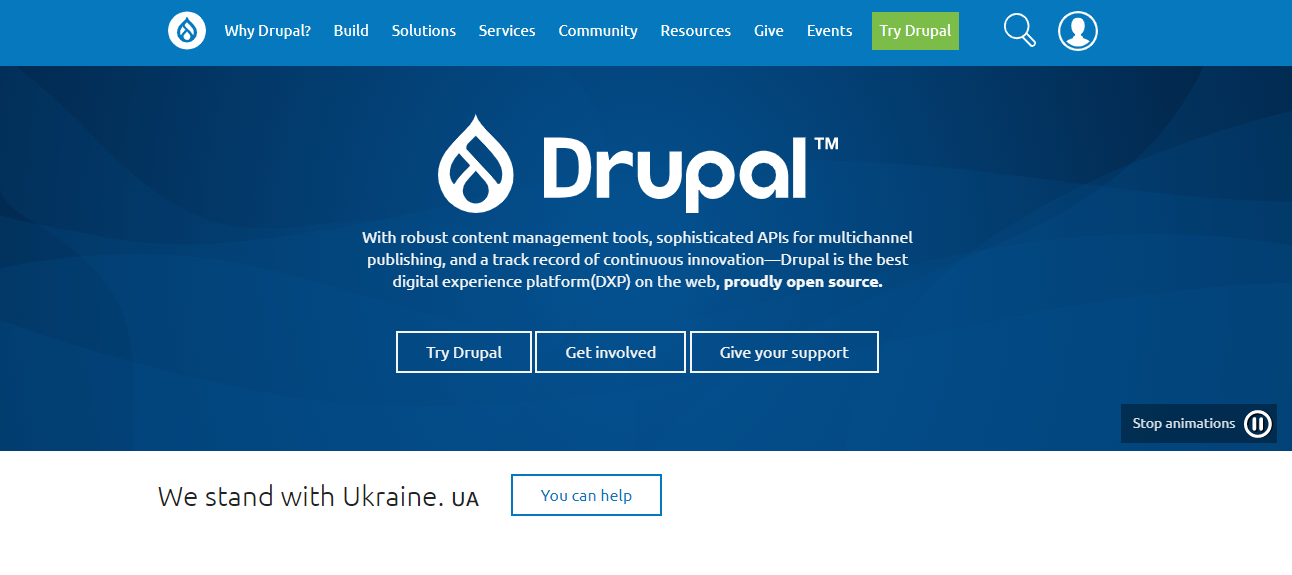 Image Source: drupal.org
Furthermore, Drupal features a dashboard with analytics reports as well as access to webmaster tools and essential Drupal SEO plugins. The plugins include link management, content optimization, keyword research, webmaster tools, drag-and-drop capabilities, advanced tagging, competitor analysis, and integrated analytics. Also, the data-focused strategy includes sharp dashboards that integrate with Google Analytics tools.
Drupal features intelligence plugins that integrate advanced analytics straight onto your Drupal site. For example, it adds customizable events, pages, and user attributes to Google Analytics tracking. It also leverages this data to offer a set of improved analytics reports that are incorporated into Drupal's admin. The main goal here is to help web teams effectively understand which online activities are successful and which are not.
Pros
Features stringent lockdown security, making it a popular option for government institutions
It comes with built-in multilingual functionality
Features a more flexible access control system allowing new roles and individual permissions to be created
It comes with excellent insights
Cons
Requires a web developer when setting up
3. HubSpot CMS Hub for SEO
HubSpot CMS Hub is an all-in-one marketing and sales platform making it one of the best options for growing businesses and large corporations looking for a system to manage their websites. The platform comes with a handy SEO recommendation tool that offers advice and analysis of your website. Furthermore, HubSpot's CMS offers file hosting, forms and landing pages, dynamic content, a blog platform, and file uploads.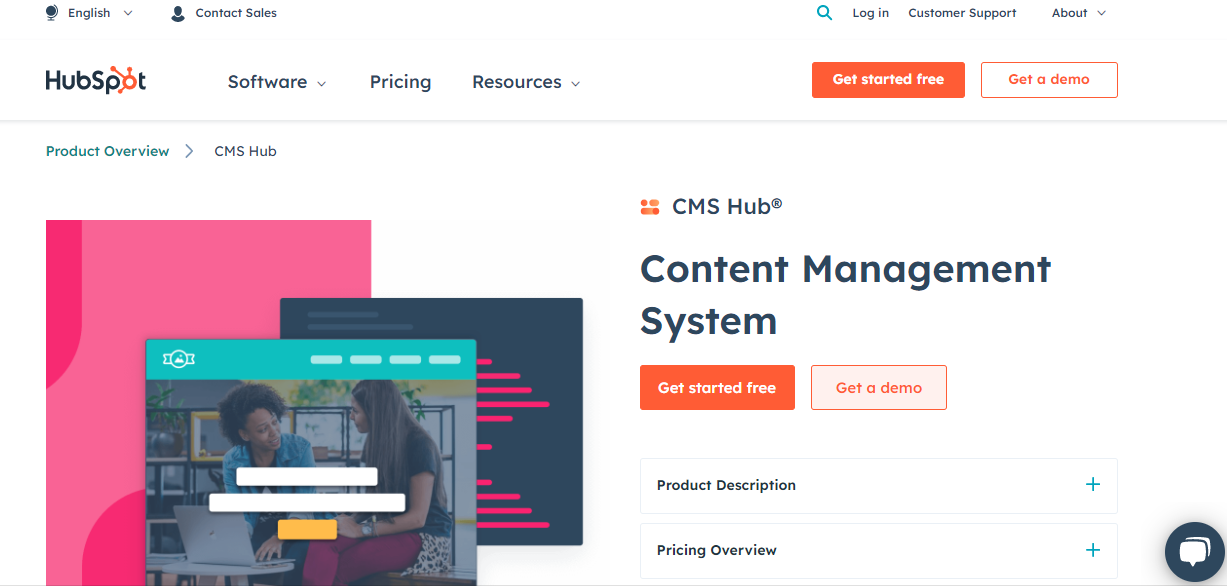 Image Source: hubspot.com
HubSpot's user experience is user-friendly and straightforward. Administrators can even manage their HubSpot accounts from their smartphone devices. Besides, the all-in-one HubSpot tool allows you to avoid duplicate content effortlessly. Regarding analytics, HubSpot's HubSpot Web Analytics tool provides a lot of power and custom reporting options. Also, it is extremely versatile and can even integrate with Salesforce.
With the platform, you will receive practical recommendations for optimizing your website for SEO, listed in priority order to illustrate which optimizations will influence your search performance the most. See which pages require updating, what actions should be made, and how your website's SEO improves.
Pros
The platform supports inbound link tracking, Google Search Console integration, and page performance statistics without requiring additional plugins.
The all-in-one platform includes essential functionalities like hosting, SEO optimization, content delivery network, and AMP support.
User-friendly platform
Features the most needed SEO options, no third-party extensions
Cons
Templates could be more flexible.
4. Shopify CMS for SEO
If you are looking for an ecommerce site platform, count on Shopify, a popular website platform for online retailers. Besides its wealth of built-in ecommerce tools, Shopify usually goes out of its way to ensure that users, including beginners, adhere to SEO best practices.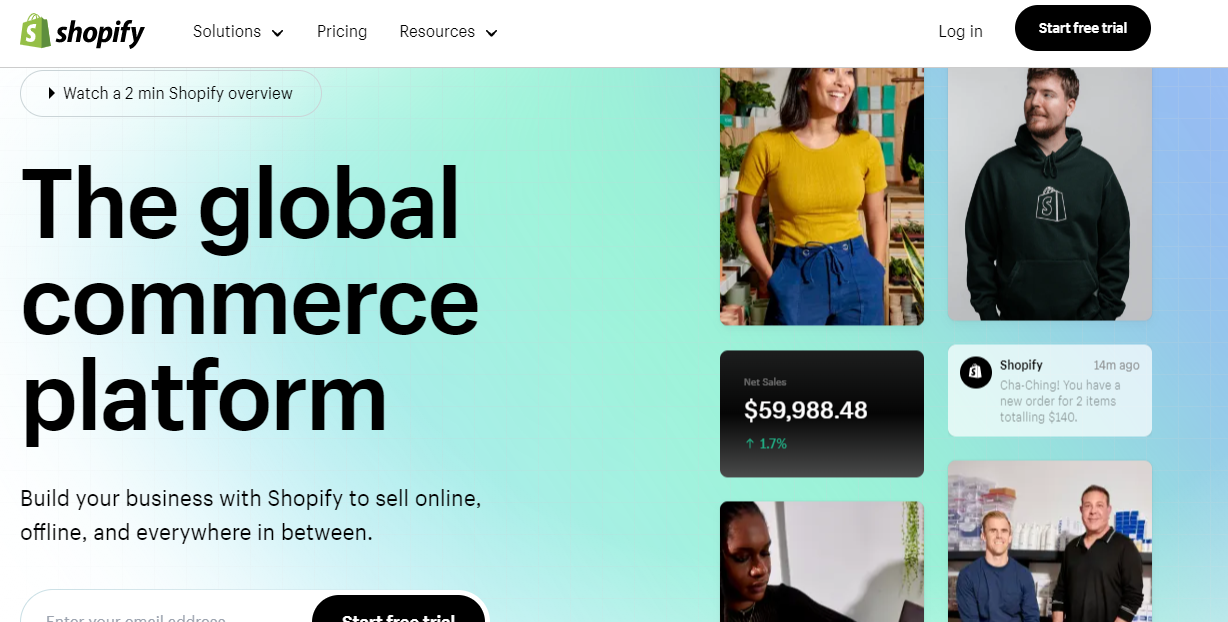 Image Source: shopify.com
Shopify CMS was designed for individuals and small businesses looking for a basic website with minimum hands-on customization. Though it's best suitable for small-scale e-commerce websites, it does have multiple notable users, including Heinz (Shopify Plus), Hasbro (Shopify Plus), and Penguin. Besides, the platform is popular for its ease of use; everything from design to hosting, including SEO fundamentals, is handled.
Shopify allows you to target keywords, optimize your site structure, add alt text to media, manage canonical URLs produced for you, create XML sitemaps, create redirects, and choose from responsive themes. However, there are some drawbacks to note; you can't directly modify robots.txt, and there's no native method to edit your XML sitemap. Also, to be indexed by search engines, you must have a paid plan since Shopify does not allow trial sites to be indexed.
Pros
Features essential SEO tools with no need for additional plugins
The intuitive interface and options page save you time that you would have otherwise spent working out a basic task
Pages load seamlessly
User-friendly platform
Cons
You can't directly modify robots.txt
5. Wix CMS
Wix is another popular option for small businesses, entrepreneurs, and freelancers looking to fast and seamlessly create a website, emphasizing simplicity and drag-and-drop building. As a result, Wix CMS helps you cover the SEO essentials on your site conveniently. In addition, the platform features Wix SEO Wiz, a knowledge base that teaches how to design and publish a site that can compete in the SERPs, which you can use to assess the SEO of your website, get handy tips, and learn how to improve your website.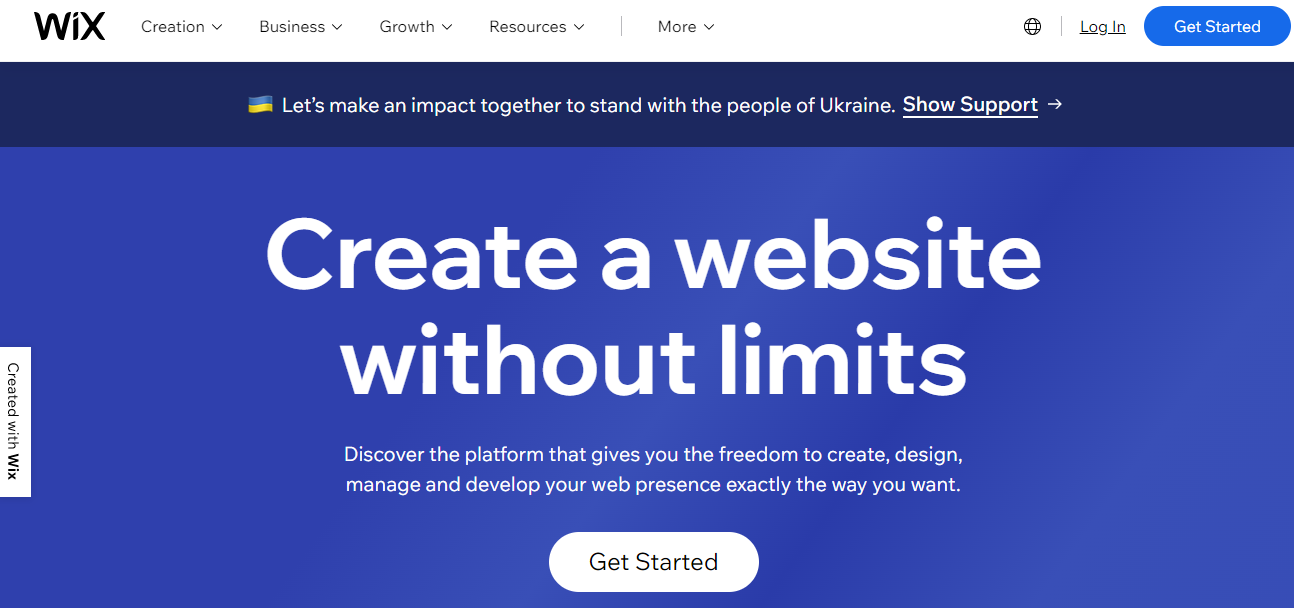 Image Source: wix.com
Wix's dashboard allows you to manage SEO essentials such as alternative text for images, SSL, meta descriptions, redirects, URL tidying, canonical URLs, and sitemaps. However, for the sitemaps, you will need to resubmit and monitor your sitemap through Google Search Console).
Suppose you're a larger business or trying to integrate advanced SEO. In that case, there may be better options than Wix CMS since it's better suited for and more reputable among small sites that don't need to scale up significantly. While you can use schemas and modify robots.txt, that is about as far as it gets out of the box.
Pros
User-friendly platform
Wix CMS sites are SSL-protected
You can access fundamental advanced SEO features through the dashboard without the need for extensions
Ideal for new website owners who want to learn the basics and make tweaks to their websites
Cons
The platform doesn't allow changing the website's template once it is applied to the website.
Factors to Consider When Choosing the Best CMS for SEO
1. Page Elements
When adding content to your site, a good CMS should allow you to personalize each piece. These are the headings, meta tags, meta descriptions, search engine crawler-friendly page URLs, and image alt text. Page elements you can customize are an excellent approach to building SEO-friendly content for your website. Besides, they allow you to present a core story to your search engine crawlers to understand better what is going on as they browse through your site.
2. Integration
Though most CMS platforms have built-in analytics, a third-party solution might be more analytical and granular. And when it comes to social integration, the website can be linked to your social media accounts and feeds.
Image Source: techplanet.today
Furthermore, the CMS platform should support RSS feed production to attract subscribers. Also, the CMS should provide features or plugins that help with website performance speed and image compression.
3. User-Friendliness
You want an SEO-friendly content management systems that simplify constructing and updating your website's content. This usually requires a drag-and-drop interface to add various items to your pages. Once your content is published, you should be able to change it quickly and conveniently.
4. Crawlability and Indexability
Before investing in the best CMS for SEO practices, consider crawlability and indexability. Look for one that allows URL customization. URLs can be modified and tidied up to be more descriptive and to display a more structured path. And when it comes to categories, a flexible categorization option and a hierarchical post structure should be available.
Image Source: chandigarhhelp.com
Moreover, to avoid duplicate content issues, the CMS platform should have a canonical tag that notifies search engines which page is the master copy. Also, the CMS must feature an easy-to-use site menu and breadcrumbs. Plus, there should be an option for similar topics, and the site should automatically suggest relevant content for internal linking.
5. Website Security
Google announced that they would prioritize safe sites, so ensure that the provider offers an SSL certificate. Besides, keeping your site secure is critical to achieving high SERP rankings (Search Engine Result Pages). As a result, your website must feature a security component to prevent hackers from taking over your site.
6. Customizability
The website should be responsive to users' devices, such as smartphones. This is crucial since one in every five Americans exclusively uses their smartphones to access the internet, and Google now uses mobile-first indexing, which prioritizes mobile versions of sites. Also, the CMS should be able to adapt to different languages or regional versions.
7. Add-ons and Extensions
Image Source: digitalagencynetwork.com
Since not all websites are made equal, it is hard for any CMS platform to deliver all the functionality required by every website. However, add-ons and extensions help solve this issue. You can install these programs on your CMS software to improve its features and add new ones. Consider them to be applications for your content management system. Therefore, ensure that the CMS you choose has all of these features.
8. Data Portability
A decent content management system should provide features that enable you to conveniently export and move your data. For instance, you can subsequently use a different platform or hosting company. The capacity to move about freely is made possible by data portability.
9. Analytics Tools
Analytic platforms can give valuable insights into how users interact with your page and tell you more about your site's organic traffic. This information is essential for the self-development and optimization of your site and will help you select the ideal SEO strategy.
10. XML Sitemaps
When looking for the best CMS for SEO, pay attention to the XML sitemap. XML sitemaps are what sound like website maps. These files include a list of every page on your website, allowing search engines to identify, crawl, and index your content conveniently. A sitemap can be created manually, but it will require some coding. The good thing is that a good CMS will generate one for you. Or, at the least, have a sitemap plugin to do the work for you.
Featured Image Source: pagetraffic.com