Are you a busy business owner and are caught up with handling all aspects of your business, such as planning and strategy, finances, daily operations, staff, and management? If you struggle to get your website on top, you will also have to perform technical optimization, which SEO specialists claim is one of the most effective strategies.
Many bloggers are constantly searching for an in-depth answer to technical SEO, especially with competition becoming high over the past few years. Luckily, we have provided an in-depth explanation. Dive in!
What is Technical SEO?
Technical SEO refers to search engine optimization (SEO), which focuses on the technical implementation of your website instead of the content, link profile, and other search engine ranking factors. Technical SEO aims to make your website easy to find, crawl, understand, and index for search engines like Google. The objective is to improve visibility and rankings.
Technical SEO is a component of on-page SEO that focuses on enhancing features on your website to improve rankings. It is the opposite of off-page SEO, which focuses on increasing a website's exposure through other methods.
Why Do you Need Technical SEO?
Image Credit: forcefive.ca
Technical SEO is among the most important factors which tell whether you can rank your website successfully. Although your website might be meant for human users, computerized algorithms and web robots will determine how your website performs in search engine results pages (SERPs).
Search engines like Google use web robots called crawlers and index pages on the internet while monitoring updates of already-popular web pages. The crawlers analyze the technical and on-page ranking factors to help Google decide whether to rank your website and which keywords you should rank for.
With poor technical SEO, your website will perform poorly on this assessment, or the search engines will struggle to crawl your website. This will mean no organic traffic, revenue growth, or search rankings.
However, effective technical SEO will ensure your website is easy for search engine crawlers to comb through and analyze your most important content. You will also address several known ranking factors that search engines look for when assessing your website's technical quality.
Generally, your company should optimize technical SEO for your website for several reasons, including:
It will influence the rankings in search results
It will affect your website's conversion rates, sales, and lead generation
It will impact your website visitor's decisions and actions
It will help your business compete with competitors using SEO
It maximizes your ROI from SEO as a digital marketing strategy
What Is Included In Technical SEO Audit?
Image Credit: wordpress.com
An SEO audit is the first step to improvement, and each website is unique. To make the improvements, an SEO company will need to identify the issues that have to do with your website.
The site audit process starts with a crawl and a request to check all the accessible URLs of a website. Once complete, you will get an audit report and insight into main issues such as accessibility and the website health score.
A technical SEO audit will have different issues, including errors, notices, and warnings. Errors will need urgent fixing, warnings don't need urgent fixing, but you can attend to them, and notices are worth checking out, although they are low on the to-do list.
A technical SEO audit has some components, including:
a). Accessibility (Website Performance)
Customers will need access to your products and information without waiting, which is why website speed and accessibility are important aspects of technical SEO. Although loading information across all mobile and desktop versions are challenging, the web page speed will reward the business and customer when done right.
To measure website performance, you can use SEO tools such as Ahrefs, Google's PageSpeed Insights, and GTMetrix. The SEO tools will offer insights into the following areas on how to boost site speed:
Rich media compression (image optimization)
CDN
Caching
Server Optimization
CSS sprites
Script compression
Parallel downloads and minify
b). HTML Tags
Image Credit: techwyse.com
The empty, sub-optimal or missing HTML tags are a missed opportunity to improve SEO or to get a customer to click on your content from the search engine results page. In the worst-case scenario, HTML tags prevent content from getting to the search engine results pages.
There are different types of HTML tags you can analyze, including:
Title Tags
Meta Descriptions
Header Tags (H1, H2, H3)
ALT Tags
Title Length
Description Length
c). Content Quality
Why is content quality in technical SEO important? It is because a site's content ranks in Google, so if the content lacks quality, it won't rank in the search engine result pages.
Some issues may affect the content quality, and the common ones include:
Duplicate content
Thin content
Canonical Tags
Entity Optimization
d). Crawling & Indexing
Image Credit: iquelab.in
SEO begins with a search engine visiting a website to find content, and the visit the search engine makes is known as a crawl. Indexing is when content first appears on a search engine result page. The technical SEO equivalent of peanut butter and jelly is crawling and indexing.
The common areas to analyze in crawling and indexing include:
Site Structure: Internal Linking, URL structure, Taxonomy
Robots.txt
XML / HTML Sitemaps, Mobile Bot Crawl Behavior
Status Codes 3xx, 4xx, 5xx
Crawling and indexing are usually the core cause when something is wrong with a website.
e). Other Important Technical SEO Issues
Although we have covered the most important elements of technical SEO, there are more important factors you can consider:
Structured Data: Rich Snippets, Schema Markup, Microdata
Mobile: AMP, Responsive Design
Rendering: Critical rendering paths / lazy loading, DOM rendering, Javascript Framework rendering
Migrations: HTTP to HTTPS, Domain Migrations, CMS Changes
Technical SEO vs. On-Page SEO vs. Off-Page SEO
Image Credit: bestseocompanyinindia.com
When dealing with technical SEO's definition, it's necessary to explain the on-page SEO and off-page SEO. Technical SEO focuses on the backend website and also server optimizations. On the other hand, on-page SEO focuses on the front-end website options, while off-page SEO focuses on the optimizations outside your website.
Technical SEO is important for the success of a business, and unlike on-page and off-page SEO, it starts as soon as you can start building your website.
SEO Factors of Technical SEO for Better Google Ranking
You should look out for several things if you want your web pages to rank in search results. Some of them include the following:
1. Improve Loading Speed
Most users usually abandon a site if it takes more than 5 seconds to open, and technical SEO will help to boost the page speed. However, the internal site structure will strongly affect the page's loading time, including the code, servers, and images.
You will need to start by identifying your page speed so you can know how to improve it. Several SEO tools in the market mark the loading speed and optimize the page.
However, you can perform several technical SEO actions to boost your loading time, such as:
Use browser cache
Compact the server-sent files
Remove the inessential characters
Shrink image size
2. Indexing Errors
Understanding whether search engines crawl and index your website well is necessary. To drive organic traffic, your content should be easily crawled by Google bots to ensure it can get indexed.
This ensures the highest priority pages can be reached and optimized correctly to get the best rankings. In addition, it gives you a great understanding of how website architecture will distribute your content.
3. Make your Website Mobile Friendly
With the launch of tablets and smartphones, Google has become keen on the mobile users' search experience, leaving no chance to make the mobile search more methodical.
Mobile-first index is among Google's recent actions, and it has mainly focused on the mobile version of the indexed pages because searches from mobile devices have crossed the desktop searches.
Knowing what technical SEO actions you can take to better your indexing process is important. They include:
Design a responsive website
Use mobile-friendly tools to create websites
Add the 'viewport' tag to the HTML code header
Opt for a mobile compatibility test
4. Images
Images usually entertain your visitors and keep them engaged in the webpage. Technical SEO helps to determine the role of an image without affecting the loading speed and user experience.
There are several elements you can optimize to enhance the chances of ranking high in Google images, including:
a). Image Name
The file name should be user-friendly and clear to ensure Google understands the image's significance. You can edit your file name before uploading it.
b). Image SIZE
The image size will determine your loading speed. Cropping your image size without minimizing the photo quality helps improve the ranking order, as Google prefers small-sized files.
C). DIMENSIONS
One of the main functions of technical SEO is uploading the images in their original dimensions. This prevents the images from occupying more space and delaying the upload process.
D). ALT TEXT
Alt text refers to alternative text. When an image doesn't load, users usually see the alt text, and users with special needs can access alt texts. The alt text is meant to inform Google of the image's content and help index it.
E). FORMAT
Image formats such as JPEG 2000 and JPEG XR usually have better compression and picture quality, resulting in a high loading speed.
F). UPLOADING
With the help of several features, the images will only load when a user gets to them.
5. Remove Duplicate Content
Content is an important SEO concern that strongly impacts the optimization process. Sometimes you will find your site has repetitive content with no intention, so you will need technical SEO actions to deal with such problems.
Duplicate content confuses search engines as to which version of the page to index and rank. For example, if you have two pages on your website that are identical and competing for the same search phrases, the search engine will ultimately choose the version it believes to be best and ignore the rest.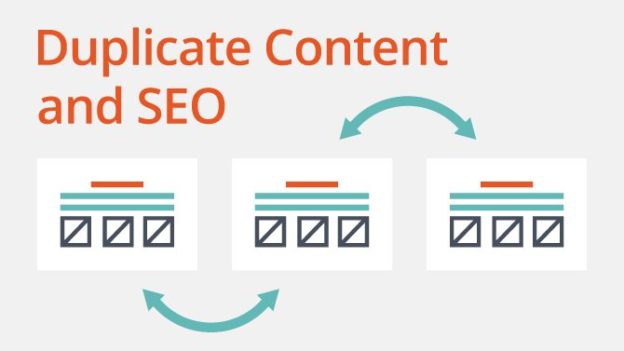 Image Credit: elsner.com.au
Duplicate content issues can be resolved and prevented by several methods, but the following are the most common:
Use canonical tags to specify which version of the page is the preferred version
Use 301 redirects to direct users to the preferable version of pages with similar content
Ensure you use either the www version or the non-www version but not both since using both will create a duplicate of the whole website
Ensure you enforce lowercase URLs, as mixed-case URLs are considered duplicate content
6. Site Architecture
One of the most important functions of technical SEO is easing Google's crawling function. Therefore, a well-designed website architecture needs to understand the hierarchies and categorization between the internal links and web pages.
The website with most pages will need a well-built architecture where a good architecture will consist of some factors:
Creating sitemaps
Formatting of URLs
Internal Linkage
These factors will positively affect the page ranking and indexing. In addition, with site architectural actions, Google understands and scans your content to make your structure more coherent.
7. Soft 404 Issues
A soft 404 is a URL that returns the page informing the user that a page doesn't exist and the 200 (success) status code. This means the page may be listed in search results, and search engines will continue trying to crawl the non-existent URL rather than spending time to crawl the real pages.
However, there are many issues, and in some instances, it could be a page with little or no content or maybe 301 redirects. If you notice issues in the Google Search Console coverage report, you must contact experts.
8. Create an XML Sitemap
An XML sitemap is the list of all the pages of your website, and it acts as a guide for search engines to crawl your website, making it easier to find important content or pages. They are suitable for poorly structured websites, but for all sites, it is easy to find important content or pages.
The sitemap is essential to technical SEO. A sitemap is a file format that lists every page and document on a website, along with the links that connect them. A website with multiple pages needs a sitemap more.
Image Credit: greenwebmedia.com
Therefore, checking your sitemap regularly is necessary to prevent incorrect URLs from getting crawled and indexed. This also ensures that important URLs are not excluded.
When reviewing your XML sitemap, there are two important checks:
Check to see if only the important or main URLs have been included
Ensure you only include indexable URLs and try to remove error codes, no indexed, orphaned URLs, and canonicalized
9. Security
Google is deeply concerned about web security, and Google made the HTTPS protocol to become a ranking factor for the algorithm. The main goal is to increase encrypted connections to improve security.
It would be ideal to hire professionals to handle the security system for your website to avoid losing your site date. Therefore, technical SEO needs continuous attention to check if any errors occur.
10. Availability
One of the users' most terrible experiences has been the website's unavailability. Google can't read the website, either. As a result, the indexing process is still incomplete. Your website disappears from the search results after search engines receive the message that it no longer exists.
To avoid this calamity, you must ensure that your website is accessible. To make your business site accessible on Google around the clock, you can opt for any reputable hosting contract. Then, simple upkeep is all that's required.
11. Use SSL
Secure Sockets Layer (SSL) is a security technology that creates an encrypted link between your browser and a web server. It can easily be spotted on a website that starts with 'HTTPS://' instead of 'HTTP://.'
Google prefers to rank websites with a valid SSL certificate. However, even some websites with a valid security certificate could have configuration errors, which result in indexing/crawling issues and ranking penalties.
12. Add Structured Data Markup to your Website
Structured data markup is the code you add to your website to assist search engines in better understanding the content on it. This data will help search engines to index your site better and deliver more relevant results.
It also improves the search results by adding rich snippets since they are visually appealing and immediately highlight useful information to searchers. These enhanced results will then improve the click-through rate and generate extra traffic to your website.
How to Do Technical SEO
This is a basic technical SEO strategy on how to perform technical SEO on a website:
Use technical SEO tools to crawl your website
Perform a site search in Google to ensure all the pages are indexed using the "site:" operator that follows your domain
Ensure one version of your site is browseable, i.e., HTTP or HTTPS version
Check your website architecture and click on depth, then restructure your site to meet a maximum of three clicks to any page
Use a technical SEO tool to check your broken links
Check every page to see if it will need to implement structured data
Check Google Analytics for any traffic issues
Check the Google Search Console for crawl errors in your Index Coverage report.
Conclusion on Technical SEO
Technical SEO is crucial to the success of your business, and although it may seem initially daunting, once you get the hang of it, you can achieve great results. Effective technical SEO will maximize your ranking potential on SERPs and opens the door for many relevant and high-quality traffic to your website.
Although it may be daunting at first, once you get the hang of it, it can assist you in achieving great results. If you have thoroughly read this, you have an in-depth understanding of technical SEO fundamentals.
Featured Image Credit: intechforest.com